Creating a custom engagement ring can be more laborious than buying a ready-made design, but it gives you the opportunity to bring to life your dream ring.
Let's say you're sold on the idea and you've decided that you'd like to design your own ring. But how do you go about getting it done? There are many decisions that need to be made, including what retailer to go with, what design and materials to choose, and when to begin the process. Here's a quick overview of what the article will cover.
Quick Overview:
Consider the ring design, symbolism, and style.
Consider the materials, i.e., metal type and color, gemstones, diamonds, and personizations.
Choose your retailer – online customization (limited) or local jeweler (comprehensive).
Look into after sales policies – resizing, warranties, maintenance, and more.
1. Finding Inspiration for Your Ring Design
The best way to start getting your ring made is to have the design clear in your mind. Here are some ways to get inspiration.
Gather Photos:
Begin gathering photographs of jewelry and designs that you already like and other aspects important to you. It's also a good idea to include a photo of the person who will be wearing the ring, so that the retailer has an idea their style choices.
Consider Current Jewelry Preferences:
Check out the jewelry they already own as you might spot some trends to help with the design. Is all the jewelry silver? Then maybe a white gold or silver band is the perfect metal color for you. Does your jewelry have lots of color in it? Perhaps this is the perfect indication to go for a colored gemstone rather than a traditional clear diamond.
Create a Mood Board:
Any mood board that you put together will start to help you answer questions like what setting do you like or what cut would you want the gemstone to be? Do you want a gemstone at all? Any information you collect can help a designer or jeweler get some vital insight into the piece of jewelry you are trying to create.
What's Important to You?
When designing your own ring, you have the chance to add a touch of your personality to the ring and aspects that are meaningful to you. Think of what message you want the rings to convey. For more inspiration, check out our article on meaningful engagement rings, where we detail a number of ways to add a touch of meaning to your ring.
2. Where to Design Your Ring
There are a few different ways that you can have your ring custom made for you. These range in prices and convenience.
James Allen Build-Your-Own-Ring
Most retailers these days allow you to create your own ring with some level of customization. While there are many, we recommend checking out James Allen for their high quality imagery and ease of customization. They offer powerful tools to help you design your own ring online, with a range of settings, metals, gemstones, diamonds, and engraving options.
Their Diamond Experts also walk you through the process and help you find the right stone, if you need more help. Let's explore the James Allen ring customization options to see what's possible online.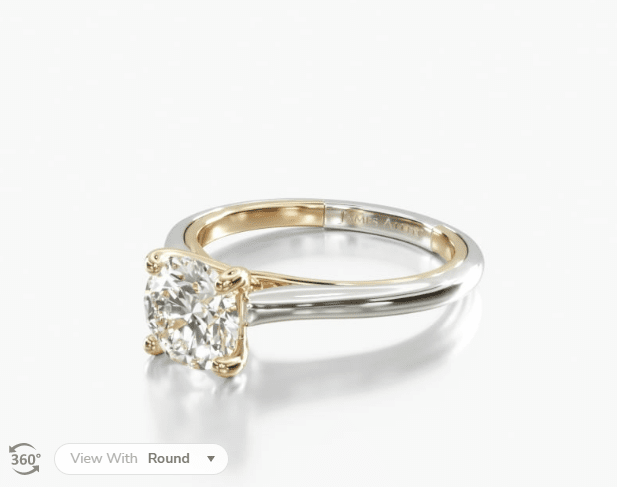 Begin by selecting your ring setting or your diamond/gemstone. Once you have made one of the selections, the site helps eliminate unsuitable choices.
Next, filter your choices to find exactly what you are looking for. This screenshot of the James Allen site shows you all the numerous filters that you can adjust.
So, let's say you want to start with an emerald cut stone. You then filter and narrow your search down by picking the clarity and color grade for the stone. It's easy to change the sliders to see what price effect each choice will have or if budget is your biggest constraint you can use the sliders to set your budget and view all the results.
There are also lab-created diamonds and colored gemstone options if you don't want a traditional diamond ring.
Once you've selected your ideal stone the James Allen website shows you all the ring settings that match the diamond or gemstone you've picked. They have a large selection, including more complicated settings such as tension and beautiful vintage inspired designs.
Once you've chosen the setting and the stone, it's just the final decision of the metal color and the ring size. For a personal touch, you can add an engraving to your ring.
In the final stage you you can review the ring and see the cost break down between the stone and the setting, plus all the other services included in your purchase, such as shipping costs, warranties and packaging.
Option 2: Work with a Local Engagement Ring Designer
Working with a local jeweler gives you more options to customize your ring. It can have a real impact on the piece, as a jeweler may be able to provide suggestions that you probably wouldn't have thought of, based on the design details that you give to them.
For example, Ingle & Rhode, a jewelry retailer in London, was approached by a customer who wanted to create an engagement ring inspired by his girlfriend's favorite painting Starry Night. The result was a one-off unique design.
Most jewelers now offer remote bespoke services, which means that you can contact the jeweler, have meetings with them, share your ideas for your ring and check on the progress of your ring without ever having to meet them in person.
It's always more personal if you can meet the jeweler in person, but you have more options this way. Check out our guides on where to buy engagement rings in London, Montreal, Vancouver, Toronto, New York City, Houston, and Los Angeles. Some of these amazing retailers work remotely and ship internationally.
Wrapping Up
Designing a custom engagement ring from scratch doesn't have to be complicated. It should predominately be about you as a couple.
Try out a few different options before picking the one that suits you best as you'll be creating an original piece of jewelry that symbolises the love and special connection you have with your future fiancé!
Want to try your hand at designing your own engagement ring? Check out James Allen's Design-Your-Own-Ring feature.