NYC is one of the best cities in the world for shopping, and this holds true when it comes to buying jewelry and engagement rings.
The best place to shop for an engagement ring in New York is the world-famous NYC Diamond District, located along West 47th Street between 5th and 6th Avenues. However, there are several excellent retailers also located in and around the area. Most of the stores are open on weekdays and Saturdays from 9.30am to 5.30pm, but opening hours often vary from store to store, and some businesses offer appointments only.
But with so many stores to choose from, sifting through the hundreds of jewelry retailers and narrowing down the choices can be challenging and tiresome. Which is what we've done in this article. We're listing our top 15 engagement ring retailers in NYC. We've based our selection on each jeweler's unique selling points, customer reviews, and the excellence of service and the craftsmanship they offer.
Reve Diamonds
Location: 745 5th Avenue, 5th Floor 10151, New York, NY
Customer rating: 5 stars
Reve Diamonds have been in the diamond business for decades and have grown to become one of the best when it comes to competitive pricing, customer service, and product quality. With a large inventory of over 40,000 diamonds to choose from, including colored diamonds and lab-created stones, there's bound to be the right diamond for you here.
The company offers in-person as well as virtual appointments from their showroom via Zoom. Simply book an appointment with them on their website and they will contact you as soon as they can.
Because they work as both a manufacturing and a distribution company, Reve Diamonds are able to eliminate unnecessary middlemen, resulting in lower prices for the consumer. In fact, they even offer a price match guarantee if you find a similar diamond for a cheaper price elsewhere.
If you want to create a bespoke ring or tweak a ring from their collection, you will be involved in the design process. The turnaround time is very quick, taking up to 2.5 weeks at most. In comparison, most stores take up to 8 weeks to finish a custom product. If you're after a faster option, many of the designs in their ring collection are ready to set a centre stone for fast delivery.
Customers rave about their service and product quality, and their 5-star rating is a testament to their commitment to customer satisfaction.
For consultations, check their website: Reve Diamonds
Taylor & Hart
Location: 285 Fulton Street, 85th Floor, New York, NY 10007
Customer rating: 5 stars
Previously known as Rare Pink, Taylor & Hart rebranded in 2016 and established themselves as one of the best in the engagement ring scene. The British company opened their first store in New York City and has quickly become one of the leading stores in the diamond district.
Taylor & Hart are experts in bespoke jewellery and their aim is to provide the best bespoke services to their customers. The company prioritises the personal stories of their customers and work closely with you to try to include these into their engagement rings. They advocate the 'personal touch' and each ring you buy from them is unique and tells a story.
Customers are involved from start to finish with the designing and creation of their ring, and their input is taken into account. As one of the co-founders of Taylor & Hart mentions, "Customers … want to use this highly emotional product to tell a story in a way that reflects their values and experiences together and a ring they have played a part in designing, empowers them to do just that." This is why Taylor & Hart are fast becoming many young couple's favourite option when it comes to engagement rings in NYC.
Apart from this, Taylor & Hart offer exceptional customer service, including the options of getting in touch via live chat, email, phone, WhatsApp or video call. And finally, every ring you purchase from Taylor & Hart comes with a little ruby set into the inside of the band. A nice little touch to serve as a memento of their services to you.
For consultations, check their website: Taylor & Hart
Sashka Jewelry
Location: 19A W 47th St, New York, NY 10036, USA
Customer rating: 5 stars
Founded in 1978 in the popular Diamond District of New York, Sashka Jewelry is run by a husband and wife team with years of experience in crafting bespoke jewelry. They specialize in custom engagement and wedding rings, but also offer an extensive range of fine jewelry and watches.
If you're going to have a bespoke ring made, Sashka considers your budget and requirements, keeping you in the loop throughout the process. They offer a free consultation, during which they assist you to design the perfect ring as per your requirements. What's more, you'll be dealing directly with the owners. Sashka Jewelry is known for its competitive pricing, professionalism, and customer care, and for not employing pushy sales tactics, something that all customers can appreciate. Also, because they are a stand-alone store, they are able to provide complete privacy for their clientele.
While you cannot make any purchases over the internet on their website, their site gives you an indication of what to expect when you visit them. Most customers who have their engagement rings crafted at Sashka Jewelry, often go back to get their wedding rings designed by them too. Their service after the sale is just as good, if not better, than before the sale, as they ensure that you're completely satisfied with your purchase. Sashka Jewelry is one of the few stores in the district that pride themselves in a full five-star rating from independent review sites. This is a testament to their quality and dedication to their craft. As they like to say, Let Sashka engage you!
For consultations, check their website: Sashka Jewelry
With Clarity
Location: 100% online but based in New York
Customer rating: 5 stars
With Clarity has been named among the fastest-growing engagement ring companies in the USA, standing out because they seamlessly blend the best of online and offline engagement ring shopping. Although the company is based in New York, they are an online-only store that ships all across the USA.
With Clarity has a Home Preview system that sets it apart from other stores. Here's how it works:
Choose up to two customized ring styles from their site
Once you've decided on your rings, With Clarity will send you replicas that look and feel like the real thing.
If you love it, go online and purchase the ring.
If not, simply send back the replicas, all free of charge.
Choose, preview and wear the replicas from the comfort of your own home with no commitment to purchase. Read our complete review of With Clarity's Home Preview Service to learn more.
With Clarity offers competitive prices as they don't have the costs associated with physical stores, excellent personalized customer service and a streamlined shopping experience. Almost all their diamonds have high-quality HD images and video of the actual stones, zoomable up to 50x magnification. Their selection of settings is carefully curated in a range of styles, and they also provide bespoke ring services.
For consultations, check their website: With Clarity
I.D. Jewelry
Location: 15 W 47th St #305, New York, NY 10036, USA
Customer rating: 4.9 Stars
I.D. Jewelry was established in 1986 and is a family-owned jewelry store conveniently located in the New York Diamond District. The company prides themselves on their experience and expertise as jewelers and focuses on transparency and educating the customer about diamonds before they purchase.
I.D. Jewelers offer free consultations and excellent bespoke services. They have a very quick turnaround for custom pieces as most of their gemstones and metals are stored in house. Their online shopping experience is easy and convenient, with clear price listings and extensive catalogs to browse through. I.D. Jewelry does not only offer their own designs, as they also stock jewelry from other designers such as Gabriel Designs and Jeff Cooper.
The company's customer service is outstanding, and they will do all within their power to ensure that you're happy with their service. The only downside is that the showroom is not open on Saturdays so make sure you check the opening times in advance of your visit.
For consultations, check their website: I.D. Jewelry
Sea Wave Diamonds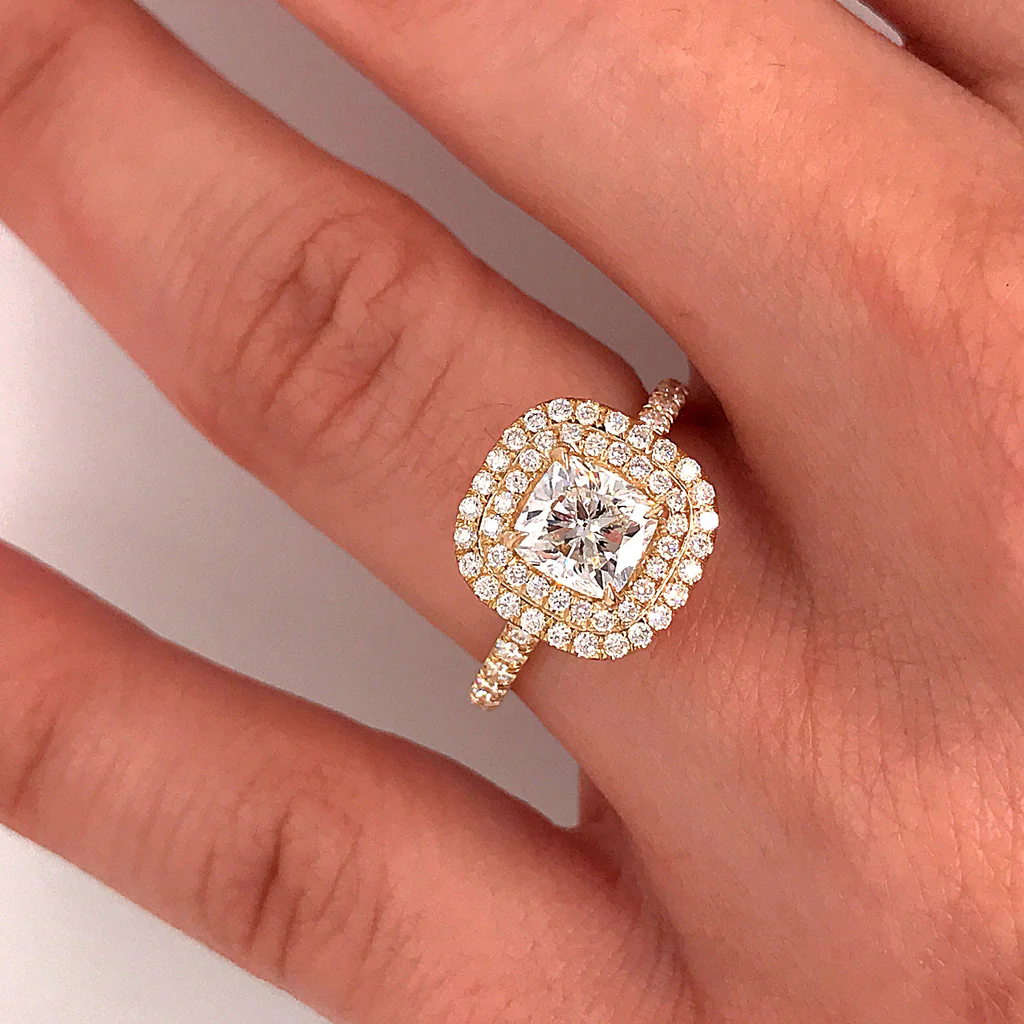 Location: 5 W 47th St, New York, NY 10036, USA
Customer Rating: 4.9 stars
Sea Wave Diamonds is a company committed to providing ethically sourced jewelry at competitive prices. They have an extensive catalog of handmade engagement rings, featuring colorless and colored diamonds. We especially found their settings collection highly impressive, with hundreds of ring styles offered. If you purchase a compatible setting from them, you can have your diamond or gemstone mounted free of charge.
Sea Wave also provides customization services, and will involve you closely in the process, taking your feedback on board to create the ring you're after. You can book a free consultation with them and have a chat about what you're looking for. Their high-quality craftsmanship and excellent customer service make Sea Wave one of the best in the business.
For consultations, check their website: Sea Wave Diamonds
Lauren B Jewelry
Location: 44 E 46th St, New York, NY 10017, USA
Customer rating: 4.9 Stars
In the business for over 40 years, Lauren B Jewelry offers a range of options when it comes to engagement rings. They go beyond diamonds, offering moissanite, gemstones, and a wide variety of ring designs, including vintage and retro-inspired styles. The website is fantastic and very user-friendly. The company is very active on social media, and you can access their fantastic designs via their social media platforms to gain an idea of what they offer and what customers say about them.
The bespoke service that Lauren B offers is very professional and they are known to be on schedule when delivering their work. What's more, they keep you in the loop throughout the creation process. Lauren B offer excellent customer service and their staff are well versed in answering all questions. Lauren B Jewelry is one of the highest reviewed New York jewelry retailers and have a legion of loyal customers.
For consultations, check their website: Lauren B Jewelry
Firenze Jewels, Inc.
Location: 64 West 47th Street, #F19 • New York, NY 10036 • 1 (800) 790-6980
Customer rating: 5 Stars
Firenze Jewelers is a 3rd generation family jeweler that has been in business since 1937 and over this time has acquired a world-famous reputation. Firenze is committed to transparency and excellent customer service, which makes working with them a positive experience. Their engagement ring collection is extensive, featuring a range of styles at a variety of prices.
If you're after an antique or vintage-inspired ring style, we recommend checking out their collection which features designs inspired by all the famous eras, from Victorian to contemporary styles. They offer ready-made rings, but you can also have a ring custom created for you. If going in-store, use the expertise of their GIA gemologists to help you learn about diamonds and make your purchase.
While the website looks dated and isn't very easy to navigate, it's functional and informative. Their customer service is excellent and they take pains to ensure that each customer is treated like royalty.
For consultations, check their website: Firenze Jewels, Inc.
Iannelli Diamonds
Location: 45 West 47th Street, New York, NY 10036, 212-575-1700
Customer rating: 5 Stars
Ianelli Diamonds was established in 1956 and has become a well-known name in the New York Diamond District. When it comes to Iannelli Diamonds, the focus is on quality and customer service. Customers often say that the company takes a laid-back approach with zero pressure to purchase while still being informative and friendly. Iannelli Diamonds would rather understand their customer's needs and make a customer for life over a quick sale.
Ianelli Diamonds offers GIA certified diamonds and specialise in engagement rings, helping you through the process of creating your dream ring. They offer a wide range of engagement ring designs, including an excellent range of gemstone rings. Their online shopping platform is easy and convenient to use and is beautifully laid out.
For consultations, check their website: Iannelli Diamonds
Forever Diamonds NY
Location: 66 West 47th Street, Booth # 37 & 38, New York, NY 10036, USA
Customer rating: 4.7 Stars
If you are after a bespoke experience, Forever Diamonds NY has a lot to offer. The company sells some pre-set designs, but their main speciality is their high-end bespoke service which includes initial consultations,3D CADs of your ring to the final product. They welcome walk-ins but we suggest booking a consultation to maximize the productivity of your visit.
Forever Diamonds work very closely with their customers and ensure that your feedback is taken on board in the creation of the ideal engagement ring. Whether you're looking for something traditional or contemporary Forever Diamonds NY can make the piece that you're after.
For consultations, check their website: Forever Diamonds NY
Ultimate Diamond
Location: 19 W 47th St, New York, NY 10036
Customer rating: 4.8 Stars
Ultimate Diamond is a third-generation jeweler and prides themselves on providing ultimate customer service. With a history that goes back to 1959, this 3rd generation's family business has extensive experience in the business of diamonds and engagement rings. They were among the first to offer high-quality GIA-certified diamonds back when diamond grading was becoming a major thing.
At Ultimate Diamonds, you can find pre-set jewelry, loose diamonds, and bespoke services. Their collection of engagement rings offers traditional and unique designs, ensuring that there is something for everyone. We love that they have shared so many of their customer's stories with gorgeous photos of happy couples and the reviews online back this up as well.
Most of their stock is uploaded on their website with clear prices listed. This means that even if you aren't able to pop into their showroom, you can still browse and pick out a ring. Like most good jewelers they offer a 30-day money-day-back guarantee excluding custom jobs and special orders.
For consultations, check their website: Check Ultimate Diamond here.
David S. Diamonds
Location: 546 Fifth Ave, Suite 700, New York, NY 10036
Customer rating: 4.9 stars
David S. Diamonds specialize in genuinely brilliant and sparkling diamonds. They offer their trademarked diamonds known as Solasfera, which are recognized for their exquisite brilliance and stunning light performance. If you are looking for a high-quality stone, David S. is likely to be the place for you.
The David S. website is more of a gallery than an e-commerce platform, which means that you will need to directly get in touch with them to purchase a ring from them. You can either call or visit them at their premises to check out what they have to offer.
Although they offer a 4-week money back guarantee this is minus additional fees including shipping/insurance and credit card surcharges, so be sure to make sure you're clear on what these charges will be.
For consultations, check their website: David S. Diamonds
NYC Wholesale Diamonds
Location: 47 W 47th St #3a, New York, NY 10036, USA
Customer rating: 5 Star
While the name NYC Wholesale Diamonds may not radiate glamour and romance, this is a diamond retailer that should not be judged by its cover. NYC Wholesale Diamonds has a legion of happy customers who rave about the competitive prices, high quality, and excellent customer service that they offer. Founded over 30 years ago, NYC Diamonds knows their stuff when it comes to diamonds and engagement rings.
NYC Wholesale Diamonds do have a lot to offer to someone searching for a diamond engagement ring. They have a range of ring designs, including halo and three stone ring settings. You can browse through their catalog and pick out a diamond and matching setting design, which they customize for you.
NYC Wholesale Diamonds don't have the prettiest website nor the most user-friendly, so it's probably best to visit in person but you will need to make an appointment. On a practical note, they are open on Saturdays and until 07:00 pm all weekday evenings, which is later than most other stores in the Diamond District, meaning that you can take a stroll after work to browse their collections.
For consultations, check their website: NYC Wholesale Diamonds
Leigh Jay & Co.
Location: 49 West 45th Street Suite 902, New York, NY 10036 United States, 212-719-2888
Customer rating: 5 Stars
Leigh Jay Nacht Inc. is the destination in the NYC diamond district for vintage and antique engagement rings. Customers compliment their fair pricing and the friendly and helpful team that help you browse their extensive range of antique engagement rings. In fact, founder Leigh often still works with many of the clients giving that personal touch and expert craftsmanship. You can read their extensive reviews of endless praises from happy customers.
When you're buying a niche or one-of-a-kind vintage ring the returns policy must be fair but helpful. If you buy a vintage engagement ring from LJN's extensive collection, they will offer a full refund for 30 days from purchase. However, as with all custom jewelry once you've bought it, that is yours to keep and you won't be able to return it.
For consultations, check their website: Leigh Jay & Co.
Fascinating Diamonds
Location: 42 W 48th St 16th floor, New York, NY 10036, USA
Customer Rating: 4.8 stars
Established in 2006, Fascinating Diamonds is a young company that has quickly carved a name for itself as a trustworthy retailer with excellent products and customer service. Although the company is located in New York, they have a primary focus on online shopping and have streamlined the process. This allows you to check their products and what they're all about before you visit them.
The core philosophy of Fascinating Diamonds is quality at an affordable price. They offer a range of engagement ring styles and settings, from vintage and antique to modern and chic. They offer customization, allowing you to create your own ring. They also feature unique and interesting engagement ring styles, including gemstone and fancy-shaped diamond rings.
They subscribe to a 100% customer satisfaction guarantee and have a 30-day return policy. Fascinating Diamonds also offer a lifetime warranty, a diamond upgrade program, and a price matching program. Customers rave about their expertise, quality, and no-pressure service and it's clear that Fascinating Diamonds has a loyal client base as attested by a large number of glowing 5-star reviews.
For consultations, check their website: Fascinating Diamonds
Wrapping Up
If you would rather purchase your ring online, then check out our review comparing the best online engagement ring retailers.