As one of the world's most important fashion capitals, London has the reputation of being an iconic design destination.
If you're looking for an engagement or wedding ring in London, you'll be spoilt for choice! From classic to modern and trendy, there's something for everyone.
Not quite sure where to start? We've got you covered. In this article, we've narrowed down the endless choices to our top 15 best places to buy jewellery in London, basing our selection criteria on designs, quality, after-sales services, customer service, and customer reviews.
You're sure to find your new go-to local jeweller among this selection!
Taylor & Hart
Location: 27 Clement's Ln, London EC4N 7AE, UK
Customer Rating: 4.9 stars
Originally known as Rare Pink, Taylor & Hart rebranded in 2016 and has since established itself as one of the best in the British jewellery scene. If you're looking for bespoke jewellery, they should be on your list.
Taylor & Hart will prioritize your personal story when creating your bespoke ring. They ensure that they involve you throughout the process to create a ring that reflects your "values and experiences together".
The company offers competitive prices, with bespoke rings starting at a reasonable £1500. Apart from this, Taylor & Hart offers exceptional customer service, including the option of getting in touch via live chat, email, phone, WhatsApp, or video call.
You don't have to reside in London to make use of these services. They will work with you remotely.
And finally, every ring you purchase from Taylor & Hart comes with a little ruby set into the inside of the band. A nice little touch to serve as a memento of their services to you.
For consultations, check their website: Taylor and Hart
Rêve Diamonds
Location: Rêve Diamonds, 14 Hanover Square, W1S 1JL United Kingdom
Customer Rating: 5 stars
Rêve Diamonds has grown to become one of the best in the business, known for offering high quality diamond products at unbeatable prices. Their large inventory, with over 20,000 loose, coloured, and lab-grown diamonds in stock, means that you will surely be able to find the right stone for you.
Because Rêve Diamonds work as a wholesaler, i.e., buying directly from the source, they are able to sell their diamonds at competitive prices. In fact, Rêve even offer a price beat guarantee service, which demonstrates their commitment to providing you with the best prices.
You can view all of Rêve's diamonds via appointment at their premises just by Green Park Station. But if you're not in the area or prefer shopping online, much of their inventory is available for purchase online.
If you're after bespoke services, Rêve Diamonds can help you create your dream ring while aiming to keep to your budget and specifications. What's more, they only offer ethically sourced diamonds, and each of their diamonds is conflict free. All their diamonds over .30 carats are GIA-certified.
Check out Tal Cohen, founder of Reve Diamonds, for his insights into contemporary engagement ring styles. Or, if you're looking for an in-depth review, check out our guide on Reve Diamonds.
For consultations, check their website: Reve Diamonds
Lark and Berry
Location: 52a George St, London W1U 7EA, United Kingdom
Customer Rating: 4.8 stars
With a minimal yet fashionable selection of fine jewellery, Lark and Berry boasts an impressive catalogue that will keep you hooked. Right off the bat, you can tell that there's a commitment to quality and style. Each because you're treated with a simple description page and a handful of photos enough to capture the essence of the piece.
Lark and Berry exclusively deal with cultured (lab-grown) diamonds and try ensure a higher standard than mined counterparts. They're committed to sustainability, partnering with One Tree Planted to promote sustainability and grow a tree for every purchase.
Their website is seamless, and with a graceful storefront. Through their website, you can browse their selection, get quotes for bespoke pieces, and book appointments virtually or in-store. They've also got a frequently updated blog where they guide beginners on finding the right diamonds and showcasing their newly released jewellery collections.
Lark and Berry have a lifetime workmanship guarantee on all their fine jewellery pieces. Besides that, they will provide lifetime cleaning and aftercare services and even help repair broken items. They can promise same-day delivery anywhere in London and a 14 day returns policy.
For consultations, check their website: Lark and Berry
Lylie
Location: 1, Sparkes Cottages, Graham Terrace, London SW1W 8HW, United Kingdom
Customer Rating: 5 stars
If you're looking for high-quality, fun, and classy jewellery, we wholeheartedly recommend Lylie, a female-rung company established in 2017. This online retailer stocks up on a huge collection of jewellery for both genders, whether that's earrings, necklaces, cufflinks, or engagement rings, they've got it all.
Lylie offers custom services for engagement rings, whether you desire a ring from scratch or to remodel an existing piece of jewellery. The also have a variety of ready-made engagement ring designs, if you don't have the time or desire to have one created. They focus on ethical sourcing. For example, they only use salvaged gold from Gold Exchange, dental waste, and e-mining.
Lylie's website is pretty and very intuitive and easy to use. They only have a 14 day return policy, and that too only for items that were damaged during shipping or manufacturing.
Shipping estimates vary by destination but they guarantee fast shipping anywhere within the UK. Lylie relies on Royal Mail and international buyers might have to spend £15.00 for shipping fees alongside an extra £5 for each additional piece.
For consultations, check their website: Lylie
Queensmith
Location: 98 Hatton Garden, London, EC1N 8NX
Customer Rating: 4.9 stars
Located in the heart of London, Queensmith, previously Hearts of London, focuses on enhancing positive customer experiences when shopping for jewellery. Why push for sales, when the quality of the product speaks for itself, right?
Queensmith has created bridal rings for over 10,000 couples. They offer customisable engagement rings for sale on their website, with an excellent range on offer.
For a mix of online and physical shopping, you can search from their GIA-certified diamonds online and then request to view them in their London showroom. They offer a live chat function on the website, as well as in-store consultations, for advice and guidance on creating your ideal ring.
The company was named the Bridal Jewellery Retailer of the Year in 2020 by the UK Retail Jeweller Awards, which recognized their excellent customer service and quality bridal retail offering. They also have a 5 star rating on Trustpilot – not an easy feat.
For consultations, check their website: Queensmith
EC One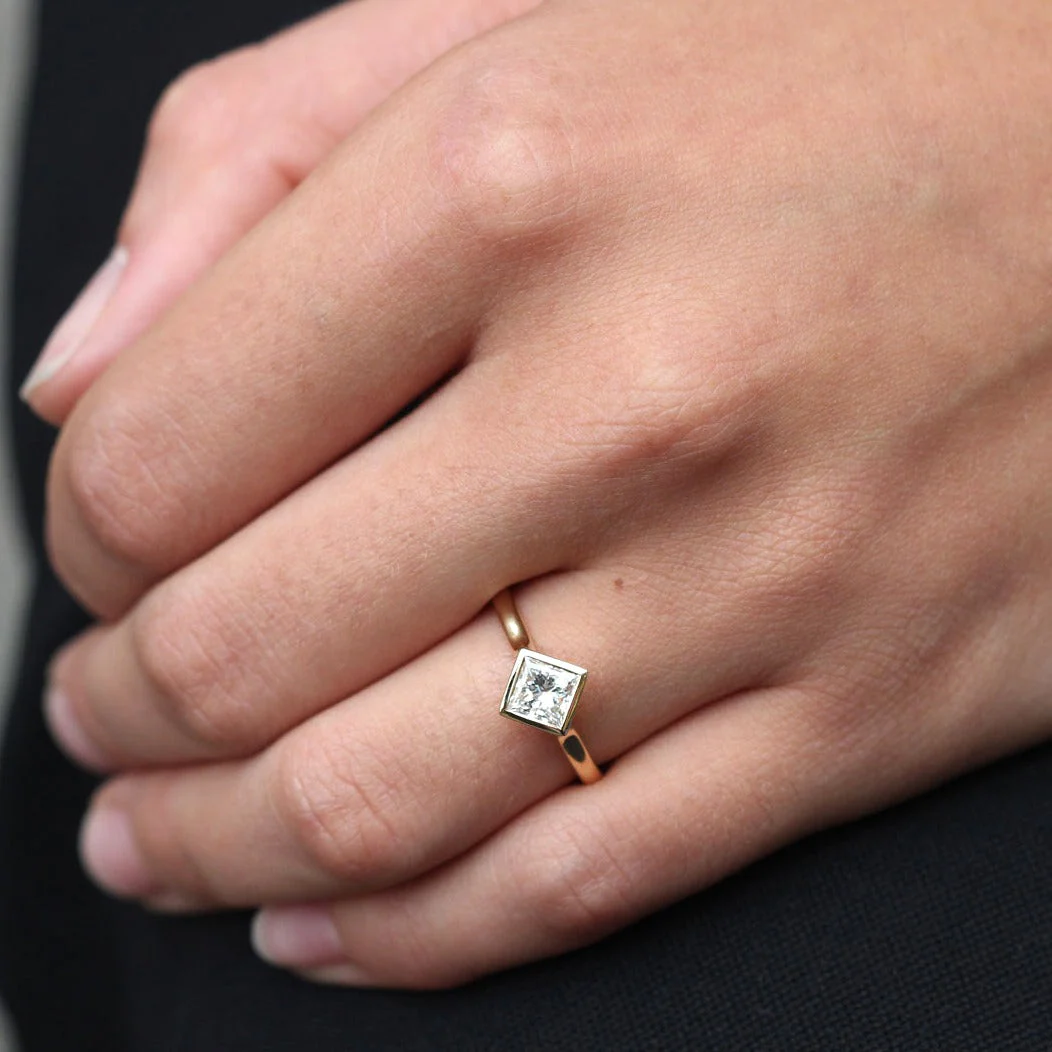 Location: 41 Exmouth Market, Clerkenwell, London EC1R 4QL, UK
Customer rating: 5 stars
Known for their exquisite designs and stunning collections, EC One are specialist in creating beautiful jewellery. They've been in the business for over 25 years, designing and remodelling jewellery.
As with most stores on this list, EC One are also committed to ethically sourced (fair trade and fair mined) gold and conflict-free diamonds. And if a diamond isn't your thing, they carry tanzanite, sapphire, topaz, aquamarine, and emerald, among others, for a unique non-traditional engagement ring.
We really like their engagement ring collection, which has some unique and trendy designs! You can purchase online or if you are after a custom-made ring, contact EC One for a consultation. They will help you through the process of creating the ring in their on-site workshop.
For consultations, check their website: EC One
Jessica McCormack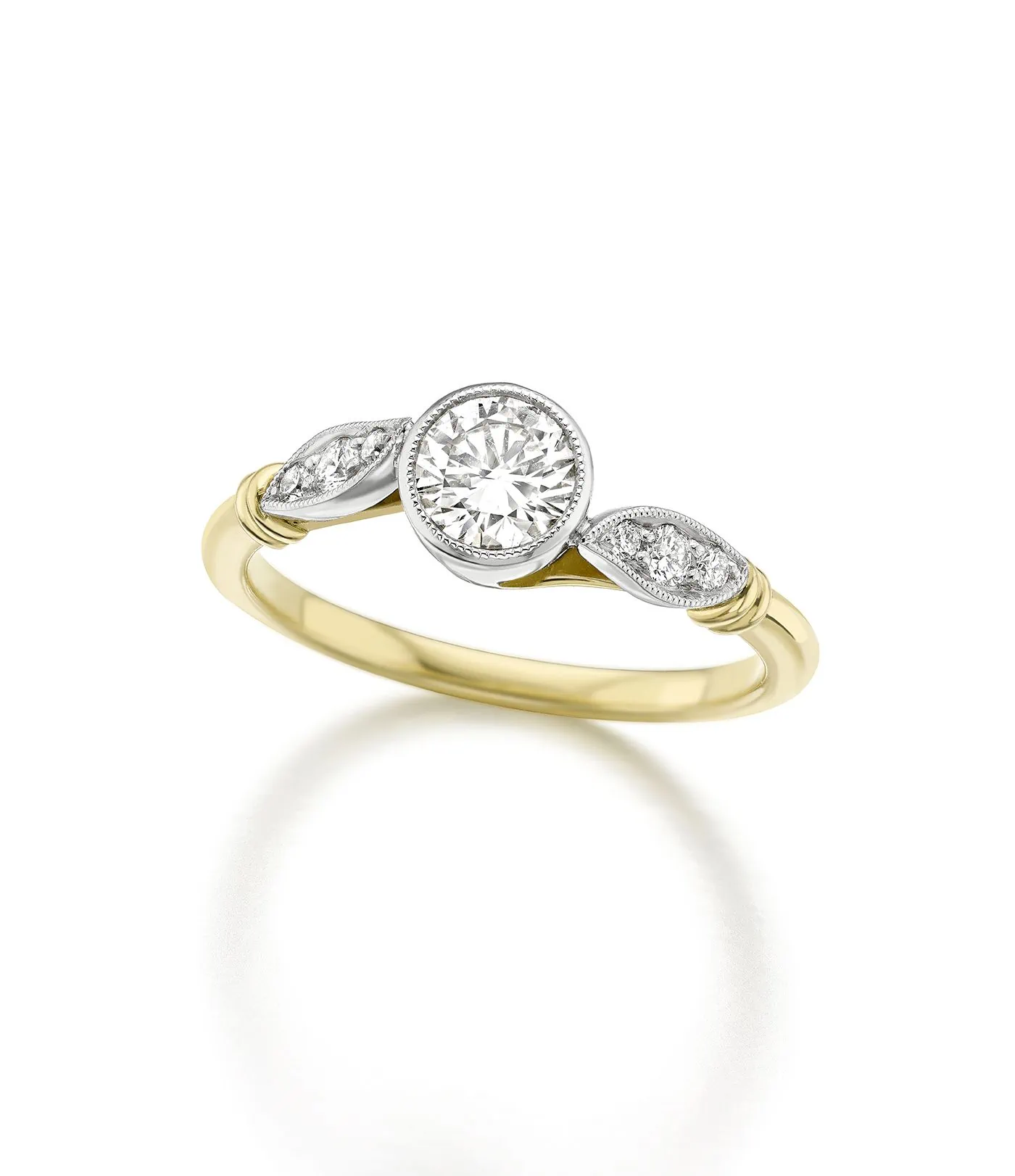 Location: 7 Carlos Pl, London W1K 3AR, United Kingdom
Customer rating: 4.4 stars
A young New Zealander who now designs and creates in London, Jessica McCormack says she draws inspiration from anything, be it Maori symbols or Japanese fairy tales. Her engagement ring designs are exciting and modern, with elements of the traditional.
They readily welcome in-store and also take virtual bookings. What's more, they keep things super easy through their online website, which is what actually caught us on to their brand and design philosophy.
Although prices can be a bit out there, with off-the-shelf engagement rings averaging around £10,000, they've got an extensive inventory, including dozens of dedicated collections, separate rings, necklaces, bracelets, and earrings. They ship via FedEx and promise to deliver within 1-2 working days. You can collect items in-store or opt for expedited same-day delivery within London Zones 1-3.
Jessica McCormack supports a 14-day returns policy on items in pristine condition. They also have a robust design services section where you can commission bespoke pieces. During this process, Jessica gets to know you personally, understanding your preferences before following through with the design.
As such, Jessica McCormack is a premium brand that never fails to deliver, provided your budget is up to the challenge.
For consultations, check their website: Jessica McCormack
Lewis Malka
Location: 100 Hatton Garden, London EC1N 8NX, UK
Customer rating: 5 stars
Named after its founder, Lewis Malka's niche market is bespoke engagement rings. Malka is very passionate about this field and says:
"A lot of people have the misconception that bespoke means expensive, to my clients, it means you get exactly what you want at a price you want to pay…My clients get a unique opportunity to stamp their own personality on the ring of their dreams which they will cherish forever."
In fact, Lewis Malka is so committed to his craft that he personally creates the majority of bespoke engagement rings that are ordered. He has the final say in every piece ensuring the quality and standard of each piece. Lewis Malka keep things transparent, inviting you to be involved in the process of creating your engagement ring.
On their website, you can browse their ring collections to gain inspiration. Each ring has a clear description and specifications detailed. However, as they do not sell their rings online, you will have to contact them regarding your ring.
What customers love about Lewis and his team is their professionalism and helpfulness. They know that buying an engagement ring is a unique experience and they aim to make this the best experience possible.
For consultations, check their website: Lewis Malka
77 Diamonds
Location: 3 Hanover Square, Mayfair, London W1S 1HD, UK
Customer rating: 4.6 stars
If you're looking for value without compromising on quality, then you should check out 77 Diamonds! Their diamonds can be up to 70% cheaper than most of their competitors. This is because 77 Diamonds purchase their stones directly from diamond cutters in various global locations.
In fact, 77 Diamonds are so sure of their prices that they offer a price guarantee. They go beyond a price match, instead offering to go 1% lower than a competitor's price if you find the exact diamond for cheaper elsewhere.
At 77 Diamonds, you get a mix of luxury and affordability. The site is easy to use, and you can access most of their inventory online. But they also have several physical stores, both in London and other parts of Europe.
If you're looking for a bespoke ring, we recommend contacting the team for a consultation. You will then work with their team to design a ring based on your particular requirements. They use the latest technology, to create 3D computer designs, so you get to see what the ring will look like.
For consultations, check their website: 77 Diamonds
Bear Brooksbank
Location: 13 Marlow Workshops Arnold Circus, Calvert Avenue, London E2 7JN
Bear Brooksbank is a British fine jewellery designer from North Yorkshire. As a highly elusive and exclusive designer of refined bespoke pieces, Bear Brooksbank is not for the faint of heart. They deal primarily with engagement rings. Their designs are classy, eye-catching, with a lot of inspiration drawn from antique pieces.
Don't just take our word for it. Check out their portfolio of custom-commissioned earrings, necklaces rings, and engagement rings. These are amazing to look at and get inspired by.
Bear Brooksbank incorporates a lot of gemstones and always creates exquisite pieces that – unlike their website – embrace maximalism and put out dazzling pops of color wherever they shine.
The Bear Brooksbank website is simple to navigate. You can browse their limited collections and off-the-shelf inventory or even take a look at their unique jewellery boxes collection. They have a couple of detailed blog posts on how they design/remodel their pieces and a direct line to get in touch with their customer service representatives.
Bear Brooksbank can guarantee shipping anywhere in the UK within 2-3 business days and slightly longer if internationally. Sadly, they aren't very flexible with returns and exchanges as they only offer a seven-day return window for items in pristine condition (10 days for international buyers). They provide free repairs and aftercare services during the first year of purchase.
For consultations, check their website: Bear Brooksbank
Stephen Einhorn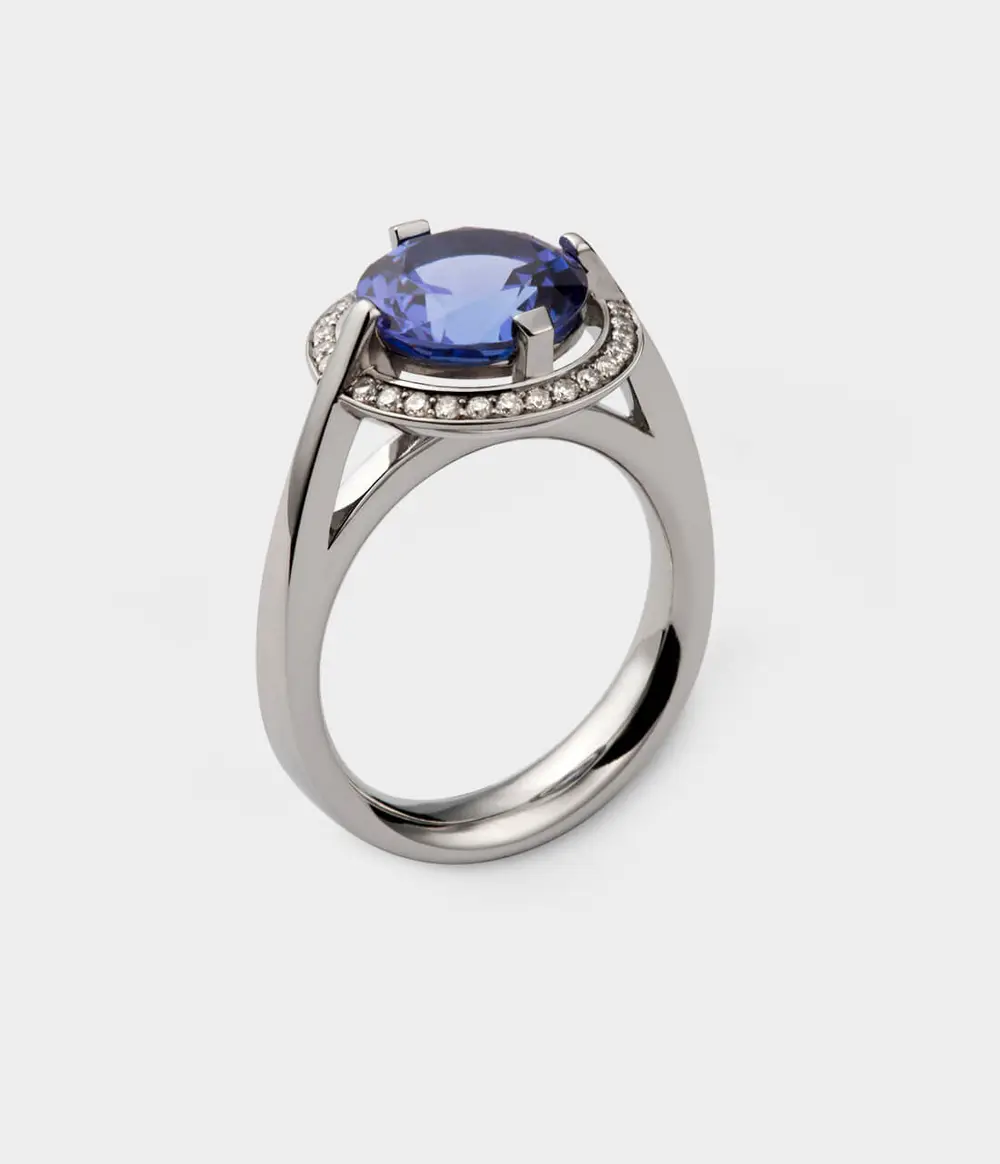 Location: 210 Upper St, London N1 1RL, UK
Customer rating: 5 stars
For funky designs and unique collections, look no further than Stephen Einhorn. Known for their contemporary custom-made jewellery and unique designs, Stephen Einhorn has been around since 1995. What we love about this company is that they cater to a wide range of customers.
Are you looking for skull jewellery? How about an LGBTQIA+ or unisex collection? They have it all! And they do it in a classy and bold way.
But they also have traditional diamond engagement rings, if that's what you're looking for. Whether you're searching for diamonds, pearls or a skull engagement ring, there's something for everyone.
The company is committed to working with responsibly sourced materials. Over 80% of their metals come from recycled sources and all their diamonds are conflict-free and have been sourced ethically.
Stephen Einhorn offer a personalized service and once your ring design has been finalized, it will be handcrafted by their skilled team of jewellers in their Islington workshop.
But you don't have to visit their shop to have a ring custom created from them, because they also work with remote customers. You can also choose from one of their many pre-made engagement rings available online.
Browse their website for a glimpse into the quality of their work. It is undoubted that they are one of the best in the business.
For consultations, check their website: Stephen Einhorn
Diamond Boutique
Location: New House, 67-68 Hatton Garden, London EC1N 8JY, United Kingdom
Customer rating: 5 stars
Although it's called Diamond Boutique, don't let the name fool you. You can find more than just diamonds here. In fact, Diamond Boutique houses a very solid collection of gemstone engagement rings which are perfect if you are after a diamond alternative.
If you aren't interested in their off-the-shelf ring collection, get in touch with Diamond Boutique for a bespoke engagement ring. They have a step-by-step process starting with a free sketch and including a Try before You Buy option, where you can have a silver replica of your ideal ring designed. What you pay for this replica ring is later deducted from your total cost.
Diamond Boutique has a large range of engagement rings in their collection at reasonable prices. Their craftsmanship and designs are exquisite and of very high quality.
For consultations, check their website: Diamond Boutique
Ingle & Rhode
Location: 14 Gee's Ct, Marylebone, London W1U 1JW, UK
Customer rating: 4.9 stars
For unique bespoke rings and exclusive collections, Ingle & Rhode is your go to place. Established in 2006, Ingle & Rhode have focused on creating ethically sourced jewellery, balancing quality with pricing.
The metals used in their jewellery are either recycled or from Fairtrade-certified manufacturers and their conflict-free diamonds and gemstones can be traced back to their origin. What's more, each piece of their jewellery is made in the UK by highly qualified craftsmen.
If you're into online shopping, check out their e-commerce site. If you prefer, you can also visit their premises, although by appointment only, as they don't have an open storefront.
Bespoke engagement ring prices start at around £1500. For this, they offer a free consultation. But if you aren't able to visit them person, they will work with you over phone and email to create the ring you desire.
Browse their Bespoke Engagement Rings collection on their site for inspiration. If you check this collection out, don't miss the ring inspired by Vincent van Gogh's Starry Night!
Their customer service is excellent, with professional and friendly staff to assist you in making one of the most important decisions of your life.
For consultations, check their website: Ingle & Rhode
Tessa Packard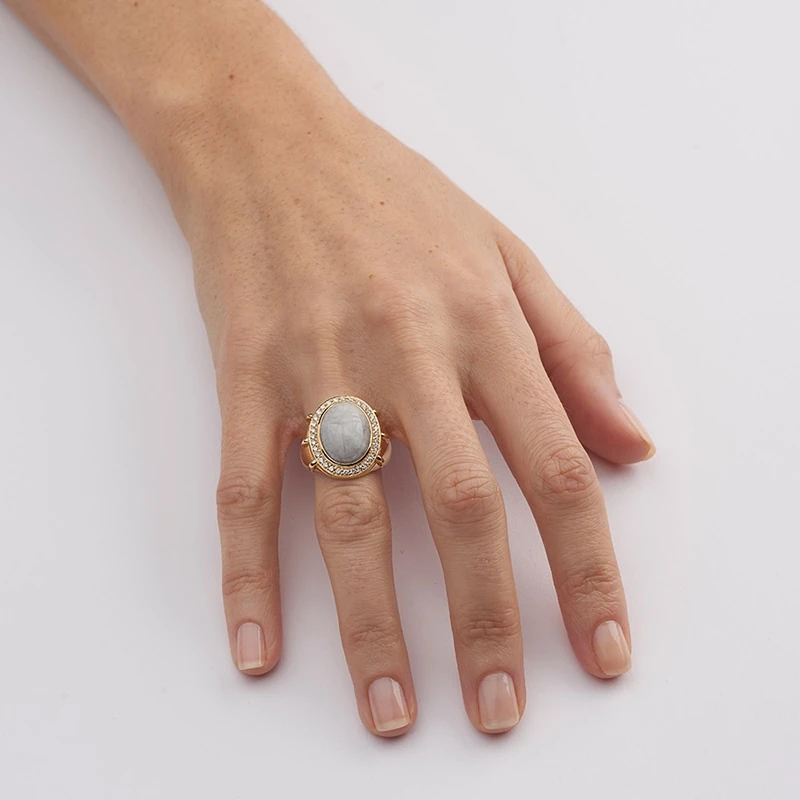 Location: Contact them to arrange a face-to-face appointment
Customer rating: 5 stars
What's great about Tessa Packard is that she loves adding colours to her pieces. So anywhere you look within the Tessa Packard catalogue, you'll find pieces with bright-coloured gemstones and textures with a contemporary design philosophy that borders on the whimsical.
Just like her designs, the prices can vary wildly, with the most unique and artistic rings being priced in the range of £5,000-£8,000. There's a decent selection of rings, earrings, bracelets, and cufflinks for sale but if you're patient enough, there's the stellar opportunity to commission a one-of-a-kind custom piece that will knock your "creative" socks off.
Tessa Packard will take on custom orders for traditional jewelry and engagement rings. On top of that, her company is also willing to provide remodeling and birthstone sourcing services.
Through the website, you can check out each of these services along with a gallery of their previous bespoke pieces. During the process, Tessa promises to get in touch with you directly and understand your style before adding her own playful flair.
Tessa Packard ships internationally – via Royal Mail or tracked courier – taking around five business days for delivery. That said, shipping is faster within the mainland where you can receive your order within 1-2 working days. For returns, there's a 14-day window, and the items must be unused and within their original packaging.
For consultations, check their website: Tessa Packard
Jessie Thomas Fine Jewellery
Location: 65 Pimlico Rd, London SW1W 8NE, United Kingdom
Customer rating: 4.6 stars
For those focused on the artistry itself and not the numbers, Jessie Thomas Fine Jewellery is a great place to start. Their website is one-of-a-kind since it showcases the jewellery by its own virtues instead of the floating text or promotional offers that other e-tailers tend to highlight.
Jessie Thomas does provide a fine experience for shopping online. They've got a small-yet impeccable collection of engagement rings, necklaces, and bracelet designs to choose from. All existing designs are made to order since they don't hoard jewellery and do their utmost at handcrafting flawless pieces to constantly ensure the quality of their stock.
Custom designing services are also available (starting at £3,750) and you can browse their impressive gallery of bespoke pieces designed for previous clients.
Sadly, this puts them at a minor disadvantage as all products take longer than two weeks to ship. If you're looking to return any items, they have a seven-day return window to compensate for the rare chance that your order is damaged during transit.
For consultations, check their website: Jessie Thomas Jewellery
Wrapping Up
And that's it for our roundup of the best stores to buy engagement rings in London. We hope you find your match at one of these stores!
Not satisfied or want to take your search online? Read our reviews on James Allen, Blue Nile, Brilliant Earth and Brian Gavin Diamonds for your online diamond engagement ring shopping options.