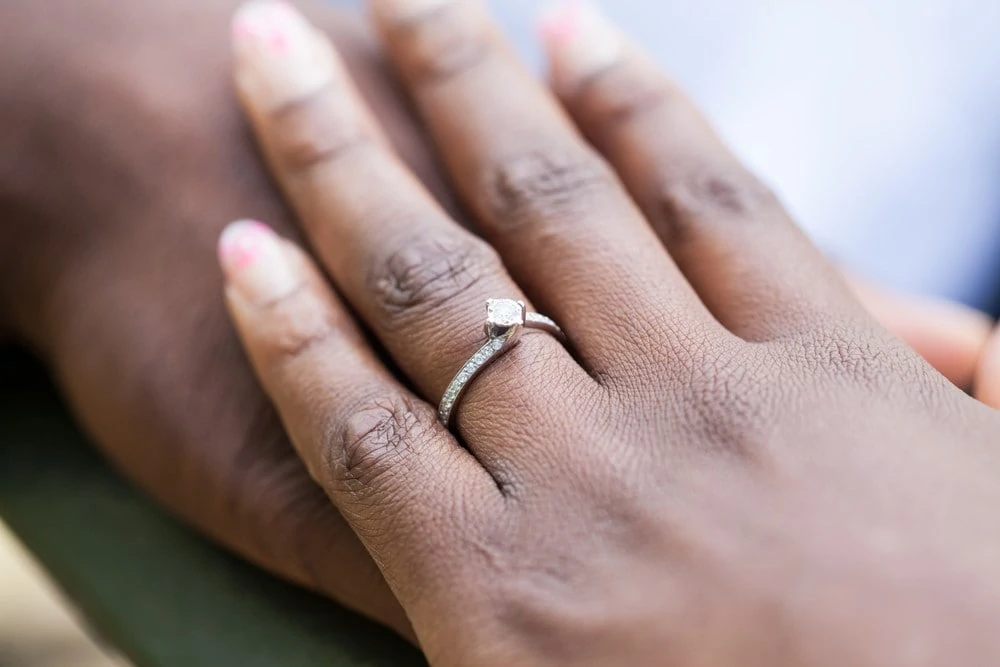 As Jewelry Shopping Guide editors, we write about things that we love and we think you'll like too. We often have affiliate partnerships, and may generate some revenue from these links at no cost to you.
Dainty engagement rings are on the rise in popularity as many young people turn away from high-cost, extravagant engagement rings. More and more soon-to-be brides are opting for the "less is more" look, resulting in a spike in the demand for elegant, discreet engagement rings that exude a subtle charm.
A thinner band with a minimalist, plain design is a stylized look for the dainty engagement ring. These unique proportions enhance the size of the central diamond or gemstone, creating an optical illusion that can make a stone look much larger.
The svelte dimensions of a dainty engagement ring, combined with a durable metal, makes this style of ring a timeless choice for every individual.
Let's take a look at how to choose a dainty engagement ring and show off your less is more style.
What Constitutes as A Dainty Engagement Ring?
Dainty ring designs are generally discreet and simple. Typically, they bear a small solitaire diamond at the centre of the band, sometimes accompanied by diamond pave split shanks or diamond-set shoulders. The size of the central stone will determine how much detail is added to the rest of the ring.
Usually, the decoration is kept to a bare minimum to capture a sense of simplicity and minimalist beauty. Dainty rings aren't determined by any particularly metal either. Stones with rounded types of cuts are a popular choice since they enhance a feminine, flowing look on the finger.
Best Dainty Ring Styles
Some dainty engagement ring styles prove more popular than others. We've chosen a few designs that look elegant and timeless yet also wear easily, especially alongside a wedding band or other staple items of jewellery.
14k Rose Gold Solitaire Ring
Rose gold has a delicate, dainty and feminine touch, making it perfect for less extravagant engagement ring settings. A dainty engagement ring with a 14k rose gold band given a flawless polish will maximize the metal's exquisite blush-pink tones and enhance the look of the center stone.
This solitaire diamond engagement ring is certainly for the demur lady. A brilliant-cut diamond is embraced inside geometric designs with no embellishments on the band.  The ring is crafted from 14k white gold promising long-lasting wear and lustre.
This pear-shaped Moissanite solitaire engagement ring is a suitable choice for your bride if she likes wearing classic designs with a bit of a twist. The Moissanite gemstone is an affordable alternative to diamond, costing a fraction of the price. This ring has been crafted from 14k rose gold, so it will withstand substantial wear and tear every day, despite its delicate and dainty appearance.
Woven/Rope Designed Brands
This dainty rope ring from James Allen is perfect for brides who prefer contemporary jewelry designs. Strands of elegant 14k white gold are entwined, meeting at the center of the band where a petite four-claw setting spotlights the simplicity of one single solitaire diamond.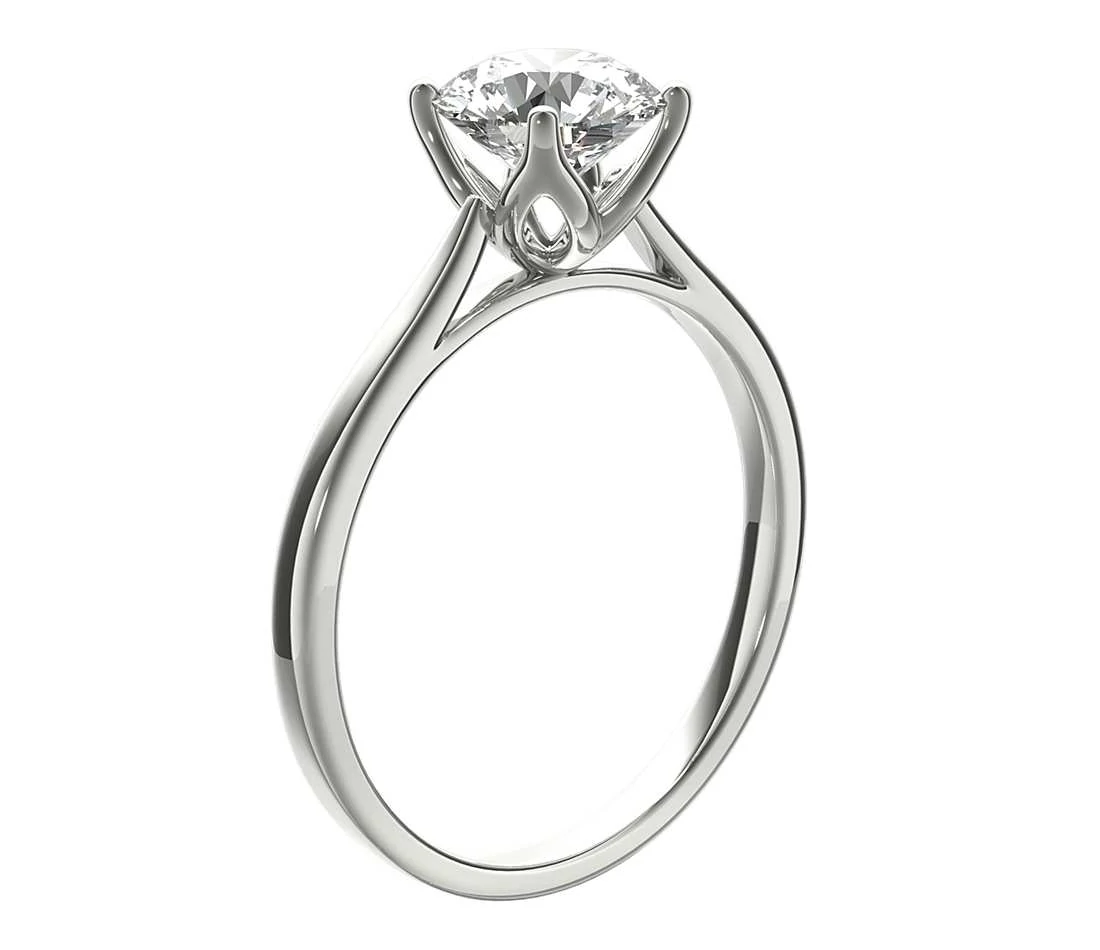 This petite Cathedral Solitaire Engagement ring from Blue Nile is crafted from 14k rose gold and showcases an exquisite solitaire diamond, encased within an alluring 14k white gold four claw setting. The playful mix of golds is particularly striking, and how the diamond is mounted into its elegant setting, enables light to pass through its faceted edges creating maximum brilliance.
Gemstones are perfect for adding a pop of color and texture to your ring without needing to go overboard with metalwork or large stones. Because there's a wide range of stones to choose from, the choice is yours – whether you want a diamond alternative or a completely different stone, there are endless options out there.
How to Choose a Dainty Engagement Ring
There are no rules to choosing a petite engagement ring, except that if the ring looks dainty and small, rather than flashy and extravagant, then you've got a dainty ring. But here are some guidelines to help.
The type of metal you choose is important in dainty rings because the metal needs to hold up to wear, tear and daily exposure. This will ensure that the ring lasts a lifetime. Gold and platinum are the two most popular options for engagement rings but can be costly. Of the two options, platinum is more durable, but rose gold is also an excellent option, strengthened by the copper in its alloy.
You don't need a large gemstone if you're going for a dainty look. For diamonds, .50 carats or less works nicely, with .30 being the preferred choice. This gives you a noticeable sized stone while still being none too flashy.
Think about the band width
The width of the band is important because it determines how bulky or dainty your ring will look. While 2.0mm is the standard size for women's engagement rings, 1.5mm and thinner will give you a very dainty look. On the flip side, the ring may not be very durable and may not be able to structurally hold onto stones or certain types of settings like channel or pave.
Not every setting will suit a dainty style ring. For example, a tension setting requires larger bands to have enough tensile force to hold the center stone in place, while channel settings also require sufficient space to create grooves in the band for the diamond melees. Solitaire, halo and pave are among the most popular ring settings for dainty rings.
Factors to Consider Before Buying A Dainty Ring
An engagement ring is an investment for life. Not only is it important to think about whether your partner's job and lifestyle are suitable for a dainty style, but you also need to consider whether this type of ring is exactly what she wants. Whether in vogue or not, your bride will need to wear the ring for the rest of her life and love it as much as her wedding band. Dropping subtle hints to your partner will enable you to collate information and build up an image of a style she will love, but asking friends and family, as well as taking a look at her current jewelry collection, can also help.
Classic, solitaire diamond rings come under the umbrella of dainty designs, but sapphires, emeralds and rubies are also popular due to their rarity and their value. Think about whether your partner is a lover of the classic diamond or whether she likes adding a subtle touch of color to her everyday look with the addition of a gemstone or two.
Once you've decided that a delicate engagement ring is the right choice, the rest is easy. Decide on a metal that suits the rest of your partner's jewelry collection or opt for the metal that she wears the most. Pick a style that suits her personality as well as her line of work and her lifestyle. And above all, whatever dainty engagement ring design you decide on, make sure it's comfortable and practical enough to wear every day of her life.