As Jewelry Shopping Guide  editors, we write about things that we love and we think you'll like too. We often have affiliate partnerships, and may generate some revenue from these links at no cost to you.
The most popular of the step cut shapes, the emerald cut is a stunning choice for engagement rings. Naturally classy and sophisticated in appearance, emerald cut diamonds are typically more affordable than other fancy cuts, giving you great value for your money. The cut also makes the diamond appear large and enhances its appearance.
If you've decided that you want an emerald cut diamond for your engagement ring, choosing a setting that shows it off to advantage while keeping it secure and protected is important.
If you need some inspiration to guide you, check out the emerald cut engagement rings on James Allen's Inspiration Gallery which showcases gorgeous rings that customers have purchased.
Here are the settings that look best with an emerald cut diamond.
Prong Setting
Pros of Prong Setting
The diamond is highlighted and enhanced
Light reflection is maximized
Enhances size of diamond
Diamond is secure
Easy to clean and maintain
Cons of Prong Setting
Prongs can catch on every day objects
Over time, prongs can wear out
There is a risk of the diamond getting loose, knocked or damaged
Find this ring here
Prong settings are most couple's favorite option for engagement rings and the go-to choice when it comes to settings. It makes the diamond appear large as it is the focus of the setting. Set the diamond with a thin band and you can emphasize its size even more. Prongs don't obstruct the view of the diamond, allowing the stone to be clearly seen.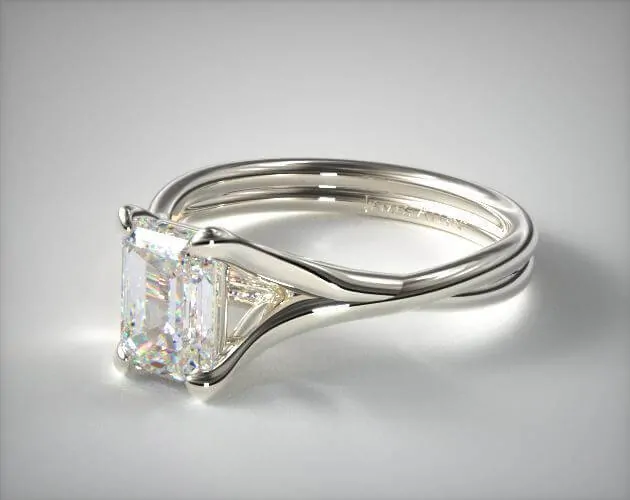 Emerald cut diamonds aren't brilliant. Rather, their beauty lies in the contrast of light and shadow, creating a 'hall of mirrors' effect. The prong setting maximizes this effect, allowing optimum light reflection. The light allows for the contrast between dark and light in the steps to show, adding depth and dimension to the diamond.
While most emerald cut diamonds are set with 4 prongs, holding the corners firmly, it's best to opt for 6 or 8 prongs for larger diamonds. This ensures that the stone is held securely without the danger of it falling out.
As with all settings, prong settings require maintenance and periodic inspection to ensure that the prongs are still strong and in place. Over time, they can wear thin and impact can bend or even break the prong, putting the diamond (or gemstone) in danger of falling out. Another danger is that because the diamond is so exposed, there is the risk of the diamond getting hit or knocked, which can damage the stone.
Halo Setting for Emerald Cut Diamond
Pros of Halo Setting
The center stone is highlighted
Added brilliance and sparkle
Makes the diamond appear large
Offers protection from impact
Cost effective
Cons of Halo Setting
Cleaning can be difficult
Small diamonds may fall out over time
Halos are commonly created by placing a ring of tiny diamonds all around the center stone. Halo settings are stunning for emerald cut gemtones. They add that extra touch of sparkle that the emerald cut lacks, creating a surrounding sparkle that emphasizes the unique beauty of the emerald cut, all the while keeping the focus on the center stone.
One of the main advantages of the halo is that you can opt for a smaller center stone and still have it appear large when surrounded by the halo. Our eyes tend to measure the size of the center diamond from edge to edge of the halo rather than from the edges of the diamond. What this translates to is that you can save money by purchasing a smaller emerald cut diamond.
Halo settings tend to provide more protection for emerald cuts than prong settings, as they create a buffer around the diamond. Unless your diamond is hit dead center, the halo will protect it.
If you're feeling bold, you can opt to have a surrounding of tiny colored gemstones or colored diamonds to add color and character to your ring. Note that colored gemstones will not have the same depth of sparkle that diamonds have.
Three Stone Setting for Emerald Cut Diamond
Pros of Three Stone Ring
Endless opportunities for customization
Smaller diamonds can be used
Meaningful symbolism
Coverage for wider fingers
Cons of Three Stone Ring
Harder to clean and maintain than simpler settings
There are many variations to the three stone setting, which means that whether you are a minimalist or a maximalist, there is bound to be a three-stone ring design that you'll love.
You can opt for three equal-sized emerald cut diamonds set side by side or you can choose to have different gemstones in varying sizes.
Another variation is to mix and match different diamond cuts. The example below shows an emerald cut flanked by two tapering diamonds.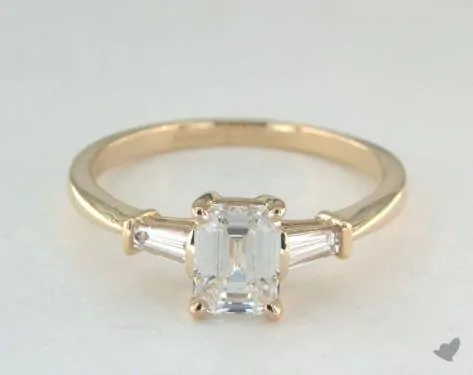 The three-stone ring design allows you to utilize smaller diamonds, cutting the cost of your diamonds.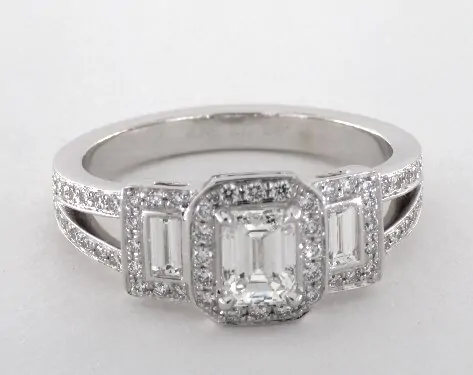 For ladies with wider fingers, three-stone rings offer great coverage and fit the hand perfectly. You can never have too many emerald cut diamonds, so setting them side by side is simply beautiful and eye-catching. The three-stone emerald engagement ring proves that a diamond doesn't have to be brilliant to be gorgeous!
Other Settings
The emerald cut lends itself well to most engagement ring settings that choosing the right one will be fairly easy.
One setting that you may wish to avoid is the bezel setting, as it minimizes the size of the diamond and does not add to its luster. For an emerald cut diamond, the bezel can actually make it appear underwhelming. However, some people love the sleek, contemporary look of a bezel set emerald cut diamond, so go with your gut feeling. If you like how it looks, then there's no reason you shouldn't opt for it!
Before you decide on your setting, consider your lifestyle, style and preferences to find the setting that offers you the degree of protection you require for the emerald cut diamond.
Where to Buy
Check James Allen's impressive range of well-crafted engagement rings. With high quality images and video of the actual diamond, James Allen makes online shopping easy and hassle-free.
For more setting choices and gemstone options, check out Leibish's collection of emerald cut diamond and gemstone rings.