Filigree has been a popular way to embellish jewelry settings, creating beautiful and delicate pieces. It is a form of jewelry with classic metalwork developed in the 15th century that exists to this day for those who love vintage charm. Many modern retailers offer a vintage engagement ring section and many of these feature filigree.
But is filigree old-fashioned and outdated? This depends on how it's used.
Where Did Filigree Originate?
Filigree jewelry has been around for thousands of years. Filigree designs were in use during ancient civilizations like Mesopotamia, Egypt, Phoenicia and India and some of the pieces that have been uncovered go back about 5000 years, making filigree one of the oldest forms of jewelry art.
In some parts of the world, especially India, the methods of creating filigree jewelry has remained virtually unchanged over millennia.
What Exactly Is Filigree?
Let's start with the meaning of the word 'filigree', which comes from the Latin words 'filum' and 'granum' meaning thread and grain (bead) respectively. So the main components of filigree is the fine metal threads and the little metal beads that are used together to create the design. Some popular motifs for filigree jewelry are flowers, hearts, elaborate flourishes and vines.
To create filigree jewelry, the jeweler begins by stretching out the metal until it is a fine thread. These threads of metal are twisted, curled and formed into delicate lacy patterns and designs.
These lacy designs are then fused onto the gold, silver, or platinum jewelry or fused together to create intricate designs. The other common aspect is to include small metal beads to give the piece more character and add to the design. These separate components are then soldered together to create the piece of jewelry.
Many antique filigree pieces have what is known as 'openwork filigree'. This is where spaces are left between the metalwork. While this technique is still commonly used today, it's somewhat more complicated than regular filigree.
Examples of Filigree Engagement Rings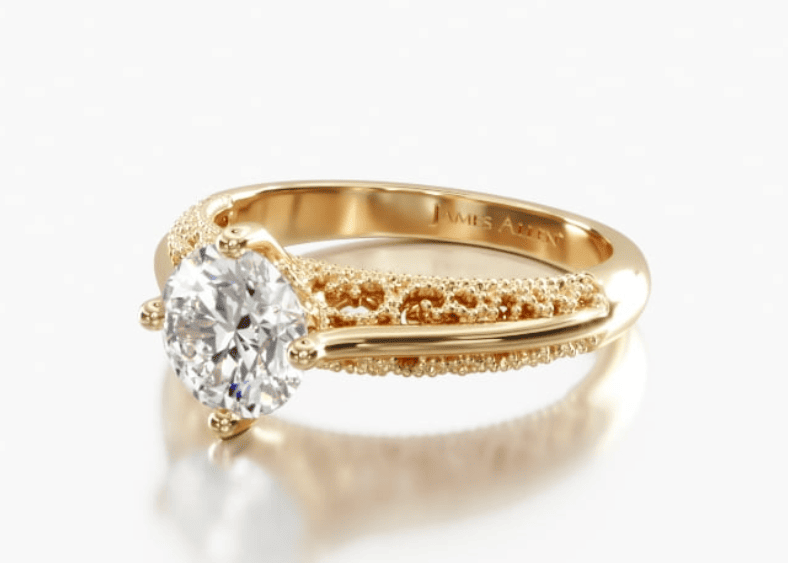 Filigree adds a fine texture and appearance to any ring. It can be used in a minimalist or maximalist way, and so can be ideal for any style. Many vintage-inspired rings use filigree giving them a vintage, elegant look.
Many young couples love the romantic motifs and elaborate designs of filigree engagement rings, making them a popular choice.
A benefit of filigree rings is that because the metal and setting are embellished and beautiful, you can opt for a smaller diamond or go with a colored gemstone, like this sapphire ring. Gemstone rings are generally more affordable than diamonds, meaning that you can cut down on the price while still having a stunning ring.
However, as filigree by nature is delicate, purchase from a reputable retailer known for the quality of their work. The ring should be well crafted and able to withstand regular use.
Pros and Cons of Filigree Engagement Rings
While we love the look of filigree engagement rings and the several advantages that it brings, there are some downsides to consider. Here are the pros and cons of filigree:
Pros of Filigree Engagement Rings:
Unique Design: Filigree rings often feature intricate and detailed craftsmanship that stands out from simpler designs. This can make for a truly unique and eye-catching piece.
Vintage Appeal: Filigree rings often have a vintage feel to them, which can be appealing for those who appreciate jewelry with a sense of history.
Customizable: Because filigree involves delicate metalwork, you can have your ring customized in many ways. For example, if you love nature, a filigree design featuring leaves or flowers could be a beautiful addition.
Cons of Filigree Engagement Rings:
Delicate: Because of the intricate work, filigree rings can be more delicate than other styles. This might require more maintenance and care on your part.
Harder to Clean: The detailed design and intricate metalwork can mean that there are more crevices and nooks where dirt can get lodged. This can make cleaning the ring harder than a simpler design.
Not for Everyone: The vintage style of filigree may not appeal to everyone. If you're into more modern or minimalist designs, then a filigree ring might not be for you.
Harder to Repair: If a filigree ring gets damaged, it might be more complicated and potentially more expensive to repair because of the intricate metalwork.
Best Material for Filigree Work
Most types of jewelry metals can be used for filigree. The most common are gold (14k or 18k), platinum, and silver.
Gold is the most common choice because its malleable and easy to work with. It's also a durable metal choice for jewelry. Gold is classic, prestigious, and valuable. However, 22k or 24k gold can be too soft for filigree and can become deformed over time.
Platinum is also valuable, prestigious, and modern, but it can be more expensive than gold. Most jewelers will recommend platinum for filigree work because its so durable.
Silver is great for costume jewelry, but we wouldn't recommend it for heirloom or enduring pieces like engagement rings. Silver tarnishes and isn't as valuable as gold and platinum.
Where to Buy Filigree Engagement Rings
Because vintage designs are very popular, most retailers carry a vintage engagement ring line. Some of these can have filigree work – but note that it will be limited compared to other types of designs. We recommend searching for filigree and vintage rings at the following stores.
Why: Superior diamond imaging, competitive prices, high quality, wide range
An online giant in the diamond space, James Allen a stunning collection of high-quality cut diamonds and settings. The images and videos are unparalleled in quality and makes shopping online similar, if not better, to shopping in store.
Why: Competitive prices, wide range, great quality
Known for dominating the online diamond industry since the late 1990s, Blue Nile offers one of the largest online diamond inventories, as well as beautiful ring settings. Search here at competitive prices, solid after-sales policies, and great customer service.
Why: Superior cut quality, exclusive range, stunning designs
Whiteflash has earned an international reputation for the elite quality of their precision cut diamonds, and for their exquisite collection of designer engagement rings. Check their stunning range of diamond jewelry and loose diamonds.
Why: Impeccable quality, superior cut, small but exclusive inventory
Brian Gavin is a renowned expert in diamond cut – and it shows in their superior diamond quality. For the very best in diamonds, search their inventory of designer diamond jewelry and loose diamonds.
Why: Try before you buy, build your own ring, great quality
If you want to try out how a ring setting or cut diamond ring looks on your finger before you commit to buying one, check out With Clarity's Home Preview Service, which is completely free. Find out more here.
Wrapping Up
Hopefully this article has given you a clearer idea of what filigree really is! We're sure that if you love vintage styles, elegant motifs, and intricate craftsmanship, then you will love a filigree ring. As with any major decision, consider your lifestyle, preferences, and budget to find a ring that truly mirrors your unique bond.