When it comes to personal jewelry, nothing is more personal than the locket. Lockets have been around for centuries and are as romantic and relevant as ever.
With all the different types of lockets on offer and the endless ways to customize and style your locket, there's bound to be a locket that captures your heart.
In this guide, we'll go through everything you need to know to help you choose the ideal locket for you.
What is a Locket Necklace?
A locket is typically a pendant worn on a chain around the neck, but it can also be worn as a bracelet or as a charm attached to a bracelet.
Lockets tend to have hinges that, when opened, feature a little secret space inside, where personal items such as photos or a lock of hair can be kept. They make for excellent gifts between lovers, family members and close friends.
Types of Lockets
If you thought there's just one type of locket, think again! Here's a list of the top types of lockets available on the market. Some are classic styles and others are modern takes.
1. Floating Lockets
With this style, the locket is made of transparent glass set in a hinged metal frame. You can then select some charms, often up to 6 or 7, and place them in the locket.
It's called a floating locket because the charms look as though they are floating inside within the glass. It is an excellent way to personalize a locket with charms of things that you love. But, if you're after subtlety, note that there are no secrets with a floating locket as the charms are all visible through the glass.
2. Locket Pairs
Matching lockets are perfect for friends or lovers. They often consist of a matching pair that when put together create a complete whole, commonly in the shape of a heart. This locket idea is very sweet and a great way to celebrate a wonderful friendship.
The only downside is that due to the locket's shape, a photo may not be the best option. However, you can keep other mementos within the locket.
3. Gate Locket
The gate locket is a clever modern twist on the locket concept. You still have your space to place 1-3 photos, but you don't have the hinges. Instead, there's a swinging 'gate' in front of the photos, keeping it private and safe.
The gate locket idea is unique and is a stylish take on the locket. The one downside with the gate locket is that you can only use it for photos as it cannot hold charms or other items.
4. Personalized Lockets
With personalized lockets, you can take the customization game up a notch. Not only do you get to personalize what you put inside the locket, but you can also engrave the front for an added touch.
Some ideas for engravings are
A special word like love, believe, faith, hope that holds meaning for the wearer.
A Bible verse, if you are religious. For example, simply writing 1 Cor, 13:4-7 evokes the entire verse on love.
The initials or monogram of the giver or the receiver.
A special quote like You are the key to my soul or Believe you can that reminds you of something important to you.
5. Rotating Lockets
Rotating lockets are a unique style that feature a spinning pendant with locket windows. Often, there are between 2-4 windows, in which you can place a photo or other memento. This kind of locket is ideal for individual photos of family members.
Rotating lockets are also a great gift idea for a lover. If it's to celebrate your romantic relationship, you could put in several mementos of you and your loved one.
Best Material for Lockets
Lockets come in a range of prices. First, it's best to have a ballpark figure of your budget as that will help you pick your metal type.
Gold Lockets – Yellow gold is highly valuable and will always hold its value. A locket made of yellow gold has a vintage, classic look. This can become an heirloom in the family and can be passed down generations. Gold lockets typically range between $400 to about $6000.
Silver Lockets – Silver is a respected precious metal but the best part is that it is very affordable. Silver never really goes out of style and due to its versatility, it can be used in a range of designs. Silver lockets range from about $50 to $1000.
Platinum Lockets– If price is not a concern but durability is, platinum is your best bet. A polish every now and then will keep it lustrous. Platinum lockets cost up to several thousands of dollars.
Enamel Lockets– Enamel is an appealing material in the use of lockets. It allows for intriguing colors and designs, as well as varied textures. You can find smooth, waxy enamel lockets that are very aesthetically pleasing. You can also find more exotic enamel locket designs.
Glass Lockets– Glass lockets are inexpensive and don't hold a lot of monetary value. But they offer something that other lockets don't – they are transparent. As a result, glass lockets allow you to exhibit charms or other personal items within the locket. The most popular glass locket style is the floating locket. These typically range from about $20 to $100.
History of Lockets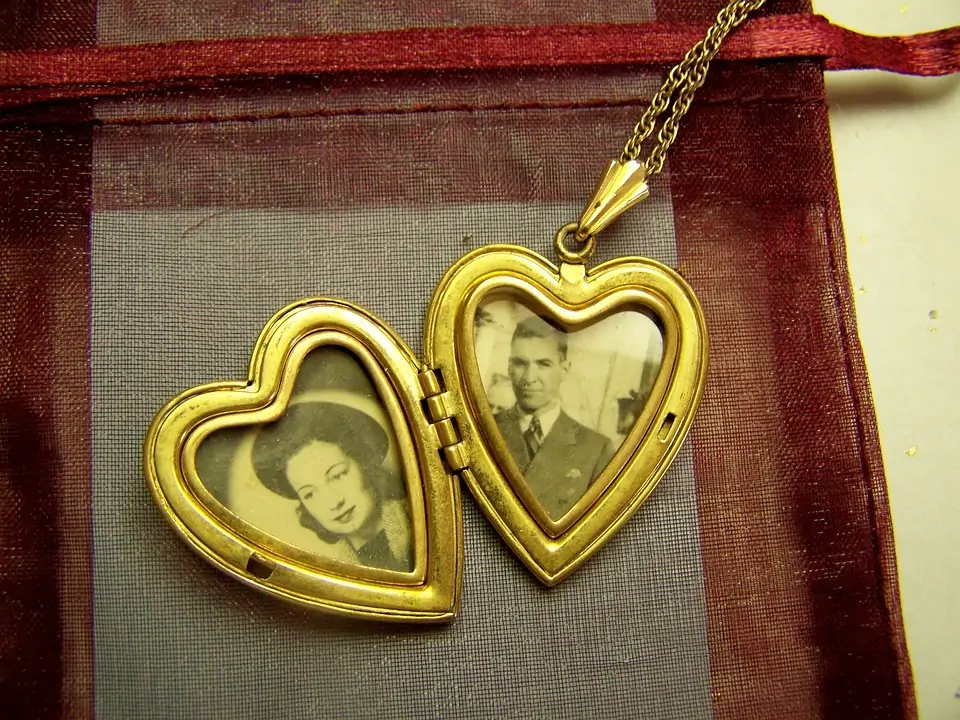 We don't really know when the first lockets were created, but it seems that they evolved out of other types of jewelry, such as amulets and talismans. Initially, lockets were used to carry medicines, perfumes and other such items.
Later on, lockets became mementos and included miniature portraits of loved ones. They were ideal at a time when the only way to see the face of someone who was apart from you was by looking at a painting or drawing of them. It also became popular to keep a lock of hair in lockets as a keepsake of a loved one. In addition, lockets made excellent mourning jewelry to remember someone who had passed away.
Lockets were popular during the Victorian era. Then, as with all types of jewelry, they cycled in and out of fashion. After the Second World War, lockets fell out of fashion and were considered out of date.
Who Wears Lockets?
There are no rules about wearing lockets and anyone can wear them. Lockets are a unisex piece of jewelry and can be personalized to suit men or women.
Conventional lockets are quite feminine in appearance. They feature hearts, angel wings, colorful gemstones, elaborate designs, and romantic motifs.
However, there are lockets designed to appeal to masculine tastes too. These are often sterling silver or gold-toned, with symbols such as a compass or the world map etched on them.
Why Wear a Locket?
In today's day and age, wearing a locket may seem like an antiquated practice. After all, if you want to see your loved one, all you have to do is to pull up Facebook and you have all the videos and images you could possibly want.
But there's something nostalgic and romantic about keeping a picture or some other memento of your loved one close to your heart. A locket has aesthetic appeal but it also holds stories on the inside. It's the combination of these two factors that make this item of jewelry romantic, classic and relevant.
What Does a Locket Symbolize?
In general, lockets symbolize love, whether it be for a friend or a lover. However, the symbolism of your locket can change depending on the style you choose. For example, heart shaped lockets symbolize love and romance. A locket with a compass on it can symbolize travel or reaching a goal.
Choosing the Best Photo for Your Locket
First, you have to decide whose photo you want to put in your locket. It may be someone you love or someone you've lost. It might even be a pet, whether still with you or passed on.
Once you've decided on who, then you'll need to find the right photo.
This can prove to be more difficult than expected because you'll need to scale down the photo and cut it to suit the shape of the locket all while retaining its quality.
Here are some tips on how to get your locket photo right:
Pick a photo with high resolution. Sometimes photos downloaded off sites such as Facebook have little quality and when scaled down, can appear blurry and lose details. Having said that, if you have an old photo that holds special meaning to you, then surely go for that. What matters is how much the photo means to you.
For a photo that holds more than 2 or 3 people, you might need to consider a larger locket. You don't want to scale the photo down just to include all the people in the photo and end up losing the little details.
When you have the photo printed, don't forget to leave room to cut the photo. You'll have to cut the photo into a shape like a heart, circle or oval. If you don't leave enough room, you'll end up having to cut too close to the faces in the photo. It's best to have a little extra space around the faces than to have the faces skimmed off just to fit the locket.
If you're taking a group photo with your loved ones, ensure that they all squeeze tightly together. This will make it easier for you to cut the photo without losing details or people.
There are image sizing apps that lets you resize photos to suit various shapes. Make use of such technology to get your locket photo right.
How to Wear a Locket
Once you've chosen your locket color, shape and size, you need to wear it. Here are some top tips on how to wear your locket:
Make sure your locket stands out. Because your locket will most probably be your featured jewelry piece for your outfit, it's best to wear a block color or neutral design so that the locket is easily visible and in focus.
Try layering lockets with other necklaces for a unique look. You can opt to layer a number of different necklaces which includes a locket, or layer 2-3 lockets for an all-locket look. This can be kept simple by choosing delicate, petite lockets. For a statement look, pick larger, more unique lockets to take the focus.
If you're wearing other jewelry with your locket, ensure that these pieces all work in harmony and complement each other. In general, it's best to opt for smaller jewelry, like stud earrings or stacking rings to keep the focus on the locket.
Lockets can go well with either casual or formal outfits. What's important is how you style it. Delicate lockets go well with formal wear such as workwear or dresses. Larger, longer lockets are perfect with casual outfits, like a pair of jeans and a t-shirt.
Clever Things to Put in A Locket
We all know that lockets are for photos, but what other items could you put in your locket to personalize it in a special way? Here are some ideas:
Put a special little handwritten note inside the locket as a gift for the wearer. This has the added touch of being handwritten to make it even more personal.
Put a petal or flower from the first bunch of flowers you gave them or received from them. Flowers remain beautiful even when dry and this will always be a reminder of a special day.
Map coordinates are a fun and secretive option. No one else would know what the numbers stand for unless you told them. Pick coordinates of special places like where you first met, got married, proposed and so on.
Special numbers are always a nice touch. Your birthday, the day you got married or the day you proposed are some ideas.
While it might be disturbing for some, including a beautiful lock of hair is a nice personal touch and a nod to the way it was done in the past. As long as you know the receiver will be excited about it.
FAQs About Lockets
1. What's the best chain for a locket?
There are many types of chains you can opt for if you plan to wear your locket around your neck. The most important point is to ensure that the chain you choose is sturdy enough to hold your locket and is able to bear its weight.
2. Where to buy locket jewelry from?
Look for locket jewelry online for a range of options. Blue Nile has one of the best online locket selections ranging in price from mid-range to high-end, including designs by Monica Rich Kosann, the creator of the gate locket style. We also recommend checking Etsy's locket range. You can even find antique pieces of exquisite value that are retailing for over $35,000!
3. Should you choose a locket pendant or bracelet?
While lockets are commonly worn as pendants, they can also be worn on bracelets as a charm or even as special locket bracelets. Locket bracelets are eye-catching and more obviously visible than pendants.
Opt for a floating locket bracelet if you want a unique piece of jewelry that may very well be a talking point. For a more subtle approach, pick a locket bracelet like this one which is not very obvious.
Wrapping Up
One of the most vintage styles of jewelry, lockets have been around for centuries. But they're still popular among those who love meaningful and sentimental jewelry. Lockets are customizable and are a symbolic gift between friends and lovers.