As Jewelry Shopping Guide  editors, we write about things that we love and we think you'll like too. We often have affiliate partnerships, and may generate some revenue from these links at no cost to you.
An engagement ring is a personal choice, one that should encapsulate your style and personality. There are timeless designs, such as the classic solitaire, three stone rings and halo settings that never really go out of style and will suit almost everyone.
But if you want that extra touch of magic, that slight point of differentiation that means something to you, it's important to find a jewelry designer that can add that to your ring.
Not every designer will suit every bride, so identifying the individual style of the designer and what they stand for can help you pick out the one that's right for you. There are numerous options out there, but in compiling our list, we looked to style, quality and reviews. From whimsical to classical, minimalist to elaborate, there's bound to be something for everyone in this list.
So, without further ado, let's get right into it. We are sure you'll find a ring designer from our list that suits your unique style!
Monique Lhuillier
Focus: Feminine, glamorous and high-end fashion
Monique Lhuillier began her career as a bridal dress designer, aiming to offer modern, couture designs. Since then, her label has grown internationally and she is now recognized as one of 'America's foremost designers'. You'll see prominent figures, including Taylor Swift, Michelle Obama and Emma stone,  often sporting her gorgeous creations on the red carpet.
Monique's range now includes fine jewelry which can be found exclusively at Blue Nile.
A stylish modern design by Monique Lhullier. Find this ring here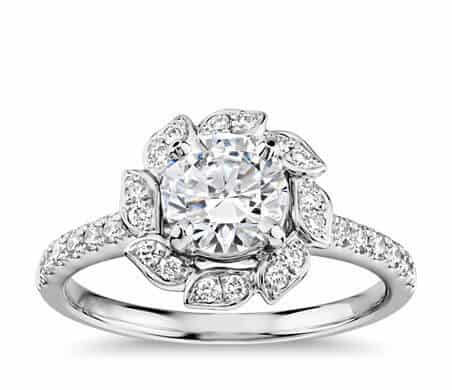 Inspired by nature, a unique leaf halo ring. Find this ring here
Monique's engagement rings are feminine and glamorous. Each piece is sophisticated and innovative, designed to 'mirror the uniqueness of every bride'. As a bride to be, we all want to be different and have our style encapsulated in our engagement ring. This is where Monique Lhullier excels and why her label has grown to become one of the most highly-sought after in the bridal market.
Browse Monique's engagement ring collection here.
Danhov
Focus: High-quality, unique and handcrafted rings
Known in the bridal industry for their innovative and stylish designs,  Danhov's rings are beautifully crafted, combining art with precision. You can see it in the quality of the designs and the pride with which Danhov stands behind their products with their lifetime warranty.
Danhov's designs cover simple, minimalist styles to more elaborate and unique designs. The focus is on creating a beautiful and meaningful piece of jewelry to suit the bride-to-be's style and personality, a ring that will be cherished through the generations.
Danhov rings range from contemporary minimalist to classical baroque pieces so there is something for everyone here regardless of your style. If you're looking for exacting precision and gorgeous art, Danhov's is sure to impress.
You can find Danhov on the James Allen site as well as on the Danhov website.
Tacori
Focus: Unique and Vintage
Tacori is perhaps the most famous modern engagement ring designer and has held this position for several decades now. Tacori has captured the imagination of young people the world over, making their rings one of the most highly sought-after in the engagement ring market.
Based in California, Tacori was founded by Haig Tacorian whose keen insight and uniquely creative skills quickly carved him a name in the competitive jewelry industry. Today, the next generation of Tacorians have taken the business to the next level in alignment with the changing styles and tastes of today.
Tacori engagement rings are beautifully designed with meticulous attention paid to detail. From simple to elaborate, there is something for everyone. Tacori offers a range of collections, available on their site and their partner retailers site.
Erika Winters
Focus: Whimsical and vintage
Based in Seattle, Washington, Erika Winters' engagement ring rings incorporate antique and vintage designs that have been re-imagined for the modern woman! Although only in the business for a little over a decade, Erika collections are handcrafted in the US.
Erika's designs bridge the past and the present, as each beautiful piece captures the essence of vintage designs. An engagement ring is not just about wearing the most expensive rock you can find – it holds meaning and is a reminder of your love. For Erika, bringing out this concept of engagement rings is what makes her collections stands out as a homage to the tradition of wearing a ring. Each ring encapsulates meaning and is a perfect symbol of love and commitment.
You can find her designs on her site as well as retailers such as Brian Gavin.
Verragio
Focus: Classical designs
Barry Verragio's focus is to create truly unique, above-average designs that last the test of time. Being in the business for over 25 years, Verragio has become one of the most well-known names in the jewelry industry.
Verragio's designs are classical and traditional, with fine touches that elevate it from the ordinary.
The attention to detail and meticulous workmanship make Verragio's designs true works of art. It goes without saying that Verragio has reimagined the classics for the modern 21st century woman. You can find his designs on the James Allen website as well as on the Verragio site.
Zac Posen
Focus: Feminine, glamorous and high-end
Zac Posen entered the world of fashion at the age of 21, and quickly became one of the most respected name in the industry. After partnering with Blue Nile in 2014, Zac Posen extended his range to fine jewelry.
Zac Posen's sense of couture comes into good play in the creation of these designs. His collection of engagement rings is feminine and gorgeous, combining stunning detail with delicate designs, with each creation unique standing out as a unique piece.
Whether you are after a high fashion statement ring a more minimalist design, Posen has you covered with his wide range. Find it here.
Anna Sheffield
Focus: Socially conscious, alternative rings
Anna Sheffield is the place to go for unique and creative designs featuring ethically sourced materials. Each design is unique and meaningful, and ideal as alternatives to the traditional diamond solitaire ring.
You will find diamond solitaires here too, but each ring is a little different to what you find everywhere else. Anna's designs are cutting edge and eye-catching.
Anna Sheffield use various types of materials in her designs with different combinations being used to create symbolical richly designed pieces. From rutilated quartz, colored diamonds, gemstones and various types of metals, there's something for everyone here.
With each piece is alive with meaning and symbolism, making them ideal as engagement rings. And because they are one of a kind, you know that you are the only person who owns one just like that!
Chris Ploof
Chris Ploof is a master artist when it comes to manipulating metal into creating gorgeous jewelry designs. His engagement rings feature various luxury and contemporary metal types such as makume gane, Damascus steel and Gibeon meteorite.
Chris Ploof's designs are striking and contemporary, with each design being unique. Unlike most other rings, where the focus is mainly on the center gemstone, here the band takes equal importance. The designs are generally simple and minimalist but eye-catching and creative at the same time.
We hope our top 8 list inspired your imagination and that you found a match in one of these designers! Check out their impressive collections and hopefully you'll find the ring you've always been waiting for!