As Jewelry Shopping Guide editors, we write about things that we love and we think you'll like too. We often have affiliate partnerships, and may generate some revenue from these links at no cost to you.
Valentine's Day is a truly special occasion where you can show your special someone how much they mean to you. There are so many ways to do this. Some people prefer gifting an experience or doing something romantic, like cooking a special dinner. Others prefer to gift something that can be treasured for a long time. Jewelry is one such gift.
Let's take a look at why jewelry is an awesome choice and what are some best Valentine's jewelry gifts for her.
Why Gift Jewelry for Valentine's?
Giving her a carefully chosen, special piece of jewelry is not only romantic but also a gift that keeps on giving. Each time she wears it, she'll remember the giver and the special day.
And if she gets compliments on it? She can tell everyone that you bought it for her for Valentine's. How romantic!
Another more practical factor is that most jewelry stores hold Valentine's day sales in the weeks leading up to this day. So it's a good time to avail yourself of these discounts.
How to Choose the Right Piece of Valentine's Jewelry
Picking the perfect piece of jewelry as your Valentine's day gift depends on a couple of factors. You don't want to appear too eager or too nonchalant. It's important to strike the right balance.
One thing to consider is how long the two of you have been together.
If you've only been together for a couple of weeks, buying an expensive piece of jewelry might not be something you want to undertake. In this case, opting for a less expensive costume piece for Valentine's might be the way to go, something in the realm of $20 to $35.

A longer relationship warrants more quality and consideration. If you've been together for over 6 months and you see the relationship heading somewhere, it's time to invest in a more expensive piece, maybe around $100 or over.

If you have been together for a long time, then there doesn't have to be any stops. Diamonds and other precious gems make great Valentine's gifts and can last a lifetime like your relationship.
Other factors to consider are her style and tastes. You can read more about this in our article on buying jewelry for your girlfriend.
Best Valentine's Day Jewelry Ideas
Now that we've got those basics out of the way, let's take a look at some amazing jewelry ideas for her. Here are our top 10:
A Romantic Locket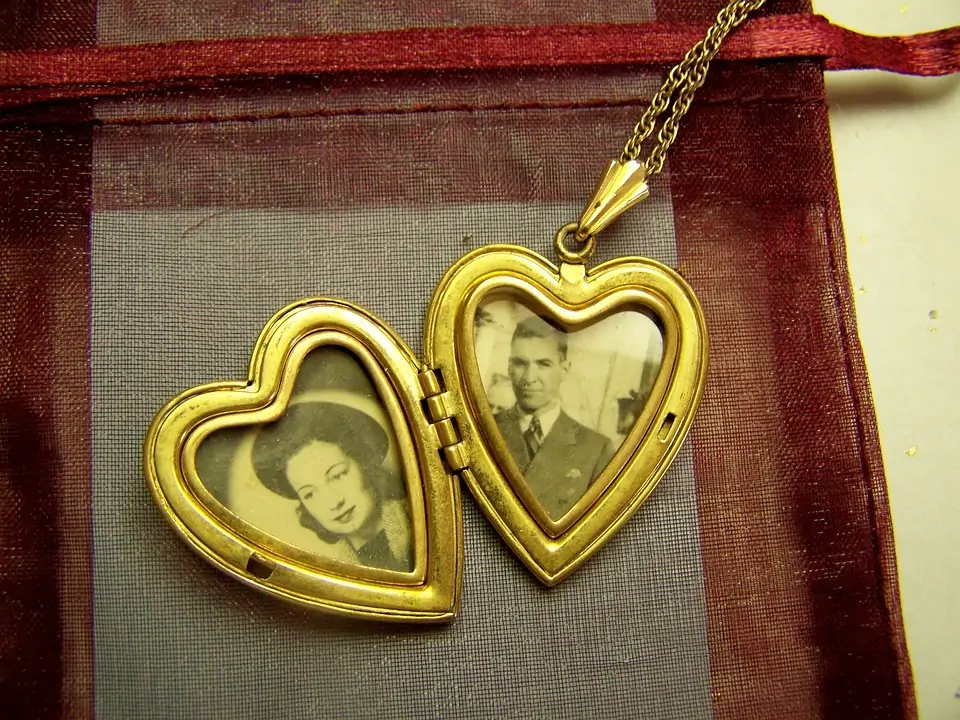 Think lockets are out of fashion? Think again. Lockets are making a comeback as they are romantic, charming and evoke nostalgia. In this day and age of fast-paced technology, a locket is a harking back to a simpler time, when photos were printed one precious image at a time and not simply stored in their thousands on a mobile phone.
Make the gift even more special by engraving it. Engravable Locket.
Beautiful Floral Locket. See more locket HERE.
If your girl likes quaint gift ideas, she is going to love this one!
Blue Nile has a selection of high quality, well-crafted lockets. Check them out here.
Hearts and Heartbeats
Hearts have long symbolized love and passion. This makes it an excellent option for Valentine's day jewelry gifts. You can opt for a heart shaped pendant or ring, or if you want a subtler option, try picking out a simple heart charm instead.
Heart-shaped Charm. See it here.
A piece of jewelry showcasing a heart always works well for Valentine's. Add a heartbeat to that and you have a sure winner!
Heartbeat Pendant with lab-created rubies and sapphires. See it here.
Symbolic Jewelry
A piece of symbolic jewelry shows that you've put thought into your gift. Here are some popular symbols for jewelry:
The Nazar boncugu (or boncuk) tells her that she's precious to you and that you don't want anything bad to happen to her. It is an ancient talisman against evil and one of the most popular symbols around the world.
Nazar bracelet. See it here. 
This ancient symbol has lately been catapulted to stardom as everyone seems to be sporting it. The Tree of Life symbolises a number of things, including growth and happiness.
Tree of Life earrings. See them here. 
The Hamsa Hand is a beautiful simple symbol that has religious connotations. However, it is a protective sign that is thought to bring the wearer happiness, good fortune and luck. What better things to hope for your loved one?
Hamsa Hand charm. See it here.
Birthstone Jewelry
Yes, we know what you're thinking. A birthstone best suits birthdays. But this is not necessarily the case. You can buy a person a birthstone gift at any time of the year and Valentine's is one great time to do that.
Birthstone jewelry shows your loved one that you're thoughtful and that you know the little details about her.
Blue Nile and Helzberg Diamonds both have excellent birthstone jewelry collections at affordable prices.
A Beautiful Gemstone
If a birthstone doesn't like something you're interested in, but you still want to get a special rock for her, why not opt for a beautiful gemstone jewelry piece?
How gorgeous is this turquoise pendant? See it here.
Moonstone cabochon ring. See it here.
From expensive precious stones, to inexpensive but stunning rocks, there are so many options out there, you'll be spoiled for choice.
A Well-Chosen Watch
If your girl likes to wear watches, then you can't go wrong with a well-chosen watch. Whether you opt for a classy, dressy piece or a more fun, casual watch that you know she'll love, the choice is yours.
Dressy watch by Michael Kors. See it here.
A fun leather watch to match her personality. See it here.
An Initial – Yours or Hers?
A jewelry with an initial might seem like an obvious choice for Valentine's, but it's still a good one. You can opt to gift her a pendant showcasing the initial of her name, or your name.
Simulated white sapphire initial pendant. See it here.
However, some girls may not like the idea of wearing their partner's initial around their neck – it can come across as narcissistic. So choose wisely.
Pearl Jewelry
Who doesn't love pearls? Pearls have been a favorite for centuries, and are as loved as diamonds. Whether you choose earrings, a bracelet, necklace or a ring, pearl jewelry is always beautiful.
Stunning pearl threader earrings. See them here. 
Pearl jewelry suits a range of styles, be it minimalist pieces or loud, dazzling jewelry. Opt for quality and excellent craftsmanship when choosing pearl jewelry. It really shows.
Now that we've gone over these awesome ideas, it's time to shop! Good luck and we're sure you're going to impress her with your jewelry gift this Valentine's Day.