When choosing your engagement ring, one of the most important things you will need to consider is the type of metal.
While gold and platinum are the classic choices, there are several options out there. Each of these have pros and cons, and which you choose will depend on factors like your budget, preferences, and even lifestyle.
Let's breakdown your options and examine which metal is the right choice for your engagement ring.
1. Gold
There's no doubt about it – gold is the most popular option. This precious metal has been around since ancient times and offers lots of benefits.
First of all, it doesn't tarnish, rust, or oxidize. It's easy to mold, even into intricate and complicated designs. If you need to, you can easily have it resized. And finally, it's a precious metal that has always held its value.
Gold engagement and wedding rings are easy to find. Any fine jeweler will have gold in their collections. Gold is also durable, but there's a caveat to this. If the gold is pure, i.e., 24 karats, it will be too malleable and can easily deform.
When gold is alloyed with other types of metals, like copper, silver, nickel, and zinc, it becomes much more durable. We recommend 14k or 18k gold as these alloys offer the best balance between value and durability.
18 karat gold is composed of 75% gold and 25% metal alloys. 14 karat gold is made of 58.3% gold. 14k gold is more durable than 18 karat gold, while still maintaining a level of purity, value and quality that we have come to expect from gold.
However, if you like the rich, yellow hues of gold, then go for higher purity gold alloys like 18k or even 22k. Depending on the mix of other metals combined with it, gold comes in various colors.
Yellow Gold
Pure gold is naturally yellow and this is the color we associate with gold. In fact, gold is synonymous with yellow and a term such as white gold or rose gold seems almost a contradiction!
Yellow gold complements warm skin tones. While it looks good on any skin color, it especially stands out beautifully against darker skin tones. An advantage of yellow gold is that if your bride to be has sensitive skin, it is the most hypoallergenic of all gold metals.
Believed to be a symbol for loyalty, yellow gold is classic and timeless.
White Gold
When yellow gold is combined with copper, zinc and nickel, it turns into white gold. This is the silver-colored stylish and glamorous metal that is so popular with modern couples.
White gold is more durable than yellow gold because of the metals mixed in with it. But in terms of market price and value, they're pretty much the same. White gold is the most popular type of gold for engagement rings.
White gold is reflective and shiny. It gets these properties from the rhodium plating that it's coated with. Rhodium also makes white gold more durable and resistant to scratching and tarnishing.
On the down side, rhodium can wear over time, so reapplication will be necessary every now and then depending on usage.
If you're choosing a white gold setting, make sure that the diamond is colorless. The reflective whiteness of the metal can bring out any color in the stone. In other words, you don't want your metal to be whiter than the stone (unless that's the look you're going for).
In terms of suitability, white gold tends to look great on cool skin types.
One thing to note is that white gold isn't always hypoallergenic. Sometimes, it may have nickel. If you're sensitive to nickel, look for white gold that's alloyed with palladium or platinum. Both of these are hypoallergenic metals.
In terms of symbolism, white gold is said to be a symbol for friendship. Perfect for the one you want to propose to! On a side note, this also makes a great metal for promise rings.
Rose Gold
A popular option for both men and women, rose gold has a softer, more elegant look. It's made by combining pure gold with copper. Rose and white gold is usually priced the same, while yellow gold can be a touch more expensive.
In terms of durability, rose gold is pretty good at resisting tarnishing. But because it doesn't need any plating to maintain its color, it requires less maintenance than white gold.
One thing to note is that some people have copper allergies. If this is you, then rose gold could be an issue. In this case, yellow or white gold might be a better option.
Rose gold generally complements all skin types. It also matches a wide range of colors which makes it perfect for daily wear.
And to top it off, rose gold is widely accepted as a symbol of love. That makes it perfect for an engagement ring!
Green Gold
You've probably never heard of green gold, but there is such a thing. It's not exactly green, but basically is yellow gold with a soft greenish hint. It gets this by combining yellow gold with pure silver. To make the metal more durable however, copper and zinc are often added to it.
Green gold is so rare that we couldn't find many green gold products online. This means that your options will be limited if you choose this metal.
If you do decide to get off the beaten path and make this non-conventional choice, it pairs beautifully with the other gold colors, making it the perfect choice for creating multi-toned bands.
Should I Choose Gold for My Engagement Ring?
Yes. There's no reason not to choose gold. Because of how many varieties you have, there's something for everyone. Gold offers so many options, is always prestigious, and looks amazing. It's our favorite choice when it comes to engagement rings.
2. Platinum
Platinum is one of the most valuable metals, and often chosen for engagement rings. Like gold, platinum doesn't rust or tarnish.
In terms of durability, platinum is the hardest precious metal and as such it tends to resist scratching through years of wear and tear. However, this metal is highly malleable and will tend to bend or deform if directly hit by hard materials such as doorknobs or kitchenware for example.
Platinum used in jewelry is 95% pure. This retains its value but also makes it hypoallergenic.
Platinum vs. White Gold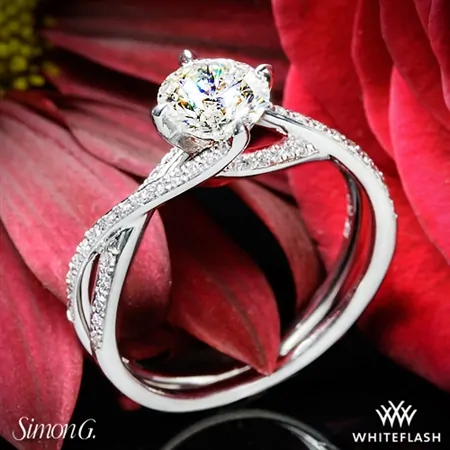 Platinum looks like white gold, but it's typically more expensive. Platinum also doesn't need rhodium plating, so it's easier to maintain than white gold.
In terms of price, platinum tends to cost more than gold. There are a few reasons for this. First, platinum is a lot rarer than gold (about 30% rarer). It's also more dense, which means that it weighs more than gold. Platinum used in jewelry is also purer at 95%, whereas gold is around 75% (18k) or 58.3% (14k).
While both platinum and white gold have similar reflective properties, platinum will get a patina over time. Some people love it, others not so much. So, in terms of maintenance, white gold will require replating but platinum will require repolishing, if you want to get rid of the patina.
Should I Choose Platinum for My Engagement Ring?
Platinum is a great metal for any jewelry. While it has fluctuated in value in recent years, it's still ideal for jewelry. Note that a platinum ring can cost several hundred dollars more than its gold counterpart.
Overall, it's an excellent choice. If you like the look of a silver colored metal, go for platinum.
3. Sterling Silver
Silver is not the best option for engagement rings, but traditionally, it was one of the most popular metal choices. Today, it's the most affordable of all the precious metals.
So what's wrong with silver? To put it simply, silver is too soft and hard to maintain.
Sterling silver is 92.5% silver and 7.5% copper or other metals. By mixing silver with other metals, it becomes more durable. But even so, silver is still a very soft metal. If you wear it daily, it can easily acquire scratches and marks.
What's more, silver loses its luster over time and becomes tarnished. We don't recommend silver for engagement rings if durability and longevity are important to you, and if you plan to wear your ring daily.
Which Metal Should I Choose?
It should be obvious by now that there is no right or wrong answer to this. Each metal has its advantages and disadvantages.
If budget is your main concern, then choose a silver engagement ring and perhaps upgrade it in the future to a more durable metal.
If you have the budget, go for gold or platinum. The color of gold you choose depends on your personal preference. For example one of our readers told us this:
"I prefer rose or yellow gold, but my husband really doesn't like these colors. So, in the end, we chose white gold rings. I had to compromise because we wanted to have matching rings."
Whether you choose gold or platinum, it really doesn't matter much. Both are very good choices for daily wear.
FAQs About Choosing Your Ring Metal
1. Does the color of the metal impact my diamond?
Yes. Diamonds generally stand out more beautifully against white metals. But the whiter the ring metal is, the higher the color grade diamond should be. You don't want any hints of yellow to show against the whiteness of the metal.
2. What color diamond should I choose for yellow or rose gold?
For yellow and rose gold, you can choose a diamond lower on the color scale. The diamond will pick up the color of the ring metal and blend in. When mounted in a yellow or rose gold setting, there would be little difference between a H and a D colored diamond as both would reflect the color of the metal to some extent.
3. Which metal is the most secure to hold a gemstone or diamond?
Platinum can hold a stone securely in place because it's so hard. 18k gold or under is also tough enough to hold a diamond securely. Even so, take the ring to a jeweler from time to time to check that the setting's integrity is still uncompromised and that the claws or bezel are doing their job.
Wrapping Up
Your engagement ring is one of the most important jewelry purchases you'll ever make. So, it's important to get it right. But what constitutes 'right' will depend on your specific situation.
Having said that, you can't go wrong with either gold or platinum – the two most popular choices for quality engagement rings. Hopefully, this article has offered some benefit in helping you make your decision. If you still have questions, why not get in touch with us and we'll do our best to help!
If you're looking for the best online retailers, then check out our guides on the following top retailers:
An In-Depth Guide into Brian Gavin
Should I Buy My Engagement Ring from James Allen? A Guide