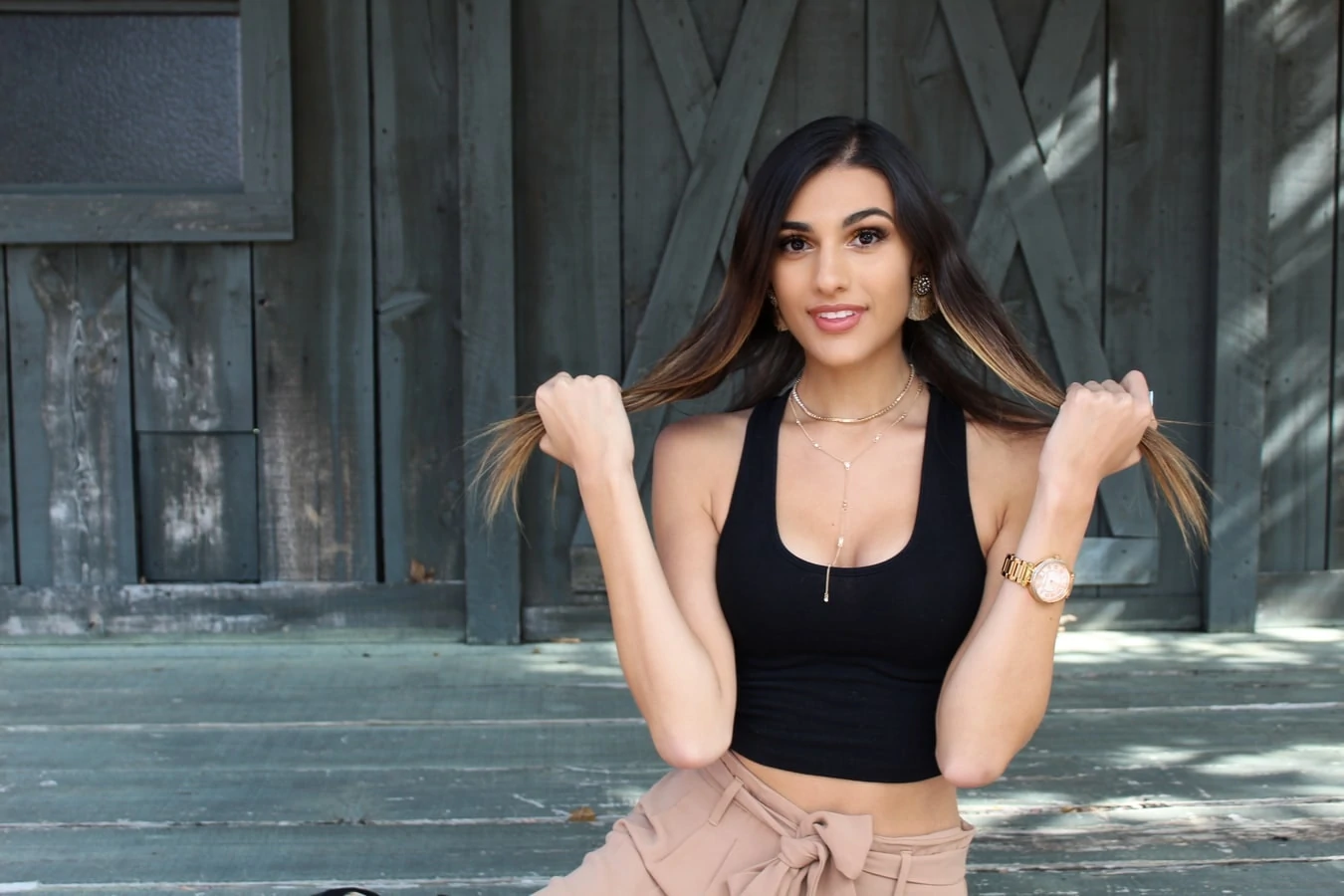 As Jewelry Shopping Guide editors, we write about things that we love and we think you'll like too. We often have affiliate partnerships, and may generate some revenue from these links at no cost to you.
A fashionista's wonderland of baubles and bling, Kendra Scott Jewelry is known for its statement earrings, baroque rings and pendant necklaces. In this guide, we answer your questions about Kendra Scott jewelry. What makes this jewelry unique? Are these fashion-forward pieces also designed to stand the test of time? Let's find out.
What Is Kendra Scott Jewelry?
The brand was founded by Kendra Scott, a driven entrepreneur and designer, in 2002. Since then, Scott was able to grow her brand into a global enterprise focused on family, fashion and philanthropy. Kendra Scott Jewelry became popular for its trendy unique pieces that make fashion trends truly accessible, selling jewelry for all occasions including charms and home décor.
Kendra Scott's jewelry pieces are designed in Austin, Texas—and are made of fine materials like gold, silver and rhodium along semi-precious gemstones. Most of these highlight the beauty of natural stones, with filigree detailing and geometric shapes. The brand has a strong foundation in its iconic, signature pieces, but makes its collections fresh with new colors, trends, and innovative materials.
Kendra Scott jewelry pieces are of high quality and are versatile. They can be worn to rock some accessory trends such as layered necklaces, layered armwear and stacked rings. Their collections also have a notable presence at major department stores like Bloomingdale's, Neiman Marcus and Nordstrom.
Features of Kendra Scott Jewelry
1- The brand is synonymous with affordable and stylish jewelry.
The jewelry collections are crafted with natural materials like gemstones, pearls and shells, as well as glass stones and lab-grown pieces, making luxury pieces affordable. In fact, some of its earrings, pendant necklaces, bracelets and rings are priced under $100.
2- Kendra Scott Jewelry creates innovative, high-quality pieces season after season.
Kendra Scott is known for its high quality and innovative styles. The brand's chain bracelets, multistrand necklaces, threader earrings and geometric pieces also reflect the current trends. Some of their collections have been featured in Oscar de la Renta's Spring 2006 and Randolph Duke's 2007 runway shows, proving that they're more than just another jewelry brand.
3- Their jewelry pieces are made of precious metals and natural stones.
While most of Kendra Scott pieces are gold plated brass, some are sterling silver, gold and even gold vermeil, bringing them to heirloom status. The materials used are of high quality and are worth the investment, as they're long lasting and can be used again and again.
4- The Color Bar™ experience that lets customers personalize their jewelry.
Whether it's a pair of earrings, bracelet, necklace or ring, the brand lets you customize your jewelry piece from the design to the metal of choice, gemstone and color. It's an in-store and online experience, in which you can express your personality in your accessories.
5- It's a go-to brand of fashion-forward women and style influencers.
Style bloggers and influencers love the brand, as it allows them to experiment with high-low dressing. Kendra Scott collections are versatile too, complementing current fashion trends with its statement pieces.
6- The brand strives to give back and make a positive impact in the community.
Kendra Scott has attempted to make a difference in health, educational, entrepreneurial and empowerment causes. One of its collections, the Shop for Good, gives back to the causes and charities, in which a portion of all proceeds helps children and women unlock opportunities and live their most empowered lives.
Kendra Scott Jewelry Quality
The brand's jewelry pieces are designed in a variety of styles with high-quality metals and gemstones that tend to last.
Kendra Scott Metals
If you're looking for an heirloom quality material, Kendra Scott offers genuine gold jewelry. Its Fine Jewelry collection is made up of 14k solid gold, with yellow gold, white gold and rose gold options. It should not be confused with the Fashion Jewelry collection that's made up of brass as the base material plated with rhodium, gunmetal, 14k yellow gold, or 14k rose gold.
For more affordable yet high-quality option, there are sterling silver and gold vermeil pieces too. It's no doubt that sterling silver pieces are durable enough and appropriate for everyday wear. Gold vermeil is a sterling silver plated with 18k gold. The plating in gold vermeil pieces is heavier than the brand's fashion jewelry, making it more durable and resistant to signs of wear.
The brand has introduced bright silver metal, which is a mix of silver, rhodium and copper, giving a lighter appearance than the typical silver. For an edgy look, there's also a dark and moody option—the gunmetal. Gunmetal jewelry pieces are cast in brass and layered with gunmetal, which is made of a mix of zinc, tin and copper.
Kendra Scott Gemstones
Many natural gemstones can be seen in Kendra Scott collections including amethyst, rose quartz, smoky quartz, turquoise, lapis, chalcedony, citrine, cat's eye, malachite, labradorite, hematite, obsidian and moonstone. It also utilizes cultured and baroque pearls, as well as mother-of-pearl and abalone shell in its jewelry pieces.
In Kendra Scott Fine Jewelry collections, the diamonds used are nearly colorless and slightly included. The brand also boasts its black diamond jewelry and rings, which are a trendy alternative to colorless diamonds. These gems get their color from mineral inclusions like hematite or graphite and enhanced with heat treatment.
One thing that makes Kendra Scott Jewelry unique is its use of drusy quartz in many colors such as platinum, black, rose gold, iridescent and multicolored varieties. These stones have tiny sparkling crystals on the surface that looks exotic and beautiful. To mimic the beauty of genuine opal, the brand also uses Kyocera Opal, which is a lab-grown stone that adds unexpected sparkle to jewelry pieces.
Kendra Scott Jewelry Styles
We've rounded up the chicest and most popular Kendra Scott pieces. Here are some of them:
1- Kendra Scott Earrings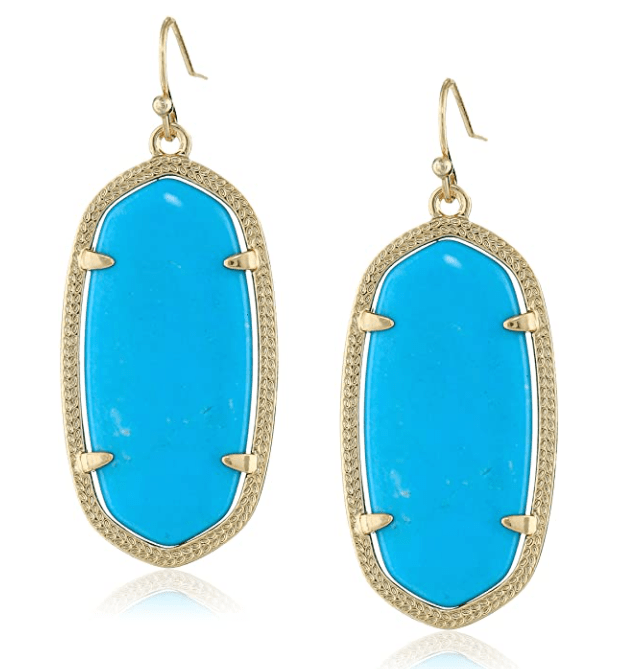 Featuring the brand's iconic shape, these Elle Gold Drop Earrings can be dressed up or down with ease. These pieces are made of 14k gold plated brass, and feature a black opaque glass set in an oval metallic frame. They're available in a variety of stones and metals, which are the perfect finishing touch to your holiday look.
2- Kendra Scott Necklaces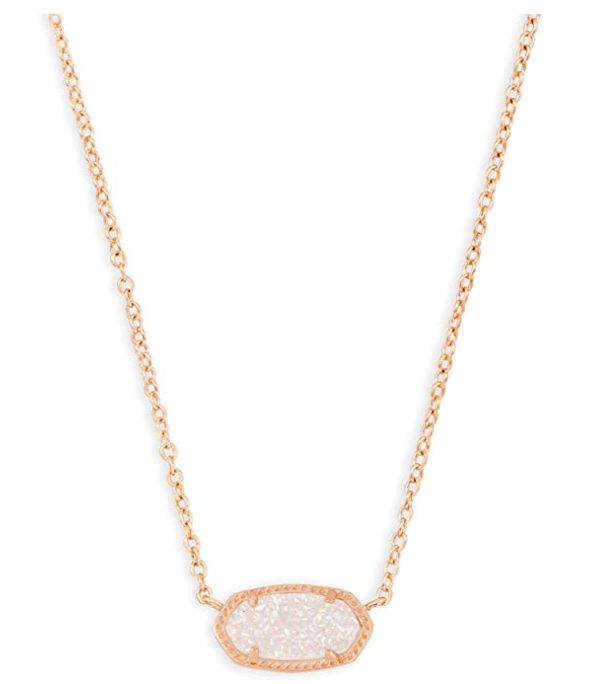 There are several designs that work for every style, but the Elisa Pendant Necklace has been the brand's bestseller since 2015. It's said that more than one Elisa necklace sells every minute—not to mention it looks great on its own, as well as when layered with other pieces. It's extremely stylish, and versatile and can be found in more than 250 colors! It's ideal for layering necklaces, adding a pop of color to an outfit, and spicing up a party ensemble.
3- Kendra Scott Bracelets
Whether you like mother-of-pearls or opals, this Edie Cuff Bracelet will lend a sophisticated flair to your style. It can be found in a variety of metals such as silver, yellow gold, and rose gold. If you love bold pops of color, think of dichroic glass stone and drusy quartz, which has a rich sparkling appearance. For a bold edgy vibe, you can also opt for its gunmetal variety.
4- Kendra Scott Rings
If you want to glam up whatever outfit you have for the day, this Elyse Ring has got your back. A great thing about it is its iridescent drusy quartz, which is versatile enough to spice up your favorite party dress or a casual pair of jeans. For a more ethereal feel, consider the 18k gold vermeil double band ring in turquoise or malachite that will make you feel like a sea goddess.
What Makes Kendra Scott Jewelry Unique?
Apart from versatile, high quality, and one-of-a-kind jewelry designs, the brand is also innovative in crafting its jewelry pieces with different materials and techniques.
The Dichroic Glass Jewelry
Another unique material used by Kendra Scott is dichroic glass, which gives a kaleidoscopic effect in earrings and necklaces. The material is created by layering iridescent foil between two pieces of glass. Sometimes, it's even placed under genuine gemstones to add iridescence to the look. You can see an example of dichroic glass in this Kendra Scott pendant.
The Illusion Technique in Jewelry Design
Some of Kendra Scott's ivory and mother-of-pearl jewelry pieces are designed using the illusion technique, which layers a colored material over the shell for unique color and dimension. Their Sky Blue Illusion is made from the fine crackling of shells bonded with dyed resin, adding an unexpected finish to the shell's natural look. Here's an example of this technique in a Kendra Scott pendant.
The Filigree Jewelry Design
Inspired by architecture, the delicate, lace-like structure of filigree has become a signature accent for the brand's collection, paying homage to an ancient craft. It's featured on its earrings, gemstone settings, bracelets, cuffs, and rings. This pair of earrings is an excellent example of filigree in Kendra Scott's collections.
The Hammered Metal in Statement Pieces
If you're into subtle bohemian vibes, you'll love the hammered finish in their charm and jewelry collections. The brand uses a metal technique to create innovative and textural pieces that look elegant and at the same time organic.
Kendra Scott Jewelry FAQ
What Are Kendra Scott's Mood Stones?
As a take on the '90s mood ring trend, the brand features its own collection of mood rings and charms. Technically, its mood stones are made by placing faceted glass over the heat-changing paper so they'll change color depending on the temperature of your skin.
What Makes Kendra Scott's Charms Special?
With a variety of styles to choose from, it's just easy to personalize your jewelry pieces to showcase your personality. You can decorate the Kendra Scott jewelry with as many charms as you like, from chain bracelets to necklace pendants and hoop earrings. They're available in sterling silver, 14k gold, and 18k gold vermeil.
If you want to wear your initials, the brand has alphabet charms, from letters A to Z. Its collections of zodiac charms, healing stones and birthstones are also stunning, and make the perfect gift. For a playful style, think of animal charms and state charms.
There are also locket charms designed for bracelets and necklaces, so you can store keepsakes of your loved ones. If you want to make a difference, think of the brand's philanthropy charms that support many causes to help others live their most empowered lives.
Does Kendra Scott Jewelry Tarnish?
Kendra Scott's 14k solid gold jewelry pieces are resistant to scratching and tarnishing, making them ideal for everyday wear. On the other hand, sterling silver pieces tarnish regardless of the quality of the piece. However, a soft polishing cloth can easily remove tarnishing without scratching the metal.
Even if gold vermeil jewelry pieces are of great quality, it's possible for the plating to fade over time. For fashion jewelry, the plating is likely to wear off faster than the gold vermeil, since it's made of brass plated with rhodium or 14k gold. Even so, Kendra Scott jewelry tend to last a long time and tend to be worth the money spent.
Can You Take A Shower with Kendra Scott Jewelry On?
Always remove your costume jewelry before showering, swimming and exercising, whether its Kendra Scott or any other brand. Even if your 14k gold jewelry is durable, salt water, chlorine and hair products can dull the shine of your metal. It's unavoidable for any plated jewelry to wear off in time, but inappropriate care will likely remove the plating sooner.
In general, Kendra Scott jewelry holds up pretty well, as long as you take appropriate care of them. They also offer excellent returns and exchange policies, so you can always take advantage of these if you find your jewelry piece isn't performing as you expected.
How to Tell Real Kendra Scott Jewelry?
To make sure you've got your hands on authentic Kendra Scott pieces, shop on the brand's website or on their Amazon store. Its collections are also featured at Nordstrom and Bloomingdale's. You can also buy Kendra Scott jewelry pieces from authorized retail partners including Helen of New York, Stitch Fix, Rent the Runway, The Jeweler's Wife, Balfour, Rocks Box, Lavishly Hip, Zappos, Revolve Clothing and Zulily, LLC.
Is Kendra Scott Jewelry Worth Anything?
The value of Kendra Scott jewelry pieces depends on the type of piece you buy and its quality. Their fine jewelry pieces are made of 14k solid gold or sterling silver, which are more expensive and also retain their value over time.
On the other hand, its fashion jewelry pieces are crafted using elevated metals, natural stones, and high-quality materials. While these are more affordable, they don't have the same value as the pieces using precious metals and stones.
Why Is Kendra Scott So Popular?
Apart from the brand's high-quality pieces and trendy designs, Kendra Scott allows everyone to find and curate a piece that suits their taste. It's exciting to wear something that shows a bit of your personality, whether it's a style, color, or metal of choice.
Also, their collections allow you to shop within your budget without sacrificing quality and style. Just pick the same jewelry design in different metals and gemstones. For instance, the iconic Elisa necklace starts from around $50 if made of silver metal and amethyst but can go up to $995 for 14k gold and pave diamonds.
Kendra Scott is a one-stop shop for personalized gifts, whether you want birthstone jewelry or to design a piece with elements that speak to the receiver's style. After all, someone will appreciate the extra mile you went to make their gift special.
To buy genuine Kendra Scott jewelry, search their collection here. To learn about other popular jewelry brands, we recommend these related articles: