In recent years, diamond sales online have increased as customers become more comfortable with the idea of purchasing such a high-ticket item over the internet.
However, there are also many pitfalls to buying diamonds online. When parting with large sums of cash, it is imperative that you properly vet the diamond and the vendor before you buy.
Certain online diamond retailers stand above the rest and provide a streamlined diamond purchasing experience. When looking to buy your diamond online, what features should your chosen retailer offer you?
Let's take a look at what to look for in your diamond retailer as well as the best diamond retailers right now.
What Should You Look for In a Diamond Retailer?
1. Show You the Actual Diamond
High quality images and videos of the actual diamond are essential and you should never buy a diamond without looking at the actual image.
Many online vendors simply have a stock photo and the lab report. While this is fine, it doesn't show you where any inclusions might be located, or how the stone interacts with light.
You should also be able to access ASET and Idealscope images, which provide you information about the light performance of the diamond.
2. Provide a Grading Report
Your retailer should offer you a certificate of authenticity from a reputable grading lab such as GIA, IGS or AGS.
The lab report is your guarantee that the diamond is exactly as described, so you know you aren't getting ripped off.
Some retailers offer laser inscribed diamonds, where the diamond is engraved with its grading report number.
3. Have Excellent After-Sales Policies and Customer Service
Always check the after sales policies of the retailer, including returns, warranty and shipping. It's good to know that a retailer stands by their products.
Some retailers offer diamond upgrade and buy-back programs, while others offer diamond price-match guarantees. Most retailers have 24/7 Live Chat and diamond experts on hand to ask your questions.
Customer reviews will also give you a good idea about the quality of the retailer. While every retailer will have some bad reviews, take this with a grain of salt. If the overwhelming reviews are positive, they're doing something right. We also like to see retailers engaging with reviews, whether positive or negative. It builds their credibility and trustworthiness.
4. Guarantee Ethical Sourcing
This might not be a priority for everyone, but it is important that the diamond you purchase is sustainably sourced. Most diamond retailers guarantee that their diamonds have been acquired legitimately. They have committed to purchasing stones that comply with relevant regulations.
This means that you're not unsuspectingly buying a diamond that has come from a conflict zone in an unethical manner. And nobody wants that!
Where to Buy Loose Diamonds Online
Our top diamond retailers listed here have built their reputations on providing the very best for their customers. Some of them tick every criteria listed above, while others come close. All of them offer something unique.
HD images and 360 degree videos for all diamonds
Superzoom feature to see the diamond in 40x magnification
Large inventory
Excellent customer service and after-sales policies
30 day money back guarantee
User-friendly navigation and search interface
Chat With a Diamond Expert option
James Allen ticks all the boxes of a great online diamond retailer. It stands above the rest of the online diamond retailers and is our top pick when it comes to buying a diamond online.
It's the sort of place you would recommend to your best friend – easy to use, friendly service and good value for your money. Put simply, they are the best in the online diamond space.
Not only do they have access to a massive inventory of loose diamonds but they also have an extremely user-friendly platform that makes selecting your ideal diamond fairly easy.
Inventory:
At the time of writing, the site has a huge listing of over 300,000 mined diamonds and around 50,000 lab-created diamonds. The reason James Allen is able to provide such a large number of diamonds is because of how they operate.
James Allen doesn't store all the diamonds in-house. Rather, they have exclusive agreements with diamond vendors around the world.
When you select a diamond, James Allen has that diamond shipped in from the vendor, inspected by one of their expert gemmologists to make sure that it is exactly as listed and then finally, shipped out to you.
The benefits of this business model is that the company is able to keep their overheads very low. This translates to very competitive prices for the buyer.
Streamlined Filtering and Purchase Process:
When selecting your diamond, you can filter the search results to show you diamonds that match your search criteria. They offer diamonds from color grade D to M and from clarity grades Included 1 (I1) upwards.
Let's say you're looking for a .95 carat, slightly included (SI), very good cut, E color round cut diamond. All you have to do is adjust the sliders to match this criteria. You can also check out the advanced search filters, which allow you to select the diamond's Table, Fluorescence, Depth and other specifications.
Because you can see the diamonds clearly, you can then quickly inspect them and cherry pick the best one from the lot. Although all five of these diamonds have the same features, clearly the 5th has the least visible inclusions.
Imagery and Diamond Information:
All the diamonds come with a ton of data that streamlines the decision making process. Each diamond has a 360 degree HD video that shows it clearly from all angles, allowing you to see how the diamond looks and interacts with light from all sides.
You can magnify the diamond up to 20 times its size, allowing you to closely inspect any imperfections. James Allen provides Idealscope images for their Round diamonds and ASET for their fancy shapes, but you can only request up to 3 per customer. It's best to narrow down your search first, before requesting this extra information.
The diamond grading reports on James Allen are from either GIA or IGI, and details everything you need to know about the diamond.
A point to note is James Allen's cut grading: Good, Very Good, Ideal and True Hearts. True Hearts is their signature cut grade and refers to their round or princess cut diamonds that show an almost perfect hearts and arrows pattern. These are their best cut diamonds with exceptional symmetry and come at a premium.
Customer Service:
Let's say you're still unsure about a diamond. James Allen has a 24/7 customer service and Chat with a Diamond Expert option when you visit their site. This trumps the competition, as most other sites only offer chat services at specific times.
What's more, when talking to the expert, they will share their screen with you to walk you through any explanations and answer any questions you may have.
Talk about commitment to customer service! The James Allen staff are professional and knowledgeable, taking the time to answer your questions without trying to push you towards making a purchase.
After Sales Policies:
In terms of the after sales policies, James Allen offers free shipping both ways, which takes the burden off your shoulders! Note that for international customers return shipping is not free.
In the case of returns, you have 30 days to decide and return, no questions asked. There's really not much to lose and everything to gain shopping at James Allen.
All diamonds are listed with 360 degree video, Idealscope, ASET and Hearts and Arrows images
15 days no questions asked returns
Excellent customer service
Unique collections of specific diamonds
Each diamond is inspected by Brian Gavin prior to shipping out
Lifetime upgrade policy
For the highest quality loose diamonds, you can't do better than Brian Gavin. This company has made its name offering some of the best diamonds on the market. In fact, their diamonds are in the top 1% of diamonds, but the best part is that they come at comparatively reasonable prices.
Inventory:
Brian Gavin diamonds have impeccable cut quality and eye-catching brilliance and fire. Each diamond is carefully vetted to meet their exacting standards and inspected by the owner, Brian Gavin, before the diamond is shipped out to you.
Unlike their big competitors, Brian Gavin owns all their inventory and stores them in-house. This allows them to offer their exceptional quality but is also why they have a small and fast-moving inventory (30,000+ at the time of writing).
If you aren't quick, it's highly likely your diamond will be snapped up. If sparkle and light performance are your number 1 priorities, Brian Gavin is a great place for you to take your search.
Unique Collections:
Brian Gavin offers several unique collections that give you lots of choice when searching for a diamond. For the very best in cut quality check out Brian Gavin Black, which pushes the boundaries of cut perfection even further than before.
One of our favorite collections is Brian Gavin Blue which features fine diamonds containing medium to strong fluorescence.
While most other retailers would overlook these diamonds, Brian Gavin celebrates them. These diamonds look stunning but come at a very reasonable price simply because of the fluorescence.
Streamlined Website:
The Brian Gavin website is modern in appearance and has all necessary search filters. However, we find that it is not as user friendly as some of the competition, as you can't easily compare the diamond appearance of the diamonds.
Once you click on a diamond, you are provided with a lot of information that assist you in making an informed decision. Just take a look at all the images and documents provided!
Each diamond comes with a 360 degree video in high resolution, and a magnification tool that lets you closely inspect any imperfections in the diamond.
There are three separate videos that exhibit the diamond's brilliance, sparkle and eye-cleanliness. In addition, Hearts and Arrows, ASET and Idealscope images are provided as well as a grading report. For certain diamonds like Brian Gavin Blue collection, other relevant information is also provided such as fluorescence images.
Diamond Experts and After Sales Policies:
If you need help deciding or require more information, you can get in touch with their Diamond Experts via email. They will guide you through the selection process answering any questions you may have. There is also a Live Chat available at certain hours.
In terms of after-sales policies, Brian Gavin only offers 15 days to return your diamond. The diamonds also come at a premium but you are paying for the quality that you are receiving.
There is also a lifetime upgrade policy, so you can always trade your diamond in for a better one and simply pay the difference.
For premium cut quality at reasonable prices, you should definitely check out what Brian Gavin has to offer!
Massive inventory
30 days no questions asked returns
Excellent customer service
Price Match guarantee
24/7 live chat service
Competitive prices
Blue Nile has a large inventory of diamonds, with over 80,000 available at the time of writing. They also offer lab-created diamonds, with currently almost 18,000 listed on their site.
Blue Nile also does not store its diamonds in-house and have exclusive contracts with manufacturers across the globe, allowing them to keep their prices low.
Blue Nile has made it their mission to offer diamonds at very competitive prices – they treat diamonds like a commodity and not as a sentimental, romantic piece that comes with a premium.
Blue Nile's search interface is equal to its competitors and makes it easy for you to sift through their inventory.
Because Blue Nile only offers diamonds from K grade upwards, if you are looking for a stone with strong warm tints, you won't find them here. We suggest searching on James Allen instead as they go all the way down to M grade. Once you've put in your search criteria, you'll get your results shown like this:
As you can see, this isn't a very user-friendly or convenient way to compare the diamonds. Another downside is that images and videos aren't provided for all their diamonds. Only the diamonds with the circular arrow (see image above) have images, while percentage only have sample photos (see diamonds 2 and 3 above).
This is a major drawback, as it is strongly recommended not to purchase a diamond without seeing it first. You cannot go on the grading report alone and a sample photo is no help at all in these circumstances.
On the bright side, most of the other diamonds have HD 360 degree videos, which lets you see the diamond from all angles. However, there are no magnification features, meaning that you cannot zoom in and out at will.
Reports:
Blue Nile provides grading reports from GIA and AGS for all their diamonds. While they do not provide ASET or Idealscope images for their loose diamonds, they do provide a GemEx light performance report for their Astor by Blue NileTM diamonds.
Other Services:
Something that Blue Nile offers that not many other online diamond retailer offer is the Diamond Price Match Guarantee. They are so confident in their low prices that if you find an identical diamond cheaper elsewhere, they will lower their price to match their competitors. While it is difficult to find identical diamonds, this is a guarantee that you can try to avail yourself of.
Blue Nile has a Live Chat service 24/7 to answer your questions and friendly customer service. If you don't love your diamond, you can return it within 30 days, but you will have to bear the shipping cost. The return process is also somewhat tedious and long, especially if the diamond is over $500.
While Blue Nile is certainly not the most user-friendly site, they do have an excellent diamond offering and very competitive prices. It is definitely worth checking them out.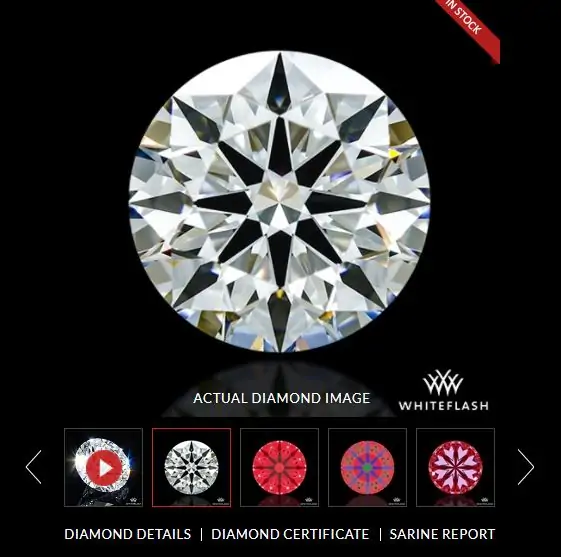 Best of the best diamond cut quality
Idealscope, ASET and Hearts & Arrows images provided for all diamonds
30 day money back guarantee
1 year Diamond Buy Back guarantee
Lifetime diamond upgrade policy
Free worldwide shipping
Free return shipping
Whiteflash pride themselves on offering only the very best diamonds, the crème de la crème. If you're looking for a diamond that has excellent light performance and stunning brilliance, this is one place you shouldn't miss.
Whiteflash stock all the diamonds they own, which include the A Cut Above Diamonds, Expert Selection and Premium Select categories. These diamonds all come with 360 degree video, grading and Sarin reports.
Most are laser inscribed, meaning that the ID number on the stone's grading report has been etched onto the diamond, making it easy to identify the diamond. All their round cut and princess cut in-house diamonds come with ASET and Idealscope images while the rounds have Hearts and Arrows images as well. Whiteflash in-house diamonds all come with a trade-up policy and 30 day inspection period.
Third Party Held Diamonds:
Whiteflash also offer third-party held diamonds listed on their Virtual Selection category, but these aren't eligible for trade-up and only have a 10 day period for a refund.
When you order a diamond held by a third-party, Whiteflash has the diamond brought in and analysed by their diamond review team to ensure that you are getting your money's worth. To receive additional images and information on these diamonds, you would have to pay up-front for the diamond. Taken this way, choosing one of their exceptional in-house diamonds seems the better route to take.
Streamlined Website Experience:
When you check out Whiteflash, you'll notice that the website is modern and easy to navigate. Sifting through their inventory is easy with the search interface.
Although the diamonds are listed without the images, there is a unique Compare feature that allows you to inspect several chosen diamonds side by side.
This is one of their best features, and lets you narrow down your choice for a closer inspection. Whiteflash has excellent customer service, with friendly, patient and knowledgeable staff who take the time to answer all your questions.
They also offer 24/7 live chat, free shipping and competitive warranty and after-sales policies. If budget is your priority, this might not be the best place for you.
But if what you want is supreme cut quality, then you're in the right place!
They offer all varieties of colored diamonds
Diamonds are stringently vetted for quality
Exclusive access to the Argyle Mine Pink Diamond tender
30 day refunds
Excellent customer service
HD images, videos and grading reports
Free international shipping
Leibish and Co are the best in the business if you are after loose colored diamonds, offering excellent quality, customer service and after-sales policies. They also have access to some of the most coveted diamonds, such as the rare Argyle Pink Diamonds.
Leibish have a relatively large inventory of colored diamonds which they own and store in-house. Their prices may seem high but the quality they offer makes it well worth the price.
At Leibish, each diamond is vetted and only a select few pass their stringent specifications.
Leibish has diamonds of all colors, including more unusual ones like black and and gray. Adjust the search filters and all matching diamonds will show up with images for easy comparison.
For colored diamonds, color is the most important aspect and so it is imperative that you see clear and magnified images of the actual diamond to assess the quality of the stone.
Leibish offers this with high resolution images including a zoom-in feature. Some diamonds come with clear 360 degree videos, so you can see how the stone interacts with light from all angles.
Each diamond comes with a grading report as well. Their customer service is excellent and they will take pains to answer your questions and if necessary, arrange for you to view the diamond. They offer free international shipping and 30 days money back guarantee.
Wrapping Up
There are many online diamond retailers, but not every one of them has the same reputation that the above list of retailers do. For the very best in diamonds, you can't go wrong with any of the above retailers.
If you would like more in-depth information on each of them, check out our comprehensive reviews on each of the above retailers.
Brian Gavin Diamonds – Are They Worth It
Whiteflash Diamond Buying Guide – A Review