From all online diamond retailers, James Allen stand in a league of their own. With a large inventory, 360-degree HD video for every diamond and exceptional 24/7 customer service, they are a top pick for online engagement rings and loose stones.
Over the last 15 years, James Allen has built a reputation for being the best online diamond retailer. Founded in 2006, one of the company's main aims is to combat the challenges that shoppers face when buying engagement rings online.  
This focus means James Allen has an ever-continuing series of innovation in streamlining the engagement ring buying process.
Let's take a quick look at their pros and cons, and then dive into the details.
Advantages
Largest diamond inventory with over 270k white diamonds
360-degree video for every single diamond including SuperZoom 40x magnification
Wide range of settings
24/7 customer service and the option to Chat with a Diamond Expert
Clear and easy-to-navigate website
Good range of diamond information
High quality packaging
Free engraving services
10 showrooms across the United States
Disadvantages
Shipping is not free for international returns
Idealscope images may be unavailable
1. How Big Is Their Inventory?
James Allen has a large inventory of gemstones, stocking over 400,000 diamonds, rubies, sapphires, and emeralds. There is something for every taste and price point, with a certificate accompanying each stone. This is particularly a top feature for their lab-created gemstones, where it indicates the lab of origin.
Unlike most physical stores, James Allen does not own the diamonds listed on their site. Instead, they source their jewelry from suppliers from all around the New York area. This gives James Allen an edge on HD videos of all the stones listed. Their staff will visit suppliers to take videos of each stone.
Additionally, James Allen has exclusive deals signed with many of these vendors. This means the gemstones on their site cannot be found anywhere else. They'll never be out of stock after ordering, so the stone selected on the website will be the one received in the mail.
James Allen has a different method for handling their jewelry. Each stone undergoes rigorous evaluation and examination by a qualified diamond expert prior to shipping.
How Good Are Their Products?
One of James Allen's founding principles is to provide the highest quality diamonds at the best possible price. Since they don't stock their own stones or have many established showrooms, they have less overhead. This translates to less expensive diamonds and jewelry.
Although James Allen does not have a price match guarantee, they have some of the most competitive costs around. Buying a gemstone at James Allen can easily save a significant amount of money rather than buying in-store. In some cases, savings can be up to 50%.
The exceptional imagery James Allen offers allows customers to cherry pick the best diamond at the best price. For example, you could opt for a diamond with a lower clarity grade, and thereby a lower price, while ensuring that it's still an eye-clean stone. This is difficult to do with vendors that don't provide accurate imagery of their diamonds.
To clarify this point, take a look at this image:
All the diamonds listed here have similar specifications. They're all SI2, Excellent cut, 1 carat diamonds. However, the diamond on the top right has fewer visible flaws than all the other diamonds. The grading reports for these stones would all be fairly similar, but because you can see them clearly you will be able to select the best stone from the lot at the best price.
Conflict-Free Diamonds
All gemstones offered by James Allen are conflict-free, indicating that they're ethically sourced and not blood diamonds.
The company guarantees legitimate acquisitions as a required compliance with the Kimberley Process, the Patriot Act and a number of United Nations resolutions. These structures are in place to ensure the consumer is not buying a stone from a conflict zone. 
Is Their Diamond Display Technology Worth the Hype?
James Allen understands that a diamond, unlike other commodities, needs to be viewed prior to purchase. It's the number one reason why customers opt for in-store shopping. Online jewelry browsing doesn't offer the best tactile experience.
To combat the guesswork and attract trepidatious customers, James Allen offers Diamond Display Technology. This has truly revolutionized the online buying experience by providing a 360-degree 3D view of every stone and jewelry piece in their inventory.
It's not often that diamond vendors will have original pictures of their actual stones. Even if they do, the images are poor quality, obviously edited, and/or taken from an angle that hides the stone's flaws.
In fact, as James Allen puts it, their technology is even superior to viewing a diamond in person, because you can magnify the stone by up to 40x using their SuperZoom feature. There are many viewing options that range from the actual size through a series of magnifications.
In the images below, you can see the diamond in its actual size and the 40x SuperZoom image. Image 3 shows you the SuperZoom version of the same diamond, which is equivalent to using a jeweler's loupe.
The actual size appears eye-clean but once you zoom into the diamond, you can see that it has visible inclusions across the surface.
This means you'll be able to see imperfections yourself and get a good idea if the piece is something you want.
Plus, it's easy to compare the diamonds and gemstones as they take all images in the exact same setting. This means you can examine the color and clarity with precision, including the jewelry's design elements.
By using James Allen's 360-degree video and magnifying features, you will be able to carefully evaluate every stone that tickles your fancy while cherry picking the best ones. You can then visit one of their many showrooms to further view your selected diamonds.
Light Performance Images – Idealscope
When purchasing a diamond, it's important to inspect its light performance. Idealscope images are an easy and effective way to evaluate where the diamond is leaking light from and the amount of light it reflects.
These are critical aspects because it will determine the overall scintillation, fire, and brilliance of the stone you eventually buy. Make sure you're provided with Idealscope images of the diamond you have chosen, regardless of where you buy it from.
Most online vendors do not provide light performance images, but James Allen does. For their True Hearts diamonds, James Allen have up to two Idealscope images already provided on the site. In the image below, you can see the two red Idealscope images on the bottom right of the diamond.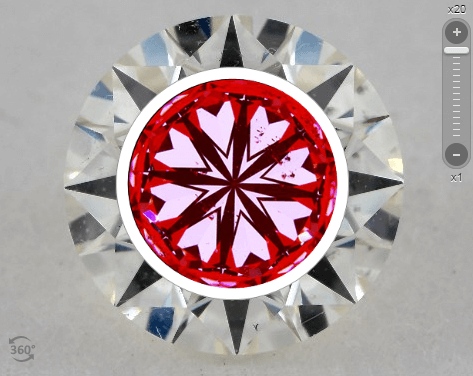 For diamonds apart from True Hearts, Idealscope images will have to be requested. It can take up to 3-5 business days for you to receive these, as it depends on where the diamond is located.
The diamond must be brought into the James Allen New York office to be photographed. This seems somewhat of a tedious process, but is well worth it if you want to ensure that your diamond is going to have optimum light performance.
You can use the Idealscope image to check out light leakage and symmetry of the stone which will show you whether the diamond is truly a 'Hearts and Arrow' diamond. The two images above are of the same diamond demonstrating the coveted 'Hearts and Arrow' pattern.
User-Friendly Website
James Allen's website is always in a state of evolution and revamping. This is borne out of their main aim to provide the easiest way for shoppers to buy engagement rings.
The website is dynamic, easy to use and has many features. It works efficiently and doesn't have any glitches or huge loading time problems.
Most importantly, finding the perfect lavaliere through advanced filter options makes shopping simple.
Because James Allen knows that most shoppers are not highly knowledgeable about diamonds, they have provided an education section. Here, consumers can learn about diamonds and what makes one more valuable than another.
What You Can Find at James Allen
James Allen has a wide range of products on their e-commerce site. These Include:
Diamonds
Since they have over 350,000 diamonds at any given time in their inventory, these are the main attraction at James Allen. There are 10 diamond shapes to choose from (round, princess, cushion, emerald, radiant, marquise, pear, heart, Asscher, and oval).
Their True Hearts Diamond Collection contains stones that have a superb cut, exceptional symmetry, gorgeous shape, vivid color, and pristine clarity. These diamonds are among the best in the world and, of course, they come with a premium.
Lab-Created Diamonds
Lab-created diamonds are increasing in popularity as many couples opt for this sustainable and ethical diamond option.
James Allen has been one of the few top retailers who have offered lab grown diamonds for their customers, indicating that they're ahead of the game.
Settings
For engagement and wedding rings, James Allen has an impressive range of settings and metals to choose from. There are 9 main setting styles, and within each of these categories are more options.
Take into account the fact that there are 6 types of metals (14k and 18k white gold, 14k and 18k yellow gold, rose gold and platinum) and you have hundreds of settings and metals to mix and match. James Allen even offers unique settings such as tension, which many other vendors do not offer.
Gemstones
There is also a variety of gemstone jewelry and loose stones, including sapphires (pink, blue and yellow), rubies, and emeralds. James Allen also offers a host of other fine jewelry that includes citrines, pearls, aquamarines, topazes, opals, peridots, garnets, and amethysts.
Colored Diamonds
The site offers a wide range of colored diamonds, with 10 colors to choose from. This section includes an additional search filter – that of intensity, which lets you filter the diamonds based on their color. As yellow diamonds are the most common, you'll find many of these listed here but very few of the rarer types of diamonds. It's still a good source to begin your search for a colored diamond.
Designer jewelry
James Allen has the collections of five renowned designers showcased on their website. These are Verragio, Martin Flyer, Jeff Cooper, Unique and Danhov. These designers offer gorgeous jewelry and more settings and styles to choose from.
Diamond and Gemstone Jewelry
While most people prefer to design their own jewelry, there is a large array of ready-made fine jewelry also on offer. There are two main categories in this collection: diamonds and gemstones. Within these two categories, you can purchase beautifully crafted earrings, bracelets, pendants, and rings that are ready to ship, saving you the time and the effort of designing your own jewelry.
Exceptional Customer Service
James Allen has exceptional and incomparable customer service. The representatives are very helpful and informative without being pushy, assisting the customer with every aspect of the purchase.
According to James Allen, before their staff attends to customers, they undergo six weeks of extensive training on jewelry and diamonds. This training is ongoing throughout the span of their employment. This allows them to provide professional advice and accurate information to facilitate the complicated process of shopping for a diamond ring.
James Allen's website comes with a 24/7 chat option. There is also the option to chat with a diamond expert, but this is only available at certain hours. With this consult feature, you can easily talk to their qualified diamond experts and get a general idea about diamond shopping and latest trends and designs as you create your ring. James Allen has even taken this a step further where the expert will share their screen with you and walk you through the various aspects of the diamond. This takes further guesswork out of the way and makes the experience even easier for you.
The 'Design Your Own Engagement Ring' Tool
James Allen's crowning features are custom designs for engagement and wedding rings. Like many online diamond vendors, they give you the option of custom designing your engagement ring. With the range of diamonds, gemstones, settings and metals available, you will be able to design your perfect ring exactly as you want it.
You can set the parameters to suit your preferences and budget, playing around with the combination of 4Cs. You can begin by first choosing either your setting or your diamond.
Based on your selection, you will be provided with all available compatible diamonds/settings. They also offer free engravings on most of their engagement rings and wedding bands. Ring engravings can be of any alphanumeric combination of up to 20 characters.
Once you have chosen your ring size, your ring is complete. What remains is to review your purchase and check out. While the shipping is free, there may be taxes to be paid based on your location.
A Gallery to Inspire
When building a custom design, it helps to see what the finished product will potentially look like. The Inspiration Gallery features recently purchased rings. All shot in normal light to give the user an idea of their finished product. It also superimposes your selected diamond so you can see how it looks in a custom design.
Services and Policies
Free Resizing Within the First Year
Anytime within the first year after making a purchase, James Allen will resize all wedding bands and engagement rings free of charge. The only exception is for eternity bands and tension rings, these will need complete remanufacturing if they don't fit.
Free Shipping and Other Benefits
James Allen provides free shipping to all parts of the world. Even rings that need to be resized will be re-shipped for free. Not only that, you also get lifetime warranty on all the jewelry items that you purchase from them.
This includes free re-polishing, rhodium plating, prong tightening and cleaning services. If you encounter any other problem with your jewelry or need a service that is not listed above, you can still send your jewelry item for inspection. The team will evaluate the item's condition and the service you desire and will inform you about the cost.
Buying from James Allen – Financing Options
James Allen accepts all major credit cards, in-person cash payments and PayPal. They also allow customers to breakup payments through an installment app called Split. Bank wire transfers provide a 1.5% discount. If paying outright isn't possible, James Allen has two financing options:
No Interest for 6 Months – There is 0% interest up to the first 6 months for the initial purchase on orders with a minimum $1,000. However, the APR is a steep 29.99% after this period. There are many other terms and conditions that come with this payment option.
9.90% Interest for 24 Months – When the order totals a minimum of at least $2000, James Allen gives two years to pay off the balance at a much lower APR rate.
Return Policies
As long as the product is in its original condition, James Allen offers a 30-day money-back guarantee for all their items with straightforward and hassle-free returns. The 30 days begins from the day the item shipped.
however, James Allen doesn't offer free return shipping for customers outside the US. International customers have to pay for secure shipping. For US customers, however, it is free, and the entire process takes about 2 weeks to complete.
Upgrading Your Diamond
You can always upgrade your diamond to a bigger rock at any time with James Allen's lifetime upgrade policy. However, the new diamond must be at least two times the value of the original diamond or greater. When exchanging the diamond, you will receive 100% credit for the original stone's value. This is only for diamonds, not other gemstones.
Physical Showrooms
For some customers, who prefer to view the diamond or setting prior to purchase, James Allen has 10 showrooms throughout the United States. Customers can make an appointment to view up to three pre-selected diamonds in person. They currently have locations in:
New York City
Washington DC
Miami, Florida
Chicago, Illinois
Dallas, Texas
Houston, Texas
Atlanta, Georgia
Los Angeles, California
Philadelphia, Pennsylvania
Boston, Massachusetts
Beautiful Packaging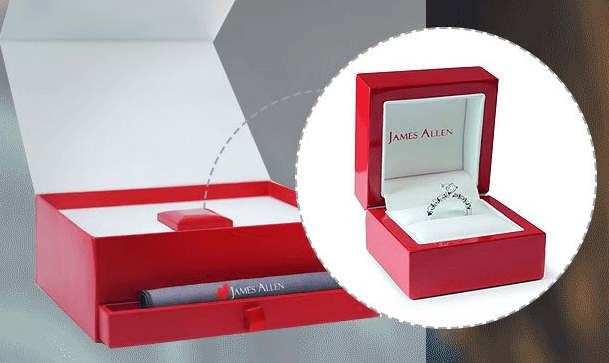 One of the company's mottos is that love (not the devil) is in the details. In keeping with this view, all their packages are beautifully designed and ready for gifting. The engagement rings arrive in white and silver boxes that have James Allen's signature heart shaped butterfly embossed on them.
The larger box houses the smaller engagement ring box, safely ensconced within it. It also includes a sleek drawer that contains important documents like an appraisal, respective jewelry item's certificate, invoice and other paperwork. Overall, the presentation is classy and elegant.
In Conclusion
James Allen is a solid choice for ethical jewelry that's also convenient and affordable. With so many guarantees and beneficial policies, you can return your jewelry or diamond if you're not happy with it. The company is trustworthy with a proven track record and a wide range of high-quality products. If choice and quality are a top priority, you'll find it here. Click here to browse diamonds and settings on James Allen.