As Jewelry Shopping Guide editors, we write about things that we love and we think you'll like too. We often have affiliate partnerships, and may generate some revenue from these links at no cost to you.
An engagement ring is the initial binding of a long-term relationship. It symbolizes the promise of two people to be with each other through thick and thin. Traditionally, women have been the ones to put on this sacred band but today male engagement rings are becoming a popular concept.
Remember when Ed Sheeran sported his engagement ring? Or when Michael Buble showed off his platinum engagement band? With more and more men taking to wearing engagement rings, this is quickly becoming a new trend that looks like it's here to stay.
But:
Is a male engagement ring right for you? How do you feel about wearing one? Let's take a look at what male engagement rings are to help you answer these questions.
Do Men Wear Engagement Rings?
While men haven't traditionally worn engagement rings, there's no reason that they can't. The concept of engagement rings has been around for a while. If we go far back to the 16 and 17th centuries in Europe, we notice that Gimmel rings were a tradition very similar to men's engagement rings. These were interlocking loops or links that would fit together to form a single ring. Much like a promise ring, the couple would wear these rings from the time of their engagement to their wedding.
However, while in some cultures, like in Latin America, it is quite common for men to wear engagement rings, this concept of men wearing a ring to signify an engagement never really became a tradition in the Western world. It's only in recent years that some men have taken to this idea.
Part of the reason for this could be the shifting zeitgeist, as the emphasis on equality between men and women becomes prevalent. Some might argue that it's unfair that only a woman visibly announces her engagement with a ring whereas, for a man, there is hardly any indication that they are taken.
Why Do Some Men Wear Engagement Rings?
Simply put, an engagement ring is a clear indication that the person is committed and shouldn't be approached with a flirty intention. Most women are quite sensitive towards their ring as it signifies their special bond, while men tend to be more casual towards wearing theirs.
However, the ring signifies that you're now taken, that you've found 'the one' and this is a very romantic and significant piece of jewelry.
It's also about making your man feel special.
Even if a guy doesn't really show interest in an engagement ring, probably because he has never thought of the idea, the significant other can play a role here and encourage him to wear one. In a popular case, singer Jennifer Hudson approached professional wrestler David Otunga with a ring seven months after he proposed to her with a diamond ring. Better late than never.
Are Men Supposed to Wear Engagement Rings?
For most men, wearing an engagement ring is a strange idea or one they aren't really comfortable with. While this may have changed to an extent, many men still don't like to wear jewelry of any kind. Some even prefer to wear it around their neck on a chain rather than on their finger. This way it fulfills the purpose of the engaged status and stays safe around the neck.
Overall, it is not at all mandatory for men to wear engagement rings. Of course, it's not mandatory for women either. An engagement ring is a symbol of love and connection but there's no hard and fast rule about how this should be represented.
When Is It Suitable to Wear A Male Engagement Ring?
It really depends from person to person and culture to culture. In general, you would wear an engagement ring when you've got engaged and then would add a wedding ring when you get married.
One thing to note is that wearing a ring can be misleading as it may look like a wedding ring. In this case, you could be mistaken for being a married man, and not an engaged man.
With same-sex couples, both partners may choose to wear his, his or hers, and hers engagement rings from the time of the engagement.
Male Engagement Rings vs. Wedding Ring
Simply put, an engagement ring is worn from the time of the proposal while the wedding ring is put on the finger after the wedding vows. So, an engagement ring represents the promise of the journey whereas the wedding ring represents the start of the journey.
In general, a men's wedding band is usually a ring made from precious metals like platinum and gold, or alternative metals such as tantalum, titanium, tungsten, and carbon fiber. These rings don't generally contain any diamonds or other gemstones.
A men's engagement ring, on the other hand, can be either a plain metal band, but it's more common for them to contain diamonds. As the trend began to popularize, jewelry brands came up with ways to tweak the simple bands and add textures, colors, and designs to them for a more stylish look.
Matching engagement rings are a great idea too, as they allow you and your partner to have a cohesive look. For example, if your significant other chooses to wear a solitaire diamond ring, you can opt for a silver platinum band to match hers. There are also very creative and unique matching engagement ring ideas so have a look around and find what works stylistically for both of you.
On Which Finger Should a Men's Engagement Ring be Worn?
This can differ from culture to culture. For example, in most European countries and the United States, men's engagement rings are worn on the left hand whereas, in countries like Pakistan, India, Peru, Norway, Spain, and Denmark, it is worn on the right hand.
So, while the jury may be out on which finger a male engagement ring should be worn, there's no right or wrong answer. It can be worn on either hand, as long as you're comfortable with it.
Just ensure that you decide which hand and finger before you have your ring sized because your finger sizes could be different, and what fits the right hand may be either loose to a bit tight on the left.
Types and Styles of Men's Engagement
There are several styles of male engagement rings to choose from and some of the popular ones include:
As we mentioned above, a diamond ring is a popular choice. It can have a center diamond taking the limelight or a band encrusted with a number of diamond melees.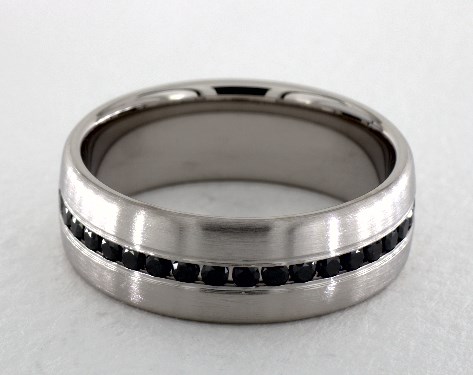 Customizing your engagement ring is a great way to make it truly yours. It becomes personal and very special. For example, choose a fingerprint ring like this one that has a fingerprint of your other half engraved on the exterior of the ring. It's a nice way to personalize the ring and keep a part of them close to you all the time. You can also have a special quote, monogram or motif included in your ring to give it more meaning.
Want to keep it simple? Then you can always stick with a classic metal band. There are so many metals to choose from whether precious or alternative. You have many options for finishing touches that will add an extra dimension to your ring, giving it the right texture and shine to suit you. In this case, you can simply buy a wedding ring but wear it like an engagement ring.
Where to Buy Men's Engagement Rings
You might find it difficult to find many rings labeled as men's engagement rings. However, you will find lots of male rings and male wedding rings in jewelry stores, especially online.
We recommend taking your search to sites like James Allen and Blue Nile, which offer very competitive pricing, excellent customer service, and quality.
Popular jewelry stores like FrostNYC offer modern designs and hip-hop ring styles. We recommend searching on these platforms for a wider range of designs.
For a wider range of designs and budgets, Etsy is an amazing resource with something for everyone.