We tend to bracket gold chains with rappers and punks, but gold chains for men come in all styles and designs, with something for everyone. Whether you're a newbie or a gold chain pro, finding the best men's gold chains is mainly about picking the right length, width, and chain style.
Here's how to pick the right gold chain for you. For information on where to buy gold chains, check out our in-depth article Best Places to Buy Gold Chains Online.
Men and Gold Chains
Men have been wearing gold chains for centuries across the globe. In some countries, it is part of the culture to sport a gold chain, signifying wealth, status, and prestige. And with an increasing number of men wearing jewelry these days, you'll be fitting right in with the trend.
Men's gold chains are one of the more versatile types of jewelry for men and can be used to accent almost any style and look. If you're someone who's never worn a gold chain, it might feel strange at the start, perhaps even uncomfortable. But over time, you'll find that the right gold chain is an everyday accessory that can enhance your overall attire.
Types of Gold Chains For Men
When it comes to men's gold chain designs and types, there's a large variety to choose from. Most of these types are better suited for certain lengths and width ranges. Here are the most common varieties:
1. Ball Chains
This type of chain is the one typically used for holding a dog tag, the quintessential male necklace. Ball chains are a strong and durable type of chain.
2. Cable Chains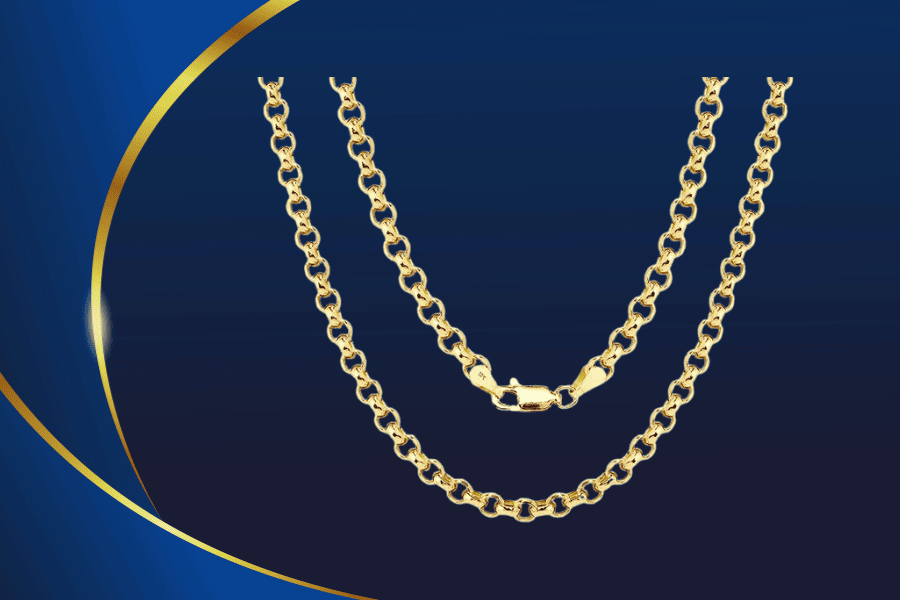 A common and classical design, cable chains can vary greatly in width and length and can achieve different styles with ease. Miami Cuban, a variation of the cable chain, also uses oval or round links but has them twisted for an added effect. Most of the hip-hop style necklaces on the market are Cuban chains. Thinner ones look great with pendants whereas thicker ones can stand (or hang) alone.
3. Herringbone Chains
This unique chain design has an impressive liquid effect thanks to its V-shaped links. This type of chain doesn't require a pendant, taking pride of place on its own. Take a look at this herringbone gold chain. It definitely makes a statement.
4. Franco Chains
This Italian design is achieved by interweaving the V-shaped links of two to four curb necklaces. Franco chains are great on their own, as they're quite a statement design.
5. Box Chains
Made from connected square links, box chains have a solid, masculine look and looks great with a pendant hanging from them.
6. Rope Chains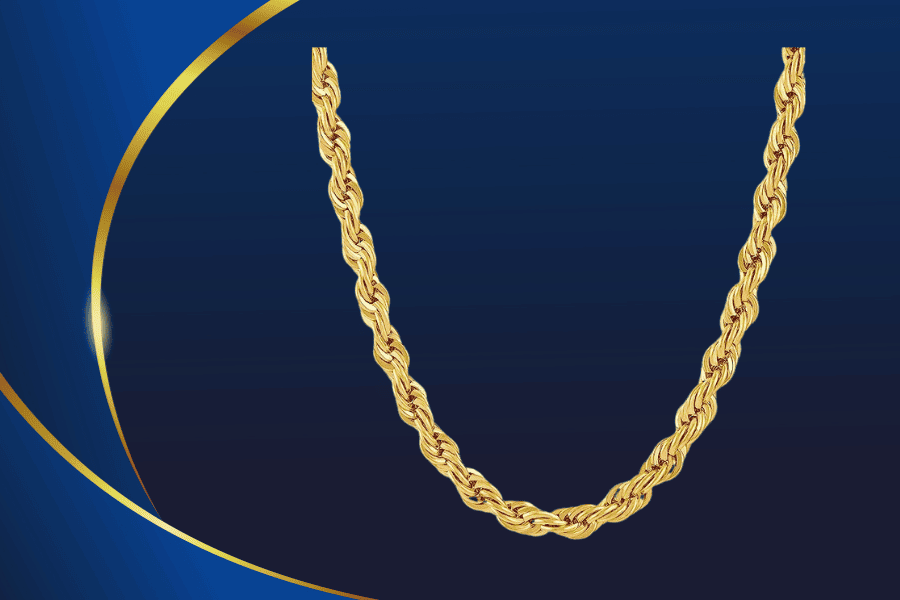 One of the most popular types of chains for men, rope chains can be styled in a number of different ways. Rope chains create the effect of two twisting strands attached together. Their small oval links are joined in a way that gives these chains a tough but versatile look. For thinner chains, adding a pendant would suit as well.
7. Figaro Chains
A classic type of gold chain for men, the Figaro is a durable and eye-catching choice. Figaro chains use round or oval links of different sizes and shapes, typically alternating between 2-3 round links and 1 elongated oval one.
How to Style A Gold Chain
A good place to start is to consider what you want your chain to say about you and what style you're after. It's amazing how a simple piece of jewelry can speak volumes about your personality so it's nice to hit the right note. A good question to ask is How striking do I want the chain to be?
For most men, a stylish, subtle look is what they aim for, so wearing a classic gold chain that blends in with their attire would be the perfect choice.
However, there are also eye-catching, outrageous types of gold chains that catch people's attention and take center stage. These are often on the extreme end and not everyone can pull them off.
You could opt to layer different chains for added texture and movement. The chains can be of varying lengths and widths, and you get to choose the number of chains you want to wear. Ideally, 2-5 makes for a good range but there are no rules and you can set the trend.
Considering the shape of your face is also important when choosing a gold chain. Round faces are usually better suited for longer, V-shaped chains while faces with thinner and pointy chins look better with short chains or choker-style gold chains.
The color matters as well – the fact that you're going for gold doesn't necessarily mean that it should be yellow gold. You might be tempted to pick out a white or rose gold chain, rather than the classic yellow.
What Chain Length to Choose?
Men's gold chains can vary a lot in length – from 14 or 16 inches all the way to 30 inches or even more. The way these different lengths are typically categorized is as follows:
14 – 18 inches is usually considered a "choker". Depending on your neck's width even 18" may be too tight so keep that in mind. A choker can be form-fitting on your neck or hang a little bit. The choker length is almost always visible above your clothes and can be used to express different styles depending on its design.
20 – 24 inches is the most common length for gold chains for men. 20" typically falls between the first and the second button on a shirt and can be worn inside or outside the shirt. 22" and 24" go a bit further down the chest but can also look good both inside and outside a shirt. These last two lengths are typically used for dog tags, pendants, crosses, or other jewels.
26 – 30 inches and longer are lengths that typically fall in the "bling bling" category. Meant to be worn on the outside of a shirt, these chains can either carry a large pendant like a cross on them or can be worn by themselves. These chains are meant to attract the eye and make a statement.
What Chain Thickness to Choose?
Men's gold chains can actually vary in thickness even more than they do in length. You can find anything from a 1mm wide gold necklace for men to 21mm wide heavy chains (the width of a US quarter). The width and length of a chain typically go hand in hand as it would look ridiculous to wear a 14" choker that's 20mm wide or a 30" chain with a width of 2-3mm.
The width, however, is even more important than the length when it comes to subtlety and expression. Even if you keep your chain underneath your shirt if it's too wide it will still be noticeable and draw attention.
Thick gold chains for men that are more than 12mm wide are typically intended to be eye-catching and impressive, while chains with a width of 1-6mm are more personal and often meant to be rarely seen. The middle range of 6-10mm can be used for either purpose depending on their
What Type of Gold Should I Choose?
It often surprises most people to know that gold comes in a range of colors and purity levels. This can significantly affect the price of the piece.
Yellow gold is a classic choice, suiting a variety of styles. It's the metal color of choice for large, outlandish gold chains and you'll see gold chains hanging on the necks of the likes of Snoop Dog, David Beckham or Kanye West.
White gold, on the other hand, is more of a modern choice.  This is a stylish and classy look for a gold chain but it does need maintenance as the rhodium plating wears off with time. If you want something very unique, rose gold might be the way to go but note that this has a pinkish tinge, and or some men, this doesn't cut it.
Gold ranges in karatage, which basically means gold purity levels, typically from 9K to 18K when it comes to chains. The lower the gold content, the less expensive and the more durable. If you want to know why this is the case, check out our comprehensive article on gold.
If you're looking for a budget option, then opt for gold-plated or rolled gold chains, which have the look but not the price. These, of course, are nowhere as durable as solid gold chains and have an indefinite expiry date, flaking and discoloring with time.
Cleaning and Caring For Your Gold Chain
As men's gold chains are a type of jewelry that's meant to last a lifetime, proper care and maintenance are of the utmost importance. Frequent cleaning and damage inspections are needed, as well as professional repairs when necessary.
When it comes to cleaning, there are multiple safety steps that you'll need to take first:
Step 1: Inspect for damage before cleaning or you can worsen an existing problem.
Step 2: Consider the types of gemstones and other materials on the gold chain, especially if there are diamonds or cubic zirconia. Some cleaning solutions that are fine for gold can be damaging to other materials.
Step 3: You can use warm water and a mild liquid soap or a professional cleaning solution like this one. Test your cleaning solution on a small area of the chain.
Step 4: First, soak the chain in the water for 2-15 minutes. Then, use a soft toothbrush to gently stroke every link of the chain. After that, you can place the chain in a strainer and rinse it. Finally, remember to carefully dry the whole chain with a soft cloth.
Step 5: For dirt or grime, there are many tried and tested ways to clean the chain at home. You can use rubbing alcohol mixed 50/50 with warm tap water. Ammonia mixed 1:6 with tap water is also a good way to get at the dirt. There are also specialized professional cleaning solutions that you can purchase from jewelry sites online. A beer-soaked piece of cloth or some toothpaste are other easy ways to clean dirt off of gold.
Step 6: Whatever you use, however, remember to rinse and dry the gold chain diligently afterward.
Where to Buy a Gold Chain for Men
When it comes to important purchases like a genuine gold chain, it's always important to make sure that you're only working with trustworthy vendors. We couldn't possibly list every good and reputable vendor worldwide, but if you're looking for several suggestions to start looking into, here are our recommendations:
As it is one of the biggest online retailers worldwide, it's not surprising that you can find all kinds of men's gold chains on Amazon. Representatives from many different jewelry vendors offer their products on Amazon and you can use the site's extensive rating and review sections to gauge the quality of each product. Still, considering the variety of vendors that use Amazon, it's always advisable to be cautious and research everything carefully.
Frost NYC is known as one of the best jewelry companies in the US and especially on the East Coast. They offer fast shipping, a smooth transaction, and a great price/quality ratio. They also have a great assortment of men's gold chains, as well as other jewelry options, plus their attentive customer service staff is always available to help you navigate their site.
The name says it all. If you're looking for attention-grabbing, hip-hop chains, this might be the place for you. They've got a massive variety which is offered at quite affordable prices.
If you are looking for a handmade or unique option, Etsy is probably the one place you shouldn't skip. You can find multiple independent jewelry boutiques on Etsy, each with its own assortment of gold chains. Each Etsy shop has its own policies so it might take some time to review all their details ahead of making a purchase, but that's usually time well spent.
Wrapping Up
As the trends in men's fashion continue to evolve, gold chains will continue to be highly popular. Whether you're gifting one or wearing it yourself, a gold chain is not just a piece of jewelry—it's a timeless investment, a versatile fashion statement, and an expression of identity. So what are you waiting for? Why not get yourself a gold chain to flaunt your style!