If you're looking to buy an engagement ring, there's a lot of things to consider. After all, it's a high-ticket item, and probably the most important jewelry purchase you'll ever make.
We tend to focus on the diamond and design, but factors like budget, fashion sense, lifestyle, and more are also key considerations. And if you're buying the ring for a surprise proposal, then you've got the added burden of getting it right with a lot of guesswork!
We're here to tell you that it's not as hard as it seems!
All it requires is some know-how and buying the perfect ring becomes a science. Let's take a look at how to buy an engagement ring and what factors you need to consider.
1. How Much Should I Spend?
First of all, it's important to have an estimate of how much you're willing to spend. Without a budget in place, you may end up spending way more than you wanted.
The average price of a diamond engagement ring is approximately $5500, although most couples go well over the $6000 mark, with about 7% going up to $10,000.
There is an unofficial rule that you should spend up to 2 months' salary on the ring, a myth that came from a 1930s De Beer's ad campaign to create buzz around diamonds. You don't have to do this. At the end of the day, the price of the ring depends on how much you can afford.
There is really no reason to get into debt over a piece of jewelry. By establishing a budget, it will help you to know what you are looking for and make it easier to find items within the price range.
Related Article: Why You Should Buy Your Engagement Ring Online
2. Where Should I Buy – Online or Physical Stores?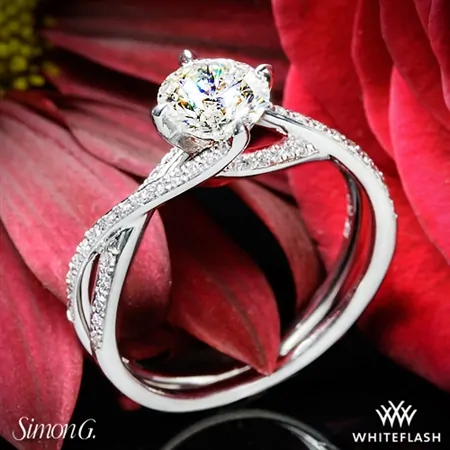 There are benefits to both buying online and at physical stores. The most obvious benefit of buying at brick and mortar stores is that you will be able to see and try on the ring before you buy it. Also, you can easily take the ring for its periodic check-up. Repairing the ring, if necessary, can be easier.
However, shopping online offers you endless options, highly competitive prices and the ability to easily compare different styles and prices to cherry pick the best one for you.
Shopping online has changed the nature of jewelry shopping and allows you to save upwards of 20% on your diamond. You are also able to mix and match the 4Cs to ensure that you find the perfect stone for your allotted price.
Online stores also have very competitive prices and most have excellent after sales services, such as resizing and returns.
We suggest combining the benefits of physical stores and online stores when picking out your ring.
You can begin by checking out the rings at your local jeweler and seeing the rings on display in person. You can then take your search online and look for rings similar to the ones you liked, comparing quality and prices.
3. How Do I Select My Diamond?
Diamonds are the number one choice for engagement rings, with over 80% of couples choosing a ring with a diamond as its main stone.
Having said that, an increasing number of modern couples are opting for unique gemstone choices for their rings. There is a trend towards color and non-conventional choices.
If you opt for a diamond, picking out the stone is the next big step. For in-depth information on this process, check out our article on how to choose your diamond.
When selecting a diamond, the main factors to be critical about are the 4C's of diamonds, which stand for cut, color, clarity and carat weight. If you have an understanding of this and play around with the combinations, you will be able to choose your stone wisely and for the best value.
It's also really important that you see the diamond clearly before you purchase it. Some online stores only offer sample photos and a grading report, but you cannot go by a grading report alone when choosing a diamond. Different diamonds with similar grading reports can look very different. What's important is that the diamond is eye-clean and contains no unsightly tints.
4. How Do I Find the Right Ring Size?
If the ring doesn't fit, you can send the ring back to be resized. Apart from some ring settings like eternity and tension which need to be completely re-crafted if they do not fit, retailers like James Allen and Blue Nile, offer free resizing for several months after the purchase.
At the time of purchase, check what the re-sizing conditions are to avoid potential issues down the line. However, to avoid going through this trouble, here are a few tricks to getting the ring size perfectly.
Order a ring size guide for free from one of the reputable online jewelry stores, like this James Allen ring size wizard, or download the ring size guide online.
Wear a ring that fits his/her finger perfectly and make a mark at the point where it stops on your finger. Wrap a piece of thread around your finger at that point, then fold the thread in half to find the diameter. Use the ring size guide to then find the accurate size. You can also outline the inner circle of the ring on paper and use this to measure the diameter.
Bring a ring that you know fits him/her perfectly, to the store so that it can be measured.
If none of the above tips are possible, remember that it is always easier to size down the ring than to go the other way. So buying a ring that may be a bit larger is always better than going for one that you think may be small.
5. Should I Customize My Ring?
This sounds like an expensive option but it doesn't have to be. You can choose to customize your entire ring or mix and match stones and settings online. Every reputable online store these days gives you the option to pick your setting and the perfect stone to go with it.
You can also add engravings or other touches. This gives you the option to create a more personal ring. The cost varies depending on the method you choose for customization.
6. What Shape Should I Choose for My Diamond?
The most popular cut for diamonds is the round brilliant, with over 70% of engagement rings sold sporting this shape.
The second most popular is the princess cut which is square. These are classic, brilliant cuts that are very versatile, and go well with any outfit or hand shape. The cushion cut has also been very popular as vintage designs come back into vogue.
All the other diamond cuts are somewhat non-traditional, so if your lady likes to stand out or be different, maybe one of these cuts may be the way to go.
7. What Ring Setting and Style is Best?
Now you've picked your diamond, it's important to choose the right setting that features your diamond to maximum advantage. The setting refers to the way the stone is held securely in place on the ring, while the style refers to the overall appearance of the ring.
Some popular settings include prong, bezel, halo, pave and channel. Each of these have their pros and cons. The solitaire is the quintessential engagement ring and the one that comes to mind when we say the words diamond ring.
However, if you think your significant other would like something more dramatic and flashy, consider halo, split shank or three stone rings. Some ring styles are very contemporary in appearance whereas others have beautiful vintage styles.
8. What Type of Metal Should I Pick?
Traditionally, yellow gold has been the classic choice for engagement and wedding bands, however these days silver-hued metals, such as white gold and platinum, are becoming more popular. Rose gold is also a popular metal choice, as it has a beautiful feminine look to it. Combine rose gold with a stone such as morganite for an exquisite and unique ring.
The color of the metal you choose affects the appearance of the chosen gemstone so ensuring that they complement each other is vital. White metals are perfect paired with colorless diamonds and tend to enhance the sparkle and brilliance of the stone. If the diamond has warm yellow tints, yellow or rose gold will pair well.
If you prefer, you can even combine a variety of metals by purchasing a two- or even three-toned, the advantage of which is that the ring would complement any outfit your spouse wears. Mixing metals is also highly in vogue at the moment.
When choosing a metal, the two main considerations are durability and appearance. For example, while platinum is a very hard metal and lasts for a long time, it tends to lose its luster after a while, whereas gold has better shine but can be soft and wears down more easily. As looks may take priority over durability, it is best to go with what appearance you think she would like.
Check out how to choose the right metal for your engagement ring.
9. Where Should I Shop for the Ring?
Shopping at your local store has many advantages, such as being able to see the stone or ring in person. However, if you go online, you'll have endless options as well as competitive prices. Most online stores don't have the same overheads as traditional stores, and this reflects in the price.
Whether you buy your diamond online or in store, make sure you check the after sales policies and services. Also, ensure that you receive a grading report from an independent lab such as the Gemological Institute of America (GIA) or American Gem Society (AGS) which will vouch for the authenticity of the diamond.
If shopping online, check that there are HD images and videos of the actual diamond, so you can cherry pick a diamond without visible inclusions.
For online shopping, James Allen offers very competitive prices without needing to compromise on the quality. They provide high quality videos and images of their diamonds, so you get to really inspect the item properly. You can also design your own ring. They also offer excellent customer service and assistance in choosing your item, as well as very good warranty and returns policies.
For an overall comparison of the leading online engagement ring retailers, check out Pros and Cons of Engagement Ring Retailers.
Wrapping Up
The most important thing in your engagement ring buying saga is to make sure that you are armed with information. This will help you on your quest for the ideal ring and the perfect proposal.
Hopefully, this article helps with that initial foray into engagement ring shopping. Now it's time to dig a little deeper. Why not start at how to choose a diamond?