An engagement ring is a celebration of your relationship reaching a new level. While most prefer to stick with just a conventional diamond ring, many couples are opting for more unique and non-traditional designs.
One such amazing option is the concept of introducing a birthstone into your engagement ring.
Not sure what how to go about this?
Don't worry! We have you covered. Let's walk through everything you need to know about choosing and customizing an amazing birthstone engagement ring.
What Is a Birthstone?
A birthstone is a gemstone that has traditionally been associated with a certain month. During that month, people typically only wear that gemstone. If you were born in that month, that particular gemstone would have more meaning to the wearer and would normally be worn more frequently.
Although people have been wearing stones at certain times of the year for centuries, it was only in the 20th century that this became a formal tradition.
The list of birthstones for each month has changed over the course of time, the tradition was standardized when the American National Association of Jewelers put together the official birthstone list.
We won't go into a detailed explanation of the birthstones and their symbolic meanings here. For more information on birthstones, check out our birthstones article.
Why Choose an Engagement Ring with Birthstones?
Every couple is unique so being able to customize your ring and adding that extra special touch is always special. Birthstones are a nice way to symbolize your story and personal links to the universe!
Because every birthstone has its own individual meaning and beauty, this gives significance to an engagement ring containing these. This results in a ring that not only looks beautiful, but may also contain color and will definitely have a symbolic expression.
What's more, your ring will be unique and a talking point!
Choosing Birthstone Engagement Ring Style
There are numerous design options available for you if you decide to go down the birthstone path. Here are some of our favorites:
1. Engagement rings with birthstone center stone.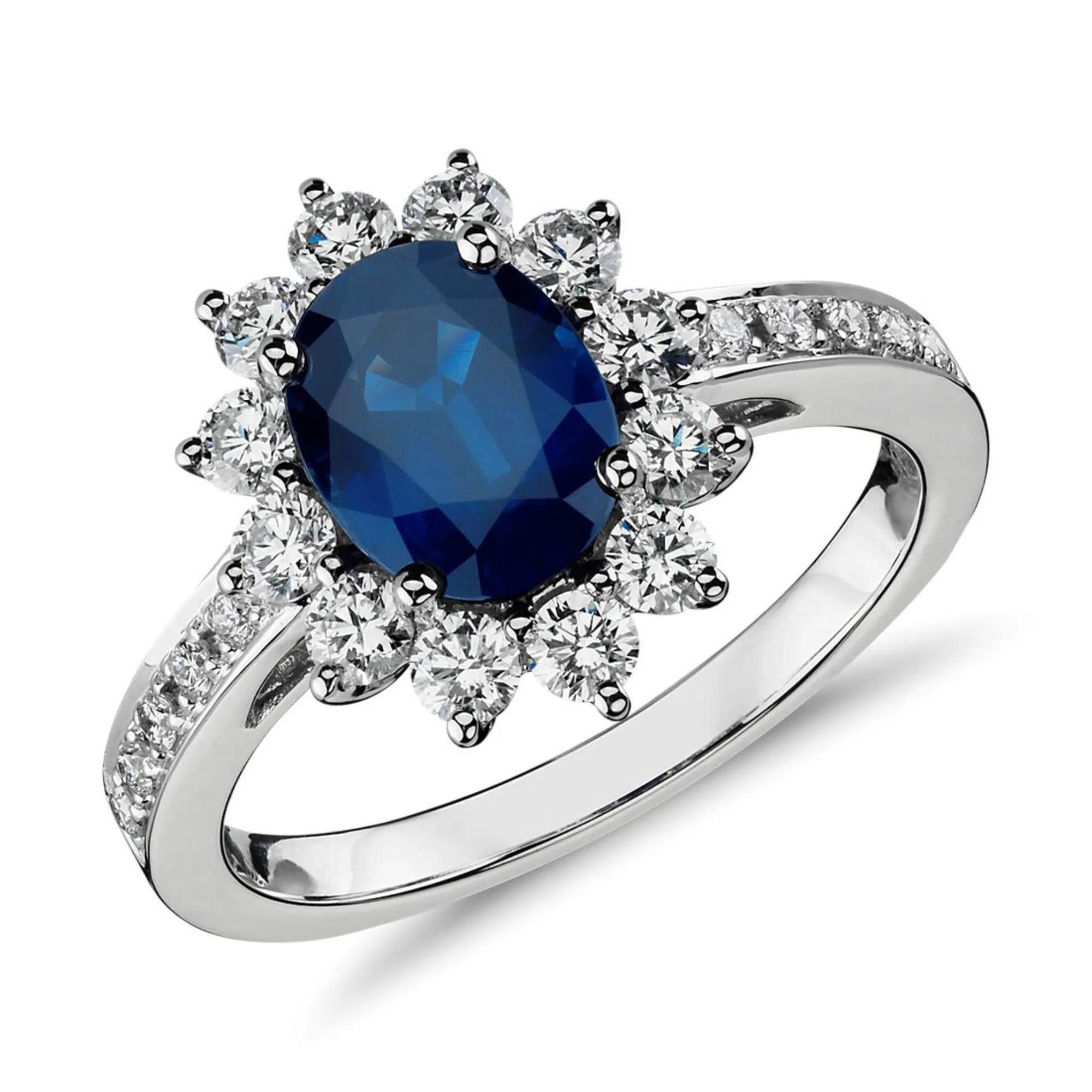 Most engagement rings are designed with a single gemstone as the focal point.
If you were born in April (diamond), then almost every engagement ring out there contains your birthstone so you can opt for the traditional diamond ring which will have the added symbolism of being your birthstone! The birthstones for September (sapphire) and July (ruby) babies are also fairly common as engagement ring centerpieces.
For others, this can get a little bit tricky.
You may not like the color of your birthstone or it may not be suitable for regular wear. If these are concerns, it's best to talk to your jeweler and find out what your options are.
There are many settings and metals available to you when designing your engagement ring, but check with your jeweler if it suits your birthstone.
Some stones may be quite soft and require more protection. In this case, you could consider a bezel setting. Others, such as diamonds, are quite durable and you may wish to go with a more visible setting like solitaire.
Choosing your metal also depends on a few factors, including the color of your stone. While the color of some stones go perfectly with white gold, others may look better with rose or yellow gold. We find, for example, that peridot is simply perfect when set in soft rose or yellow gold, but somewhat striking when set in white gold.
Often there is no right and wrong here. It comes down to personal preference and style so don't rule anything out.
2. Engagement rings with birthstone accents.
This is a really good way to keep the birthstone concept without making the birthstone the central feature of your ring. This is also excellent if your birthstone is not a very hardy rock and will not hold up as the main stone.
For example, you may choose a diamond as the centerpiece and your birthstone to go on the sides. For a more personal touch, you can opt to have both yours and your partner's birthstones set on either side of your main stone.
Another way to incorporate this concept into your ring, is to have your main stone surrounded by small alternating birthstones. You can also choose a ring setting such as pave, split shank or double shank where the birthstones can embellish the sides of the ring leading up to the main stone. For a more elaborate look, have a solitaire setting with birthstones running all around the band.
As you can see, there are endless options for birthstone accents.
3. Dual birthstone engagement rings.
Another twist on the birthstone engagement ring concept, here you focus on just two birthstones – yours and your partners. This is symbolic of equality, harmony and unity. Neither birthstone is more important than the other. It is more about how the two stones work together.
If you and your partner have stones that match well, that will be perfect. Some colors may not conventionally work side by side, such as peridot and turquoise (both striking and highly unique colors as well as different in opacity). Again, think about unique and creative ways to display the two stones on your ring.
What to Consider Before You Buy
While the concept of a birthstone engagement ring is exciting and feels personal, there are some factors that you must consider before you decide if this is, indeed, the right choice for you. These include durability, cost, color, imitations and synthetics.
1. Comparing Birthstones
Have a look at the table below which outlines the birthstones, their hardness rating, mineral composition and refractive index.
The Mohs rating highlights how hard the stone is and how resistant it is to scratches and damage. The refractive index is a measure of how light interacts with the stone. The higher it is, the more brilliant the gemstone.
| | | | | |
| --- | --- | --- | --- | --- |
| Month | Gemstone | Mohs Rating | Mineral | Refractive Index |
| JANUARY | GARNET | 6.5 – 7.5 | GARNET | 1.78 – 1.88 |
| FEBRUARY | AMETHYST | 7 | QUARTZ | 1.54 – 1.55 |
| MARCH | AQUAMARINE | 7.5 – 8 | BERYL | 1.57 – 1.58 |
| APRIL | DIAMOND | 10 | DIAMOND | 2.4 |
| MAY | EMERALD | 7.5 – 8 | BERYL | 1.57 – 1.58 |
| JUNE | PEARL | 2.5 – 4.5 | CALCIUM CARBONATE and CONCHIOLIN (organic) combined with water | 1.52 – 1.69 |
| JULY | RUBY | 9 | CORUNDUM | 1.76 – 1.77 |
| AUGUST | PERIDOT | 6.5 – 7 | OLIVINE | 2.63 – 2.65 |
| SEPTEMBER | SAPPHIRE | 9 | CORUNDUM | 1.76 – 1.77 |
| OCTOBER | OPAL | 5.5 – 6.5 | OPAL | 1.37 – 1.47 |
| NOVEMBER | CITRINE | 7 | QUARTZ | 1.54 – 1.55 |
| DECEMBER | TURQUOISE | 5 – 6 | TURQUOISE | 1.61– 1.65 |
So, what does this table tell us? The most scratch resistant and durable stones are Diamond, ruby and sapphire, followed by emerald and aquamarine. Diamond and peridot are among the most brilliant, with sapphire and ruby also exhibiting excellent sparkle.
From these stones, diamonds, sapphires, and rubies are the best option for engagement rings. The other gemstones should be worn with care. However, we don't recommend opals and pearls for engagement rings, unless you're willing to maintain them with great care, and possibly replace them over time.
2. Durability of the Birthstone
It is very important that the stone you choose is able to survive the shocks and knocks of everyday life, assuming that you will be wearing your engagement ring on a frequent or daily basis.
Your lifestyle and occupation are also useful indicators to help you in making this decision. Do you spend a lot of time outdoors, being active or working with chemicals? For example, a nurse may need to engage in frequent handwashing while a swimming instructor will always be around water. These aspects will affect the durability of your stone.
When considering durability, take into account the Mohs hardness ranking. Stones with a higher ranking of roughly 8 and above are generally durable stones that are excellent for daily wear.
3. Cost of Your Stone
For some, an expensive birthstone such as diamond, sapphire or ruby might be beyond their budget. Or they just might not be willing to spend that much money on a rock.
In these cases, a synthetic option is an excellent choice. Lab-created gemstones are much cheaper than their natural counterparts and are not fake. They are the actual thing, with the sole exception being that they were created in a lab by a human.
The other option would be to go for a simulant. These are stones that look like the real thing but are very different in terms of chemical and physical properties. For example, moissanite or cubic zirconia (CZ) are often used in place of diamonds. While moissanite is a really great option, we don't really recommend CZ for engagement rings.
4. Color of the Stone
It may be that you find it difficult to integrate the color of your birthstone with your outfits or that it just doesn't look good with your skin tone. You are not alone in this respect.
Stones such as peridot, turquoise, aquamarine or citrine, for example, can be difficult to match with certain colors and outfits. These have very distinct colors.
Your best option in this case is to use the stone as small accents. This will water down the color and it will blend in much better with the rest of your look.
Customizing Your Birthstone Engagement Ring
When it comes to birthstone engagement rings, it's all about personal touches! You will want to customize your ring, so find a retailer that offers these services.
A popular way is to have your names engraved on the ring or engraving a word or quote that means something to you. Draw inspiration from inside jokes and conversations to come up with unique and quirky ideas for your ring.
If you are on the artistic side, consider designing your ring from scratch. You can then pick a jeweler who will be able to bring this to life.
If you are shopping online, most sites will give you the option of designing your own ring and are generally very accommodating of their customers' needs.
You will be asked to select your setting and stone, and will have the option of adding engraving. Some sites specifically offer birthstone rings with designs where you can mix and match the birthstones.
Where to Buy Birthstone Jewelry
Purchasing birthstones can be done either online or in person. Shopping in person will give you the opportunity to try on various pieces and get an up-close look at a particular piece before investing in it. However, shopping online will give you endless options and allow you to browse within a specific price range and style.
Online prices are also almost always more competitive than in-store. Ensure that you purchase from a retailer that has excellent after-sales policies, especially a good returns policy.
We recommend the following stores for birthstone jewelry.
James Allen: Ideal for competitive prices, a large inventory and excellent customer service and returns policy. James Allen also has stunning 360-degree video and HD images, which is almost like seeing the piece in person.
Blue Nile: Has a great range of ready-made birthstone jewelry at competitive prices. Blue Nile also has an excellent returns policy and customer services.
Angara: Perfect if you're looking for gemstone jewelry. They have a wide selection, including varying levels of quality for their gemstones. The company also has excellent after sales policies and have a stellar reputation for great customer service.
Etsy: We also recommend checking out Etsy for a wide range of choice, designs and styles to suit all price points.
Regardless of where you decide to shop, always check the quality factor. Big names and top dollar don't necessarily correlate to quality. Where necessary, request an independent appraisal of the gemstones and a certificate of authenticity. Also check the returns, warranties and refund policies to ensure that there are no nasty surprises just in case!
Wrapping Up
Birthstone engagement rings are an easy and subtle way to incorporate personalization without being too obvious. While not everyone loves their birthstone, if your birthstone happens to be one of your favorite gemstones, it might well be the perfect stone for your engagement ring. As always, consider durability, budget, availability, and the 4Cs when evaluating your gemstone to choose the right one for you.