As Jewelry Shopping Guide editors, we write about things that we love and we think you'll like too. We often have affiliate partnerships, and may generate some revenue from these links at no cost to you.
We all like to feel a little bit special and to celebrate what is ours. Everyone has a birth month and to have a gemstone that you can claim as your stone makes it that extra bit special.
You may be wondering:
Where did this tradition originate and how can you correlate a month to a stone? Like all traditions, this too evolved over time.
Birthstone Tradition
Birthstone jewelry has been a popular concept for centuries, and can be found in Western and Eastern traditions. Worldwide, this concept has been the same with a gemstone representing the month in which a person was born. However, the gemstones corresponding to the months have changed over time.
The origin of the tradition is generally traced back to the 12 gems set into the breastplate of a Jewish priest as outlined in the Bible. Over time, the concept of having a gemstone that symbolizes various qualities to represent a month became popular.
There were no strict rules and many just focused on the color of the stone rather than the exact variety. For example, both garnet and ruby were used interchangeably as the birthstone for January due to having the same color, while even today tanzanite, turquoise, lapis lazuli and blue topaz can all be used as the birthstone for December as they are all blue stones.
Due to this general confusion, in 1912, the American National Association of Jewelers formally agreed on one standard list of birthstones
January Birthstone – Garnet
Although garnets come in many colors, they are well-known for being a beautiful shade of red. It is one of the oldest gemstones and has been used in jewelry for thousands of years. While garnet and ruby are very similar and can sometimes be confused, a garnet is much more affordable and has a more distinct reddish hue.
January Birthstone Meaning
Garnets have always been viewed as symbolizing devotion and loyalty to friends, family and to oneself. Many believe that garnet brings good fortune when it comes to various ventures such as business. These stones are also prized for their protective and therapeutic healing powers.
For those January born who love to travel, garnets are thought to keep travelers safe making this is a perfect gemstone for you!
Check out our article on how to buy a garnet
February Birthstone – Amethyst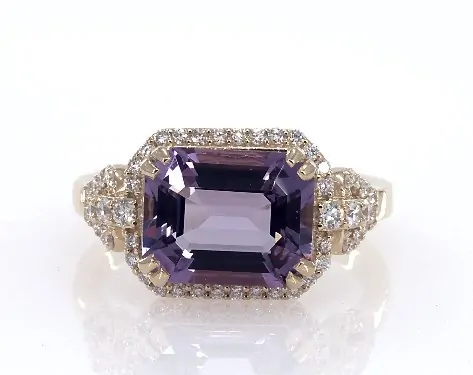 Amethysts are one of the most popular gemstones out there, and easily the most famous purple rock. Made of quartz, what makes the amethyst so special is its distinct color. In the old days, amethysts were ranked equal with diamonds and sapphires and worn specifically by royalty. However, after large deposits of amethyst were found in Brazil, the stone became much more affordable and accessible to all.
February Birthstone Meaning
Amethyst is a stone steeped in history and lore, with many myths existing to explain its origin.
Amethysts are believed to inspire creativity and awaken dulled imagination. It is said to help in clearing your thoughts and gaining wisdom. In other words, amethyst is a stone for the mind.
Many believe that amethysts help in controlling addictions, especially to alcoholism making it a stone that symbolizes moderation and calmness.
Want to know more? Check out our comprehensive guide to amethyst.
March Birthstone – Aquamarine
For March babies, the gemstone of choice is the aquamarine. This member of the beryl family (it is closely related to the emerald) is well-known for its refreshing and distinct blue color.
Aquamarine is formed deep within the earth through powerful and intense geological processes. Its name comes from a Latin phrase meaning 'water of the sea' obviously referring to its blue-green color. It is an affordable gemstone and very popular in jewelry.
March Birthstone Meaning
Aquamarine is associated with water because of its beautiful blue hues. As a result, the stone used to be worn as a protective talisman especially for those who traveled by sea. Aquamarine is also believed to relieve stress for the wearer and has a calming effect.
It is also a symbol for a happy and committed married life and promotes faithfulness, courage and friendship.
For more information on aquamarine, check out this article.
April Birthstone – Diamonds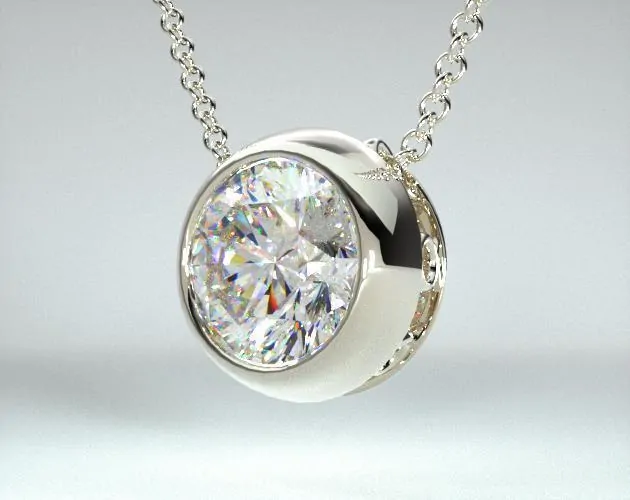 Those born in April can claim diamonds, the most popular and highly coveted gemstone, as their birthstone! Diamonds are the hardest known natural substance with a Mohs ranking of 10. They are extremely durable, have excellent brilliance and are a simple, timeless and elegant stone. Although we generally only think of colorless diamonds, they can be found in a range of colors.
April Birthstone Meaning
Due to their excellent durability, diamonds are the perfect symbol for commitment and longevity. This is among the reasons why they are the number one choice for engagement rings. Diamonds also symbolize purity and strength.
For more information, check out How to choose a diamond – a step by step guide
May Birthstone – Emerald
Known for its distinct green hue, the emerald is a member of the beryl family. Emeralds are known for being classy and prestigious, and have always been connected with royalty. It is one of the oldest and most popular gemstones and has been used for centuries in jewelry. It even has its own cut named after it.
May Birthstone Meaning
Emeralds are thought preserve love and passion in relationships and is also seen as a symbol of hope, success in love and domestic happiness. In many cultures, emeralds have been used as talismans to protect against evil.
Because of its refreshing natural color, the emerald is also associated with the season of spring and the green of nature. It has always been believed to have powers of tranquillity, peace, renewal and growth.
Read our comprehensive guide to buying emerald jewelry here.
June Birthstone – Pearl
This gorgeous stone is often called the organic gemstone. It is formed when an irritant such as sand is lodged inside an oyster. Pearls are very delicate stones, and have a hardness ranking of about 2.5 to 4.5 on the Mohs scale. This makes them susceptible to damage and need to be well looked after.
Pearls are known for being classy, elegant and stylish. While some may think that pearls are dated, this is simply not true. Pearls always cycle into fashion every couple of years and you can find amazing trendy and chic pearl pieces that are perfect for daily wear.
June Birthstone Meaning
Pearls symbolize wisdom and are also believed to bring wealth and luck to the wearer. It depicts success, happiness and love. Pearls are very popular gemstones for wedding day jewelry, as they symbolize purity, innocence and elegance.
Check out A comprehensive guide to buying the perfect pearl
July Birthstone – Ruby
The ruby is a sought after and expensive gemstone. Rubies are made of corundum and are essentially a red sapphire, known for their striking reddish hue. This is a rare gemstone and it is difficult to find large natural rubies as they are formed in small sizes. Due to their durability and hardness, it is a gemstone that is perfect for daily wear.
July Birthstone Meaning
Because of its red color, rubies have been associated with love, romance and passion through the ages. It is believed to be a stone that can open the heart and foster love and passion. As a gift, it is the perfect symbol for love and friendship.
As if this weren't enough reason to covet the stone, rubies are also seen as a talisman against ill health and bad fortune.
Read our article A comprehensive ruby buying guide for more information.
August Birthstone – Peridot
Although peridot isn't a very popular or well-known gemstone, it has been around for centuries. It's bright light green color is very distinct and it stands out beautifully when worn. Peridot has been nicknamed the evening emerald, because of its color.
August Birthstone Meaning
Peridot symbolizes strength and courage. It is believed to have protective powers and to help its wearer overcome depression, anger, jealousy and anxiety. Many people wear peridot as it is thought to strengthen life and to attract wealth and growth.
Intrigued by peridot? Find out more here: A complete guide to peridot.
September Birthstone – Sapphire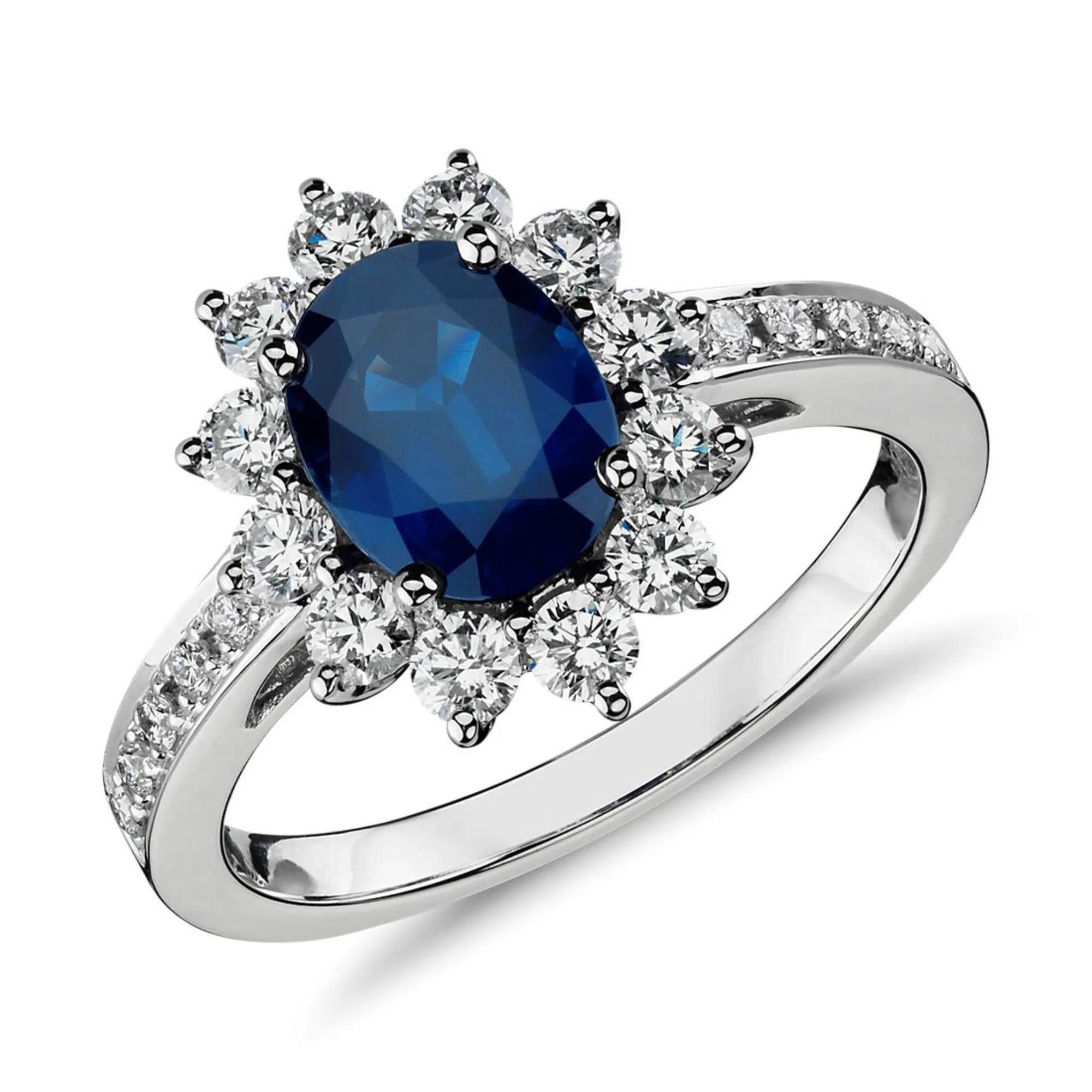 When you hear the word sapphire, chances are what comes to mind is the deep blue color the stone is famous for. However sapphires come in a range of colors, with pink becoming an increasingly popular sapphire variety. Because sapphires are a very durable stone (9 on the Mohs scale) they are ideal for wearing daily and require minimal maintenance.
Sapphires have long been connected with royalty and are a classic and elegant gemstone.
September Birthstone Meaning
A sapphire symbolizes faithfulness and promise. For many people, it is a symbol of wisdom and is believed to help with communication and inspiration. Sapphires promote peace, contentment and calmness.
Check out our sapphire buying guide.
October Birthstone – Opal
An intriguing gemstone with flashes of color, every opal is different from the other. See this chic ring here.
October babies are lucky to have the opal as their birthstone. The reason is that every opal is different from the other in some way because of their patterns and flashes of color. Because opals are delicate gemstones with a 5.5 to 6.5 ranking, they will need to be well taken care of. There are many opal varieties out there, from dark to light and subdued to fiery.
October Birthstone Meaning
Opals are seen as stones closely connected to emotions. They symbolize love, loyalty and hope. Opals are also though to foster creativity, passion, spontaneity and imagination. It is an artistic stone full of character.
To learn more, go here: Everything you need to know about buying opal jewelry
November Birthstone – Citrine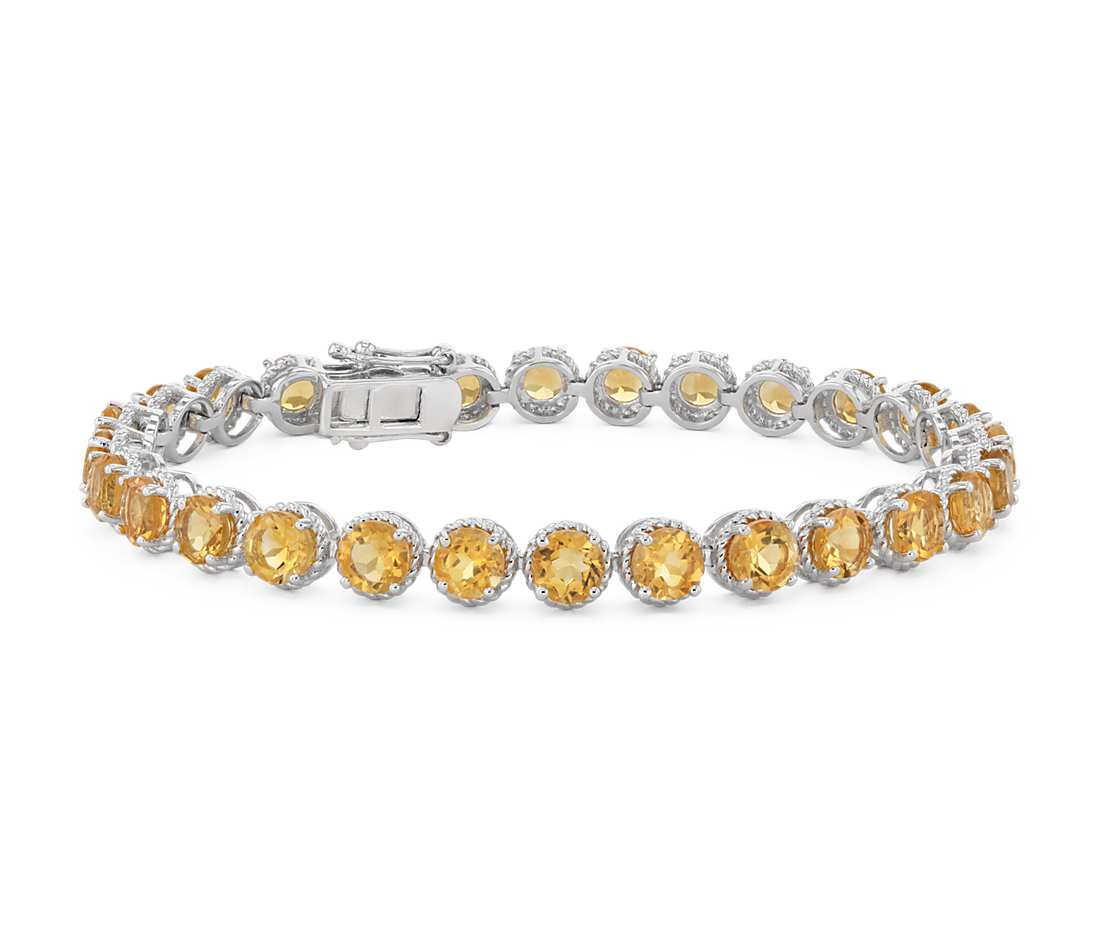 The word citrine comes from the French word for lemon, and it is easy to see why this stone has been so called. It's famed for its soft golden-yellow tones but can also be found in a variety of other colors.
Citrine is a member of the quartz family (along with amethyst) and is quite a rare stone.
November Birthstone Meaning
Yellow has always been a color associated with positivity and optimism. It is no wonder then that citrine is seen as a symbol of these concepts, including happiness, vitality and generosity. For those prone to impatience and restlessness, citrine is believed to bring balance and harmony.
Citrine is also seen as a stone that attracts wealth and fortune. This is why you may come across citrine placed in a business location, with the aim of bringing in wealth and maintaining it.
Check out our citrine buying guide.
December Birthstone – Turquoise
Turquoise is one of the earliest stones to have been mined, with a history that dates back over 3000 years! It is an opaque gemstone with an intriguing color. It is the only gemstone that has a color named after it. This color occurs due to the presence of copper and occasional traces of iron (which cause the greenish tint) that are present during its formation. While bluish-green stones are valued, it is the sky blue variety that is highly coveted.
December Birthstone Meaning
Turquoise has a relaxing and soothing color, and for centuries has been believed to be an indicator of health of the wearer.
In recent years, turquoise has been seen as a symbol of love and considered a pledge of affection when received as a gift. If the loved one was unfaithful, it was believed the suitor would know because of the change in the color of turquoise! While a appealing notion, it's best not to rely on your turquoise to gauge the faithfulness of your loved one.
For many, turquoise is seen as a stone that brings in love, success and wealth.
For more information on turquoise, check out Turquoise – your complete guide to the magical blue stone.
What is Couple Birthstone Jewelry?
Couple birthstone jewelry can be exchanged on anniversaries, birthdays or special days such as Valentine's Day. It's a special way to celebrate your love together while focussing on your individuality!
There are many unisex options for couples. You can customise couples birthstone necklaces, bracelets and rings with both gemstones and engraved names.
Interlocking hearts, the infinity symbol, breakable hearts and dual birthstone rings are some popular designs available for couple birthstone jewelry.
Where Can I Buy Birthstone Jewelry?
Birthstone jewelry is not just perfect as a birthday gift, but also for new moms, for graduations, anniversaries and coming of age events.
While the usual birthstone jewelry items include pendants and bracelets, rings and earrings are good choices too. Popular pendant varieties include family trees, infinity symbols and names. You can gift a birthstone charm as the perfect addition to a loved one's charm bracelet.
When it comes to birthstone jewelry, customization is the perfect way to make the item unique. Some ideas for customization include engraving a name or including something that is personal. If searching for an item to be given as a gift, take inspiration from inside jokes and personal codes to make the gift unique.
When looking for birthstone jewelry, taking your search online gives you easy access to competitive prices and endless choice. Blue Nile has an entire section dedicated to birthstone jewelry, with a range of prices to suit most budgets. The range includes pendants, rings, earrings and bracelets that can also be customized.
James Allen has an exclusive collection of gemstone jewelry but these are often limited and are snapped up quickly. Check out their fine gemstone jewelry collection.
You can also check out Amazon for a very good range of birthstone jewelry items that will suit all budgets.