As Jewelry Shopping Guide  editors, we write about things that we love and we think you'll like too. We often have affiliate partnerships, and may generate some revenue from these links at no cost to you.
We're used to seeing things a certain way, and the slightest tweak can make us sit up and take notice. Such is the case with the new engagement ring trend that is turning heads – the East-West Orientation. This is set to become the biggest engagement ring trend of 2018.
So, what exactly is this?
This is when the gemstone is set horizontally on the ring setting, with an east to west orientation. Normally, gemstones are place vertically or within the parameters of the finger:
This is the traditional go-to style for gemstones that aren't perfectly round or square. One main reason for the vertical orientation is that it tends to elongate the fingers and give it length. A vertical orientation looks great on any hand and stays within the width of your finger.
But if you are one to embrace unique and unorthodox trends, the East-West engagement ring trend is going to be right up your alley. Whether pear, marquise, oval, emerald or other trendy cuts, diamonds and gemstones are being set sideways for an eye-catching look! It brings a fresh perspective to these traditional cuts. What's more, you don't have to stick with diamonds only to show off this style. Choose a unique and colorful gemstone to take it a step further.
Here are 6 inspiring statement rings that showcase the trending east-west style.
Emerald and Diamonds
This oval emerald in 14K white gold is set with diamond accents. How pretty is that!
Traditional Diamond
This oval diamond engagement ring with diamond halo, marries a classic cut with an innovative setting. Stunning and sophisticated!
A Garnet Delight
This ring shows off a beautiful emerald cut garnet to full effect. A statement piece for sure! Find this ring here
A Classic Topaz
This clear blue topaz is set in an intricate setting with a split shank and a diamond halo. Simply gorgeous. Find this ring here
Geometry and Indicolite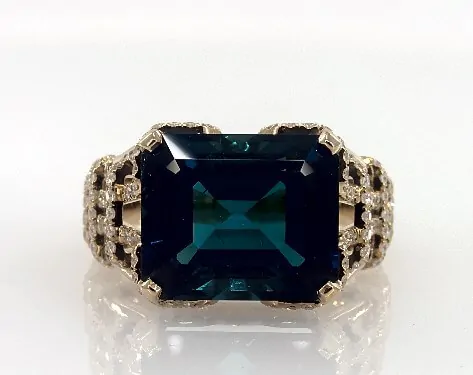 This dark blue indicolite in an elaborate geometric design will make anyone do a double take. Find this ring here
An Included Piece
Not something you see every day, this ring displays a unique, eye-catching rutilated quartz in a bezel setting.
A Haloed Turquoise
This gorgeous turquoise set in an a wide halo and given the east-west treatment. A beautiful statement design.
Whether you like flaunting tradition, or you just want to try out something new, the east-west setting might be for you.
However, just a word of caution. Trends such as the east-west style come and go, and not every trend is meant forever. While you might love this fresh look now, this may change down the line. Some east-west set gemstones can be reset to a vertical orientation, so check with your jeweler whether this may be possible in the future. Prong-set gemstones are easier to reset whereas settings such as bezel and halos may be more difficult.
If you're considering the east-west setting for your engagement ring, make sure that it's a style you love, regardless of the current fashion climate. After all, it's how you feel about your ring that truly matters!