Finding the right engagement or wedding ring requires careful consideration and lots of decision-making. One of the most important decisions to make is whether to design your own ring or buy a ready-made one from a jeweler's catalog. Both have their pros and cons, and which you choose will depend on your specific situation. Here's a look at the differences between designing your own vs. buying a ready-made ring.
Why Design Your Own Engagement Ring?
Many couples choose to design their own ring, even though this often takes longer and requires more effort than simply purchasing a ready-made ring.
Designing your own ring is the best way to personalize the design. This way you can ensure that the piece looks and feels exactly as you had envisioned, and you are also involved in the creative process. For couples, this can feel like a journey they take together, making the ring even more symbolic and unique.
You can also add meaningful elements to the ring, such as a special gemstone, engraving or other embellishment. This will ensure that your ring is truly unique and that it holds meaning for you and your partner.
The process of customizing your own ring usually involves consultations with the jeweler, and brainstorming ideas, followed by computer drawings that will bring your vision to life on the screen. Next, there will be revisions and approvals, with some back and forth, until you're satisfied with the final design. The ring will then be created and brought to life.
Pros of Designing Your Own Ring:
You can create a one-of-a-kind ring. What better way is there to show your partner that they are unique in your eyes than giving them an equally unique engagement or wedding ring? Knowing that this is the only ring of its kind makes it extra special.
It's a quality guarantee. Many vendors sell ready-made rings that are mass-produced overseas. However, a custom jewelry piece that you've designed with the jeweler will be made by a local craftsman.
You can get involved with the whole process. When designing your own ring, you have a lot of control over what the final product is going to look like. You can make revisions until you get exactly what you are looking for.
It's a perfectly customized jewelry piece. Unlike most mass-produced rings where you have to consider dozens of characteristics and whether each and every one of them suits your needs, with a bespoke ring you can guarantee that everything will be perfect for you.
Cons of Designing Your Own Ring:
It takes a bit of know-how. There's quite a bit you need to know if you want to design your own ring. It's important to have an idea of ring settings, styles, gemstones, and diamonds, to name a few. However, a good jeweler will guide you through the process to make it as easy as possible, which is why it's important to find a reputable jeweler.
The price can be more significant. This will vary depending on what type of ring you choose to design but, on average, a custom-designed piece of jewelry will cost a bit more than a ready-made ring.
Is it really going to be that unique? Keep in mind that there are millions of engagement and wedding ring designs already made and mass-produced. So, is the ring you're going to design really be unique? Or will you simply re-create something that already exists in thousands of stores? Again, this is where a skilled jeweler can help you create a design that's different and truly you.
It takes time. Depending on the vendor, you may have to wait from 6 to 10 weeks from the initial consultation to receiving the ring. If you're in a hurry, then custom designing isn't for you.
Why Purchase A Ready-Made Ring?
Now that we've looked at custom designing your ring, let's take a look at ready-made rings. Store-bought rings have their benefits too. Buying a ring out of a catalog is usually much faster and simpler. These rings are already created and all you need to do is pick the one you want out of a large catalog.
Plus, as long as you've visited a reputable vendor, you're sure to get a rich choice of high-quality rings. In addition to this, most vendors will still give you plenty of ways to customize the jewelry piece – from picking the stone and the setting to adding engravings and more.
Pros of Ready-Made Rings:
It saves you a lot of time. All you need to do is pick a ring you like from a jeweler's catalog. If applicable, you may have to choose the diamond or gemstone, and the metal type. That's about it.
You can still customize. Even though ready-made rings are mass-produced, jewelers will often give you a lot of customization options – such as, what gemstone you want, what setting, type of metal, engravings, and so on.
Buying a ready-made ring is simple. Or, at least, simpler than designing your own ring. Shopping for jewelry is a complicated endeavor in a lot of ways, so for some couples, it often feels unnecessary to complicate it even further by designing the entire ring yourself.
Cons of Ready-Made Rings:
Ready-made rings are not unique. Granted, the point of an engagement or wedding ring isn't only to be unique, but to symbolize your love and commitment. But for many couples, having a ring that's different and personalized makes it more symbolic and meaningful.
It still requires some know-how. When buying a ready-made ring, you'll still need to know the basics to ensure that you're purchasing the right ring for your budget and lifestyle.
Finding the right ready-made ring can also take time. Because there's a lot more options, it can take time sifting through catalogs to find the right ring for you. However, on the plus side, you may be able to return a ready-made ring, whereas a custom-made ring typically can't be returned.
Choosing the Right Ring Style and Setting
Regardless of whether you decide to design your own ring or buy ready-made, there are some basic factors to consider. These include the center stone, ring designs, and type of metal.
Type of Center Stones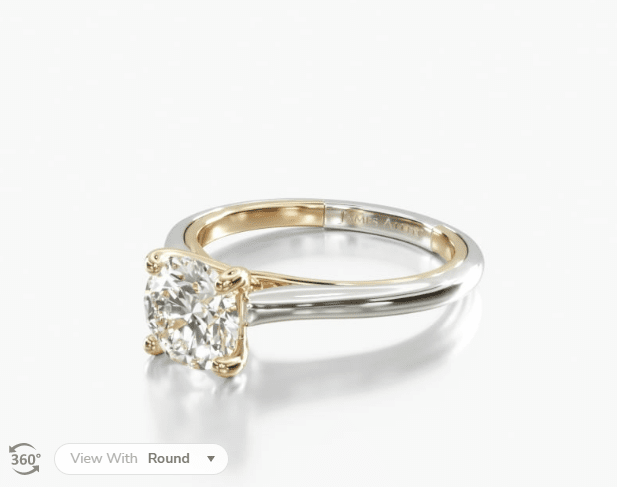 Fashion changes quickly but when it comes to rings, the jewelry and gemstone trends usually last for a long while. This is great, as it ensures that the ring you buy today will almost certainly be trendy in a year, a decade, or even longer than that.
The most popular cuts for natural diamonds, lab-grown diamonds, moissanite, and gemstones are the following:
As for the types of gemstones themselves, natural diamonds are still the most popular gemstone for rings, especially when it comes to engagement rings. Lab-grown diamonds are catching up to them, however, thanks to their more affordable prices and identical quality. Other options that are rising in popularity include moissanite, sapphires, and rubies.
Best Engagement Ring Designs
While the round cut is the most popular type of diamond used in ring jewelry by far, when it comes to the designs of the rings themselves, the competition is much fiercer. Some of the most popular designs include:
Solitaire Ring Styles – These are clean, classic, and put the gemstone front and center.
Three-stone Settings – These offer a more stylish and captivating look while still focusing the attention on the center stone.
Vintage Designs – This is a varying category with an emphasis on a more classical look.
Halo Settings – A unique setting that makes your ring as brilliant as possible and turns even smaller stones into stunning beauties.
Multi-stone Settings – These are truly extravagant designs that basically hide all the metal of the ring with gemstones.
Type of Metal
Platinum and 14K and 18K yellow, rose and white gold are the most popular options when it comes to ring metals. Platinum is more valuable and durable, but gold offers more options and is a classic choice. To learn more about ring metals, check out our guide here.
Wrapping Up
As we've discussed, both designing your own engagement ring and buying a ready-made ring have their pros and cons.
If you opt to custom design your ring, the greatest benefits are that you'll be able to participate in its creation, personalize the ring and have a ring created that's truly what you want. However, going for a ready-made ring can be a faster, more affordable option that doesn't require much involvement.
Either way, it's best to have an understanding of ring designs and styles, metals, diamonds, gemstones and the 4Cs when purchasing a ring, so you can make informed decisions. It's also important to choose a trustworthy and reputable jeweler to work with to ensure that the process is pleasant and smooth.