While there will always be a place for classic engagement ring settings and styles, an increasing number of couples want to tread their own path. There's a shift towards the avant-garde, the unique and intriguing when it comes to engagement rings. There's also a shift towards the natural and the simple.
What better way to combine these trends than with a raw diamond engagement ring?
Raw diamond engagement rings (also called rough or uncut diamonds) are in the limelight as a popular trend. But will this trend last and is it a good idea to opt for a raw diamond ring that may go out of style down the track?
Here we answer these and other questions that you may have about raw diamond engagement rings. We will be using the terms rough, raw and uncut interchangeably.
What is a Raw Diamond?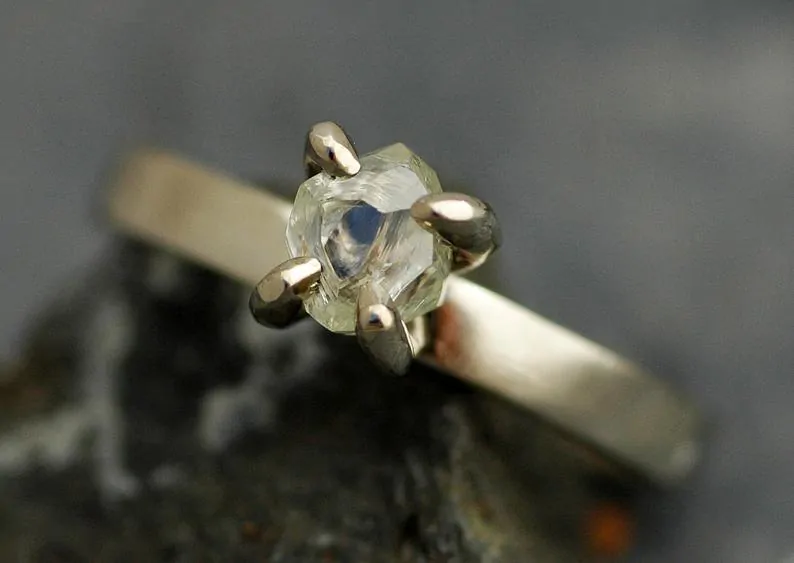 When we say diamond, we think about faceted stones known for their brilliance and sparkle. A raw diamond, on the other hand, is literally a diamond in the rough, a diamond that hasn't been polished to bring out its exceptional brilliance or exacting beauty. Rather, it is utilized in the ring in its original form, giving the ring a bohemian, natural look.
When jewelers purchase diamonds, they usually buy them in their rough form and then cut them according to exacting requirements into popular diamond shapes. The round brilliant cut is the most popular diamond shape, with princess and cushion also highly sought after. But with the increase in interest for alternative engagement rings, many jewelers are using the diamond rough as is, without going through the cutting process.
Evaluating a Raw Diamond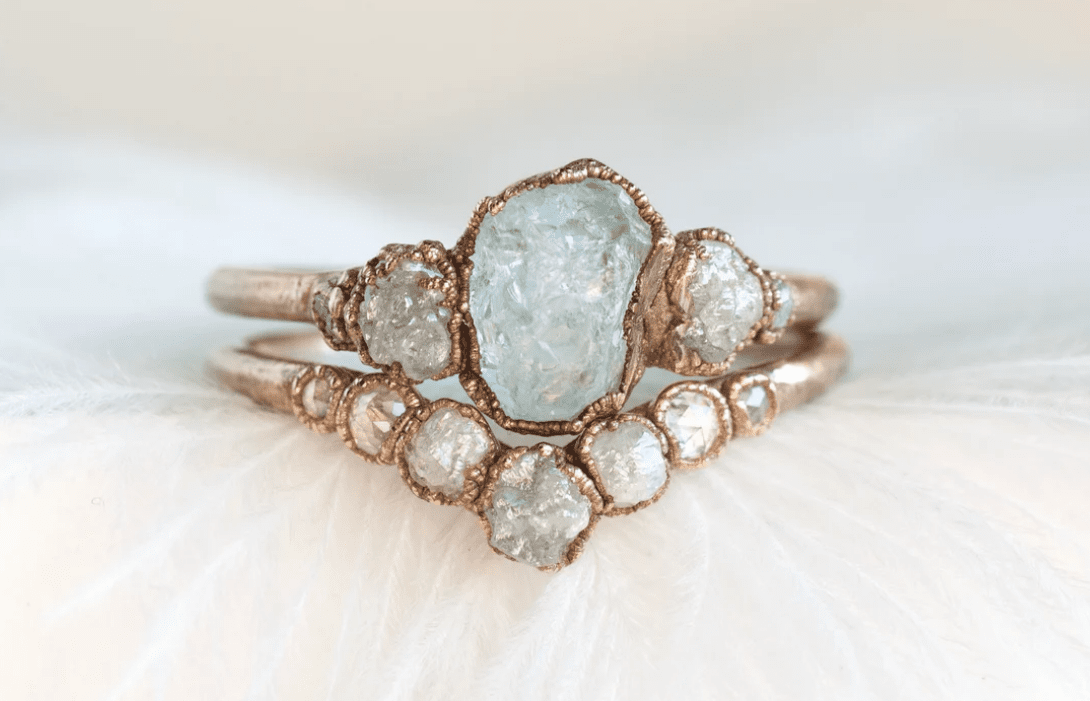 A rough diamond looks like glass and can be very difficult to tell apart from other rocks like quartz, white topaz or white sapphire. They aren't graded as polished diamonds are and the 4cs don't apply in this case. Raw diamonds don't have the light performance of a polished stone, and there is no light performance: no brilliance, fire or sparkle from the stone.
Most raw diamonds aren't of sufficient quality to be turned into faceted diamonds, where flaws and impurities become very visible. So leave cut, color, clarity and carat aside and instead focus on a stone that simply looks good to you. With uncut diamonds, it's all about the appearance of the stone, which includes its overall color, shape and texture.
One thing to bear in mind when purchasing a raw diamond is to ask for a conflict free, ethically sourced stone. For this, check that the jeweler has subscribed to the Kimberly process and that the stone is certified as being conflict-free.
Ask for a diamond that can be traced back to its mine of origin and purchase from a reputable retailer. Note that raw diamonds don't come with authenticity reports, which means that you need to do your due diligence to ensure that you aren't being sold a worthless crystal in the place of a diamond.
Raw Diamond Ring Value
In general, you'll find that a raw diamond is much less expensive than a similar faceted diamond. A diamond's value increases with each additional stage of work done on it and the cutting process is one of the most laborious and intense stages of the stone. By opting for a raw diamond, you're skipping this stage, resulting in a cheaper diamond.
Raw diamonds tend to have more inclusions and impurities in them, which also brings down the price of the stone. They also come in a range of colors, especially black and gray, which are less expensive but make for a stunning looking uncut stone.
All this is good news for you because it means you have a diamond that looks great but doesn't cost as much as a polished stone.
Raw Diamond Engagement Ring Settings and Styles
It might be difficult to find a ready-made raw diamond engagement ring that appeals to you, as each individual stone is different. One way to go about this is to purchase a raw diamond separately, focusing on the shape and appearance that you find attractive. Next, have the engagement ring specially made to suit your requirements. Many engagement ring retailers offer bespoke services, allowing you to have the ring created exactly as you wish.
In terms of settings, raw diamonds can be set in prong or bezel settings, depending on the overall style and aesthetic of the ring design.
Bezel settings provide additional protection to the diamond rough and are quite popular for uncut diamond ring designs. It allows the metal to take the form of the rough stone, accentuating the shape and free form of the diamond. This also gives the stone a natural, bohemian look. While bezel settings tend to reduce the sparkle of faceted and polished diamonds, this isn't an issue with raw diamonds as there is no light performance to take into consideration here. In any case, most raw diamond rings are set in bezel settings.
Prong settings, on the other hand, can be creatively crafted to hold the diamond while at the same time adding to its style and beauty. This ring, for example, features prongs in the shape of twigs with a tree bark textured surface.
Prongs also allow the raw diamond to be more clearly visible, with the sides and corners of the stone often in view. However, prong settings may require more maintenance, especially if your ring suffers a hard knock or intense pressure. This can damage the prong, causing the diamond to get loose or dislodge.
Choosing a halo ring setting for your rough diamond engagement ring is another way to add a layer of beauty, maybe even sparkle, while keeping the center stone protected. The halo can be made using polished diamond melees or more uncut diamonds. It provides a buffer against knocks and bumps, keeping the center stone safe.
In any case, it's a good idea to have your ring periodically checked by a professional jeweler to ensure that the integrity of the setting isn't compromised. Each type of setting has its pros and cons. When choosing the setting, go with what appeals to you.
Raw Diamond Wedding Ring
Something to keep in mind when purchasing your engagement ring, is how it'll work with the wedding ring. Rough diamond engagement rings can be hard to match with a wedding ring and can have a mismatched, un-complementary look if not chosen carefully.
One way to circumvent this issue is to purchase a rough diamond bridal set, like these matching engagement and wedding rings.
Some couples opt to wear either an engagement or wedding ring, but not both together. If you opt to take this route, then consider an all in one ring. You can choose a single ring that carries elements of both engagement and wedding rings. Because raw diamonds are so unique, keeping the focus on a single ring is an excellent idea.
Should I Buy a Raw Diamond Engagement Ring?
Raw diamond rings are a recent trend, as brides look for alternative engagement ring styles. Throughout history, cut and polished diamonds have been coveted, as they have a chic and sophisticated look.
But the main downside of raw diamonds is that they don't sparkle. If you've always wanted the shine of a diamond – raw diamonds won't have it.
Rather, we think it's better to ask yourself how you feel about wearing a raw diamond engagement ring. Is this a ring design that you feel you could love decades down the track? Is this an engagement ring that you see yourself handing down to your children as an heirloom (if applicable)? Does this ring represent what you want your relationship to illustrate and does it symbolize your values and preferences?
Answering these questions will help you to decide whether the raw cut engagement ring style is for you. This is something that only you and your partner can answer as it'll be different for everybody.
Where to Buy Raw Cut Diamond Engagement Rings
So you've decided to buy a raw cut diamond engagement ring! You can know for sure that no one else will have exactly the same ring as you, making your ring truly unique.
The next question is:
Where can I buy one?
Unfortunately, most jewelers don't carry such unique rings, so your choices will be limited. One option, as we stated above, is to get the ring custom created for you.
If you decide to search online, it's best to start on jewelry platforms like Etsy and Amazon as you're bound to find a raw diamond ring or loose rough diamonds that appeal to you.
Etsy
Etsy is the place to go for unique, handmade and creative raw diamond engagement rings. You can find multiple independent jewelry boutiques on Etsy, each with their own assortment of eternity rings. Each Etsy shop has its own polices so it might take some time to review all their details ahead of making a purchase, but that's usually time well-spent.
Amazon
As it is one of the biggest online retailers worldwide, it's not surprising that you can find all kinds of raw diamond engagement rings on Amazon. Representatives from many different jewelry vendors offer their products on Amazon and you can use the site's extensive rating and review sections to gauge the quality of each product.
FAQs About Raw Diamonds
Are raw diamonds worth anything?
Raw diamonds are still diamonds – and so they do hold some value, depending on the quality factors. Transparent and colorless raw diamonds, with no yellow or brown tints, are the most valuable.
Do raw diamonds sparkle?
Raw diamonds don't sparkle – it's the faceting, cutting process that bring out the light performance of the stone.
Why are raw diamonds affordable?
Raw diamonds made into jewelry are often of lower quality (higher quality stones would be cut). Also, as these stone's don't go through cutting and polishing processes, less time and effort is spent on them. Hence, they're much cheaper than polished diamonds.
Are diamonds worth more cut or raw?
Cut diamonds are always more expensive, all else being equal. Uncut diamonds take less time and effort to be made into jewelry.
Are all raw diamonds of gem quality?
No, only a small percentage of all rough diamonds are deemed worthy of setting in jewelry. This applies to raw and cut diamonds both.
Wrapping Up
Raw diamonds are artsy, unique, stylish, and different, but they don't have any sparkle and there aren't a lot of designs available. If you like the look of an organic, rough style, then go for a raw diamond. But if you prefer a more traditional style, then opt for a cut and polished diamond.