As Jewelry Shopping Guide editors, we write about things that we love and we think you'll like too. We often have affiliate partnerships, and may generate some revenue from these links at no cost to you. 
Jewelry trends often start with what's coming down the runway each season, and pearls are taking center stage this time. In fact, they're a chic alternative to summer's seashell-inspired jewelry. With designers finding inspiration in endless sources, there's a pearl bracelet for everyone.
From streamlined, minimalist styles to something organic and avant-garde, pearl bracelets will enhance any look. They come in various options including Greek-inspired motifs, organic shapes, playful elements, and even sculptural styles. Some nostalgic pieces can even let you revive fashion styles from the past, and rock them in today's modern fashion scene.
We've rounded up the most fashion-forward pearl bracelets to show off your personal style and add individuality to your outfits.
Pearl Bracelet Designs
1. Minimalist Pearl and Diamond Bracelet
Can't decide between pearls and diamonds? Have them both and your jewelry will be a treasured heirloom for years to come. Crafted in 14k yellow gold, this pearl and diamond bracelet evokes class and elegance perfect for everyday wear.
2. Pearl and Floral Diamond Bracelet
Who doesn't need a little bit of light-hearted, vacation-ready accessorizing this summer? Set in 14k gold, the pearl bracelet is accented with colorful tourmalines and diamonds in floral settings. It's just perfect to complement your floral dress on Sunday brunches, beach, and beyond.
3. Art Deco Pearl Cuff
Shimmering diamonds and lustrous pearls on a bracelet make the perfect piece for parties and dinner dates. Crafted in 18k white gold, the Art Deco cuff will take you back to the era of glamour and sophistication.
4. Tahitian Pearl Bracelet
If you're looking for an exotic vibe for your upcoming beach vacation, Tahitian pearls will set the mood. Set in 18k gold, this bracelet features cute and dainty Tahitian pearl charms, reminding you of the ocean and its tropical shore.
5. Retro Pearl Bracelet
Designed on an 18k gold mesh chain, this pearl bracelet gives a nostalgic feel yet speaks to the contemporary woman. It perfectly matches your summer dresses, as well as casual outfits of button-down shirt and jeans.
6. Vintage Pearl Bracelet
Are you looking for something sweet, playful, and intricate at the same time? Made of 14k gold, this vintage bracelet is comprised of South Sea pearls and round-cut diamonds. Its vintage design evokes romance that's fit for a princess.
7. Edwardian Pearl Bracelet
Edwardian jewelry pieces have a ladylike appeal and detail-oriented design. Set in platinum with a 14k yellow gold band, the antique bracelet features a row of alternating diamonds and pearls. Its lacy, floral-inspired look embodies romance that is never too girly or sweet.
8. Belle Époque Pearl Bracelet
If you're looking for a jewelry piece that's fit for a royal, think of strands of pearls. Even Queen Elizabeth II rarely leaves her palace without her gems. Inspired by jewelry designs in the Belle Époque period, this 14k white gold bracelet features 10 strands of seed pearls with diamonds in the center.
9. Basra Pearl Bracelet
If you like the appeal of traditional jewelry, this one is perfect for you. Crafted in 22k gold, this bracelet features rare Basra pearls, which are a precious variety of natural pearls that originated from the Persian Gulf. Do you know these gems have been admired for their beauty and healing properties too?
10. Greek-Inspired Pearl Bracelet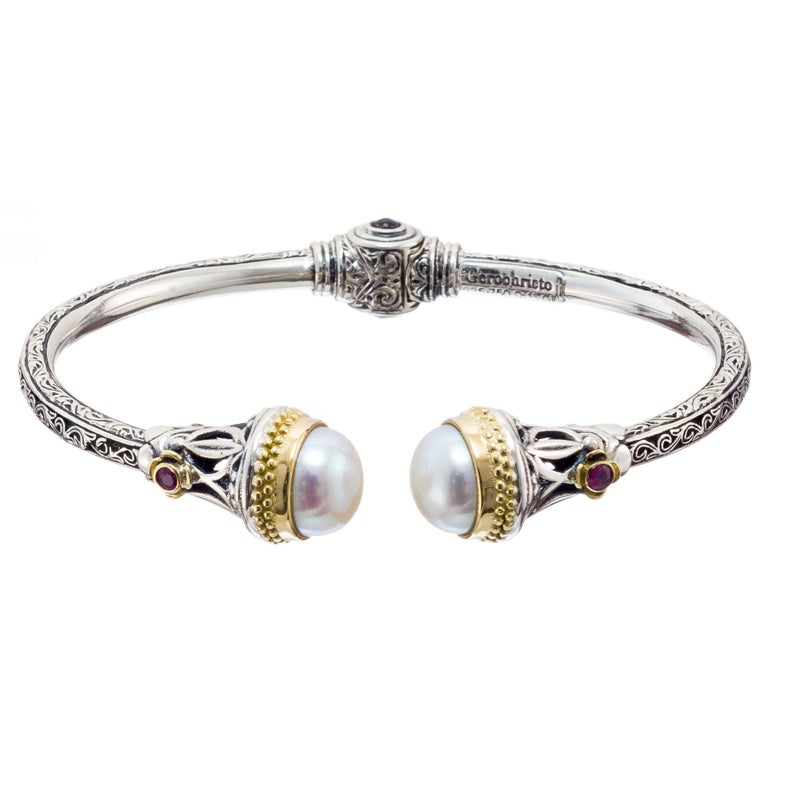 Channel your inner Aphrodite with a pearl bracelet in a traditional Greek design. Made of sterling silver and 18k yellow gold, the jewelry piece features freshwater pearls, rubies, and garnets. It's the perfect finishing touch to your ethereal dresses, giving you that goddess vibe.
11. Pearl and Garnet Beaded Bracelet
If you want to add a pop of color to your style, think of colored gemstones. This bracelet is comprised of freshwater pearls and flat Garnet beads. It will surely add interest and a touch of history to your looks.
12. Baroque Pearl Bangle
If you want a statement accessory that highlights the beauty of nature, this pearl bangle was made for you. We love its coral-like design that was crafted in 14k white and yellow gold and accented with Tahitian baroque pearls and diamonds. It might be extravagant, but it's something that can take you from parties to beach trips and exotic getaways.
13. South Sea Baroque Pearl Bracelet
Perfect for a sea goddess, this statement piece has a whimsical take on pearl jewelry. The 14k yellow gold-filled pearl bracelet is the ideal match for breezy summer outfits, giving an exotic yet enchanting feel to your style.
14. Seed Pearl and Tourmaline Bracelet
If you want to stand out without being too loud, opt for an interesting yet juxtaposing design. Set in 14k yellow gold, this bracelet is comprised of seed pearls and a carved pink tourmaline that's delicate yet powerful for a feminine aesthetic.
15. Avant-Garde Pearl Cuff
If you're looking for a statement piece worthy of a museum, this baroque pearl cuff is for you. Its sculptural design is made of brass, plated with 24k gold. It might be outlandish for everyday wear, but it will surely put you into the spotlight when you need to.
How to Choose the Right Pearl Bracelet for You
Before buying a pearl bracelet, make sure it resonates with your personal style, and that it goes with some of your favorite pieces in your wardrobe. While a minimalist prefers something streamlined and modern, someone with a trendy style will find statement-making designs more appealing.
More than that, the jewelry material and overall design must be worth the investment. If you need a signature piece that will spice up your daily looks, it's more reasonable to opt for a high-quality pearl bracelet made of precious metals and stones to last a lifetime.
On the other hand, a trendy design might be in style for now, but will soon lose its appeal with the changing seasons. But if you really like its unique craftsmanship, you'll always feel stylish in it regardless of trends. Who knows, you might have found a one-of-a-kind heirloom piece to keep forever.
This classic gem will never go out of style, so make sure you have a pearl bracelet in your arsenal for every occasion.