Pearls are a timeless classic and have been in existence for centuries. While they are sophisticated and elegant, they can be too classic for some tastes and can feel a little bit dated for others.
If you love pearls but want something different, baroque pearls might be just the thing for you. These pearls are different in appearance, have a modern vibe to them and are very versatile. They give you the pearl look with a unique twist, making you stand out!
Let's take a look at what baroque pearls are and if they are the right choice for you!
What Are Baroque Pearls?
Say the word pearl and what comes to mind? We bet you're thinking of a milky white, lustrous perfect sphere. These are traditional pearls and the type that has been highly coveted by pearl lovers the world over. Perfection has always been key when it comes to pearls.
Enter baroque pearls.
These are imperfect pearls of irregular shapes and sizes, with dented and uneven surfaces. They often exhibit beautiful luster and colors.
Interestingly, the imperfections aren't seen as flaws when it comes to baroque pearls. Rather, they are celebrated for their uniqueness. No two baroque pearls will be exactly alike and every piece of jewelry that utilizes baroque pearls showcases something different.
Have a look at this beautiful pair of classical pearl studs. Gorgeous as they are, they don't stand out as being particularly unique and would be chosen for their perfection.
Now compare that with these earrings featuring baroque pearls. Unlike traditional pearls, these pearls all look a little different in shape, size and luster.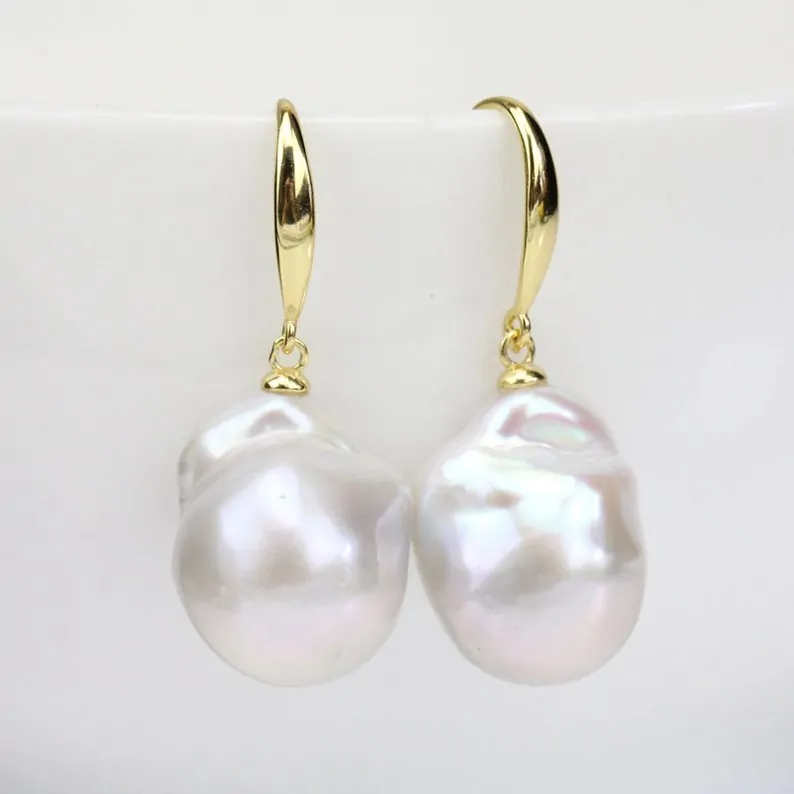 This is probably why baroque pearls have been rising in popularity lately. They allow you to showcase your personality and stand out as unique from the crowd. They are non-conformist and a modern alternative to the classic pearl.
What Type of Pearls are Baroque?
Baroque refers to any type of pearl that isn't perfect spheres. In other words, if it isn't perfectly round, it is considered a baroque pearl.
The most common type of baroque pearls are freshwater pearls, with over 90% of these coming in various shapes. In other words, there are more baroque pearls than there are perfectly round pearls.
However, you can find baroque shapes in all varieties of pearls, such as South Sea, Tahitian and even Akoya pearls which are known for being perfectly round.
Types of Baroque Pearls
Baroque pearls come in a variety of shapes from tiny to large. In fact, there are over 12 main types of baroque pearls to choose from, including Keshi, twin, potato, coin, baroque and rice pearls. Not all of these are equally sought after in jewelry, with some being more valued for their pearlescence, shape and luster. Here's a quick rundown of these main baroque pearl types:
Baroque Pearls
While baroque pearls refer to all non-spherical pearls, the term also refers specifically to pearls that are round and long, with interesting dips and dents around the surface.
Keshi Pearls
Keshi pearls are the rarest variety of baroque pearls and are long and lustrous in appearance, as featured in this bracelet. Keshi pearls occur when the nucleus is rejected by the mollusk, but the pearl continues to grow without a nucleus, resulting in the elongated shape.
Coin Pearl
As the name implies, coin pearls are flat and round, making for intriguing jewelry. They are lustrous and have an intriguing texture.
Potato Pearls
The name might not sound glamorous, but potato pearls are beautiful, lumpy and large pearls that generally have good luster and body tone.
Teardrop Pearls
Teardrop pearls are shaped like, you guessed it, teardrops. They're perfect for necklaces or earrings as they hang down daintily.
BIWA pearls
BIWA, also known as stick pearls, are dramatic in that they're very thin and long pearls, unlike any other pearl variety. They make for eye-catching earrings and statement pendants.
Rice Pearls
Resembling tiny grains of rice, this type of pearl is small and elongated, with an uneven surface. They're perfect in clusters or worn in layers.
When choosing your jewelry with misshapen pearls, examine the piece carefully to see if the shape and style of the pearls are what you are seeking. If purchasing online, it is important to buy from a site that shows you high quality images of the piece.
Are Baroque Pearls Valuable?
When evaluating the value of your baroque pearls, the most important aspect to focus on is the type of the pearl. As I mentioned above, most of the baroque pearls on the market are freshwater. However, these are not as valuable as other types of pearls. For example, a Tahitian baroque pearl will be worth much more than a freshwater one.
Some other factors that determine the value of these types of pearls are their unique shapes, how large the pearl is, how well the pearl reflects light, how lustrous it appears and finally how unique the color of the pearl is (darker pearls are always more valuable due to their rarity). The setting that the pearl is mounted in also has a big impact on the overall price of the piece.
Having said this, baroque pearls are generally less expensive than other pearl types. Also, because the majority of pearls are imperfect, they are more readily available. Creating a strand of baroque pearls is much less difficult than putting together a strand of perfect ones. This reflects in the price making baroque pearls a great alternative to expensive pearls.
Baroque Pearls and Jewelry Styles
Whether you like maximalist, bold designs, or simple, minimalist styles, baroque pearls are sure to suit your every taste. They are versatile and can be worn as eye-catching statement pieces or quieter everyday items.
The beauty of baroque pearls is in its non-traditional look. It's a modern way to wear pearls and stands out as a mix of traditional and avant-garde.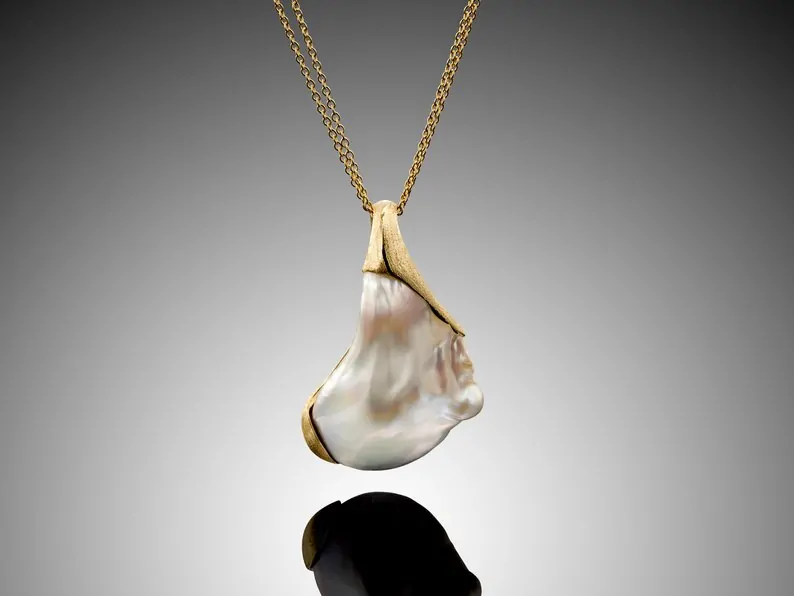 Baroque pearl strands immediately catch the eye and make you look twice. You can vary how dramatic the necklace is by choosing different types of pearls. Large, lustrous pearls that exhibit various colors are more elaborate and great as a statement piece.
If entire pearl strands aren't for you, choose a baroque pearl pendant instead. These are highly stylish and modern in design, combining the elegance of pearls with the simplicity of a chain necklace.
Long dangling earrings add a touch of class and glamor to an outfit. When they feature baroque pearls, this goes to the next level! Pair with an elegant dress on an evening out, or why not with a casual outfit for a balance between chic and street?
Baroque pearl studs are great for everyday wear, including to work or to dress up a pair of jeans and a t-shirt.
Baroque Pearl Rings and Bracelets
Dress up your fingers with a ring featuring a baroque pearl. While pearls aren't the hardest gemstones out there and do require some extra protection especially when worn on busy areas such as your hands, they can last a long time with reasonable care and cleaning.
And whether you're after a casual friendship bracelet or a classic strand of pearls to wrap around your wrist, baroque pearls will fit either bill.
Should I Choose Baroque Pearls?
As you can see, baroque pearls are gorgeous, timeless and unique options for pearl jewelry. They stand out and look stunning! If you are someone who likes to wear unique designs or to go off the beaten track and try something different, you are going to love baroque pearls. Combine this with the fact that they aren't as expensive as classic pearls and you have an added reason to buy them.
However, if you prefer the traditional look of pearls and the classy associations that come with them, go with the perfectly round pearls.
Where Can I Buy Baroque Pearl Jewelry?
If you're looking to purchase baroque pearls, you might find your choices limited in brick and mortar stores. This is because baroque pearls, albeit beautiful and stunning in their own right, aren't quite a mainstream type of pearl yet.
As a result, it's best to take your search online for endless options, competitive prices and convenience in comparing and contrasting different products.
Check out our articles Where to Buy Pearls (US) and Where to Buy Pearls (UK) that review the top online stores where you can purchase pearls, along with baroque pearl jewelry.
Most online pearl specialist boutiques also offer their products via platforms like Etsy and Amazon. This is why we recommend searching on Etsy and Amazon for unique baroque pearl jewelry.
In Conclusion
Baroque pearls are the perfect marriage between traditional, spherical pearls, and modern expression of individuality. Each baroque pearl is unique, so you know that what you're getting is truly different, unlike traditional pearls where one looks exactly like another. If you're looking for statement pearl jewelry, you can't make a better choice than baroque pearls.