If you've gotten over the challenge of finding the perfect wedding dress, we're sure you're beginning to think about how to accessorize your wedding dress. After all, the stylish touch for any modern bride is the jewelry that she wears walking down the aisle.
While there's no rulebook on how to choose your wedding jewelry, let's take a look at some guidelines to help you turn an amazing look into an unforgettable one!
1. Compliment Your Neckline – Necklaces, Earrings, and Bracelets
The secret tip to the perfect wedding jewelry is less is more. It's surprisingly easy to wear too much jewelry on your wedding day, so the best idea is to pick one or two key pieces that will complement your dress.
Though it all comes down to your personal taste and what makes you feel good, the neckline of your dress is the best place to start with when you begin looking for wedding day jewelry.
Necklines and Necklaces
Wear Necklaces With: V Necks, Square Necks, Low Scoop Necklines and Strapless
Necklaces look best with an open neckline so that it doesn't interfere with the dress. The best necklines to pair a necklace with are low scoop, square, strapless or V-neck. If your neckline is low scoop, then the best type of necklace is a statement or bib.
Because your entire neck is exposed with a strapless dress, your necklace will draw a lot of attention. With strapless necklines, you can opt for a statement necklace, like this floral one, or a simple metal or pearl choker. If choosing a choker, pick something sleek and that rests beautifully on your collarbones like this pearl one.
V-necks are a common neckline and look great with a classic gemstone pendant, like this beautiful morganite one, or pearl pendants, such as this elegant but affordable one.
Necklines and Earrings
Wear Earrings With: Illusion Necklines, High Necklines, Off-Shoulder, Simple Straps, Sweetheart, Queen Anne Neckline and Bateau
Modern wedding dresses often feature detailed embroidery or illusion necklines and wearing a necklace with this can look too busy with so much detail.
It's these dresses that look more stylish with earrings and bracelets as you don't want your jewelry to compete with the gorgeous detail of the dress. Halter neck is an example of a neckline that just doesn't go well with necklaces but look stunning with earrings.
If you're wearing a sweetheart, bateau or Queen Anne neckline, opt for a pair of dainty stud earrings. Depending on your style, you can opt for classic diamond or pearl studs. These are timeless and can be worn over and over, so think of them like an investment. For a dash of color, you could choose gemstone studs.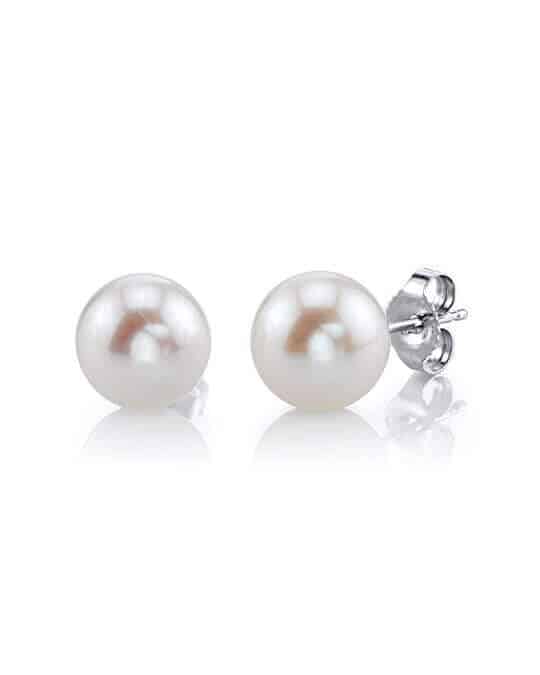 For off-the shoulder or illusion necklines statement earrings look the best. They give balance to your overall appearance, providing just the right amount of bling to your look. Choose statement earrings based on your color scheme, style and face shape.
It's also worth thinking about the style of hairdo that you'll have on the big day and if your earrings are going to work well with this too. If you can wear your earrings when you go for a trial hair style, then you'll be able to get some tips from your hair stylist, and they can style your hair so that there is more (or less) attention on the earrings.
Necklines and Bracelets
Wear Bracelets With: Halter, Strapless, High Necklines, Off-the Shoulder, and Sleeveless Dresses
Dresses with high necklines are best suited with cuffs or bracelets to help balance material. A lot of wedding dresses are also sleeveless, which makes it the perfect time to invest in a stunning cuff or bangle for your big day.
A sleek bracelet adds just the right amount of bling and a whole ton of sophistication to your wedding outfit.
Go for a sleek bangle like the one pictured above or a chunky statement cuff that you'll love wearing to future occasions. If you love the idea of wearing something super sparkly, then go for a tennis bracelet, like this simple but elegant one.
If you're wearing a long-sleeved dress, then avoid any really chunky cuffs or bracelets as your dress will look busy with these. On your wedding day, it's best to wear any bracelets on your right hand to minimize distraction from your wedding ring!
2. What About Rings for Bridal Jewelry?
There is already one special ring waiting for you on your wedding day, which is why many people don't get a ring as part of their bridal jewelry.
However, this is no reason to stop you wearing one. Many people have every day go-to pieces and wouldn't want to walk down the aisle without these.
If you want to wear other rings on your wedding day then, as with bracelets, it's better to wear them on the right hand, so it won't distract from the star of the show – your wedding ring. It's also good to make sure that they won't catch on your dress.
3. Matching Your Metals to Your Wedding Dress
You can also use the color of your dress as a guide. Although most wedding dresses are white, subtle difference in the color can give a great indication of what metal color to wear.
White: If your dress leans towards optic white and has no color, then pick bright metals, such as white gold with rhodium or platinum for your bridal jewelry.
Champagne: If your dress is champagne, there is a gentle yellow or golden hue that emanates from the dress. This looks stylish when matched with yellow gold jewelry. Vintage jewelry will also look great with a champagne colored wedding dress.
Ivory: Ivory looks best with yellow gold as well because the golden color of the jewelry will highlight the creamy tones in the ivory.
Silver/Grey: With subtle blue or grey tones the best metal to match your wedding dress is silver as it also has a similar blue grey hue.
Blush: Pinky hues look best with other pink colors, so match your dress with rose gold metal. This looks romantic and feminine and matches any skin tone.
4. Pearl Jewelry for Your Wedding Day
Pearls are a timeless and classic choice. They are always in style and especially amazing paired with a wedding dress.
Pearl jewelry is often chosen for wedding attire as it has an elegance, simplicity and purity that is often unmatched by other types of gemstones. A simple pearl pendant, bracelet or earrings can really add that extra touch to your wedding outfit and is warmer than diamonds. What's more, they add light to your look and go well with any skin tone. What's more, the pearl is quintessentially white in color, a symbol of purity, innocence and wisdom.
Pearls come in all colors and a variety of shapes, meaning that you don't have to opt for the traditional white. You can bring a little bit of edge and personality by choosing baroque pearls and different colored pearls to go with your dress.
Related Article: The Best Place to Buy Pearls Online
5. Opting for Comfort
It may not be easy to try your jewelry on with your dress before your wedding day, but it's always better to try just in case the jewelry you've picked looks different once you've got your dress on. We also think that it's essential to wear jewelry that's like what you wear every day.
If you're used to wearing silver as your everyday essential, you might feel strange wearing yellow gold on your wedding day. If you're not used to wearing a statement cuff or earrings but think they would look amazing on your wedding day by the end of the reception, heavy earrings will certainly feel uncomfortable if you're not used to them.
However, this doesn't mean that you can't wear some jewelry just for the ceremony or the reception. Swapping the studs, you wore to the service for a pair of party earrings for the evening can help get you in the party mood after a long and tiring day.
6. Choosing Your 'Something Blue'
If you want to follow the tradition of 'Something old, something new, something borrowed, something blue' then use this as the perfect reason to wear a blue gemstone on your big day.
Sapphires are the quintessential blue stone and have a prestige that is unrivaled by other blue gemstones (except blue diamonds). However, for a more affordable alternative, opt for tanzanite. This underestimated gemstone is often equally stunning as sapphire but much more affordable.
If you can wear your birthstone on your wedding day as your something blue, this is a beautiful way to inject a little color into your wedding day look that's meaningful. Most gemstones come in many colors and there's a high chance that you can find your birthstone in blue. This includes diamonds, aquamarine, topaz, garnet, turquoise, opals and sapphire.
Wrapping Up
It's easy to think that once you've got your wedding dress the hard work is over; however, the dress is only the beginning.
Our best tip is to not overdo your jewelry on your wedding day, as less is definitely more. When choosing your bridal jewelry think about the neckline of your dress and what piece of jewelry would look the best. A harmonious balance between dress and jewels is what you're aiming for.
Make sure your personality shines through your accessories and treat yourself to some beautiful wedding day jewels whether you're wearing a modern twist on an old tradition or buying a special piece of fine jewelry. Have fun searching for jewelry for your wedding day, as it only happens (hopefully) once in a lifetime!