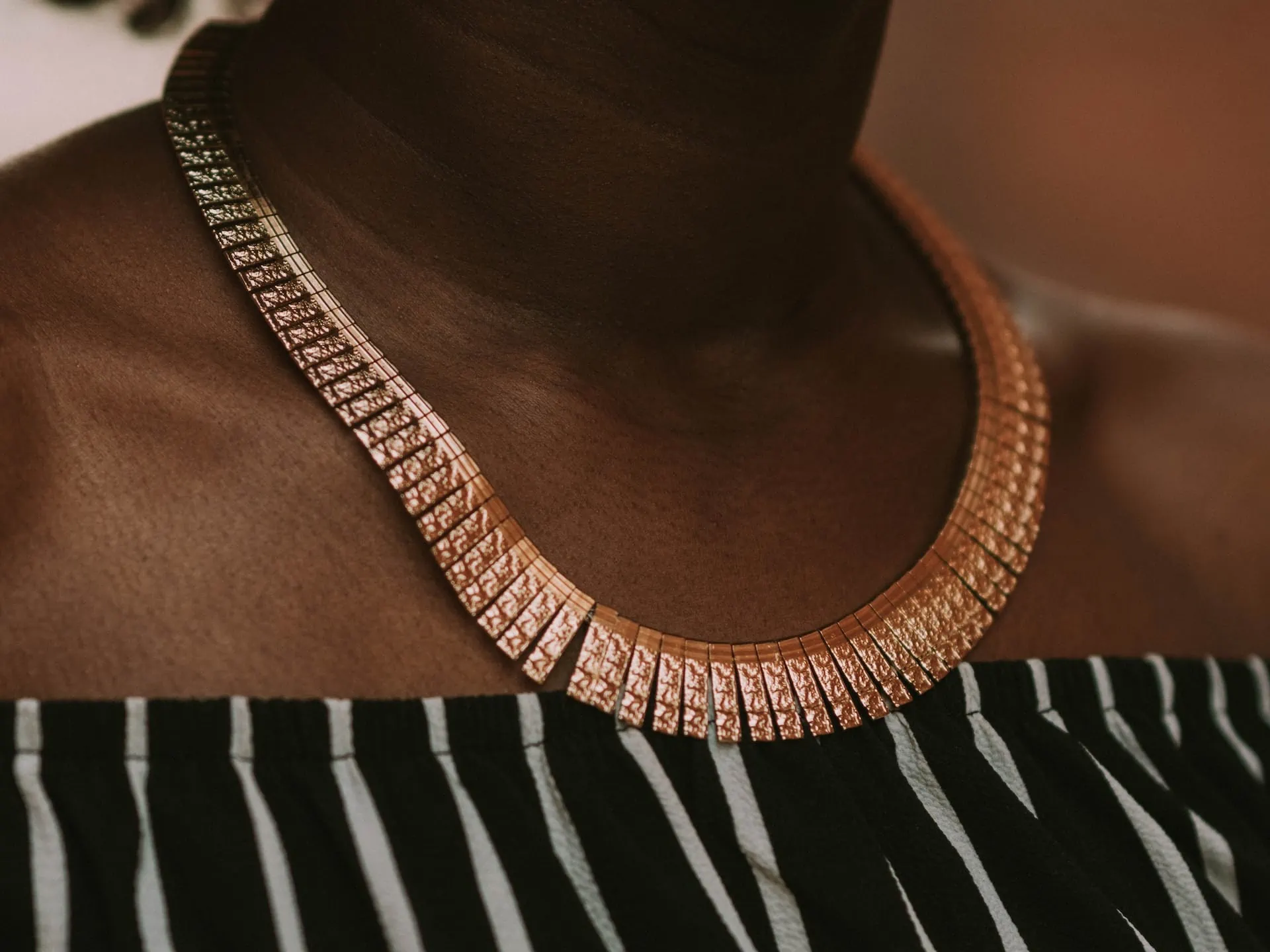 Our favorite thing about getting dressed is deciding what necklace to wear with our neckline. It's a trick that when mastered can elevate your style and outfit to effortlessly chic. The key word here is effortless which is why we're exploring which necklaces go with which necklines and simple dos and don'ts to think about while getting dressed.
We've also made a great cheat sheet that you can quickly use to look your best when accessorising and choosing your jewelry. It's easy to get favorite go-to necklaces for your favorite outfits and a quick and easy way to elevate your style.
1. Necklace for Crew Necks
Crew necklines are very versatile when it comes to necklaces. The trick is to play with length rather than the style of the necklace. The necklace should be just longer than the neckline or just shorter. A cute short chain with a dainty pendant will look chic with a crew neck. Alternatively, you can wear your favorite pendant slightly longer than the crew neckline. This combination especially looks effortlessly stylish with coin pendants or lockets which have a slightly more substantial pendant.
With crew necks, it's best to avoid chokers or very long necklaces, and we would also recommend keeping your necklaces symmetrical. If you want to introduce a stronger point of difference, we suggest layering two or three pendants like this to create a detailed and asymmetric look.
2. Necklaces for V Necks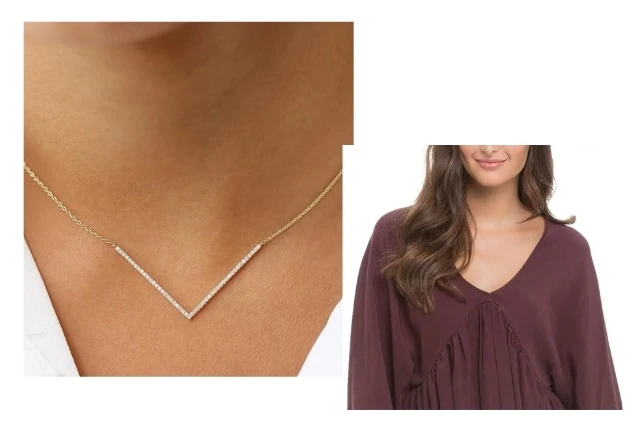 Most people will own a necklace that suits a V-neck as they pair well with necklaces that mimic their shaped and naturally falls in a V shape. The pendant shouldn't be too big or too small so that space around your necklace and the neckline is in proportion. The pendants should gracefully sweep alongside the neckline without falling into or over the neckline and shouldn't be too short either. A good guideline is that the necklace and neckline should have an inch of space between them.
With V-Necks you will want to avoid anything that's too wide or doesn't complement the v shape. For example, statement bib necklaces look amazing with buttoned-up collared shirts and crew necks, but as most of them fall in a round shape they will look out of place over a V-shape. Just like the crew neck, it's best to avoid wearing asymmetric necklaces as the V shape is such a key feature of the outfit an asymmetric necklace will detract from this and make the outfit appear more busy or fussy.
3. Necklace for Boat Neck
Boat neckline (also known as bateau) is a high neckline that's wide across the décolletage. As it's a wide neckline it's complemented by necklaces that are longer than the neckline. The style is up to you! You could pair a boat neckline with a double row of pearls for a ladylike look or wear it with a slightly longer chain pendant for easy weekend wear like this one.
The trick is that the longer necklace balances and complements the wide neckline. Avoid anything that's shorter than this neckline especially chokers and also avoid anything that could fall down your neckline. Boat necklines are also quite good for asymmetrical necklaces such as multi-strand necklaces with varying sized beads or pendants.
4. Necklace for Off-Shoulder Top
An off the shoulder top could be a bandeau or a Bardot top; they are both off the shoulder tops, but a Bardot top still has sleeves. Bardot's are more likely to have a straight across neckline that shows off décolletage and a bandeau can have a more sculpted neckline like a sweetie neckline. Both of these tops look great with short necklaces like chokers which don't break up the outfit and still mean your décolletage is the focus point.
You can wear longer necklaces with these as well. Mixing a summery Bardot top and a long necklace gives a real bohemian vibe. Beaded necklaces also look lovely with Bardot tops as well. If you're wearing a bandeau style off the should top we'd recommend sticking to the shorter necklaces as a long necklace will look out of balance with this neckline, especially a sweetie neckline.
5. Necklace with Collared Shirts
Surprisingly, collared shirts are probably more versatile than might you think. As you can change things up by wearing the buttons done up all the way or leaving a couple undone, it's easy to create entirely different looks with a collar and the right necklace.
One of our favorite ways to pair a necklace with a collared shirt is by wearing a statement bib necklace like this one over the shirt. The color block of most shirts will highlight the necklace as a feature piece, and this will make the high neckline look less conservative. You can also wear the collar open and turn this neckline into a V-Neck which makes it perfect for layered chains and pendants.
6. Necklaces for a Turtle Neck
Turtle necklaces are a staple layering piece that you can wear with jeans or under a dress for colder months. When you wear a turtleneck, long necklaces look amazing with a high collar as they draw the eye down and elongate the body. As a layering piece, it's easy to chuck on a gorgeous long necklace over a turtleneck and be on your way. This also works if you're wearing a funnel or turtleneck knitwear too! Don't be afraid if your necklace swings while you walk. Own it with confidence or start with a smaller lighter pendant if you want to avoid this. A sleek and understated chain will look gorgeous over a plain turtleneck top.
7. Necklaces for a Halter Top
Halter necks are a tricky one to pair a necklace with as the detail of the top means that it creates a narrow space for a necklace to sit so rather than focusing on a length choose a necklace that has a narrow width or choose an angular pendant. Avoid short necklaces that will detract detail away from the straps and also avoid statement bib necklaces.
Are There Any Necklines that You Shouldn't Wear a Necklace With?
This is really a personal styling choice as there is a necklace to suit every neckline, but your overall look will achieve more impact and look stylish if you make sure to balance your other jewelry with. For example, off the shoulder necklines can be tricky to pair with a necklace and might look better with a statement pair of earrings but don't be afraid to try a cute pendant and see how you look and feel.
Do: Try lots of different combinations to see what looks good in your jewelry box with your wardrobe.
Don't: Don't be afraid to layer several necklaces. Sometimes adding another necklace might just make the perfect look.
Necklaces with Low Cut Necklines
Wearing a necklace with a low-cut neckline is a highly contested debate, and the best way to think is about the occasion and whether it's appropriate. Necklaces can look very sexy with a deep V-neck, but we'd recommend striking the right balance.
If you want to wear a necklace with a deep V-neck, then that should be a feature part of your outfit, so perhaps wear a plain dress rather than a print or mix it long sleeves or a midi length skirt. If you're looking for a real va-va-voom, then chokers and lariat necklaces can also look really sexy when combined with the right neckline.
Necklace for Neckline Cheat Sheet
| | | |
| --- | --- | --- |
| Neckline | Dos | Don'ts |
| Crew | One to two inches above or below the neckline. Also looks goods layered. | Anything too long or too short. Asymmetrical necklaces. |
| V | Matching Vs and symmetry. | Wide Necklaces, Statement Bibs, Chokers. |
| Boat | Necklaces longer than the neckline | Chokers |
| Off the Shoulder | Chokers, Very short pendants | Statement pieces |
| Collared Shirts | Medium length pendants and statement necklaces. | Multiple Strands, Super Long Necklaces |
| Turtleneck | Super long pedants | Very short necklaces, anything that's above your bust. |
| Halter | Angular pendant | Anything too wide or short. |
Our favorite thing about learning these tips is it gives us an excuse to try on all our clothes and see which necklaces you think look best! It's also a smart idea to layer your necklaces together to see which combinations stand out and then think of outfits that you can wear these with too.
A way to inspire yourself and get creative is to set a goal of never wearing the same necklace two days in a row. Always switch it up for a different one or layer another one on top. Exploring your personal style is fun, and with our handy cheat sheet, you'll be out the door in no time!
Wrapping Up
The right necklace can elevate your outfit and make you look gorgeous. However, it's important to pick a necklace that matches your neckline. Hopefully, the tips above will help you make the choice. Don't forget that these are just guidelines, and at the end of the day, choose what works for you!