As Jewelry Shopping Guide editors, we write about things that we love and we think you'll like too. We often have affiliate partnerships, and may generate some revenue from these links at no cost to you.
Channel and pave settings are two popular styles often chosen for engagement and wedding rings. They are versatile elements that can be used to complement a range of ring styles.
While they may appear similar, there are several differences between these two settings. Each has its pros and cons which should be considered.
Let's take a look at the difference between channel and pave settings and which is the best option for you.
What is a Channel Setting?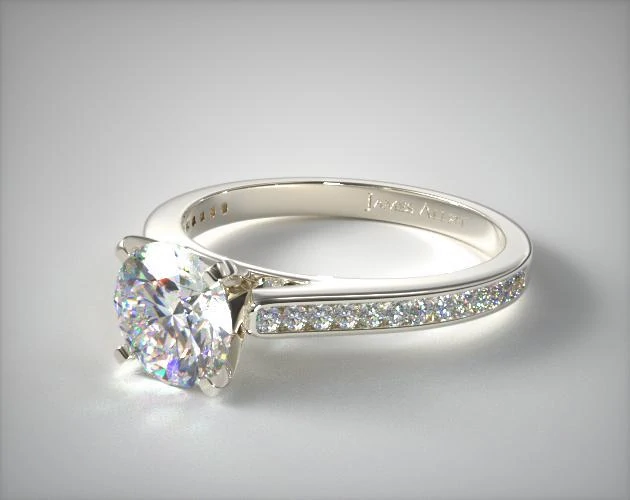 A channel setting features a series of small, uniform diamonds set in a groove or channel in the band of the ring. The gemstones are typically identical in shape and quality and are set either just below or flush with the band.
While round diamonds are the most popular option for channel settings, square or rectangular shapes like the princess, baguette or emerald cuts leave no gaps and spaces within the groove, creating a smooth, continuous pavement of diamonds.
What is a Pave Setting?
The pave setting is so called because it makes the metal band look like it's been 'paved' with tiny little diamonds. These diamonds sit on the top of the band and are held in place by tiny prongs or beads. There are several types of pave settings, but the concept is the same.
The aim of the pave setting is to provide as much sparkle as possible for the ring and to enhance the center stone. While different shapes can be used for pave, small round melee diamonds are the most common.
Pave Setting vs. Channel Setting
Here are the main differences between these two settings:
Pave settings are held in position by small beads or prongs, whereas channel settings are set into a groove cut into the band. Of the two, channel settings offer more security for the diamonds.
Because light interaction with pave settings is higher, pave set rings are more brilliant and dazzling. Channel settings have a more subdued sparkle.
Pave settings can make the center diamond appear larger and enhance its sparkle. In some cases, the diamond can appear up to 20% times larger than its original size. Channel settings, on the other hand, add to the beauty of the setting, but doesn't tend to make the center diamond look larger or more brilliant.
Channel settings often utilize different types of gemstones and diamond shapes while the most common type of stones used for pave settings are round diamond melees.
The little stones on pave settings can get loose or dislodged if exposed to too much wear and tear. The prongs can become weakened over time and will need periodic check-ups. This makes pave settings not ideal for people with busy hands.
Pave settings emphasize the diamonds while channel settings highlight both the metal and the stones.
Pave settings are typically less expensive than channel settings, because they use smaller diamonds. In general, you can pick up a pave setting for at least a couple of hundred dollars less than a channel setting.
Which Should I Choose?
With these two settings being so similar and yet so different, how should you decide which is the right choice for you? Let's simplify it.
Choose a Pave Setting If:
You're looking for a diamond ring with exceptional sparkle at an affordable price
You're prepared to provide reasonable maintenance for your ring
You want the center diamond to be emphasized and enhanced
You don't need to use your hands too much for work
Choose a Channel Setting If: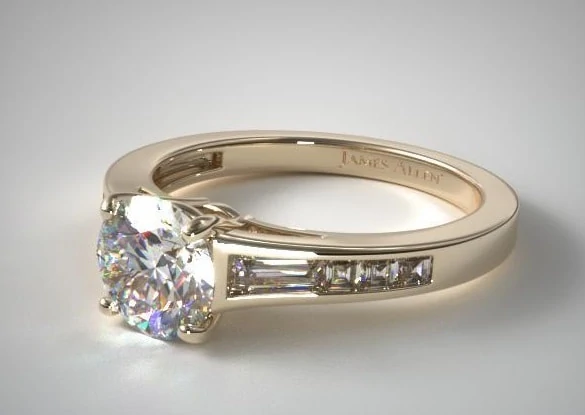 You want your diamonds to be securely held in place with minimal risk of falling out
You want the focus to be on the center stone with little help from the setting itself
You lead an active lifestyle and don't want to worry about losing little diamonds
You don't want your ring to get caught on objects when you wear it
Here's what some of our readers wrote in when we asked which of the two they would choose:
"It's a tough one. Channel holds the diamonds more securely but pave gives you more sparkle. It's a trade-off, I guess! For my wedding ring I chose a pave eternity band. I would have just as easily gone for a channel setting though."

"Because I didn't want any metal to show in my engagement ring, I chose a pave setting. I love the look of the diamonds! They're so dazzling in the light."

"I picked the channel setting because security was my number one concern. I'd rather have the peace of mind that all my diamonds are still there than have a bit more sparkle but constantly have to worry if I've knocked a diamond loose. I know pave is still very secure, but it didn't cut it for me."
Wrapping Up…
As you can see, both pave and channel settings are excellent choices, so you won't go wrong with either of them. They're classic options that have stood the test of time and will continue to be in fashion for decades. Choose the setting that fits in with your budget, lifestyle and stylistic preferences.