As Jewelry Shopping Guide editors, we write about things that we love and we think you'll like too. We often have affiliate partnerships, and may generate some revenue from these links at no cost to you.
A question we've frequently got from some of our readers is how to find a wedding band that'll fit with a marquise engagement ring. The readers who've contacted us often sound frustrated and worried because the marquise is a challenging shape to work with but when well matched with the perfect wedding band, it makes for a stunning look!
The marquise cut is one of the most unique diamond shapes, featuring an elongated football-like shape with two sharp points on either end. It's a highly brilliant cut, that maximizes the size of the diamond and also elongates the fingers when set vertically. No wonder the shape has seen a major resurgence in popularity in recent years.
However, a marquise engagement ring is also one of the most challenging to pair a wedding band with, due to its longer, protruding shape.
In this article, we'll take a look at how to find the right wedding band to suit a marquise engagement ring and the factors that you'd need to consider for that.
In Brief:
Here's a quick recap of your best wedding band options for a marquise engagement ring:
If your marquise engagement ring is set high, you can choose a straight wedding ring that sits flush against the shank.
A curved wedding band will accentuate the shape of the marquise diamond.
You can wear two curved wedding bands on either side of the engagement ring for a perfectly proportioned frame.
A horizontally set marquise isn't as dramatic as a vertically set one.
Pick a tiara wedding band to create drama and style for your marquise ring
What style of wedding band are you after?
When it comes to finding a wedding band that suits your engagement ring, there are many paths you could go down.
Some brides love the perfectly matched look and will often consider a bridal set. In this case, you wouldn't have to worry about how to match your rings as that will already be done for you.
Others prefer a mismatched look, often opting for different metals, textures, and colors to work with. This can result in an eclectic modern style, ideal for a non-traditional bride.
Once you've decided on your preferred wedding band style, consider the engagement ring setting.
What type is the engagement ring setting?
The type of engagement ring setting you wear will have a direct impact on the type of wedding band you choose, as it will determine the shape of the band (straight or curved) and its elements and style. So this is what you have to consider first when thinking of a wedding band to suit a marquise ring.
Here are some of the most popular options:
The solitaire ring setting is a simple, minimalistic style typically with either a plain or pave band.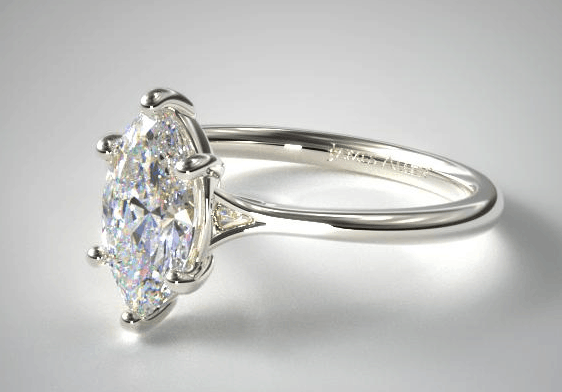 The tension ring setting is the most unique of all ring settings and holds the diamond or gemstone using tensile strength. The diamond appears to be floating in the middle, with light interaction from all sides. This is a futuristic ring style that's quite uncommon but sought after by brides with a contemporary aesthetic.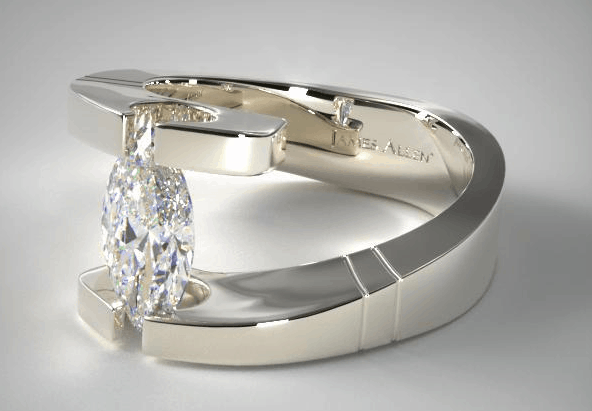 The halo ring setting consists of a ring of diamonds or other gemstones surrounding the center stone. It results in a highly brilliant and stylish-looking ring.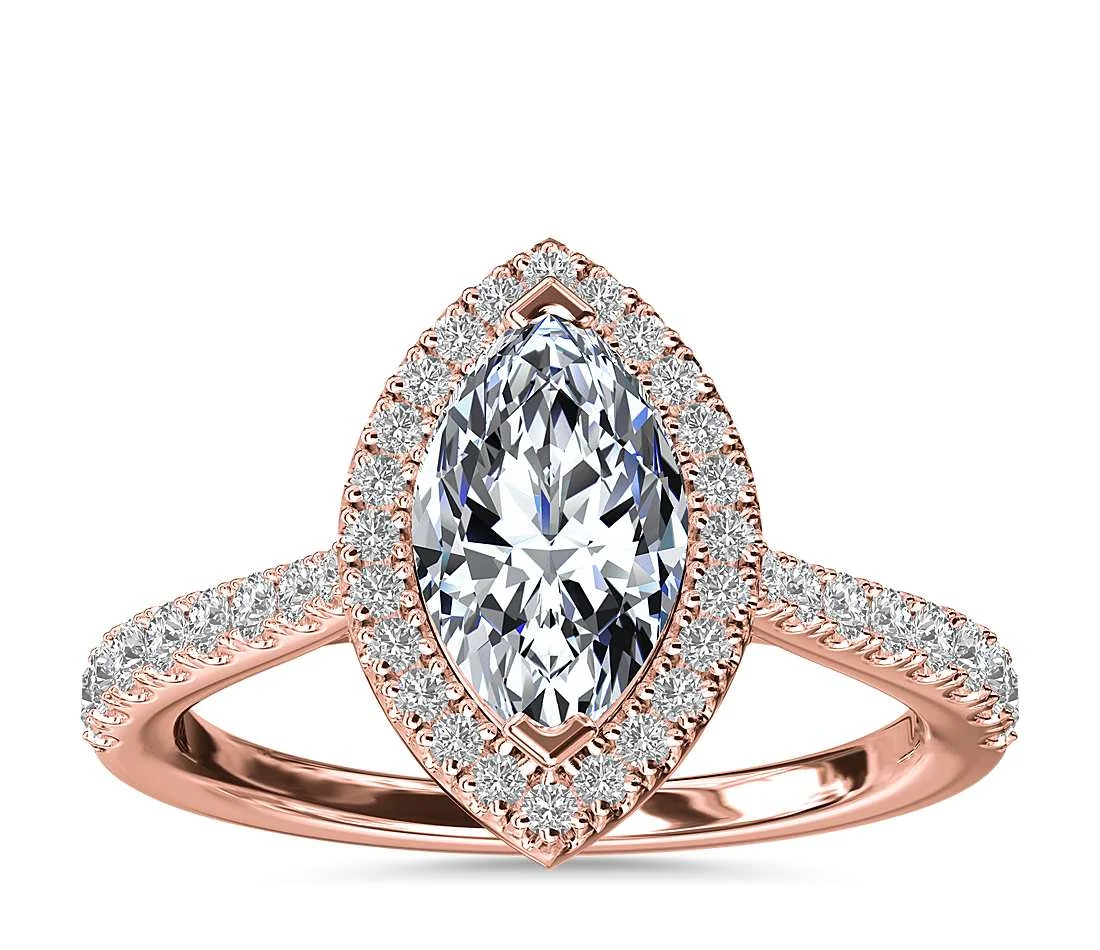 The side stone setting features a center stone flanked on either side by side stones. This adds more brilliance and depth to the design.
Some retail sites will suggest matching bands for your marquise engagement ring, which takes some of the burdens off your shoulders. For example, if you scroll to the end of the page for this marquise engagement ring, you'll see a suggestion for a matching band.
How is the marquise stone set?
Most marquise engagement rings are set vertically, but some are set sideways, in a horizontal fashion. A horizontally set marquise engagement ring doesn't protrude, has a smaller gap between the shank and the tip of the setting and resembles the gentle curves of a round brilliant cut diamond.
A vertically set marquise, on the other hand, is a much longer ring setting that can hide much of the wedding band, especially if set flush against each other.
Do you want a gap between your rings?
When you wear your two rings next to each other, do you want there to be a gap or no gap? Most marquise engagement rings feature a high setting, which means that there's enough space underneath the head for the wedding band to sit flush against the shank. You may have to choose a wedding band that isn't set too high for this look to work.
Another excellent option is to play with the shape of the marquise by choosing a wedding band that'll accentuate that.
Curved wedding bands, like the chevron shape, are ideal for this, as they accommodate the shape of the marquise while adding an extra design element to the combined looks of the rings. This is also an excellent way to jazz up a plain marquise engagement ring with more elements.
Tiara wedding bands, like the one featured above, are ideal to add some drama to your ring style. They frame the marquise stone perfectly, accommodating the shape without issue. Just ensure that it's the right fit, for the best look. You could opt to have just one side of the marquise framed with this or if not, opt for two curved bands for either side. This would tie in with the stacking wedding rings trend which is currently very much in vogue.
Wrapping Up…
As we've mentioned above, a marquise engagement ring is one of the more difficult shapes to match a wedding band too, but it's also one of the most versatile and most beautiful when done right.