Buying jewelry online comes with its benefits – not only will you have a massive worldwide inventory to choose from but you will also have competitive prices and the convenience of comparing the products from different vendors.
However, there are inherent risks in purchasing valuable jewelry like gold chains online. Not all online stores are created equal and several factors need to be considered when picking out the best stores.
Here are our top picks for the best places to buy gold chains online, based on the store's track record, customer reviews, quality of products, after sales services and overall customer service.
Why: The greatest variety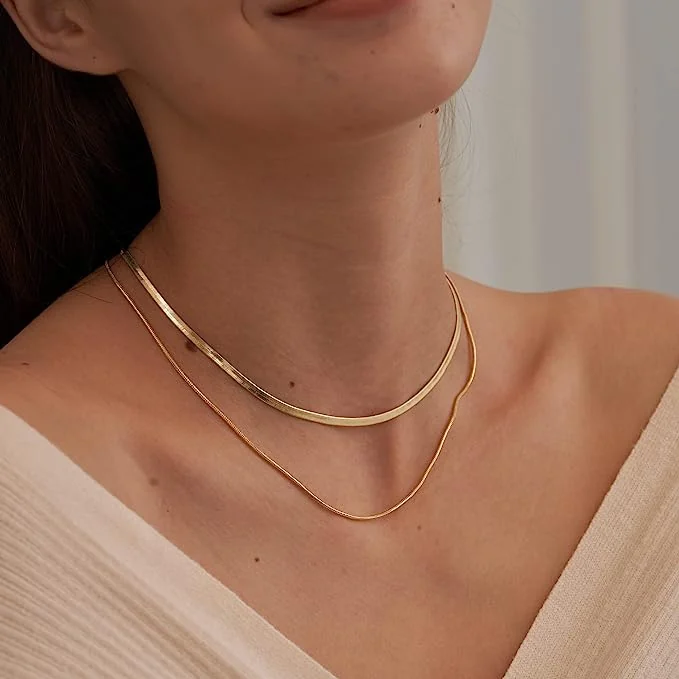 Amazon isn't a shop per se but a platform that allows retailers and artisans from around the world to offer their products in one place. Because many well-known retailers also offer their products on Amazon, you'll have access to famous brands as well here.
The selection of gold chains on Amazon is massive and has everything from inexpensive gold-plated chains to high-end solid gold styles. When searching on Amazon, it's best to use the filters provided. Otherwise, it'll be like searching for a needle in a haystack.
We recommend looking for chains that have positive customer reviews, a responsive seller and a good returns policy. If you have an Amazon Prime account, you can make use of that to have free express shipping on your orders.
While Amazon provides choice, it's up to you to do your due diligence to ensure that you aren't getting ripped off. Always check each individual seller's policies and track record.
To book a consultation, check their website: Amazon
Why: Fine gold jewelry, delicate designs and pendants
Blue Nile is known for their quality, reasonable prices and great customer service. They operate mainly online, which is why they're able to offer such competitive pricing. Although the company is predominantly focused on diamonds, they also offer an excellent selection of fine gold jewelry.
Whether you're looking for a simple gold chain or something more elaborate, Blue Nile has a good collection to choose from. They offer 14K and 18K gold chains on the site, with or without pendants. The main chain types are bead, cable, rolo, rope, box and wheat styles at varying lengths, from 16 inches to 36 inches or more.
Purchase without risk and return your product within 30 days for a full refund with free shipping both ways.
To book a consultation, check their website: Blue Nile
Why: Extensive collection vintage and hand-crafted gold chains
Etsy has grown within the space of a few years to become a dominant force in hand-crafted jewelry by small businesses. Today, they're one of the biggest names in jewelry and you can find something for everyone here. Etsy, like Amazon, gives a platform to individual designers and retail shops.
We love Etsy because the shopping experience is streamlined and it's very easy to find your perfect piece, vet your retailer and make your purchase. You can find everything from designer gold chains that cost over $75,000 to inexpensive gold-plated costume jewelry. What's more, if it's vintage, you're after, Etsy has a range of vintage gold chains as well.
Make sure the retailer you're purchasing from is trustworthy. Check their customer reviews, whether they interact with these reviews, how long they've been on Etsy, their after sales policies and also their number of sales. All these will give you a good indication of the reputation and how established the seller is.
To book a consultation, check their website: Etsy
Why: Valuable gold chains and hip-hop jewelry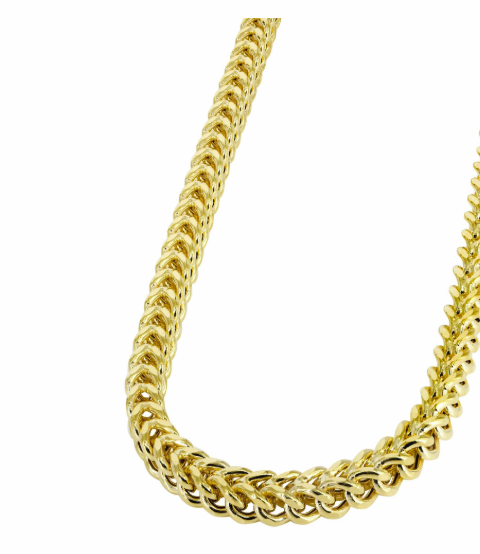 Frost NYC has had a range of celebrity clients, like Charlemagne, Cee-lo Green and Travis Scott, and is well established as a leader in men's gold chains and jewelry. They specialize in all types of gold chains, ranging from a few hundred dollars to upwards of $20,000.
You won't find costume jewelry here – the chains are made of real gold, offered in mainly 10K and 14K varieties. Frost NYC provides an appraisal upon request on any jewelry over $500 for insurance purposes.
Frost NYC ships worldwide and have a 15-day money back guarantee with excellent customer service. They have thousands of 5-star reviews from independent sites with a legion of happy clients.
To book a consultation, check their website: Frost NYC
5. Pictures on Gold
Why: A wide collection of everyday standard gold chains
Based in New York, Pictures on Gold gets its name from its star product – lockets with lasered-in color photos. But its collection of gold chains is exceptional, with all the main types of chains offered in 14K white and yellow gold. With over 11 types of chains, including more unique varieties like their genuine leather chains, Pictures on Gold makes it easy to find what you're looking for in one place.
While you can't return custom made jewelry, the company offers standard 30 day returns and a price match guarantee to ensure their customer's satisfaction. Don't let the dated look of the site dissuade you from checking out their amazing collections. After all, the company has over 4,750 5-star reviews on Reseller Ratings, which is a testament to its focus on customer satisfaction.
To book a consultation, check their website: Pictures on Gold
6. Super Jeweler
Why: Wide range, 60-day risk-free returns and excellent prices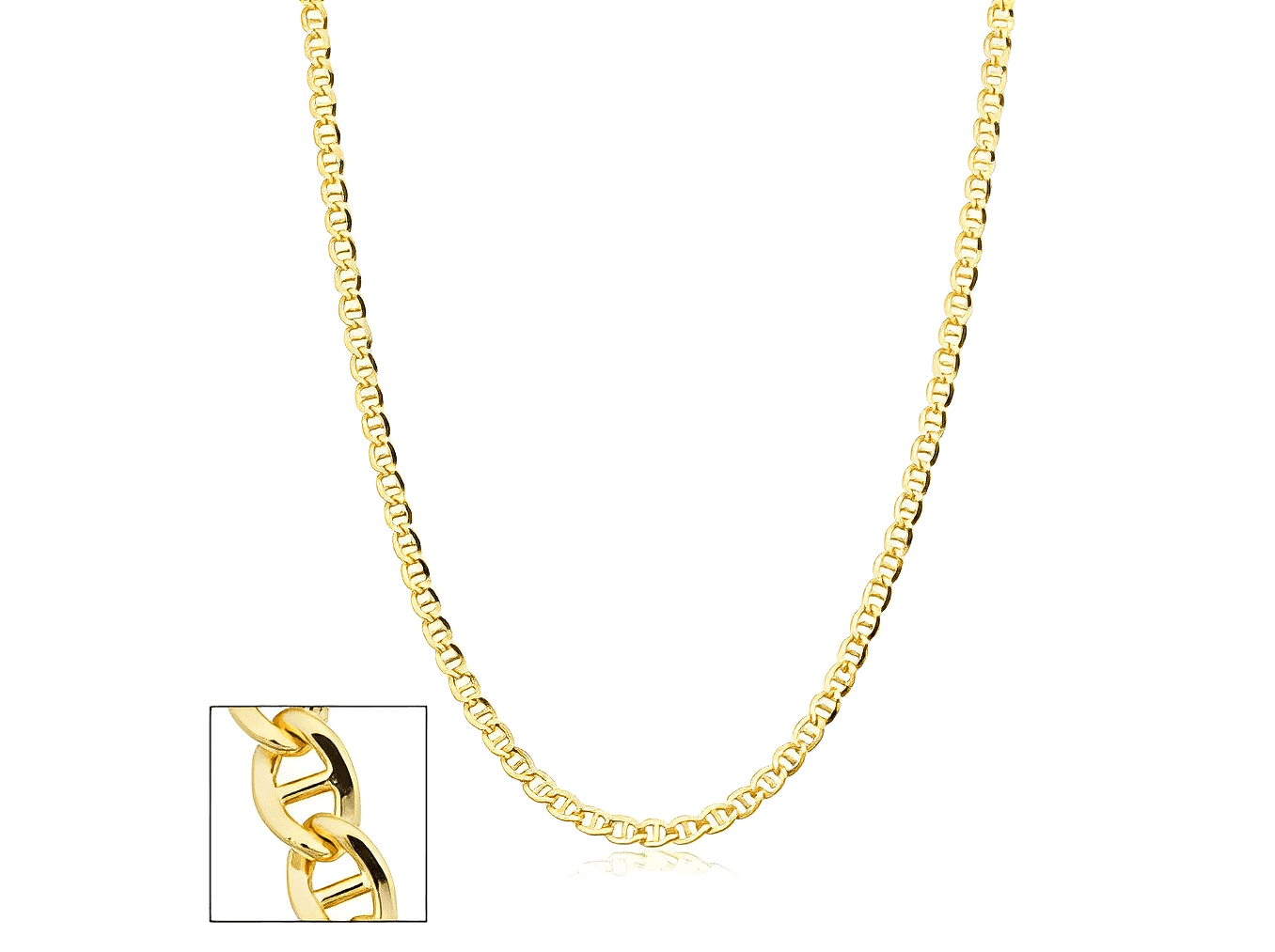 Super Jeweler was established in 1999 and has been around for over two decades now. The company is known for their commitment to reasonable prices, ethical diamonds and excellent policies.
At Super Jeweler, you will find a massive collection of gold chains, starting at around $130 and reaching upwards of $11,000. They offer chains in 10K, 14K and 18K gold in rose, yellow and white gold varieties.
One of the best things about purchasing at Super Jeweler is that they stand by each of their products, offering a lifetime guarantee and risk-free 60-day money back guarantee. What's more, they ship worldwide for free.
To book a consultation, check their website: Super Jeweler
7. J.R. Dunn
Why: Unique styles and designer chains
J.R. Dunn is one of the oldest in the jewelry business established in 1969. The company is known for its integrity and quality and has a wide client base as evidenced by the thousands of happy customer reviews on independent sites.
J.R. Dunn offers a variety of gold chains from top jewelry designers, in sterling silver and karat gold. Their chains come in several styles, from plain, unembellished designs to intricate designs featuring gemstones, diamonds and gold wrought work. There's a range of stunning, stylish and fashion-forward designs here, perfect if you're looking for high-end, quality gold chains.
However, while we loved the products, the company doesn't seem to accept returns which could be a problem if you don't fall in love with the piece you chose.
To book a consultation, check their website: J.R. Dunn
8. Littman Jewelers
Why: Exchanges up to 90 days after purchase
Founded in 1973, Littman Jewelers is well-known in the jewelry space for their timeless designs and quality craftsmanship. The company is committed to providing ultimate customer satisfaction, with a 3-month exchange policy if you don't love their product. This coupled with the excellent customer service make Littman Jewelers a great place to take your gold chain search.
In terms of their gold chains, they offer a wide variety ranging from $250 to over $14,500. These are in 14K yellow, white and rose gold styles, as well as some two-tone jewelry styles. You'll find all the popular chain varieties here, including lesser known chain styles like Franco, Spiga and Herringbone.
Their website is easy to navigate, and the shopping process is facilitated. With 2-day free shipping on all orders, 60 day returns and lifetime guarantee, and reasonable prices, there's no reason not to check out Littman Jewelers for your gold chain.
To book a consultation, check their website: Littman Jewelers
9. Szul
Why: Exclusively online with great prices
Szul is a leader in the online jewelry space and while they're based in Manhattan's Diamond District, their primary focus is on e-commerce, offering all their products online. This means that they're able to keep their overheads low, and because they purchase directly from the sources, this translates to lower prices for the consumer.
Their gold chains come in 10K and 14K karatage, at lengths of 16 inches to 22 inches. These chains are simple, everyday styles with no frills attached, making them perfect to wear with pendants or as is.
Szul offers free shipping, gift packaging and a 60-day return policy. Their customer service is on point and helpful, making it very easy to work with them.
To book a consultation, check their website: Szul
Wrapping up
When looking for a retailer to purchase a gold chain from, check across vendors to compare prices. While gold has a standard value which can fluctuate, the craftsmanship, other materials as well as the brand of the piece will influence the final price of the chain.
Again, always do your due diligence and don't plonk down a large sum of money without first making sure the retailer is reputable, has a proven track record and is willing to stand by their product in the event of returns.