As Jewelry Shopping Guide editors, we write about things that we love and we think you'll like too. We often have affiliate partnerships, and may generate some revenue from these links at no cost to you.
Whether you're religious or not, the idea of a guardian angel is a part of the fabric of Western culture and the term guardian angel has grown to mean someone who cares and watches out for you.
This is a concept that is popular in jewelry and you'll find many stylized versions of guardian angel jewelry out there.
Let's take a look at some amazing guardian angel jewelry ideas and how to wear this beautiful symbol.
What's a Guardian Angel?
There are angels and then there are guardian angels. These angels are believed to be assigned to protect and look out for a person. Accordingly, each person gets their own guardian angel.
This concept has existed for millennia and can be traced back to ancient Judaism. Here, angels are described as beings that carry out God's orders and pray on behalf of those they've been assigned to watch over.
In the 12th century, the Christian theologian Honorius of Autun stated that an angel was assigned to every soul as soon as it was put into a body.
In Islam, it's believed that each person is assigned two guardian angels, to walk before and behind the person.
In Zoroastrianism, each person is believed to have a guardian angel as a companion for life.
Signs of a Guardian Angel
Many believe that guardian angels communicate with the person they're watching over in small and subtle ways.
For example, it's believed that if you find a white feather on your path, it's a sign that your guardian angel is giving you a message of encouragement and reminding you that you aren't alone.
Others believe that finding coins, rainbows, flashes of light, the feeling of being touched, and symbolism seen in clouds are all evidence of your guardian angel following you and being near.
Symbolism of a Guardian Angel
There are many concepts that wearing guardian angel jewelry symbolizes. Here are some:
1. You Are Not Alone
The idea here is that someone is there to watch over and guide you no matter what. For many people, this is a comforting and positive view.
2. Good Triumphs Over Evil
A guardian angel represents positive and moral thinking, helping you to stay on the right path when you're being persuaded to do wrong. As a result, the image has come to symbolize the triumph of good over evil.
3. Purity and Innocence
A guardian angel symbolizes innocence and purity. Angels are believed to be perfect and free of wickedness. As such, wearing a guardian angel symbolizes the importance of such characteristics.
4. Strength
Having a guardian angel to watch over you gives strength and purpose. It shows that you're strong and confident in your path.
Types of Guardian Angel Jewelry
There are many beautiful ways to wear guardian angel jewelry, be it obvious and dramatic or understated and subtle. Let's take a look:
1. Guardian Angel Bracelets
These can be in the form of a charm hanging off the bracelet links where the guardian angel isn't the focal point of the jewelry or you can choose to wear the guardian angel in the center of the bracelet as featured below.
A bracelet is an excellent place to wear such symbolism as you can easily see the symbol every time you look at your hands. However, make sure you choose a piece that is comfortable and sits well on your wrist.
2. Guardian Angel Pendants
A pendant is probably the most popular way to wear guardian angel jewelry as it sits close to your heart. If you want the piece to be private, all you have to do is to slip it under your shirt or dress.
Most guardian angel pendants feature either wings or the image of a figure with wings. Often these can be stylized and made obscure so that the meaning of the pendant is less noticeable.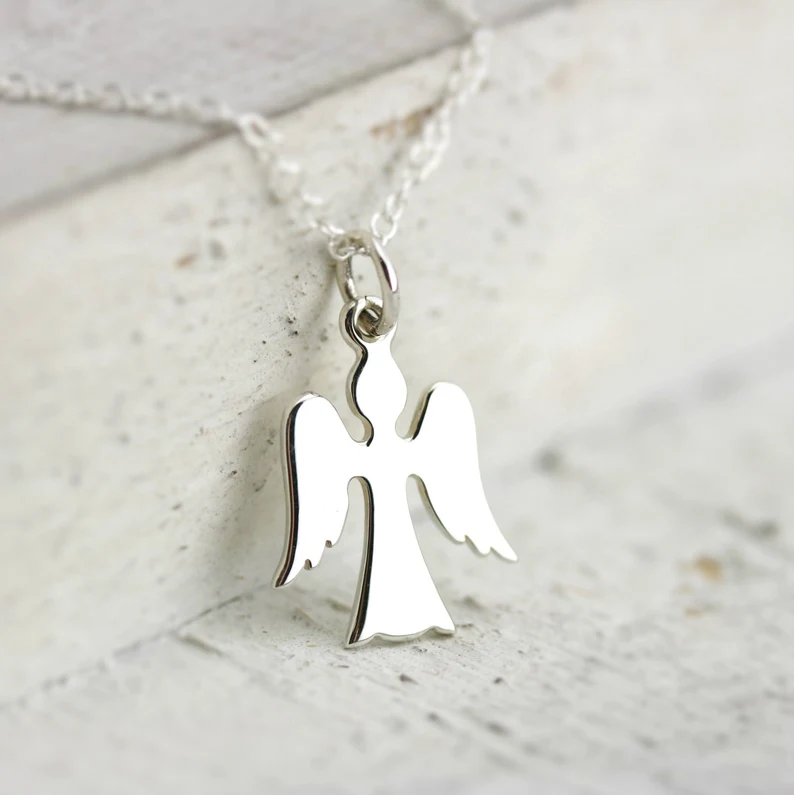 3. Guardian Angel Earrings
While earrings are a great option to sport your guardian angel earrings, they are only visible to others unless you look at yourself in a mirror. However, you'll still know that they're close to you.
How Are Guardian Angels Depicted in Jewelry?
In general, guardian angels are depicted as female figures with wings and long flowing hair. Sometimes images of Cupid or a cherub are used instead.
Another popular way is for attributes of a guardian angel to be chosen for the jewelry design. For example, wings are an excellent way to reference the concept without being too obvious.
Another way is to wear something that has connotations with guardian angels, like white feathers or lucky pennies.
Where to Buy Guardian Angel Jewelry
Many specialist religious shops will have guardian angel jewelry. However, if you search online, you'll have access to a wider range of choices and designs.
We recommend starting your search on Etsy as there's a stunning range of guardian angel jewelry here available at a range of prices. From pieces worth a few dollars to thousands of dollars, there's something for everyone here.
Ready to start looking? Browse guardian angel jewelry here.