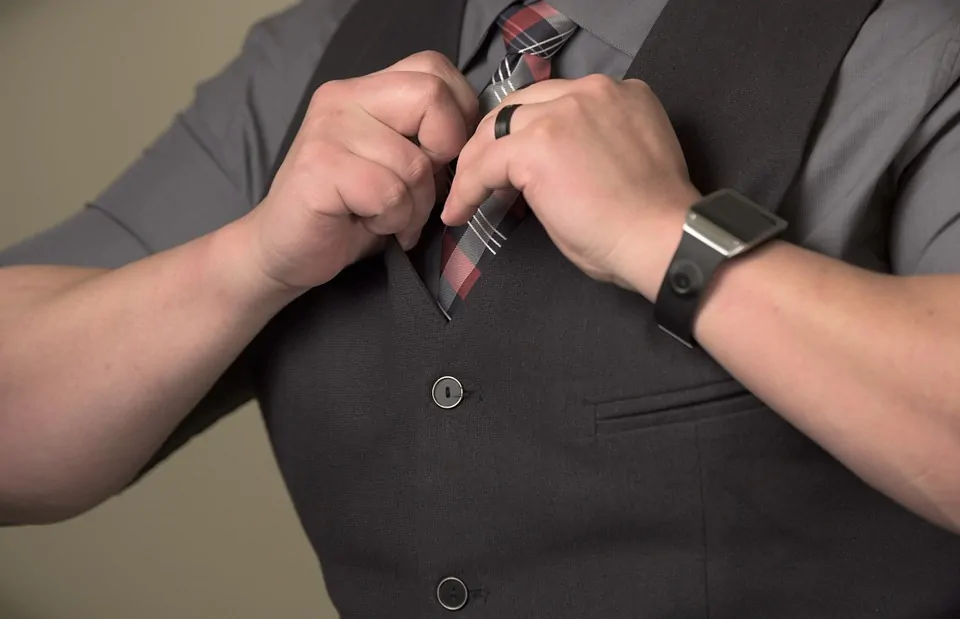 Gone are the days when you only had to choose between gold, silver, and platinum for your wedding ring. Today, there's a wide range of alternative metals available. And of these, zirconium has become a top choice.
This fascinating material has wide-ranging applications. It's excellent for industrial purposes like nuclear reactors and other impressive engineering feats, but it's also stunning in jewelry. A quick note here: Don't confuse zirconium with cubic zirconia (this is a lab-created diamond simulant). So, what exactly is zirconium, and why should you consider it for your wedding band?
What Is A Zirconium Wedding Band?
Zirconium is a natural element typically obtained by purifying other minerals, such as zircon with chlorine. This means that zirconium has to go through an extraction process before it can be used as a jewelry metal. Fortunately, the purifying process is inexpensive and allows for large quantities of zirconium to be produced at a very low price.
After it gets produced in this manner, zirconium has a silver-ish or greyish color at first. However, it's typically heat treated and exposed afterward to oxidize the metal and give it a rich black color. This is one of the main benefits of zirconium as most metals can only achieve such a black color through plating or antiquing, which tends to fade over time.
The black color of heat treated Zirconium, on the other hand, doesn't fade, doesn't tarnish, and doesn't change color. It's permanent.
After going through this treatment, black zirconium gets a very nice feel as the oxidized top layer feels like ceramic, while also being as hard as sapphire. The surface can be given various finishes, such as brushed, hammered or polished.
Why Buy a Zirconium Ring?
Like many of the modern jewelry materials that have risen as alternatives to traditional metals, zirconium outshines them in more than one regard. Here we've summarized the key benefits you can expect from this wedding band material:
1. Budget-friendly
Zirconium is much more budget-friendly than other jewelry materials. There are less expensive materials out there, but zirconium remains relatively affordable. You can expect excellent zirconium rings and wedding bands in the lower 3-digit price range, such as this black zirconium ring. Of course, you can also find more pricey options, like this black zirconium ring with a 14k rose gold sleeve. There's plenty of variety to choose from.
2. Hypoallergenic
These rings are hypoallergenic, so if you're worried about metal allergies or sensitivities, you don't have to. They're safe to wear and comfortable as well.
3. Beautiful Black Color
Treated zirconium has a permanent black color that doesn't fade which is very rare in the jewelry world. The black and dark grey colors zirconium comes in are very much in fashion today as black has become the new gold for wedding rings. Modern couples tend to gravitate towards the darker colors that zirconium offers, especially in combination with other metals and gemstones.
4. Workable
Zirconium is a malleable and workable metal, making it easy for jewelers to craft designs and include various finishes in their jewelry. This means that zirconium wedding bands are available in a large variety of different designs compared to other alternative metals. They can also be paired with gemstones and other metals for more design options.
5. Durability and Hardness
Zirconium is overall very strong, durable, and shatterproof. This sets it in the same category as titanium and tungsten carbide, so you won't have to worry about whether it's going to last you a lifetime or not – it probably will. Even though the metal is very hard, in an emergency, it can typically be cut off the finger without causing complications.
6. Resistant to Corrosion
One more thing zirconium is known for is its very high resistance to corrosion. It's both biocompatible and non-toxic, great properties that allow it to be usable in the space and aeronautic industries, as well as in the medical industry. This also makes it ideal for jewelry applications, as it gives zirconium a prolonged life in excellent condition.
7. Easy maintenance
Zirconium rings are very easy to clean and maintain. They can be kept clean with a piece of cloth and some warm, soapy water. Plus, they require no replating or polishing as their dark color is permanent.
8. In Style
Zirconium is a relatively new metal in use for wedding bands, but it's rising in popularity. It's excellent for someone who wants something different and out of the ordinary. What's more, zirconium rings are unisex, so getting your wedding bands to match will be no trouble at all.
What We Don't Like About Zirconium Rings
Of course, no material is perfect, and that goes for zirconium as well. Regardless of all the pros, there are a few downsides that you need to bear in mind.
1. Resizing
Like many other modern jewelry materials, it's very difficult to resize zirconium. It's not impossible, but the costs and process generally aren't worth the effort. Finger sizes tend to change with time which means that you're ring may not fit down the track. Some vendors may offer an exchange policy for when a ring that can't be resized doesn't fit anymore. Check this at the time of purchase. Most people want a ring that lasts a lifetime, so changing your wedding band for another can be an unpleasant experience for a lot of people.
2. Limited Colors
While zirconium allows for a variety of shapes, styles, and designs, it doesn't come in many colors – mostly just black and grey. This is partly offset by the fact that it can be easily combined with other materials for a more colorful design, but the fact remains that it's limited to just these two colors.
3. Fad or Forever?
As a newer jewelry material alternative, zirconium doesn't have the same classic feel as gold, silver, and platinum. It's popular, yes, and it will likely be popular for decades to come, given its excellent qualities, but it still hasn't passed the test of time.
Should I Buy A Zirconium Wedding Band?
With all these benefits of zirconium rings, it's not difficult to see why they are growing in popularity. They bring a lot to the table and offer some things that the more classic wedding band materials don't. Still, whether you should opt for zirconium or for another material is ultimately up to your personal preferences and values. Here's a quick summary of the main reasons why you might want to consider zirconium wedding bands:
A unique aesthetic for wedding bands
Moderate prices that won't break the bank
Easy to clean and maintain
Eye-catching colors and textures
Durable and long-lasting
Hypoallergenic
And, if any of the following drawbacks are a deal-breaker for you, then don't buy a zirconium wedding band:
Not traditional
Can't be resized easily
Don't carry the prestigious tag of some precious metals
Where to Buy a Zirconium Ring
Because zirconium isn't a mainstream metal, you won't find a lot of designs featuring this metal. It's highly likely that you're local store doesn't stock zirconium rings, so taking your search online can give you a wider access.
We recommend searching on platforms like Amazon and Etsy for a wide range of zirconium rings. As always check the seller's reputation and the quality of the product. Because zirconium rings aren't all that expensive, the risk is low when purchasing them.
We've also found that popular stores like Blue Nile can sometimes carry zirconium rings, but this is very sporadic and really depends on their availability. When they do carry these products, they're expertly crafted and of excellent quality.
Wrapping Up
Zirconium wedding rings are a modern, durable, and cost-effective option, particularly appealing to those looking for a unique and contemporary aesthetic. It's easy to see why they're becoming so popular! If you're looking for one of these rings, congratulations on making a unique choice, and good luck shopping!