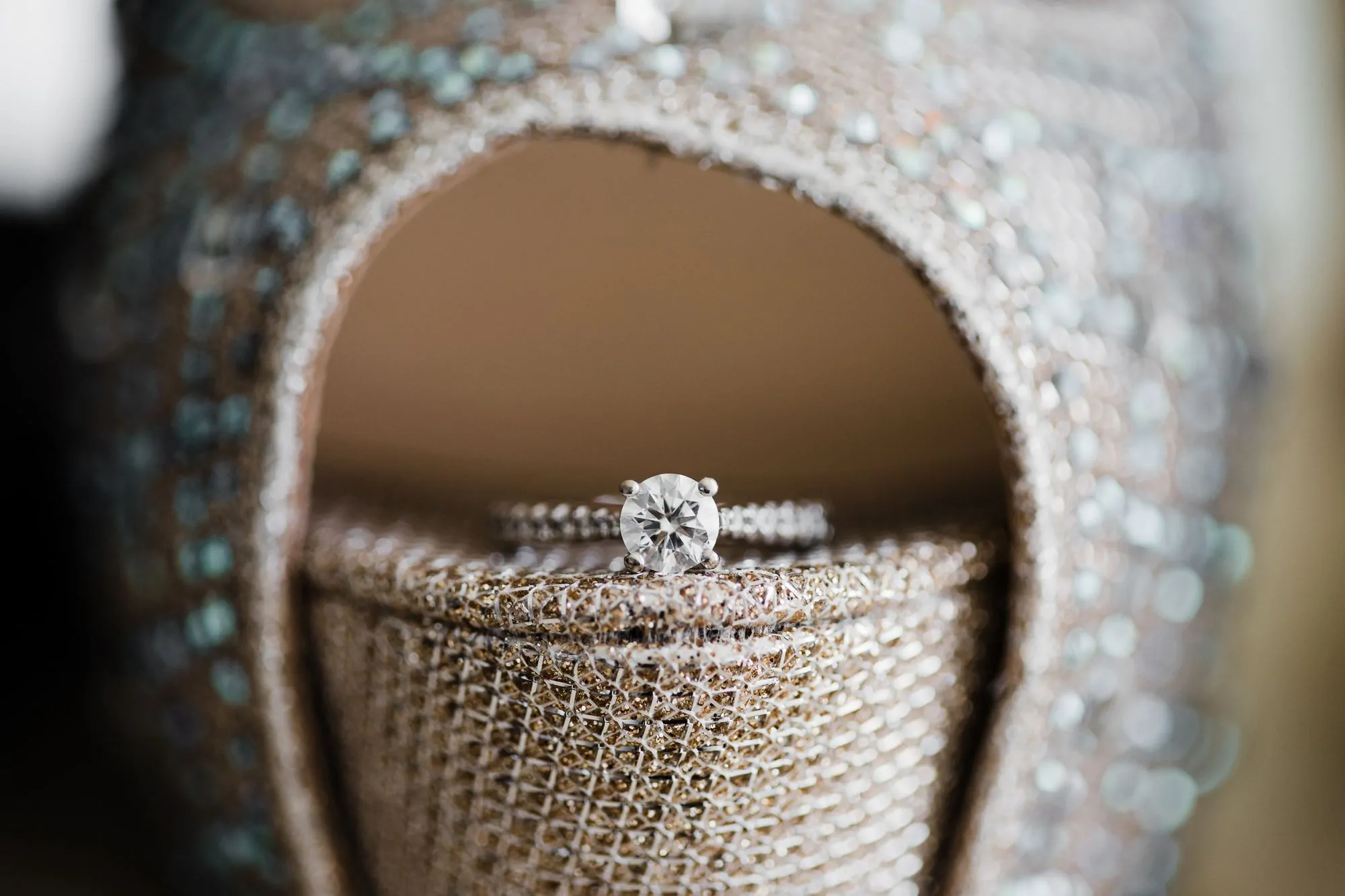 As Jewelry Shopping Guide editors, we write about things that we love and we think you'll like too. We often have affiliate partnerships, and may generate some revenue from these links at no cost to you.
Most people want a large, flashy diamond sitting on their finger and sometimes a smaller diamond just won't do after a while.
Whatever your reason for wanting to upgrade your engagement ring, the good news is that there are many ways to do this and most retailers offer upgrade services. The bad news is that upgrading diamonds is a tricky business with lots of pitfalls to look out for.
So, if you are thinking about a diamond upgrade, here's what you need to keep in mind.
Why Upgrade Your Diamond?
Like we mentioned above, there are many reasons for upgrading a diamond engagement ring. Here are some very legitimate reasons:
You purchased a ring with a smaller diamond for budgetary reasons with the aim of upgrading down the track.
There's a big anniversary coming around and you want to treat yourself.
Times have changed and other diamond shapes and cuts are fashionable now, and you're one who wants to keep with the times.
The ring is an old family heirloom that needs to be modernized.
The diamond is big enough but of a low or mediocre quality and you would like to have a better-quality diamond now.
You just want something bigger to reflect your new social status.
How to Upgrade Your Diamond
Unfortunately, you can't just pop out the current diamond and stick one that's twice as large in its place. In fact, you probably won't want to since there is a significant risk that the bigger stone won't sit well with the whole composition of the ring.
At the same time, upgrading your diamond with just a slightly bigger stone may end up being ineffective as the difference won't be noticeable enough.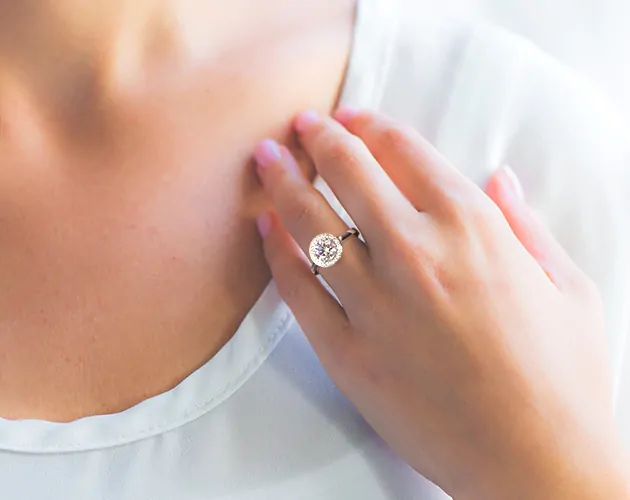 To avoid such problems, here is a list of the main things to consider when upgrading your diamond:
Do you want to upgrade the quality or the size of the diamond? If you want to make your engagement ring more impressive, upgrading the quality of the ring can be both easier and more effective than upgrading the size.
There is a difference between carat weight and mm size. Just like people, diamonds of similar sizes can have different weights and diamonds of similar weights can be different in size. Upgrading a diamond to a higher carat weight but a similar size may be disappointing if you wanted a larger stone. For example, a shallow cut diamond and a deep cut diamond will look different when set in the ring setting.
Make sure the new stone goes well with the old ring, its setting, and the side stones that might still be on it. It's an easy mistake to just buy a newer stone that looks bigger and grander but doesn't fit well with the ring itself. You don't want to splurge a ton of money on a stone that will actually make your ring look uglier.
Consider the balance of the whole ring. A larger stone may not just look unappealing with your ring but it can even throw off its physical balance. Such a diamond can make the ring heavier and can obstruct your movements.
Pay attention to the quality and price ratio of the new stone. Many stores, especially ones you return to because of the upgrade agreement they've offered you when you first purchased your ring, will look for ways to milk as much money as they can from you. Always compare the quality and price of the stones they are offering you with other jewelry vendors and consult independent experts.
Can You Upgrade the Setting of The Diamond?
Another key question to ask is whether you can upgrade the setting of your diamond? Most settings are designed for specific stones and cannot be tweaked and modified. Buying a stone that doesn't fit your ring's setting well can mean that you might need to replace the entire ring as well. Consult a jewelry expert to make sure that whatever you're about to upgrade too will fit well in the ring's setting.
A good example of a ring setting that cannot easily be upgraded is the tension setting. This type of setting is very hard to upgrade or resize as the ring is crafted to exacting precision and any changes can affect the integrity of the ring. To avoid potential issues, you must check this with your retailer before you purchase.
Some people choose to purchase a new setting along with the new diamond, and in this case, the retailer would return the original empty setting back to you.
What Happens If the New Diamond Doesn't Fit in The Old Setting?
In some cases, you might be able to replace the setting while keeping the ring itself. By setting, we mean the section of the ring that clasps onto the diamond. Often, this is a basket, prong or bezel setting.
Replacing only the part that holds the diamond is a great option if the ring has a special sentimental value to you and you don't want to change it too much and also if the ring has included side stones and melee diamond embellishments. Not all settings can be replaced, unfortunately and you would have to have the setting replaced to accommodate the new diamond.
Can I Change the Shape of the Diamond?
Changing the shape of the diamond while upgrading is not out of the question. Many shapes can fit equally well in certain settings and rings. Princess cuts, round brilliant cuts, even oval and heart-shaped diamond can fit in similar settings and can look good with the same side diamonds and ring bands.
However, again, it depends on the specific type of setting. In some cases, all you would need to do is have the prongs tweaked to hold a new shape. In others, you would have to replace entire sections of the ring to do so.
Is It Worth Upgrading Your Diamond or Should You Just Buy A New Ring?
Basically, this question should be answered on a case by case basis. If you can avoid the typical pitfalls of diamond upgrade practices (grossly overpaying for the new diamond, getting scammed with a low quality diamond, choosing diamonds that don't' go well with the ring, choosing diamonds that don't fit in the ring, having to replace the upgrade diamond several times…. the list of horrors goes on!), you can indeed get an affordable and high-quality upgrade for your ring that will make it look much better and breathe new life into it.
Just don't ignore the other alternatives such as simply buying a new ring, adding side stones to your ring instead of replacing the main one, or trading in the entire ring for a new one. All of these options can also bring you the change you wanted for, sometimes, a similar or even smaller price.
Which Stores Have the Best Upgrade Policies?
Considering a store's upgrade policy is very important not just when you're looking for an upgrade but when you're making the initial purchase as most rings usually come with a lifetime upgrade clause.
Note that most retailers, even the ones listed below, will not cover the setting when upgrading your diamond. This means that you will have to pay for a new setting if your upgrade requires it. For example, James Allen goes first inspects the ring and new diamond for the upgrade and then will determine the cost to modify the setting to accommodate the new diamond. You can then decide whether or not you want to go with the upgrade.
Here are the stores out there that we think have the best upgrade policies:
James Allen
James Allen's Lifetime Upgrade Program offers a diamond exchange rate where a diamond bought from them can be returned for 100% credit for any stone of at least twice the value. This means that if you buy a diamond for, say $3000 you would need to purchase one that's at least $6000 to make use of their upgrade program. Just make sure you hold onto your original lab grading report and keep the stone in its original condition.
Blue Nile
Blue Nile aren't just famous for having the largest online inventory of diamonds and settings and for offering them at very fair and affordable prices. Blue Nile also have a great Diamond Upgrade Program for their AGSL and GIA graded stones. Purchasing from or upgrading at Blue Nile guarantees high quality and at competitive prices.
Brian Gavin Diamonds
Brian Gavin's Lifetime Upgrade Policy  only cover their Signature Hearts & Arrows collection and their Blue Collection. When upgrading, the general terms are that you'll receive 100% of the original purchase price, minus shipping, and simply pay the difference.
Whiteflash
The Lifetime Trade Up Guarantee of Whiteflash allows you to upgrade your stone with their large collection of "A Cut Above®" diamonds that come in all shapes and design choices. Unlike some other vendors, Whiteflash allows you to upgrade from any of the three main in-house categories that they offer. The new diamond has to be 50% or 100% the value of your old stone.