As Jewelry Shopping Guide editors, we write about things that we love and we think you'll like too. We often have affiliate partnerships, and may generate some revenue from these links at no cost to you.
Accessories are a great and inexpensive way to revamp an outfit—and a statement necklace is a way to go. Bib necklaces come in all shapes, sizes, and styles, and are great for dressing up your office outfits and party dresses. If you want to show off your unique style, keep on reading for stylish ways to wear bib necklaces.
What is a Bib Necklace?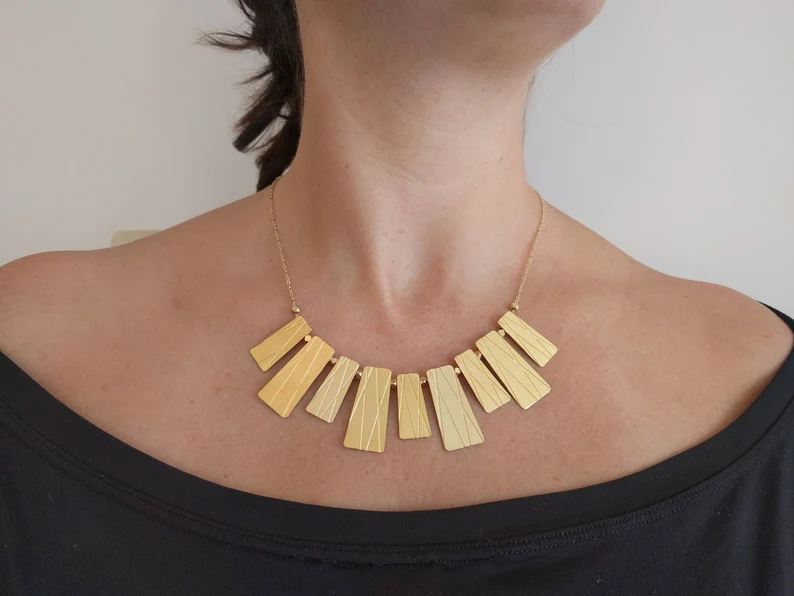 Variations of bib necklaces have been found among 7th-century Roman and Greek jewelry. In fact, the necklace style has cycled in and out of fashion throughout history from vintage and romantic to modern and avant-garde styles.
As the name implies, a bib necklace resembles a baby's bib with a circular or triangular shape that drops below the collarbone. It's a dramatic piece of jewelry designed with oversized stones, enamel, jewels, pearls, or beads in a cascading style. Most bib necklaces are made of metal, but some jewelry designers opt for light materials like lace and tulle fabric to make the accessory wearable year-round.
It is called a statement necklace for a reason—it is unique, chunky, and grabs all the attention, making it a defining piece of your outfit.
How to Wear a Bib Necklace
If you're thinking about wearing a bib necklace, here's how to do it right:
1. Choose a necklace style that reflects your personality.
While women with a classic, refined style might opt for jewelry with rhinestones and pearls, a woman with a trendy fashion personality may prefer enamel-designed necklaces in bold pops of colors. Fringe necklaces channel a carefree attitude, while floral necklaces reveal the romantic personality of the wearer. Pick the style that reflects you or, alternatively, gets you out of your comfort zone with a unique style that you wouldn't normally wear.
2. Pick the right necklace for your body shape and outfit.
Flaunt your assets and downplay aspects you don't love by choosing the right type of bib necklace. If you have a short neck, avoid bib necklaces in choker styles that only make your neck look shorter. If you're on the busty side, avoid bulky, bib necklaces that create an unbalanced look. If your outfit has intricate details and loud prints, it's better to opt for simpler bib necklaces to avoid an over-the-top look.
3. Less is more.
Bib necklaces are statement-making, so avoid wearing chandelier earrings and sparkly hair accessories at the same time. You can wear a matching set of stud earrings and a bib necklace, but don't overdo it. You can still coordinate your smaller jewelry with your statement necklace by sticking to the same color or metal. Remember, bib necklaces are designed to steal the spotlight, so let them do that, as wearing too many statement pieces at once can be distracting.
4. Match the right necklace with the right neckline.
The best way to make your bib necklace stand out is to wear it with the right neckline. If you're wearing a dress with an asymmetric neckline, better skip the necklace. Off-shoulder tops, turtlenecks, strapless dresses, collared shirts, and plunging necklines look best with a bib necklace. If you're wearing a collared shirt, opt for choker-style necklaces that sit nicely on your collars. On the other hand, plunging necklines call for waterfall-like necklaces to keep everything balanced.
5. Wear your bib necklaces at the right place and time.
Some necklace styles look stylish at a party, but not professional for the office. When choosing a bib necklace to wear at work, go for ones that are not too bright or noisy. In a creative workplace, you can wear colors and sparkles—but save those oversized jewels and blinding hues for the weekend. Bib necklaces with pearls and small crystals will look classy and at the same time, professional.
6. Don't be afraid to experiment and own the look.
The key is to start within your style comfort zone, wherever that may be, and work your way up. Whichever style you choose, wear it with confidence and own the look or you'll look like someone forced to wear a necklace they didn't want to put on in the first place.
7. Create endless outfits with bib necklaces.
These statement necklaces can change the overall look of your basic outfit whether it's a little black dress, button-down shirt, classic blazer, or a turtleneck top. The key is to mix and match your accessories from your necklace to your bag and shoes to create a new look. Even if it's just a tee and jeans, a stylish necklace can make you look put-together and chic.
What to Wear with a Bib Necklace
Pairing a statement necklace with the right outfit can be daunting, but bib necklaces are actually very versatile.
1. A Strapless Dress
A bib necklace has a circular or triangular shape that just exposes beautifully with a strapless dress. It serves as more of a collar or neckline than jewelry, making it a part of your dress design. Think of a necklace with a chunky, bejeweled style, to add sparkle to your dress. However, if your dress has a lot of details and embellishments, it's better to opt for a simpler necklace style.
2. A Collared Shirt
You may feel a little limited by your office dress code, but the right jewelry can revamp your traditional work outfits. Spice up your classic button-down shirt with a bib necklace that looks chic yet professional. You can wear the necklace with an open collar, but it looks best when the shirt is buttoned all the way up. The key is to opt for a necklace style that is sophisticated—not too loud or tacky. After all, looking polished at work doesn't have to be boring.
3. A Blouse with a Deep Neckline
Wearing a statement necklace is an easy way to completely change the look of an outfit in seconds. Do you have a blouse you can't wear because of its revealing, deep neckline? A bib necklace can fill in the space and offer some skin coverage. Just opt for longer styles with a triangular or waterfall-like design. This way, you'll make your necklace more functional, and your blouse more modest yet stylish.
4. A Jacket or a Blazer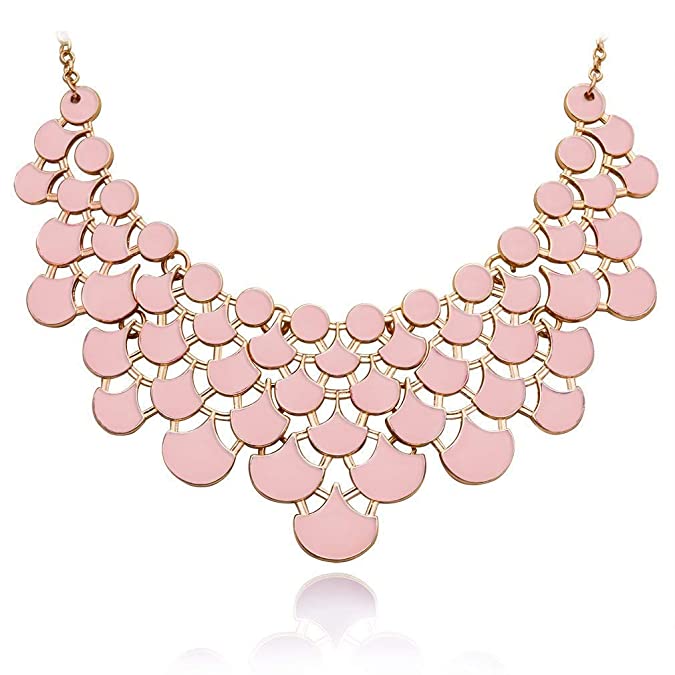 Bib necklaces can take you from parties to weekends when worn with a jacket or blazer. If you want to dress up your favorite denim jacket, think of a necklace with a colorful enamel design, be it neon or pastel, that's just perfect for the weekends. On the other hand, bib necklaces designed with pearls and rhinestones will make your blazer and heels combo more sophisticated.
5. A Top with a High Neckline
Turtlenecks and shift dresses might look basic, but a bib necklace can make them interesting. Most of the time, turtlenecks add some weight to the top of your beady and can make the top half of your body more prominent. To make everything look more proportioned, just oppose the high neckline with a longer necklace in a triangular shape.
6. A Monochromatic Outfit
Bib necklaces are the perfect way to update your wardrobe without spending a fortune. It not only brings attention to your face but also adds texture and color to your outfit. The rule in monochromatic dressing is to vary the textures of your overall look from accessories to outfits. If you want to go all black, you can do so with your necklace—but keep it shiny and statement-making.
Bib necklaces with sparkling stones, lace trims, and metallic finish can add dimension to your looks. On the other hand, a bold-colored necklace would stand out against an all-white ensemble. If you like, match the color of your jewelry with your handbag and shoes to make everything cohesive.
7. An Old, Casual Outfit
A bib necklace is an accent piece, so it should be paired with something basic. If you have an outfit that is not 'new' anymore, just wear a stylish necklace with it, and nobody will notice that you've worn that outfit more than once. Casual ensembles like tees and denim look great with bold-colored necklaces. The combination creates a casual-chic vibe that's just perfect for Sunday brunches and girls' night outs.
Where to Buy Bib Necklaces
Online stores like Etsy and Amazon are great spots to try the accessory trend without a big commitment. From vintage to romantic or anything in between, these stores offer various bib necklace styles to suit your taste. Regardless of your personal style, there's a statement necklace that will surely fit into your wardrobe and everyday looks.
While there will always be a place in our jewelry box for classic necklaces, sometimes simply just won't cut it. Of all the accessory trends of the season, bib necklaces are the easiest to hop on and the most affordable option for creating a fashion-forward look. It can stand on its own and won't just fade into the background, so you won't have to worry about buying new outfits or accessories.