As Jewelry Shopping Guide editors, we write about things that we love and we think you'll like too. We often have affiliate partnerships, and may generate some revenue from these links at no cost to you.
A little black dress (LBD) is a style staple that every woman should have in her wardrobe. A simple black dress can be worn on many different occasions and can take you from day to night with the right accessories. Find ideas for accessorizing a classic black dress from head to toe for a wedding or formal event below.
The Most Versatile Black Dress Styles
Every woman can find a dressy black dress to suit her style. Whether your go-to looks are refined or bohemian, the right cut and fabric will leave you with a versatile black dress that can be accessorized to suit any occasion.
To make the most of a black dress, buy a timeless style that can be updated with on-trend accessories. Styles with a midi to knee-length hem are the most versatile as they are casual enough to be worn during the day and can be dressed up with the right jewelry when worn to weddings or formal events at night.
A classic sheath, A-Line, or wrap dress with a hem just below the knee is a timeless choice. Opt for a cute cap sleeve or demure 3/4 length sleeve that is refined enough to wear to the office but sleek enough for an event.
For dresses more suited to formal or dressy events, look for figure-hugging body-con or halter neck styles. Just be sure to keep the length longer than the knee to offset the sexy cut of the dress.
For a more casual LBD, look for a simple slip or cute shift dress with a hemline that is just above the knee. Keep the fit loose to offset the shorter hem.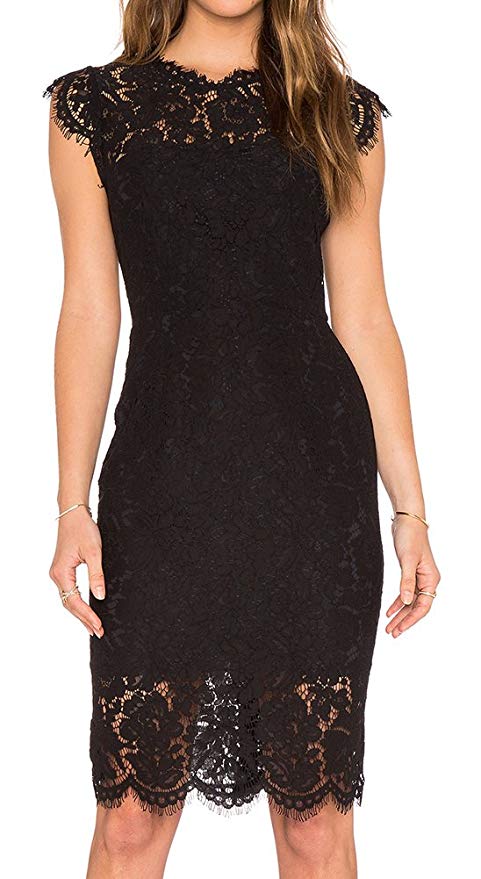 Black dresses made of simple fabrics such as satin, silk, or crepe are the best blank canvases and can be accessorized to suit any style or occasion. However, if your style is more feminine or bohemian, lace dresses and dresses with frilly or fringe finishes can also be styled to suit many different looks.
How to Pair Accessories with Your Dress
How you pair your black dress with accessories depends completely on the occasion you're dressing up for.
Your event invitation will dictate how you accessorize a black dress. If the invite is formal and calls for all the bells and whistles, then you can add as much jewelry and accessories needed to dress up your black dress. But it's always a good idea to try and keep your adornments to one or two pieces to avoid an over-the-top outfit with accessories that don't suit each other.
You also want to take into account how formal your dress is on its own. As mentioned above, some dress styles are inherently fancier than others. The same goes for fabrics: a satin or lace black dress will already look dressier than a jersey, nylon, or rayon dress.
Next, take a look at your dress and see what design features jump out at you. It may be the feminine feel of lace, the shine of silk or satin, the edgy silhouette of an asymmetrical cut, or the playful feel of a shift dress. Keep this in mind when looking for accessories. For example, sleek jewelry will be more suited to an edgy asymmetrical dress as opposed to a lace dress; and fun bauble earrings will be more suited to a shift dress rather than a classy satin halter.
Where to Start Looking for Accessories
Even something as simple as a plain black dress can be overdone with too many accessories. So, start by choosing something you have your heart set on. Whether it is a pair of statement heels, a show-stopping necklace, or cute hair accessories to compliment your dream hairstyle; start with one special piece and match your other accessories to that.
For example, a pair of patent pump heels should be paired with a demure black clutch as opposed to a loud Fuschia clutch as these colors would clash. The same goes for jewelry. If you're wearing a statement necklace, keep your earrings simple and instead opt for an eye-catching ring or layered bracelet.
How to Accessorize with Color
A black dress is perfect for experimenting with color in your outfit as it is essentially a blank canvas. Jewel-toned accessories will work best with formal events. Think deep purple, emerald green, ruby red, and, rich sapphire blue. Darker colors will also look better with black, especially for evening events, as the contrast is lower.
Embellished clutches and headbands are an unexpected way to add a splash of color to an outfit. Choosing a headband, hairclip, or clutch with several tones will make it easier to match color-blocked accessories elsewhere in your outfit. For example, if you have a jewel-toned headband with a few ruby red stones in it, then a bag or shoes in the same shade will suit you well.
If you are having trouble matching colors exactly, opt for a black bag and shoes and simple diamond jewelry rather than ill-matching colors. This look will suit any black dress but works especially well with vintage and lace dresses.
A single splash of color in your shoes, bag, or belt is also a safe choice. Red is always a good choice as you can easily tie your look together with red lipstick.
How to Make Your Black Dress Look Modern
If your formal event calls for an outfit that is modern, then a black dress is the perfect place to start. Black exudes chic simplicity – a perfect base for a modern outfit. Strappy silver or black heels paired with sleek jewelry will keep your look modern.
Take it to the next level by donning bold, architectural accessories inspired by geometric shapes and glistening fine metals. This look will suit any black dress in a simple fabric, particularly A-line dresses, hi-low hem dresses, or shift dresses.
Dresses made of lace, crochet, or feature feminine designs such as frills or full skirts are better suited to other accessories.
How to Make a Black Dress Look Fun
A black dress may not exude fun on its own, but again, it's the perfect blank canvas for bubbly accessories. If your dress is more on the feminine side with lace or frilly details, look for fun feminine accessories that feature florals or tassels.
If the event permits, a floral brooch is a simple addition that will perk up a black dress. Why not finish off with playfully layered pearl and diamond bracelets and a pretty peach or pink clutch?
If your dress is more on the structured side (think shift, fitted sheath, or slips), look for accessories in fun shapes. Multicolored bauble earrings paired with a bold-colored shoe will suit a fun shift dress. For a pared-back playful style, look for demure-colored earrings in quirky shapes or a pair of bright heels.
How to Make a Black Dress Look Boho
As the color black is quite polished, a loose-fitting black dress is best suited to free-spirited looks. Simple slip dresses or lace shift dresses will suit bohemian accessories well.
Layering is everything when it comes to bohemian looks. Look for necklaces with varying lengths and even mixed metals to add to a simple black dress. Layered rings and stacked bracelets can also be worn at the same time if the dress is very simple.
A fine rhinestone or crystal headband is worn across the forehead will also add a dressy-festival vibe to your outfit. Finish the look off with simple strappy sandal heels and a matching fringed clutch bag.
The Ultimate Classic Pairing
If you took Audrey Hepburn out of Breakfast at Tiffany's and into a formal event today, she wouldn't look out of place. This is because diamonds, pearls, black pumps, and a simple black dress exude timeless elegance.
There is nothing outlandish or trendy about these pieces. On their own, they are each a timeless investment piece – together, they're a match made in classic-chic heaven. This look will suit any little black dress but is best suited to perfectly fitted, simple dresses. If you're ever unsure of what look to go for, then having each of these pieces in your wardrobe is a simple, safe and stunning solution.
The Takeaway….
A little black dress is a timeless canvas by which you can express your personality using accessories. Whether you want a classic, bohemian, vintage, fun, or flirty look, choosing the right accessories will help you achieve the style.
Because of black's neutrality and ability to pair with any other color, an LBD is versatile and can be combined with a variety of accessories to achieve different looks every time.