From being one of the top shopping destinations in the world to now being officially recognized as a top ten fashion capital, Singapore has a lot to offer jewelry lovers. Whether you live there, are visiting or simply transiting through, don't pass up the opportunity of exploring what the island has to offer.
In Singapore, you'll find all the top brands such as Tiffany and Cartier, but you'll also find a host of local designers and jewellery retailers who have grown to have an international presence. Whether it is fine jewellery, gold jewellery, jade, pearl or avant-garde designs, we've got you covered in our list below.
Here we outline the top jewellery stores in Singapore known taking their range, quality, customer service, reviews and after sales policies into consideration.
1. Lee Hwa Jewellery
Lee Hwa is one of Singapore's best fashion jewellery labels, offering jewellery inspired by the trends of the fashion runways. The company has a commitment to bringing global fashion into their fine jewellery collections, constantly creating on trend designs to coincide with the seasons.
Lee Hwa is known for their innovation, being the first to create purple gold in 2000. While purple gold might sound like a contradiction in terms, it's worth checking out their exclusive Purple Gold collection which is like nothing you've seen before. This collection is their signature range, showcasing stunning violet-colored metal in beautiful nature-inspired designs.
In addition to this, Lee Hwa offers a range of brands and exclusive labels to choose from on their site. They also allow you to design your own jewellery, and have a personal designer service as well.
2. Po Heng Jewellery
Many people go to Singapore to buy gold jewellery. Known as Singapore's leader in gold jewellery for over 70 years, Po Heng has been around since the 1940s and knows the gold business well. Their specialty is in working with 22-karat gold, which is almost pure gold. This is why their 22K gold jewellery pieces have an intriguing and arresting hue.
One thing we liked about Po Heng is their wide variety of fine jewellery, comprising everything from anklets to engagement rings. While they do feature other jewellery with other metals and gemstones, gold remains their main focus. Po Heng's designs are fine and delicate, with nature-inspired filigree work, gemstones and precious metals used in their pieces.
3. Goldheart
Goldheart is known as one of Singapore's largest fine jewellery retailers, with branches around the country. They have a strong presence in the Singaporean jewellery scene and are definitely worth checking out if you want high quality jewellery at competitive prices.
Goldheart feature modern jewellery designs using precious metals and gemstones. They are also the leading bridal jeweller in Singapore, meaning that if an engagement or wedding ring is what you're after, this should be your first port of call. Goldheart has a very wide range of collections, with a common theme of love and romance.
4. Choo Yilin
If jade is your thing, you must check out Choo Yilin, a brand that works with fine Burmese jadeite. They are the only modern jade jewellery line in Singapore, bringing jade into the modern jewelry world.
While Choo Yilin highlights jade pieces in their jewellery, they go a step further, adding a unique touch to their pieces by combining jade with other materials. The jewellery is well designed, with intricate filigree workings and stunning color combinations.
What we loved best about Choo Yilin, apart from there quality and creativity, is their desire to bring their Asian heritage into their pieces. The collections are unmistakably Asian, and a beautiful way to share and honour their Asian roots. Each piece of jewellery at Choo Yilin is a testament to their commitment to excellence and heirloom-quality pieces.
5. Peach Blossom Gallery
In Asian cultures, jade remains one of the most highly sought-after gemstones. If you are after genuine jade jewelry at competitive prices, then Peach Blossom Gallery is a great option. The company specializes in fine modern jadeite jewellery and is known for their trustworthiness and quality of their jadeite.
For those who think that jade is an old-fashioned gemstone, Peach Blossom Gallery challenges you to think again. Their jewellery is beautifully designed, bringing jade into the forefront.
6. Flower Diamond
If high-end luxury is what you are after, why not check out Singapore's own luxury jeweller, Flower Diamond? Flower Diamond has many fans from Mariah Carey, Hilllary Swank and Malaysian Royalty and is popular the world over.
While prices here are not inexpensive, Flower Garden's jewellery collections are well worth browsing through even if you don't plan to buy. Each piece is crafted to cater to the highest standards. The jewellery on offer here is elegant, luxurious, and contemporary. If you have deep pockets, check Flower Diamond for perfect pieces to cherish forever.
7. Mikimoto
Although Mikimoto is a famous Japanese pearl brand, they have a large following in Singapore and a well-established presence on the island. Mikimoto is known for their luxurious, high end pearl jewellery and high quality jewellery settings.
With Mikimoto, it's all about the brand and the luxury associated with it. They set the standard against which other pearl stores are judged. Mikimoto's designs are exclusive and feature exquisite craftsmanship.
8. Carrie K
If you want your jewellery to tell a story and express your personality, Carrie K might be just the thing you're looking for. Established in 2009, Carrie K focuses on unconventional jewellery with each piece designed to be meaningful and to tell a narrative.
Each piece is unique, confident and contemporary. The designs are sometimes daring and push the boundaries of conventionality, and yet remain ever wearable and classy. Most of the jewellery here are made for those who want to stand out and who have maximalist tastes, but you will also find dainty pieces. Check out their Nuts & Bolts, Reborn and Star collections that feature some of their classics.
Carrie K has a good online presence and offers their jewellery via their website. They are definitely worth checking out if jewellery as self-expression is important for you.
9. Li-Hong Jade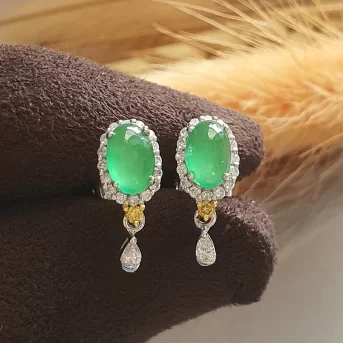 If you still haven't found your jade retailing soulmate, Li-Hong Jade is a great option. They work with quality jadeite and with close to 50 years of expertise in the business, they are experts in the field.
Apart from their jewelry collections, they also offer jewelry and jadeite customization and restoration. If you have a piece of jade already and want to have it set, or if you already have some old pieces of jade jewelry but wish to have it restored, this is a good place to take it to.
Wrapping Up
There's no shortage of excellent local designers and jewelry retailers in Singapore, so whether you're there for a holiday or simply passing by, don't miss out on checking what Singapore has to