We often neglect to think about jewelry clasps, but they're an important part of any jewelry. The type of clasp can add to the beauty of jewelry, giving it a sophisticated, elegant appearance. It also has a big impact on the durability and strength of the jewelry.
The types of jewelry that require clasps are mainly necklaces, bracelets and anklets. Designers often choose the type of clasp depending on the size, style and quality of the jewelry.
If you want a quick look, jump to our infographic at the end of the article that features all the types of clasps we talk about in the article.
If not, keep reading.
Here's a look at main types of jewelry clasps and which one is the most secure.
Jewelry Clasps
1- Lobster Clasp
Probably the most widely used type of jewelry clasp, the lobster clasp is so called because it resembles a (lobster) 'claw'. To open the claw, you simply have to push down on the little lever. Releasing the lever will automatically shut the claw. Lobster clasps are spring-loaded and their best feature is that they're self-closing.
Lobster claws come in a variety of sizes and styles and can also be designed in various shapes. It's highly functional and perfect for almost all types of jewelry. The size of the clasp should correlate to the size of the jewelry. A small lightweight lobster clasp works well for a similar chain, while a large, thicker chain should have a larger clasp.
2- Bolo Clasp
Bolo clasps are very fashionable and perfect for sliding bracelets or necklaces. They allow you to adjust the jewelry to fit you perfectly. They're easy to put on and size, giving you options with how you want your jewelry to fit.
Bolo clasps are used in lariat necklaces but most commonly in bracelets. Because of their versatile design, the clasp itself can take a central role in the jewelry.
While the bolo is a sturdy little bead that holds the chains together, the chains themselves can sometimes break, especially if they're thin.
3- Barrel Clasp
Barrel clasps are also called torpedo clasps. These work via a threading mechanism, where you have to twist the clasp to open and close it. Usually, when the clasp is twisted close, it resembles a barrel, hence the name.
Barrel clasps aren't ideal for bracelets because it's difficult to do up with one hand. It's also not a good option for anyone who has issues with their hands, as it takes some amount of skill to fit the clasp. Even so, barrel clasps are a very safe option and a sturdy clasp for most jewelry.
4- Box Clasp
A box clasp works by inserting a little tab into a box-shaped frame, with a little hinged clasp used to cover the opening. Box clasps are elegant and stylish and integrate seamlessly into the design. They're commonly used in jewelry like diamond tennis bracelets.
Box clasps can be embellished with gemstones, diamond melees and other decorative elements to suit the style of the overall piece of jewelry. While they are relatively sturdy, they're not suitable for heavy pieces of jewelry.
Some downsides of the box clasp are that it can get stuck and trying to pull it out can cause the clasp to get damaged. Also, the little hinged lid can break easily.
5- Bead/Ball Clasp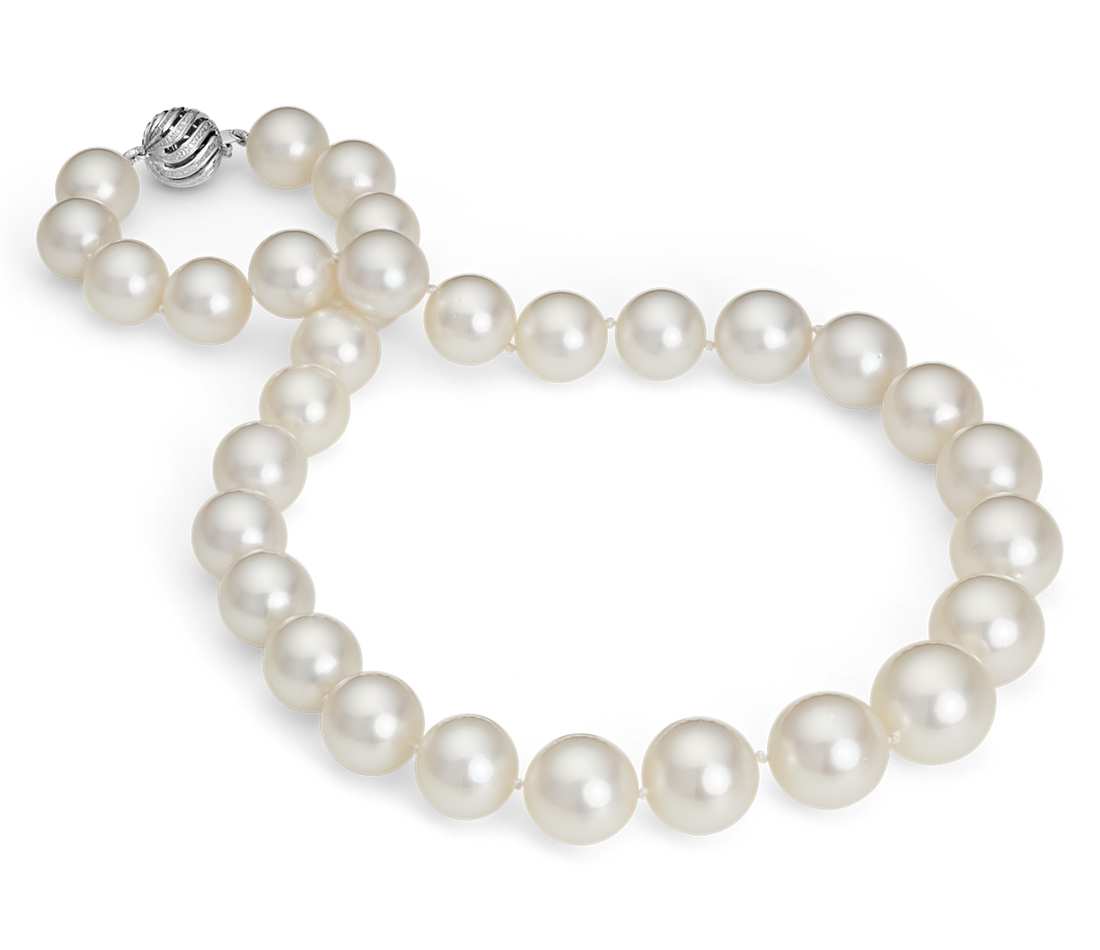 Bead or ball clasps are round in design, often with a tab or bayonet closure. The main benefit of bead clasps is how they look. They can blend in beautifully with most pieces of jewelry and are especially ideal for jewelry featuring beads.
6- Fishhook Clasp
Fishhook clasps are not as common as other types of clasps. They're quite elegant and can be an integral part of the design, featuring gemstones, diamonds, inlay work or other decorative elements.
Although it looks complicated, it's essentially a metal hook fitting into a section inside the oval-shaped box. It's called a fishhook because the hook that goes in is shaped like a fishhook.
This type of clasp is perfect for lightweight necklaces and bracelets. However, as putting them on with one hand can get fiddly, most people prefer them for necklaces.
7- Hook Clasp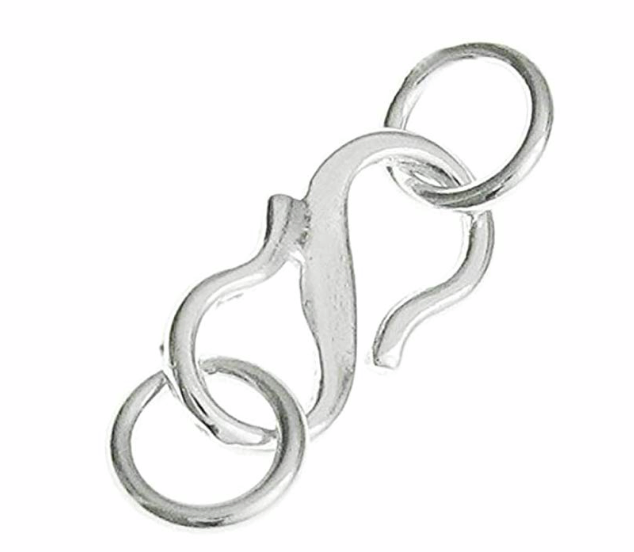 One of the oldest and most common types of clasps, the hook clasp is very simple in design. The clasp contains an S-shaped piece of metal that's open at one end which hooks onto a ring at the other end of the piece of jewelry. It allows you to adjust the length of the chain if there are multiple rings.
Hook clasps are very sturdy and can be used in most types of jewelry. While they don't look very sophisticated, they're a common sense type of clasp that serves its purpose.
8- Magnetic Clasp
Magnetic clasps are designed so that both ends of the piece of jewelry contain one half of the clasp. When brought together, these two parts snap shut. Magnetic clasps use strong magnets that hold on securely.
The style of clasp is elegant and can be easily integrated into the overall jewelry design. While magnetic clasps are generally very secure, they can come apart if pulled with force. As a result, it's best to use this clasp for lightweight jewelry.
The main benefit of magnetic clasps is that it's very easy to put together with one hand. This makes it especially perfect for bracelets and for people who have dexterity issues.
9- Toggle Clasp
The toggle clasp works simply – a long, thin bar is inserted into the circle vertically then adjusted to go across horizontally. The bar becomes the lock, as it cannot come through the circle unless adjusted accordingly.
Toggle clasps are stylish and have a boho, casual vibe. They're perfect for gemstone jewelry or statement pieces, where the clasp is a part of the design.
Toggle clasps are perfect for larger, heavier jewelry pieces as this keeps the bar in place. It's a very secure type of clasp and can hold any type of jewelry. It can get tricky to put a toggle clasp on, especially if you're doing it with one hand. However, once in place, it's very secure.
10- Spring Ring Clasp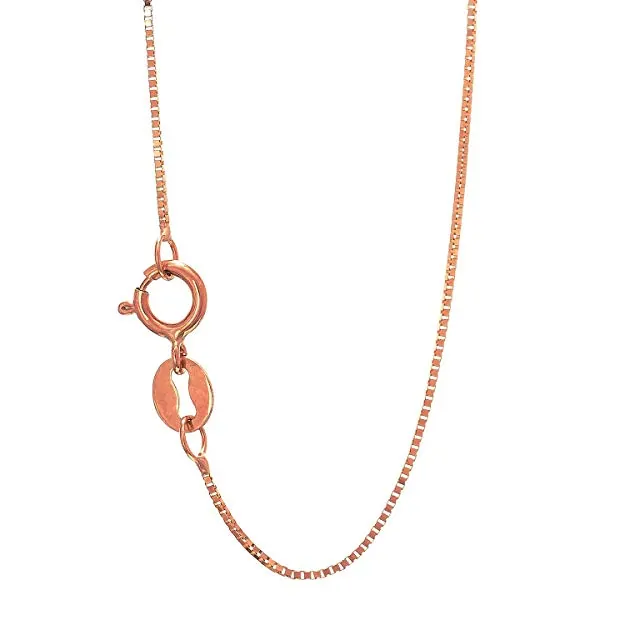 One of the most commonly used clasps, the spring ring clasp features a circle that works via a spring mechanism. When you pull back on the small lever, a little opening appears allowing you to fit the other end through. Like the lobster clasp, this too is a self-closing clasp.
Small spring ring clasps work well with lightweight chains. While they're quite secure, they can be annoying to put on, especially if the ring is very small.
11- Swivel Clasp
The swivel clasp is essentially the lobster clasp with a swivel function that allows the clasp to rotate 360 degrees. This makes the clasp perfect for jewelry that move a lot, as the clasp moves easily with the motion.
12- Buckle Clasp
A rare type of clasp, buckle clasps are more about making a statement. Here, the clasp is part of the jewelry and is definitely meant to be eye-catching. Buckle clasps work like traditional buckles, except that it's all made of metal. They're quite rare and not one you'll come across often.
Here's a video that shows more examples of these clasps.
Jewelry Without Clasps
Bracelets and necklaces don't always need a clasp. Here are some types:
1- Bangles
Bangles are completely round rigid bracelets with not opening. They're meant to be worn over the hand and sit loosely on your wrist. Bangles can sometimes be painful to put on, especially if they're too small for your hands. If you have small wrists, bangles can end up looking too big or loose on your hands.
However, they have a unique look of their own and are very popular in parts of the world like India, where they're layered all up the forearm.
2- Stretching Bracelets
Bracelets that stretch are comfortable and easy to put on. These can be found in many styles, from simple beaded bracelets to more elaborate crystal or even diamond bracelet. These bracelets utilize a stretching material that holds all the parts together and are crafted strongly so as not to break apart when stretched.
3- Cuffs
Similar to bangles but with an open end, cuffs are easy to put on as they have a large opening at one end which is easy to get your wrist through. Once worn, they stay on your wrist securely. Cuffs come in a variety of sizes and designs, with large cuffs perfect for a statement look.
4- Long Necklaces
One simple way to get around clasps is to opt for a long necklace that can simply be slipped over your head without the need of a clasp. These vary greatly in length and style, from ropey pearls to long gemstone necklaces.
So there you have it. The top types of clasps used in jewelry. And now the burning question:
Which Is the Most Secure Jewelry Clasp?
As you would have guessed by now, this depends on a number of factors, including how heavy the jewelry is, whether it's a necklace or bracelet and so on.
In general, the most secure clasps are the lobster, hook and spring ring clasps, which are used for most necklaces and bracelets.
Having said that, most designers tend to choose the best clasp based on the design and durability of the piece, taking the pros and cons of each clasp type into consideration.
Just ensure that it's a type of clasp that will keep your jewelry safe and sound.
Check the infographic below for a quick recap.