As Jewelry Shopping Guide editors, we write about things that we love and we think you'll like too. We often have affiliate partnerships, and may generate some revenue from these links at no cost to you.
Jewelry doesn't need to be made of diamonds to be precious—the design you choose can be enough to make a statement on its own without overpowering your look. Having said that, there's something deeply transformative about foot jewelry. A flash of gold or silver on your feet reveals a lot about your individuality and personal style.
Whether you want to add a hint of glamour to your looks or simply want to switch up your accessory game, our ultimate guide on foot jewelry will surely boost your style confidence.
What Are the Different Types of Foot Jewelry?
When it comes to foot jewelry, there are three main types.
Ankle Bracelets
Some call them anklets, while others prefer the name ankle chains. Anklets entered the fashion scene in the 70s as an integral part of bohemian fashion, but jewelry designers have given the throwback accessory a fresh and sophisticated update.
There are anklets made of gold, silver, and precious stones, but humble materials like leather, nylon, plastic, beads, and shells make these accessories fashion-forward too. Anklets are just some of the trendy accessories spotted on runway shows and street-style scenes.
An anklet might be just a fashionable piece of jewelry in the West, but it is something special for some cultures. In Ancient Egypt, anklets are worn to signify one's fortune and social status, and some of them even served as amulets or a good luck charms. In India, anklets are better known as "payal" and hold social and spiritual significance. In African culture, it is a tradition for young women to wear brass anklets until the birth of their first child.
Toe Rings
Jeweled and floral-trimmed toe rings were a big trend in the 90s, but the foot jewelry is making a comeback. When it comes to toe ring structure, there are two types: ones that are fitted just like a typical ring, and ones that are adjustable to fit the toe. Fitted toe rings might seem a bit uncomfortable, but they are more practical than the adjustable counterparts that can snag and break overtime.
In India, it is a tradition for a bride to wear toe rings on the second toe on both feet, signifying her marital status like a wedding ring does. In Western countries, toe rings are just a fashion-forward accessory that makes a bold statement. When it comes to fashion, everything old is new again—so don't be afraid to rock your toe rings with your modern wardrobe.
Barefoot Sandals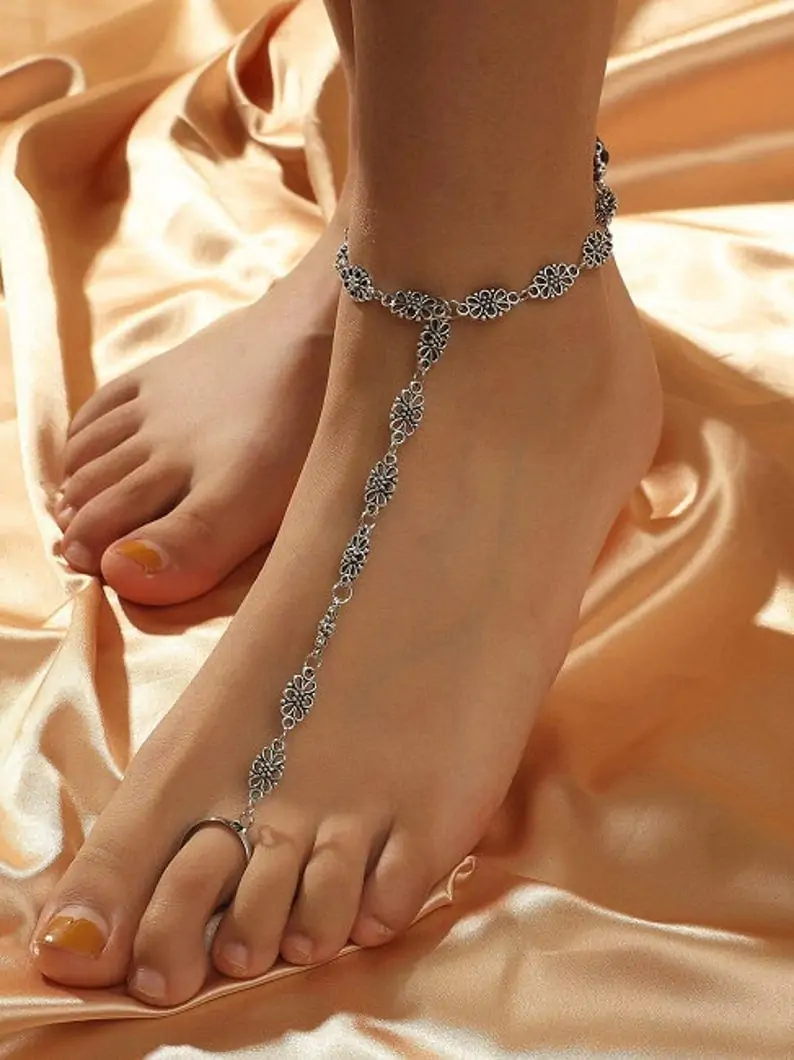 This foot jewelry resembles your summer sandals—but it's actually a combination of an ankle bracelet and a toe ring. Inspired by ancient Egyptian jewelry, barefoot sandals can be made of silver, designed with a decorative lace, floral accents, beads, gemstones, crystals, and shells. Most of us wear our necklaces and earrings all year round, but warmer weather is the perfect time to flaunt your feet.
If you think anklets and toe rings will give you nostalgia, going barefoot might be the new thing in the fashion scene. Take advantage of the barefoot trend to flaunt your foot jewelry—beach weddings, picnics at the park, music festivals, and pool parties are the perfect place to start. Barefoot sandals are the perfect accessory to add an unexpected spin to your classic looks.
How to Wear Different Types of Foot Jewelry
1- Choose Your Foot Jewelry Designs and Styles
Do you know your foot jewelry can reveal a lot about you—your personality and sense of style? That's why it's important to give some thought on what you wear, so you'll project the image that is true to yourself. Do you love a great accessory that goes with everything? Do you like to change up your looks as often as you want? Your jewelry choices say a lot about who you are as a person.
If you never settle for second best, and classic elegance perfectly describe your style, foot jewelry made of gold, silver, or brass suits you best. You may also think of anklets, toe rings, and barefoot sandals with dainty details like pearls, crystals, and precious stones. Matching your foot jewelry with your earrings, necklace, and watch will make for a cohesive and stylish overall look.
If you have a carefree attitude and you're a big fan of bohemian fashion, beaded barefoot sandals, leather anklets, and woven toe rings are perfect for you. You might also think of tassel and fringe details, along with shell decorations that will show your love for nature. You can still opt for silver jewelry, but Bohemians gravitate more towards earthy tones—brown, red orange, dark green and such.
If you're the life of a party, and you love everything feminine, you have a romantic fashion personality. Anklets with charms, barefoot sandals with gemstones, and extravagant toe rings with crystals will perfectly suit your style. Do you know that the floral accents and cute charms on your foot jewelry will show your social and bubby personality?
Women with a trendy fashion personality stay on top of trends, especially on their accessory game—think of layering necklaces, stacking rings, and dressing up your arms. To channel your love for fashion, opt for foot jewelry with hip, eccentric, and even avant-garde details. Have you thought of channeling some runway-inspired looks in real life? You can bring on the look with your anklets, barefoot sandals, and toe rings.
2- Keep the Season and Occasion in Mind
Anklets are more versatile than a toe ring, since the latter will require appropriate footwear choices. Most foot jewelry types are perfect in the summer months since anklets, toe rings, and barefoot sandals go well with your sundresses. While beaded anklets are best worn in summer, chain anklets with dainty details and toe rings are versatile to wear year-round.
If you work in a conservative workplace, better save your foot jewelry for the weekends. Toe rings and ankle bracelets seem too informal for a professional setting, though they can be lovely for parties and on dinner dates. Music festivals, beach weddings, and pool parties are the best times to show off your barefoot sandals.
Back in the day, wearing jewelry at the beach was considered a faux pas—but not anymore. Celebrities, fashion icons, and models flaunt their foot jewelry while soaking up the sun. Foot jewelry is the perfect accessory for your swimsuit. However, sand, saltwater, and hot sun can ruin your priced possession, so better save those gold anklets and diamond toe rings for fancier occasions.
Foot jewelry made of silver, with seashells and pearls will complete your seaside look. Barefoot sandals with gold beads, rhinestones, pearls, and crystals will look sophisticated on beach weddings. On the other hand, avant-garde anklets and extravagant toe rings are perfect on Fashion Weeks and special occasions.
3- Matching Foot Jewelry with Your Outfit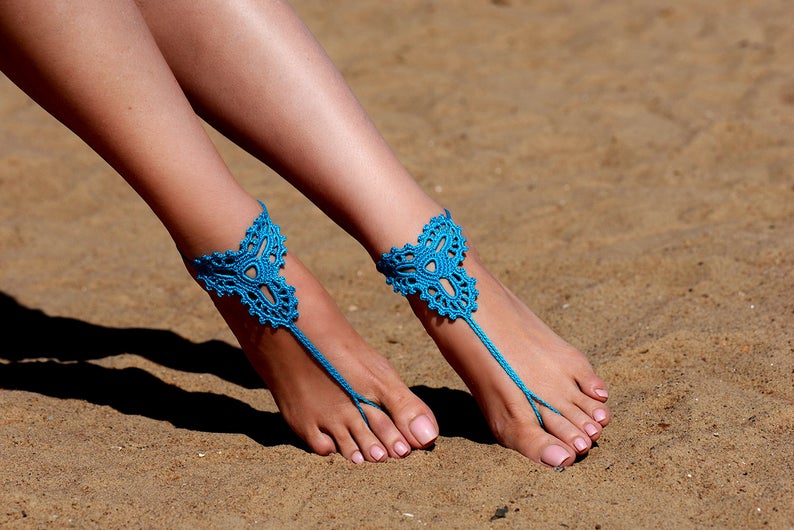 Wearing toe rings and anklets doesn't have to scream the 90s—creative styling and fashion-forward inspirations will do the trick. If you want to wear your foot jewelry as your statement accessory, make it intentional and avoid clashing it with other statement pieces like a bib necklace, chandelier earrings or oversized rings. The key is to let your foot jewelry steal the spotlight and keep the rest muted.
If you're not a big fan of bohemian fashion, don't fret. Anklets and toe rings aren't strictly bohemian anymore, and you can even wear them with high-end ensembles like a faux fur coat, classic pumps or little black dresses. While anklets can be worn with classic pumps and platform heels, toe rings should be worn with open-toe sandals so that they can be seen.
The 90s fashion is having a resurgence, so why not experiment on your look? If you want to play with the 90s trends, you can add some throwback pieces into your outfit, along with foot jewelry—but keep them in moderation. Lucite hoops, chokers, jelly sandals, fruit-inspired ensembles, neon tops, mercury sunglasses, tie-dye denim, and bucket hats are just some of the trademarks of 90s fashion.
To avoid getting a head-to-toe throwback look, opt for structured, modern ensembles that will be juxtaposed with your foot jewelry. This way, you'll be able to add a hint of nostalgia to your look without looking outdated. Also, consider chains and pearl-embellished anklets that look more versatile and timeless.
Wrapping Up this Foot Discussion
Foot jewelry gives a hint of glamour that your traditional accessories can't give you and allow you to express your personal style.
More than that, these pieces add an unexpected element to your favorite footwear and cropped hems, making a simple style fashion-forward.
No matter what type of style you're drawn to, there are anklets, toe rings, and barefoot sandals that will suit your personality.