As Jewelry Shopping Guide editors, we write about things that we love and we think you'll like too. We often have affiliate partnerships, and may generate some revenue from these links at no cost to you.
Anklets, also known as 'ankle bracelets', are a type of bracelet, worn around your ankles. These accessories are available in various styles from minimalist to elaborate, and they can easily be matched with any outfit. They have a bohemian, free-spirited vibe.
Anklets have been a popular accessory throughout history, worn by men and women alike in all parts of the world. In this article, we'll be looking at the history and symbolism of anklets and we've also included some unique and popular designs that are currently available on the market.
The History of Ankle Bracelets
Ankle bracelets can be made of various types of materials, including string, metal, crystals, and leather. The earliest recorded use of anklets was during the times of Ancient Egypt and the Sumerian Civilizations in the Middle East.
Many ancient anklets made out of metal, stone, and other materials in nature were unearthed in Sumerian tombs as a result of archaeological digs. According to certain sources, the type of anklet a person wore during those times represented their place in the social hierarchy. People who wore colorful anklets featuring precious stones were deemed to be of a higher social class, while those who belonged to the working class wore simpler designs.
Anklets are also popular among women in Asian civilizations, especially in India. Married Indian women began wearing ankle bracelets or pattilu, as they were called, with dangling charms that made noise when they moved. The purpose of wearing this was to attract the attention of their husbands.
In Indian culture, a specific anklet known as the 'Ghungroo' or 'Chilanka' is often worn in traditional dances. These anklets are made out of metallic bells strung together. They jingle as the wearer dances to allow the audience to hear the complicated footwork of the dance.
Today, anklets continue to be highly popular and are worn not only by women but also by men in the modern world. They're commonly worn for aesthetic purposes while in some cultures they remain an important accessory in traditional dancing.
The Symbolism of Ankle Bracelets
Anklets have various symbolisms in various cultures. Some wear them as good luck charms or talismans, but their meaning usually depends on which foot they're worn on. Here are some associations with anklet bracelets. Note that these meanings can be specific to certain regions.
1. The right ankle
Wearing an anklet on the right foot is a sign that the wearer is unmarried and not in a relationship. In this case, married people should refrain from wearing anklets on their right foot since it will seem as though they're having an affair.
2. The left ankle
Anklets worn on the left ankle are often charms or talismans. They're believed to protect the wearer from diseases, and they also signify that the wearer is married or in a relationship.
An ankle bracelet can symbolize different things depending on its color. Here's a quick look at the various anklet colors and what they mean:
White Anklet: Purity, innocence, simplicity
Yellow Anklet: Good fortune, energy, sociability
Blue Anklet: Good luck in career, talent, intelligence
Green Anklet: good luck, calm, balance
Red Anklet: Good luck with competitions, games, and sports
Pink Anklet: Love, union, marriage, romance
Black Anklets: Secret-keeping
Today, anklets have become a popular accessory in the Western world. They tend to be worn for aesthetic purposes and not to represent certain meanings.
Types of Anklets
Whether you're looking for a simple anklet for casual wear or to go with a formal outfit, there are hundreds of options available on the market. Here are some popular designs for you to choose from:
1. Beaded Anklets
Beaded anklets are a fun and casual accessory to wear, especially during the summertime. You can find them in various styles from tiny little beads to bigger, chunkier pieces. If you're going for a unique look, stack a few together or mix them with different types of anklets such as metal or leather anklets.
2. Leather Anklets
Leather anklets are another perfect choice for an edgier look. These suit both men and women. Leather never goes out of fashion and is easy to pair with nearly any type of outfit, whether jeans, shorts, or skirts. Some leather anklets feature a closure that can be easily adjusted to fit perfectly, which would be highly convenient.
3. String Anklets
String anklets are simple yet stylish, making them a perfect choice for those who want a low-key accessory that won't grab too much attention. This red nylon string anklet with 14K gold-filled microbeads is a minimalist but charming piece to try out.
4. Gold Anklets
If you're looking for an anklet that looks luxurious and is durable enough to wear every day, you might like to try a beautiful gold anklet like this one. Due to its classy look, gold goes well with just about anything. You can wear a gold anklet while sporting fold-up jeans, or with a formal dress. You can choose a simple anklet with hardly any embellishments or you can go for a more dramatic piece with lots of dangling bits.
5. Silver Anklets
Silver anklets are popular for their bohemian look. Consider a simple silver anklet to which you can add all sorts of charms to make a statement or reflect your personality. It will surely draw attention to your feet and make them look more attractive at the same time. Silver matches anything which is why silver pieces are popular for everyday jewelry.
6. Barefoot Ankle Bracelets
Barefoot ankle bracelets are making waves, especially as bridal beach footwear. These are perfect for long strolls on the beach when you don't want to wear slippers or shoes but prefer to dress up your feet a little. They also take the place of sandals and other footwear for performances like dance recitals where you have to go barefoot.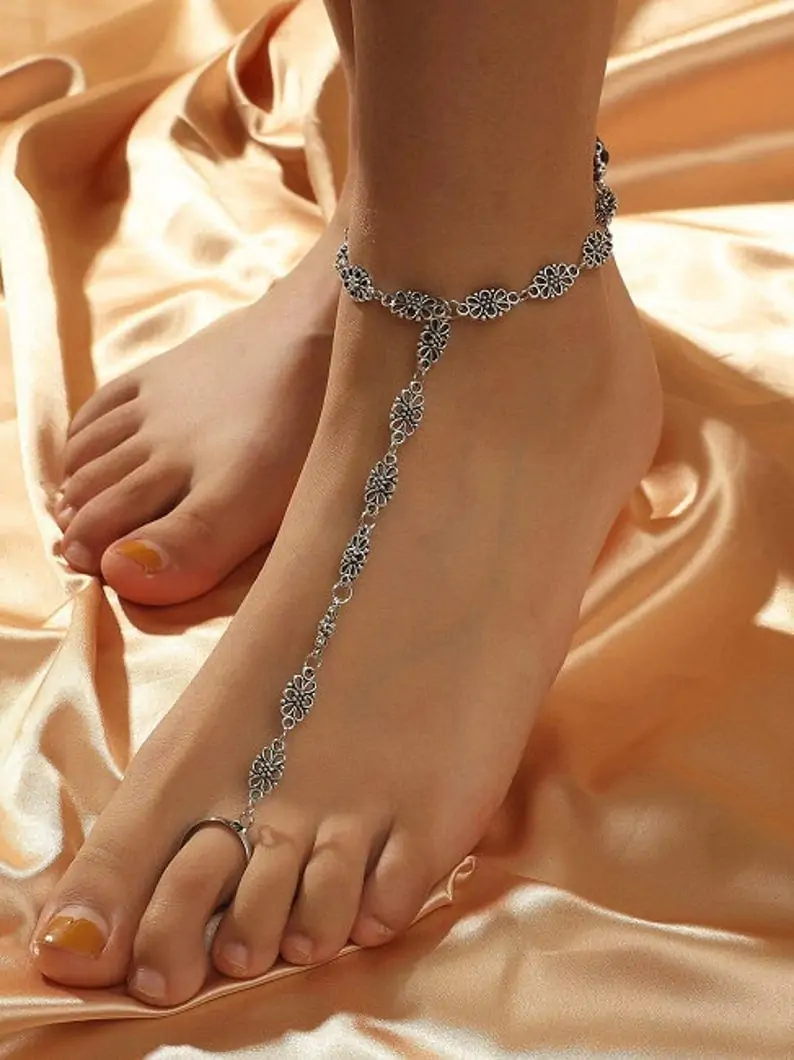 7. Tennis Anklet
Tennis anklets are designed in the same style as the classic tennis bracelet and typically feature several small stones set in a wide chain. They look classy and are perfect for a dressy look.
8. Cuff Anklet
Cuff anklets are similar to tennis bracelets in design but are much wider. These are bold statement pieces that can attract a lot of attention. They're perfect if you're looking to add a modern touch to your look and an added bonus is that they can also be worn to change the appearance of your shoe straps.
Factors to Consider When Wearing Ankle Bracelets
When it comes to wearing anklets, there are a few points to take into consideration:
1. Select the right setting to wear your anklet.
Anklets are usually not worn at workplaces or in professional settings, since they don't belong in the 'formal' category. However, a classy, delicate anklet can suit any setting. Ankle bracelets that have bells on them and make noise when you move are inappropriate in public areas and at certain events such as funerals since the noise can cause a disturbance. However, you can always wear your ankle bracelets at the beach, at festivals, parties, or when you're relaxing by the poolside or on vacation.
2. Wear your anklet right.
Anklets should ideally be worn on bare legs, so it likely won't work to wear them with pantyhose or any similar garment. Some choose to wear them under their leggings, jeans, or pants so that they would remain hidden in formal settings. You can wear your anklet on either ankle, just above the ankle. Some people wear it loosely while others prefer to wear it snugly fitting above the ankle bone. Make sure to get the right-sized anklet since too tight could cause you discomfort and too loose means you could lose it.
3. Groom your feet.
Make sure that your feet are well groomed before flaunting an anklet. Anklets draw attention to the feet so if you're not comfortable with the state your feet are in, you might want to groom them first.
4. Match your anklet with your clothes and footwear.
Your anklet should complement your shoes if you're going for a cohesive look, so remember to pair them together carefully. Anklets generally go well with summer shoes such as backless loafers, flip-flops, or sliders. If you're going for a chic look, match up your anklet with a crop top and a pair of jeans or a casual summer dress instead. You should look and feel good in what you wear.
5. Men can wear anklets.
Yes, men can wear anklets if they choose to, just like women. However, it's important to note that in many cultures, it's believed that a man wearing jewelry on the left side of his body it's an indication of his homosexuality (wedding bands are an exception). The decision is up to you and you can choose to wear an anklet on either leg, regardless of what others may say.
6. Avoid wearing anklets in South Asian countries.
If you're planning to visit a South Asian country, especially India, it would be a good idea to avoid wearing anklets during your visit. Since anklets are an important part of Hindu culture, it's generally considered disrespectful when someone who is unaware of their significance wears an anklet.
Wrapping Up
Anklets take on a significant meaning in some cultures while in others they're worn as unique and stylish accessories that allow you to elevate your fashion style. They're available in various styles and designs so you can have fun adding to your collection and experimenting by working them into your jewelry collection.