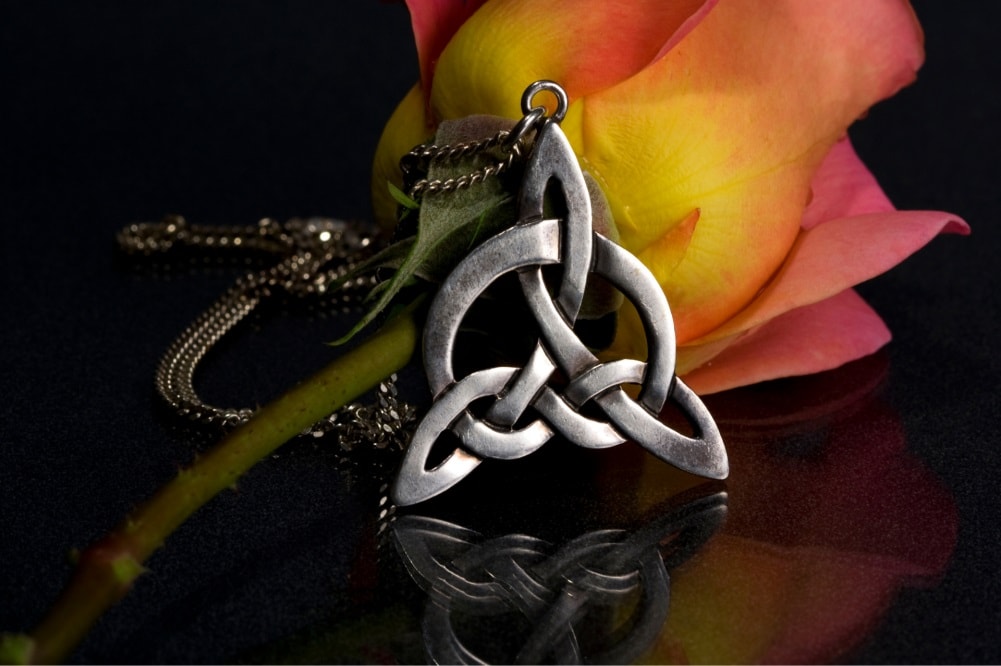 As Jewelry Shopping Guide editors, we write about things that we love and we think you'll like too. We often have affiliate partnerships, and may generate some revenue from these links at no cost to you.
While there is no universal symbolic representation of how society values its mothers, the essence of motherhood is the same everywhere – nurturing, loving, and fiercely protective.
Motherhood is indeed one of the most celebrated phenomena in our world, so it's not surprising that there are tons of motherhood symbols in every culture.
In this article, we'll be taking a close look at some of the most popular and well-known motherhood symbols used in jewelry.
Motherhood Symbol Jewelry Ideas
1. Madonna and Child
For Catholics, the image of the Madonna, or that of a veiled Mother Mary holding baby Jesus, is one of the most powerful symbols. However, regardless of religious context, the image of a mother beside her child is always endearing, which is why pieces that feature this symbol are always a big hit among moms.
A secular, modern take on the classic Madonna is featured as a charm in this silver necklace. Clad in matching dresses, the mother and daughter are seen sitting on a crescent moon, which is engraved with the words 'I Love You to the Moon & Back'.
This piece is perfect for daughters who want to express their love for their moms in a unique way. Apart from the mother and child symbol, the crescent moon is also a popular motherhood symbol which we'll be looking at in detail later on.
For a more classical take on the mother and child symbol, this 14-karat gold necklace is your best option. It has a sleek, minimalist look that blends perfectly with any outfit. It's perfect for daily wear or for special occasions.
2. Celtic Motherhood Knot
The Celtic motherhood knot is a stylized depiction of a mother and child engulfed in an embrace, becoming one in the process.
Although its symbolism is more subtle, it better represents the unbreakable and enduring bond between the mother and child, showing that they are intertwined in a never-ending knot.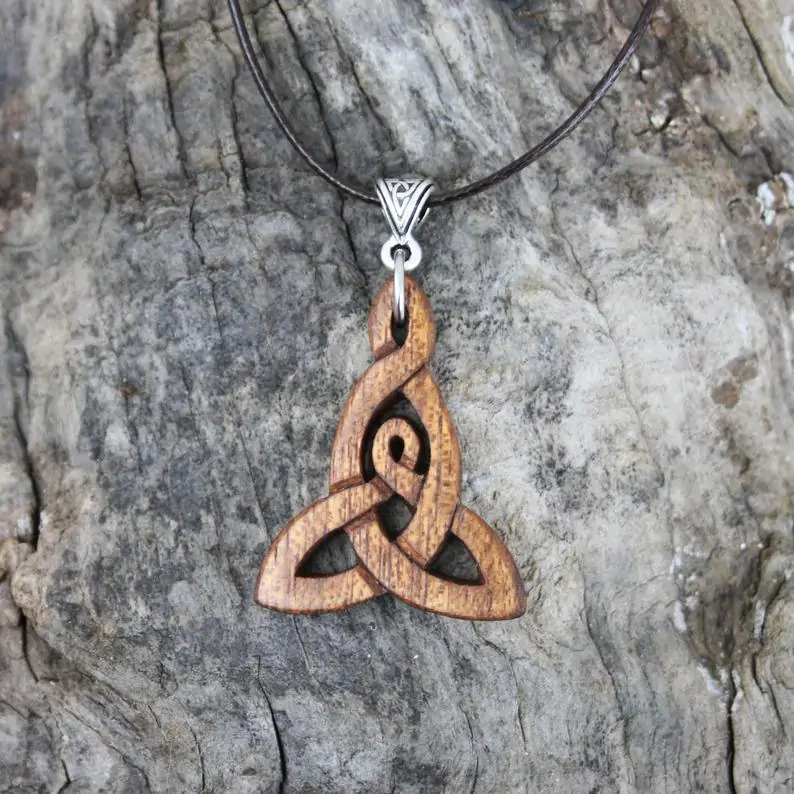 Hand-carved from reclaimed rosewood, this pendant is something every environment-conscious mom would appreciate. It's made from old, broken guitars, which gives it a charming, rustic look, and would be a unique addition to your jewelry collection.
This sterling silver necklace is an interesting and fancy twist on the classic Celtic knot. It's a more elegant piece that would look great with formal outfits and events. With its classy, modern look, this piece is a great gift idea for special occasions like birthdays and anniversaries.
3. Crescent Moon
The moon is an inherently feminine symbol that's often associated with motherhood and fertility. It represents the rhythm of time, and its phases are symbolic of the cycle of life itself.
In Greek mythology, the moon is associated with Artemis (the Greek goddess of the hunt, chastity, and childbirth), who is at times referred to as identical to Mother Earth herself.
Therefore, the moon is said to symbolize the primal dedication of a mother to her offspring.
Amazingly, this pair of sterling silver earrings blends two powerful motherhood symbols into one. The top part of the dangling charm is a Celtic knot, and just below it sits a perfectly-shaped crescent moon.
Together, these symbols make up an impressive earring set that mothers everywhere would be proud to wear.
Here's another beautiful piece featuring the crescent moon as its highlight. The design is quite simple, but the use of the white shell to create an accurate depiction of the face of the moon is a work of genius.
It's a light piece of jewelry good that's ideal for everyday use, but it can also stand out as a statement piece.
4. The Tree of Life
Common to both Celtic and Druid traditions, the Tree of Life summarizes the cycle of life that begins with childbirth, which is why we've included it in this list.
With branches extending up to the heavens and roots reaching as deep as the underworld, the Tree of Life pays homage to childbirth and motherhood as the beginning of all life in this world.
This necklace features the Celtic tree of life as its charm. It's completely free of lead and nickel, so it's safe to wear even for those who have metal allergies. This set is an ideal choice not only for a Mother's Day gift but also for any other special occasion.
5. The Venus of Willendorf
While the true artistic definition behind the paleolithic image of the Venus of Willendorf is still up for debate, it has been widely recognized as a symbol of fertility and motherhood. The exaggerated sexual features of the figurine may be an acquired taste for some, but there's no question that the Venus of Willendorf is a celebrated work of art. Therefore, jewelry inspired by the image are considered modern classics.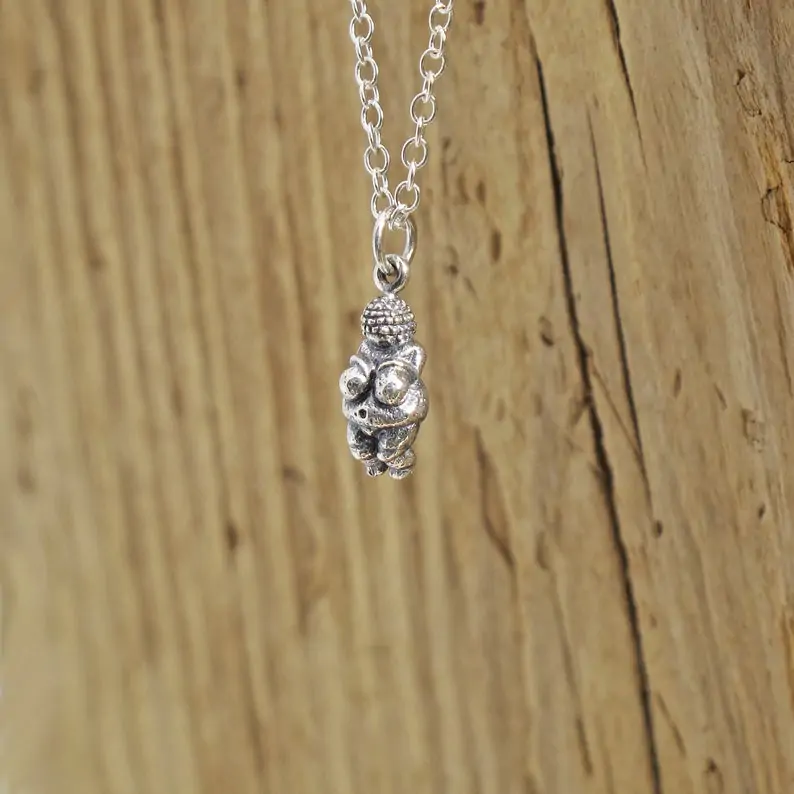 The Willendorf Goddess was found over 3,000 years ago and her body was seen as abundant and highly capable of supporting life.
By giving this silver necklace and its accompanying Venus charm to a soon-to-be mother in your life, you're sending a message of strength and support for their upcoming journey as a mother.
6. Interlocking Circles
As a symbol, interlocking circles signify the unbreakable bond between a mother and her children. It's also a minimalist depiction of the Celtic triple spiral, known as the triskelion, which symbolizes the various stages of womanhood, a.k.a. the mother, the maiden, and the crone.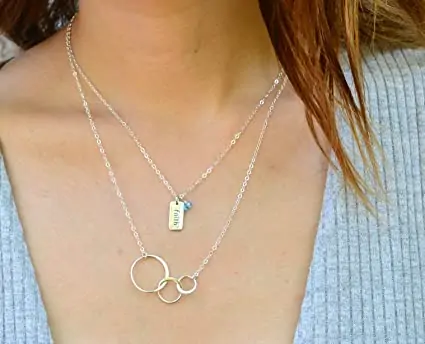 Simple yet elegant, this necklace features three interlocking circles, one representing the mother and the other two circles representing her children.
Interlocking circles tell a beautiful story that while the life of a mother and that of her children may not be entirely spent together, the link between them is ever unbreakable and their bond will always be unbreakable.
7. Animal-Inspired Motherhood Jewelry
The last on our list is animal-inspired motherhood symbols used in jewelry. Just like humans, the mothers in the animal world are fiercely protective and committed to their young.
Therefore, they're also regarded as symbols of motherhood and are quite popular for jewelry designs.
There are many animal-inspired charms and pendants out there, but these blue sea glass turtle earrings are truly eye-catching and unique, which sets them apart from the rest.
This pair would be a great Mother's Day gift or a delightful no-occasion gift, for days when you just want to show your mother how much she means to you and how much you love having her in her life.
When to Give Motherhood Symbol Jewelry
Now that you have a list of top jewelry ideas with motherhood symbols, you just have to decide the best time to give them to your loved one. Some of the best occasions on which you can give motherhood symbol jewelry as gifts include:
1. Baby showers
This is an excellent time to give a thoughtful gift to a soon-to-be new mom. As they embark on their personal journey towards motherhood, it would be a meaningful gift representing the new, exciting chapter they'll be starting in their lives.
2. Mother's Day
While every day should be Mother's Day in terms of how we show our appreciation to our moms, it's still nice to receive something special on the actual Mother's Day every year. Make it all the more meaningful with a thoughtful gift that symbolizes how special your mom is.
3. Birthdays
Not only can you give your mother a present for her birthday, but you can also give her a gift of yours. After all, she worked hard to bring you into the world on the day you were born, so she deserves recognition for that, too!
Wrapping Up
Wearing symbols of motherhood is an empowering move for every mom, as it symbolizes what they've endured and what they still willing to endure as a mother. While these symbolic jewelry pieces may not be enough to show our gratitude and appreciation for the women who brought or are bringing life into the world, they certainly are a great place to start.