As Jewelry Shopping Guide editors, we write about things that we love and we think you'll like too. We often have affiliate partnerships, and may generate some revenue from these links at no cost to you.
Pearl rings are an easy way to add a touch of class and style to your look. The best thing about pearl jewelry, and rings, in particular, is that they suit any age and style. Pearls are highly adaptable and can be easily crafted to suit any woman.
Although pearls are traditionally seen in white or rose shades, they come in a wide range of colors including black which is prized for its beauty and rarity.
Pearl rings make unique and timeless engagement rings since they symbolize harmony, perfection, and purity. Pearls are generally believed to signify innocence, faith, charity, and loyalty which makes them ideal to give as engagement rings.
They're quite a popular trend nowadays for brides-to-be, with popular celebrities like Emma Stone sporting pearl engagement rings.
Pearl rings can be worn for any occasion apart from weddings since their color, luster, and overtones go well with almost any outfit.
If you'd like to add pearl rings to your jewelry collection, but you're not sure about the different styles and how to choose them, we're here to help.
We've put together a list of 15 stunning pearl ring designs. We'll also be sharing some top tips on how to purchase the right pearl ring for you. Let's get started!
Pearl Ring Designs
1. Edwardian Pearl Filigree Stunner
This Edwardian-inspired pearl ring features stunning filigree work with a pearl center. The contrasting colors of the brass with the pinkish overtones of the freshwater pearl create a delicate yet statement look.
2. Coral Black Pearl Ring
Inspired by living sculptures of corals, this unique, handcrafted ring is a coral structure holding a large black pearl in its center. The pearl is a symbol of purity and harmony, making this a perfect engagement ring for the alternative bride.
3. Floating Pearl Ring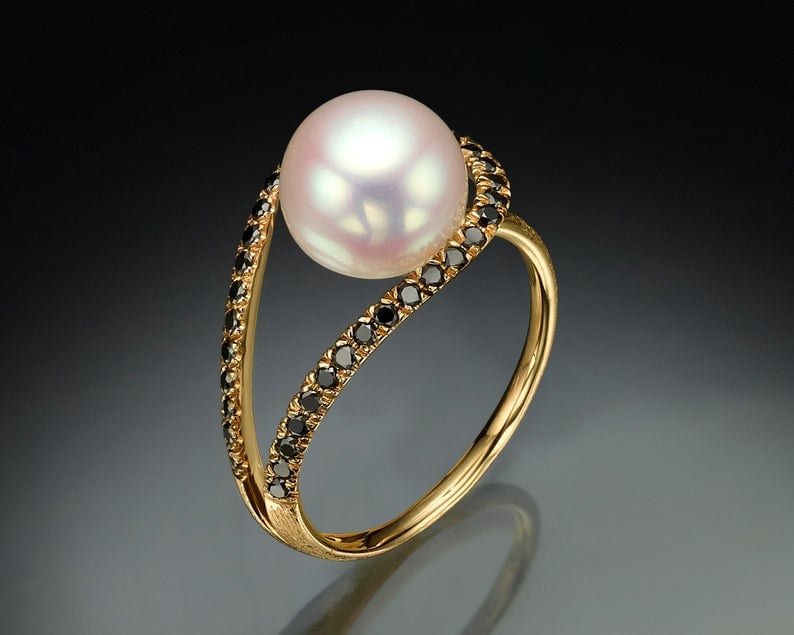 This ring is an elegant piece of jewelry made of 18K gold, with a gorgeous Bouton pearl set on top. With the gold enhancing the beauty of the pearl, this ring design is a simple, yet modern piece for any sophisticated event.
4. White Design Cultured Freshwater Pearl Ring
This Cultured Pearl Ring is made of a silver-plated-base metal and comes in a free size which means that it stretches to fit you, so one size fits all. The design of the ring is simple but elegant, and ideal for the minimalist lover.
5. Sterling Silver Pearl Ring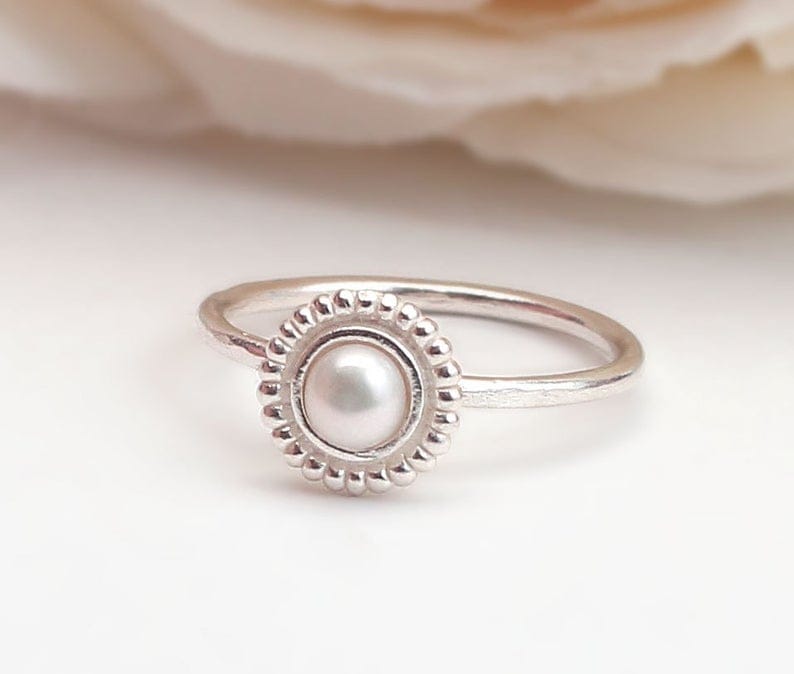 Handmade from a 1.5mm sterling silver wire and a 4mm white pearl gemstone in the middle, this ring is a gently hammered, classy, and elegant piece of jewelry. You have three finishes to choose from according to your preference and you'll find it's perfect for stacking.
6. Baroque Pearl Ring
This Baroque Pearl Ring is a handcrafted 24K gold vermeil piece featuring a natural and irregular baroque pearl. The pearl itself is set in sterling silver on a 2mm band that's hand hammered, giving it its rustic but attractive look.
7. Pearl Leaf Ring
This nature-inspired ring is made from 14k solid gold. This handmade ring includes three pieces of baroque pearls and AAA Grade White Cubic Zirconia. The ring has a minimalist design perfect partner for your wedding stack and engagement ring.
8. Pearl Teardrop Gold Ring
The Pearl Teardrop Ring is a minimalist piece featuring a beautiful, genuine Mother of Pearl gemstone set in a bezel and secured to a 14K gold-filled band. This piece of jewelry has a special iridescence that shines slightly in the light while the creamy whitish hue of the stone stays neutral.
9. Pearl Nestled Leaf Ring
This artistic pearl nestled leaf ring is a retired and authentic vintage item from before 2012. The centerpiece of the ring is a gorgeous freshwater pearl with a leaf-like pattern on the side. The leaf, which is the band of the ring is made from sterling silver.
10. Black Freshwater Pearl Ring
This stunningly beautiful organic black freshwater pearl ring features a round inky black freshwater pearl and is enhanced with just a touch of gold. It's framed by a delicate sterling silver band with a personalized disc for any engravings you might like to add. Each piece is unique, just like the person who wears it, and most pieces can be customized to create the perfect personalized jewelry gift.
11. Textured Gold Pearl Ring
This gorgeous piece is made of a 925 sterling silver plate with Baroque pearls. Handcrafted using a special technique with its unique design and remarkable artisanship, the ring shows off a stunning, Baroque pearl that sits beside the textured gold. In this ring, the classic look of the pearl is combined with a modern design.
12. Pearl Flower Ring
This dainty, 22K gold double-plated flower ring is a perfect choice for an engagement ring or as a gift to a special someone. It comes with an 8mm white pearl set delicately in the center of the flower and the band, as well as flower petals, are textured, giving it a rustic yet elegant look at the same time.
13. Triangle Pearl Ring
Made from 22K gold double-plated sterling silver, this geometric ring is constructed with three equilateral triangles which together form another triangle hugging a white pearl in the center. It's ideal for an engagement ring since it's designed to give you a sense of balance and harmony.
14. Dangling Pearl Sterling Silver Ring
A stylish and feminine piece of jewelry, this sterling silver ring is plated with gold and has cut-out swirls all over its band. It also features three white freshwater pearls that hang from one side of the band, dangling whenever it moves.
15. Double Pearl Silver Ring
Here's a unique wrap-around piece which is an adjustable statement ring that you can wear on different fingers. It combines two genuine white pearls set in 925 sterling silver and exhibits a mirror-high polish finish. The pearls are not only glued to the ring but are also pinned in place so they won't fall off. This a lovely piece of jewelry to add to your collection.
When Choosing a Pearl Ring
Before you shop for your pearl ring, a little research can help you to recognize what you're buying. It's also better to be informed about the different types of pearls as well as their colors and sizes. The following are types of pearls that you like to come across when you go shopping.
1. Saltwater pearls
These are more expensive than freshwater pearls. Akoya Japanese pearls and Tahitian pearls are some of the most coveted and valuable saltwater pearls so if you're planning to go for one of these, you'd need to have a bigger budget.
2. Freshwater pearls
These are found in the mussels of rivers and lakes in many countries. They are the most affordable of all pearl varieties but they also offer the most versatility and range. Find freshwater pearls in every color and overtone.
3. Tahitian Pearls
The only naturally dark pearls, Tahitian pearls are expensive and luxurious. They're perfect for an avant-garde look.
4. South Sea Pearls
The most luxurious and the largest of all the pearls, South Sea pearls are only found in a few areas in the world. They come in either white or golden hues and are among the most stunning of all-natural creations.
Because natural pearls are so rare, all pearls on the market today are cultured pearls.
These, unlike the pearls that are formed naturally, are made by placing irritants or shell beads inside a tiny cut in a mussel or an oyster.
The mollusks begin covering the 'intruder' with nacre (what pearls are made of) to influence the cultivation of the pearl. Natural and cultured pearls are both equal when it comes to quality but cultured ones are less expensive since they are easily available.
Before You Buy:
When you're selecting your pearl ring, check it to make sure that the pearl isn't cracked and that it has a beautiful, glowing luster.
To check the authenticity of the pearl, rub it against your tooth with a side-to-side motion (preferably when no one's looking!). If the surface of the pearl is smooth, it's an artificial one but if it feels rough or gritty against your tooth, you can be sure it's the real thing.
Many jewelers try to pass off fake pearls for authentic ones but don't get fooled. Before you purchase your ring make sure that what you're getting is genuine and actually worth your money. This is also why it's important to purchase pearls from genuine, reputable retailers who stand by their products.
Here's our list of the best places to buy pearls online in the USA. Note that buying online will avail you of the most affordable yet the highest quality pearls.