Ethiopia, a country situated in the Horn of Africa, is famous for its rich cultural heritage. It's the birthplace of Olympic gold medalists, rock-hewn churches, and the origin of coffee.
However, beyond the magnificent wonders of Ethiopia is the fact that embedded and interwoven into the vast heritage of Ethiopia is an array of decorative adornments that has a significant and remarkable effect both historically and in the everyday life of its citizens.
Jewelry is typically worn for beauty. However, in Ethiopian society, jewelry captures not just beauty but various aspects of the culture.
What is Ethiopian Jewelry?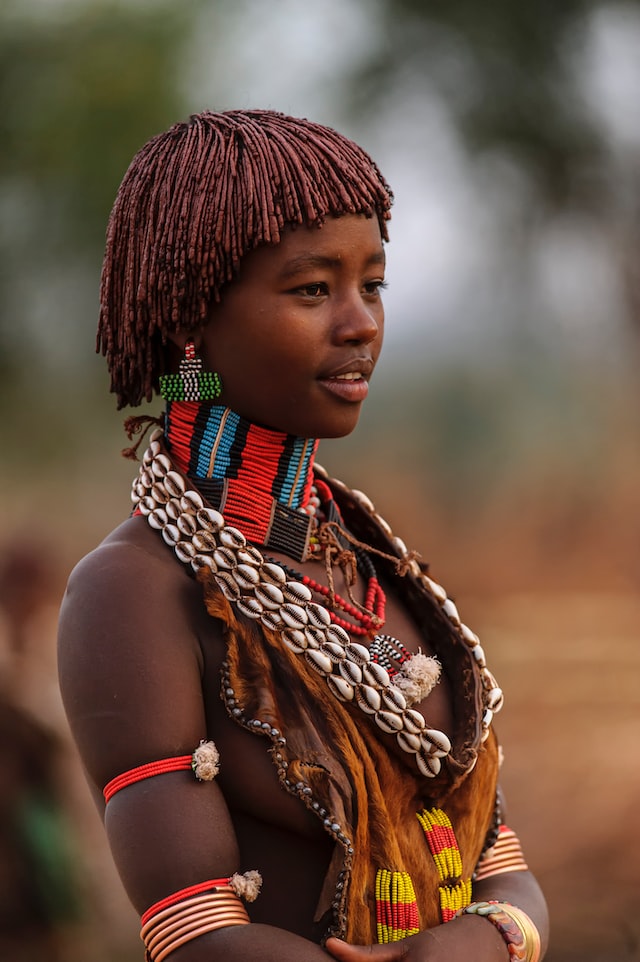 Ethiopian jewelry is characterized by its unique and intricately detailed designs, reflecting a merge of Ethiopia's dynamic history and modernization.
It further portrays the jewelry makers' stunning and artistic craftsmanship through their use of traditional materials such as silver, gold, bronze, ivory, amber, precious stones, and beads to make all forms of personal adornments like necklaces, bracelets, earrings, crosses, amulets, and more.
The materials used to make Ethiopian jewelry are highly symbolic in nature, conveying various meanings and serving as a means of identification in different ethnic groups. An example of such is amber, which is believed to guard against ill health and ill fortune and is said to have healing qualities.
After the advent of Christianity, the creation of crosses in the form of jewelry served as a symbol of faith and identification with the Christian religion. In certain tribes in Ethiopia, jewelry is used to ascertain hierarchy, marital status, and social status in the family and community systems and to promote fertility.
History of Ethiopian Jewelry
Jewelry has been in existence in Ethiopia for as long as people have occupied the great country. Indeed, long before jewelry became sophisticated, Ethiopians made jewelry out of organic materials, such as seashells, bone, wood, and other available materials.
The different cultural and religious influences that are concentrated in Ethiopia contributed to the emergence of specific art traditions that were reflected in the decorative form of jewelry that exists today.
Ethiopian jewelry greatly evolved during the interplay of different religions (Christianity, Islam, Judaism) in the country. These include cross-pendants of Christian believers and gold and silver regalia treasured in churches, bridal necklaces worn by Muslim women and prayer beads used during Muslim prayers, as well as talismanic pendants that reveal Indian and Arabic influences.
In relation to the use of gold for Ethiopian jewelry, historical manuscripts indicate that gold was used for many purposes during the great Empire of Axum. During this time, gold was forged into jewelry, pots, and other decorative objects.
Throughout Ethiopia's history, gold has served as an indicator of pride, prestige, beauty, wealth, and self-esteem. As a result, much of the jewelry in Ethiopia is made out of gold and is in high demand.
Facts about Ethiopian Jewelry
Ethiopian beads are made from fish bones, stones, and even ostrich eggs, and more often than not, they are laced with deep philosophical and ethereal meanings that connect the wears to their person and wellbeing.
Ethiopian gold and silver smiths are usually men from Aksum in Northern Ethiopia. This fact is well portrayed in the creation of cross design through an ancient process called cire perdue.
In this process, the cross is carved in wax and covered with clay, leaving channels for the metal to be poured into the mold. Once the clay is baked and the wax runs out, the silver or metal is poured into a mold, and once it is cool, the clay is broken, revealing the completed cross. Each mold is created uniquely to ensure that each cross differs from another.
When an Ethiopian woman is about to get married, she is usually given jewelry as a form of insurance, as jewelry reflects the status and wealth of a married woman.
Gold is highly esteemed in Ethiopian society and is a popular gift for weddings, graduation ceremonies, child baptisms, and awards. Archaeological findings have revealed that many gold coins and luxurious items have been found in the Empire's capital Axum, and its Red Sea Port of Adulis.
Styles of Ethiopian Jewelry
Ethiopian jewelry comes in various shapes and sizes. These can fall into the following categories:
1. Smith-made jewelry
Crafted out of gold, silver, brass, or copper
2. Coarse metal jewelry
Made from brass, copper, iron, aluminum, nickel
3. Bead jewelry
Opals, precious stones, and decorative beadwork
4. Ornaments made of natural materials
Such as wood, shells, ivory, horn, nuts, seeds, hair, leather, and grass.
As previously stated, Ethiopian jewelry is birthed from the decorative heritage and culture of the Ethiopian people, which allows the jewelry to be expressed in different styles. This differs based on the region.
For the Oromo women of eastern Ethiopia, who are invested in their traditional expression of fashion, use jewelry to express their uniqueness.
They connect to their Oromo identity through bodily decorative expressions usually found on the neck, face, and in their hair. The three main pieces of jewelry found in the Oromo culture are a beaded necklace called ambarka, a beaded headband called qarma, and facial markings known as kula.
Although each Oromo woman in the community has her own individual style based on her identification, they all still adhere to their unique cultural principles, which reflect their notions of family, individuality, value, and memory.
The Daasanach tribe from Ethiopia's Omo Valley found a creative and eco-friendly way to use garbage by turning them into astonishingly beautiful jewelry and adornments in the form of head-ware, necklaces, and bracelets from scavenged bottle caps, broken watches, and bits of silvery mesh.
Their approach to jewelry by merging their unique cultural heritage and conserving the environment birthed a new jewelry style in Ethiopia.
Where To Purchase Ethiopian Jewelry
Ethiopian jewelry is a must-have for every fashion and cultural enthusiast, especially in Ethiopia. However, when planning to purchase any type of Ethiopian Jewelry, it is best to purchase it from credible and authentic sources to refrain from purchasing cheap or poorly made jewelry that fails to do justice to the incredible nature of Ethiopian jewelry.
If you're limited by your location, Ethiopian jewelry is readily available in online stores such as Amazon and Etsy, and other specialist shops online. Shopping for Ethiopian jewelry would indeed be an adventure due to the wide variety of styles and textures of jewelry in Ethiopia, which would readily suit various types of occasions ranging from casual to formal and everything in between.
Wrapping Up
Ethiopian jewelry is beautiful and stunning. It catches the eye of anyone who beholds it. It is a communication of not only beauty but the rich traditions and history of Ethiopia.