In the past, wedding rings only came in silver or gold, but today there's a range of colors, including black. Visit even the most exclusive jewelry websites or uptown stores and you'll find most of them now stocking black rings, including titanium, tungsten, and ceramic rings amongst their standard array of golds and silvers.
But we know that black sometimes carries negative symbolism (death, doom, despair?). So, is it a good choice for a wedding ring? What does it symbolize and why is it popular? Let's find out.
History of Black Rings
Black gemstones have been used for wedding rings, but black metals not so much. If we go back in time, black onyx was used for male wedding rings in the Greco-Roman Empire. In recent years, plain black bands when worn on the middle finger of the right hand as a sign of asexuality amongst the LGBTQ community.
However, black wedding rings only became popular in the last several decades, as couples shift to more unconventional options. For example, the popularity of black tungsten wedding bands soared in the late 2000s due to their modern look and virtually scratch-resistant nature. So, black rings are a modern approach.
What Does a Black Wedding Ring Symbolize?
Black has always signified a diverse range of concepts. Unlike white, which is typically associated with positive traits, black is more complex and has connections to both positive and negative characteristics.
For example, black can represent darkness, evil, negativity, the unknown, and fear. But black also signifies strength, courage, confidence, independence, and power.
Choosing a black ring makes a statement that you're confident in your choices, and that you and your partner are willing to carve your own path. You're not following the norm or the traditional route set out for you. What matters is your marriage and togetherness.
What are Common Materials for Black Rings?
For a black wedding ring, think black gemstones and metals. Here are some of the best options.
1. Black Gold
Black gold is one of those mystery metals that has become increasingly popular. If you're wondering whether gold occurs in black naturally – the answer is no. This metal is simply an alloy created by mixing gold with some other metal, such as cobalt. It can also be made by electroplating a gold piece of jewelry with a black finish, which is the more common method.
2. Black Steel
Black steel provides a seriously heavy face to ring bands; it's strong, rust, and stain-free and is a cheaper alternative to more prestigious metals.  
3. Black Titanium
In recent years, black titanium has grown in popularity. Naturally grey in color, black titanium is not achieved through the inclusion of any alloys, but through a process called vapor deposition where the metal's black elements are vaporized to form a higher concentrate that is opaque like a pearl.
4. Black Tantalum
Tantalum is also one of the newer metals used in jewelry. First discovered in the early 1800s, it's naturally gray in color. While there are some controversies surrounding the use of tantalum, it's still a popular metal for wedding rings.
5. Black Tungsten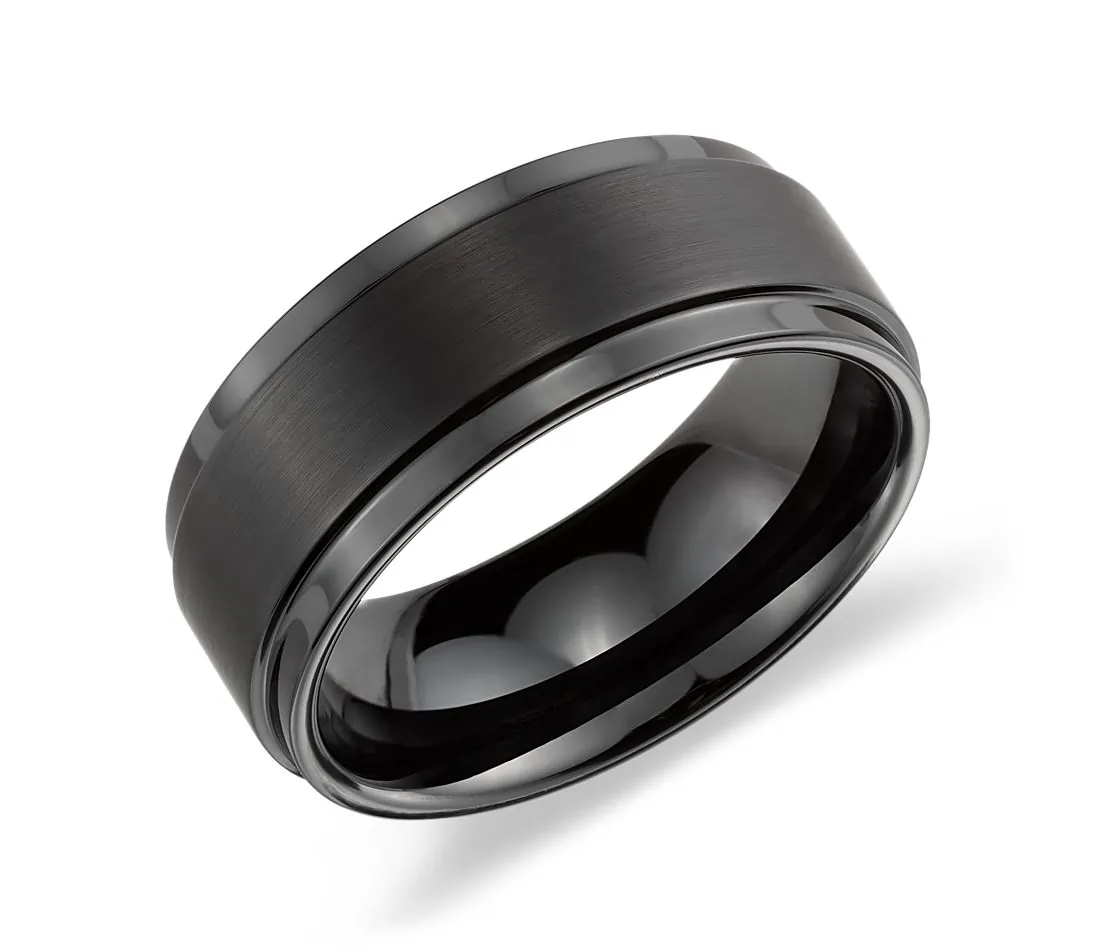 Another relatively metal that has become popular in jewelry, tungsten is the strongest metal of them all. Used in the manufacturing of missiles, while not completely indestructible, its strength and scratch resistance make it a popular choice. Black tungsten is formed through the addition of titanium alloys.
6. Black Gemstones
Throughout the ages, onyx, a cryptocrystalline rock texture of miniature crystals, has proved popular for its deep black shine. Other popular options include obsidian, black diamond, black sapphire, and black tourmaline.
7. Black Silicone
For those who need a wedding ring that can stretch and be worn comfortably, black silicone bands are excellent. They're also safe and hypoallergenic. We especially recommend them for people who use their hands a lot for work, like healthcare workers.
Is Black Suitable for Wedding Rings?
This completely depends on your view of a black wedding band. There's no right or wrong answer here, as it all comes down to your fashion choices. However, here are some factors to consider when deciding on a black ring.
1. Black is Trendy Right Now
Black is cool and trendy, and it's also ultra modern. Unlike silver and gold rings, a black wedding band speaks of confidence, coolness, and fearlessness to try something new. But trendy could also mean that it goes out of fashion down the track. Does this matter to you?
2. There is a Range of Price Points
Black metals come in a range of prices, from affordable inexpensive bands to sophisticated fine jewelry. Much will depend on the purity of the metals and any embellishments, but there's usually a black ring market for most customers' budgets.
3. There is a Range of Materials
Things have progressed in the metal world; and with the discovery and development of new metals over the last few centuries, you can find black ring variants in steel, titanium, platinum, and tungsten. It's also possible to match these metals with more conventional rings like gold and silver, embellishments, or engravings. The varying finishes of these black ring variants, as well as the generally strong and stain-resistant qualities of steel, titanium, and tungsten, make them an excellent long-term choice.
4. Black Rings Are Unusual
This is a pro or a con – depending on you. Black rings are unusual, meaning that they will stand out. Some people like the idea of traditional rings that blend with their everyday attire so this can be off-putting.
Wrapping Up
Black rings are highly symbolic and different to traditional wedding bands. Many modern and super-strong metals are now available in black form, so you will be spoilt for choice. Most retailers also offer black wedding rings. If you're not quite sure about black metals, check out our article on the best metals for wedding rings.