When it comes to black rings, you might have an entrenched view on the matter; they're either a yes or a no, in your eyes.
We get it! Black is a high-contrast color and makes quite a statement; the association – accurate or not – with rock music and alternative living emphasizes the outsider status of the color.
But wait a minute, visit even the most exclusive jewelry websites or uptown stores and you'll find most of them now stocking black rings, including titanium, tungsten and ceramic rings amongst their standard array of golds and silvers.
So, what gives?
Is a black ring still an outsider or now a mainstream choice? And what's the history behind the color when it comes to rings? After all, shoes and clothes have been using black dyes for centuries; are black rings and their related metals an exciting but short-term trend or something worth investing in the long term?
Well, black rings are not disappearing any time soon. And with black metals becoming more prevalent, and an option for alternative or mixed metal looks available in most places, black – in its stark but formal majesty – could be the color choice of the future.
But let's start with the past.
A History of Black Rings
Black onyx was first used in wedding rings in the Greco-Roman Empire. These rings, while exquisitely made [with antique originals available at super-charged prices for the right buyer] are far removed from the smooth and all-encompassing black bands we see today. They consisted of a gold band, with a black onyx centerpiece that was frequently engraved.
Black was also adopted ingeniously by African-Brazilian slaves during the Brazilian Empire of the 1800s. While gold and silver were the metals of the rich and ostentatious, slaves constructed their black rings from palm tree seeds. The same ring type was later adopted [and is still used today] by Christian groups as a sign of allegiance to the poor and oppressed.
More recently, when worn on the middle finger of the right hand, a plain black band is a sign of asexuality amongst the LGBTQ community. Materials include plastic, steel, and hematite or more expensive options.
Other adopters include proponents of gothic style, with Obsidian, Onyx, and Spinel as the jewels of choice on ornate silver bands. In the DC Comic Universe, the evil character Nekron uses a black ring for all kinds of wrongdoing.
, Onyx, and Spinel as the jewels of choice on ornate silver bands. In the DC Comic Universe, the evil character Nekron uses a black ring for all kinds of wrongdoing.
As this shows, black rings have a variety of meanings ascribed to them. It really depends on the context that the ring is worn within.
What Does a Black Ring Symbolize?
Despite its newcomer status in rings, it's been the color of choice for formal clothing and shoes for hundreds of years and is one of the most fashionable colors.
But the color black has always signified a diverse range of concepts. Unlike white, which is typically associated with only positive traits, black has connections to both positive and negative characteristics.
For example, black can represent darkness, evil, negativity, the occult, and more. But black also signifies strength, courage, confidence, independence, and power. Choosing a black ring makes a statement that you're confident in your choices, and that you prefer to walk your own path. You're not too fussed by norms and customs – you do what's right for you.
What are Common Materials for Black Rings?
Throughout the ages, onyx – a cryptocrystalline rock texture of miniature crystals – has proved popular for its pool-deep black shine. This gemstone has been the black gemstone of choice since ancient times and is still used in black rings. As we've already mentioned, other popular options include obsidian, black diamond, black sapphire, and black tourmaline, to name just a few.
However, you don't have to incorporate gemstones for a black ring. There are many black metals that make for stylish black rings.
1. Black Gold
Black gold is one of those mystery metals that has become increasingly popular. If you're wondering whether gold occurs in black naturally – the answer is no. Black gold is simply an alloy created by mixing gold with some other metal, such as cobalt. Black gold can also be made by electroplating a gold piece of jewelry with a black finish, which is the more common method.
2. Black Steel
Black steel provides a seriously heavy face to ring bands; it's strong, rust and stain-free, and is a cheaper alternative to more prestigious metals.
3. Black Titanium
In recent years black titanium has grown in popularity. First discovered in the late 1700s, titanium has proved an incredibly strong and un-tarnish-able material, ideal for the lifetime use your ring should supply.
Naturally, grey in color, black titanium is not achieved through the inclusion of any alloys, but through a process called vapor deposition where the metal's black elements are vaporized to form a higher concentrate that is opaque like a pearl.
4. Black Tantalum
Tantalum is also one of the newer metals used in jewelry. First discovered in the early 1800s, it's naturally gray in color. While there are some controversies surrounding the use of tantalum, it's still a popular metal for wedding rings.
5. Black Tungsten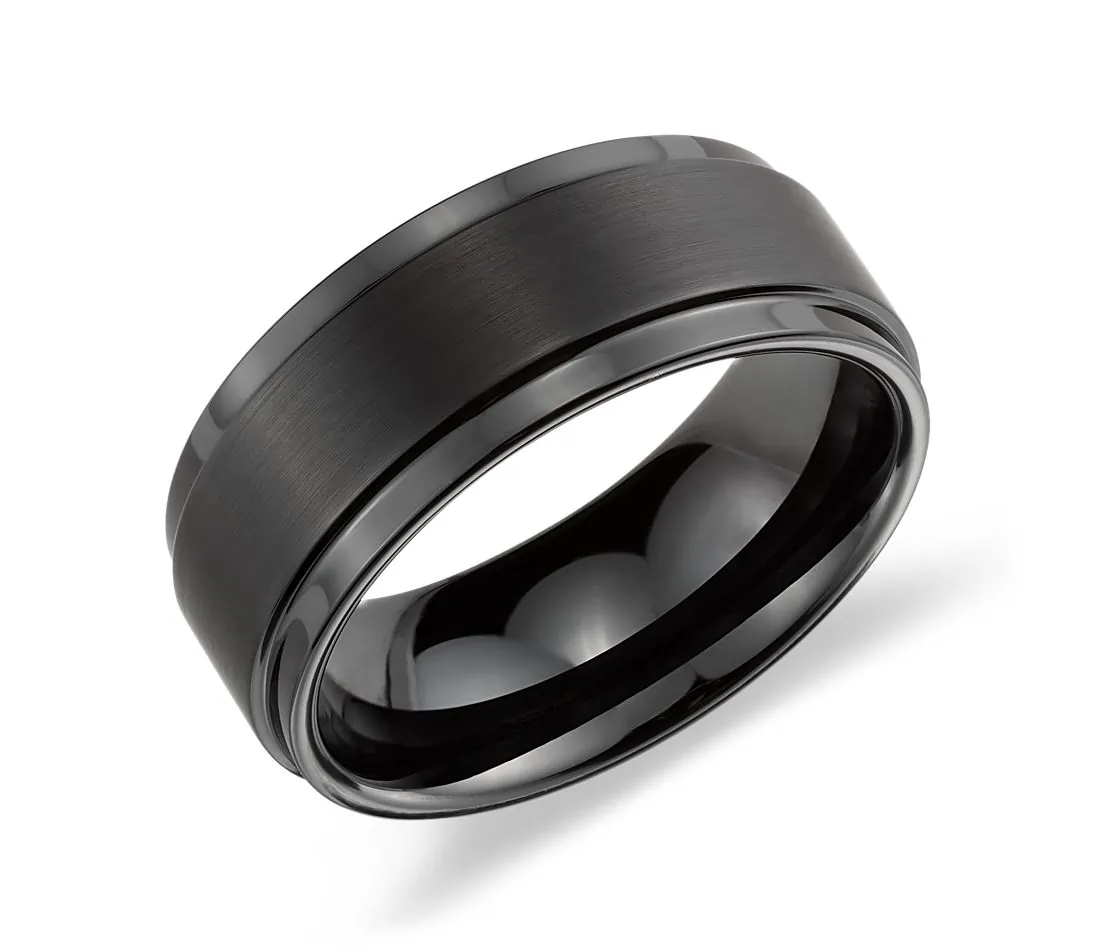 Another relatively metal that has become popular in jewelry, tungsten is the strongest metal of them all. Used in the manufacturing of missiles, while not completely indestructible, its strength and scratch resistance make it a popular choice. Black tungsten is formed through the addition of titanium alloys.
Is the Color Black Suitable for Wedding Rings?
You and your partner may be considering a black ring to formalize and signify your bond. This isn't a typical choice, as most people go for yellow, white, or rose-colored metals. But there are several pros and cons to the idea of black wedding bands.
Pros
1. Black is Trendy Right Now
Black is trendy. Rock stars and minority groups have been moving towards black rings for some time, and it's certainly the newest – and therefore trendiest – option right now.
Yes, a black ring may still be an alternative, but if it's what you and your partner are into, there's plenty of current thinking (plus some historical evidence) to suggest black is a cool choice.
2. There is a Range of Price Points
Black rings can be manufactured and bought for a variety of prices. Without the more obvious price tell-tale signs that high-quality gold or diamonds bring to the party, it won't be easily noticeable whether you paid a little or a lot.
For the serious purchase that you're hoping will last a lifetime, steel is a good starting point, then move on to alternative metals, and finally precious metals like black gold. Much will depend on the purity of the metals and any embellishments, but there's usually a black ring market for most customers' budgets.
3. There is a Range of Materials
Things have progressed in the metal world; and with the discovery and development of new metals over the last few centuries, you can find black ring variants in steel, titanium, platinum, and tungsten. It's also possible to match these metals with more conventional rings like gold and silver, embellishments, or engravings.
The varying finishes of these black ring variants, as well as the generally strong and stain-resistant qualities of steel, titanium, and tungsten, make them an excellent long-term choice.
Cons
1. Black Rings Are Unusual
This is a pro or a con – depending on you. Black rings are unusual, meaning that they will stand out. Some people like the idea of traditional rings that blend with their everyday attire so this can be off-putting.
2. Trends Don't Always Last
Black rings look fantastic and are the trendiest ring color now but be mindful that trends don't always last. Black is a high-contrast color and in business or some social settings it can send out the wrong, divisive message.
If that's part of your reason for wearing a black ring, or if it's important for you to align with the values of certain groups, then go for it.
But gold, silver, and variations of grey metals have been around a lot longer and maintain their popularity for good reasons. We're not saying black rings are a bad idea, just that you should give it some though, especially if you're considering using black rings for your wedding or as your only/main accessory item.
Having said that, black is a neutral color and it seems that it's here to stay. There's something about a black band that speaks of confidence and strength – ideal for any couple.
Final Thoughts
Black rings mean different things to different people. Because of their high-contrast color, they're always going to prove a little divisive (or a little too serious) for some people.
Nevertheless, there is strong historical evidence for the incorporation of attractive black rings; they are a strong and effective symbol of power, strength, or alternative demonstrations of unity.
What's more, many modern and super-strong metals are now available in black form. Whilst perhaps a little too 'heavyweight' as a wedding ring option, black rings are moving from the perimeters to become worthy and valid mainstream choices for those who like to stand out.