While the average person in the US spends about $5000 on an engagement ring, there really is no rule as to how much you should spend on one.
For some, an expensive engagement ring is a statement of success and wealth. But at its root, an engagement ring is simply a symbol of commitment and love between two people. Put that way, the cost of the ring should not be the main deciding factor. Whether you spend 30 dollars or 300,000 dollars, the meaning of the ring remains the same.
So, with that in mind, we outline our top tips on how to buy an affordable engagement ring without compromising on quality. Find a great engagement ring for under $1000 with our tips below.
1. Choose a Diamond Wisely
If you must have a diamond for one reason or another, then use your knowledge of the 4Cs to help you find the ideal ring at a good price. The most expensive diamonds:
Have high clarity grades, VVS2 and above
Have high color grades, in the colorless range D-E-F
Come in standard carat weights such as carat size 1, 1.5, 2 or 3
By playing with these combinations and going lower down on the grades, you can find a great diamond at a cool price. Compare these two diamonds below.
The diamond on the left is a .90 carat, VVS2, K color, Excellent cut diamond, while the one on the right is a 1 carat, Flawless, F color, Excellent cut diamond .
The visual difference between these two diamonds is very slight. In fact, you may not even be able to tell the difference between the two. However, the difference in price is over $5000!
If you prefer a minimalist engagement ring style, you can find a small diamond between .30 to .50 carats, which will be more cost effective. To make the most of a small diamond, check out our article on how to make a small diamond appear larger.
We recommend checking James Allen for the best in online diamond image quality. Check loose diamonds from James Allen.
2. Choose an Illusory Setting
The larger the diamond, the more expensive the stone, and the smaller your diamond, the lower the price. Using this information to our advantage, we can opt for a cluster setting which utilizes a number of tiny diamonds rather than one large center stone.
This is a sure fire way of reducing your cost drastically while still having a diamond engagement ring that looks stunning and large. Having said that, if the setting is elaborate, then the ring could still be expensive.
3. Opt for a Diamond Look-Alike and Save
Part of the reason that diamonds are so much in demand for engagement rings, apart from the fact that they are prestigious, is that they are extremely durable. A diamond is not forever, but it is harder than all other gemstones. Unfortunately, demand makes diamonds one of the most expensive gemstones.
To keep costs down, why not consider a diamond alternative?
If you want a gemstone that looks like a diamond, is durable and yet affordable, there are several options available to you. Moissanite is an excellent alternative as it is extremely tough, brilliant, beautiful and much more affordable than diamonds. And to the naked eye, it is almost indistinguishable from a diamond.
An equivalent diamond would easily pass the $10,000 mark. Another great option is to go for a white sapphire which looks very similar to a white diamond. Sapphires are also excellent for daily wear and therefore a great alternative to a diamond.
4. Choose a Lab-Created (Synthetic) Engagement Ring
Whenever our readers ask us, we always say that we only really recommend four gemstones for engagement rings: diamond, moissanite, sapphire, and ruby. This is because these four varieties are all extremely hard and tough, with Mohs rankings 9 and over. As a result, they have the durability necessary for daily wear.
However, apart from moissanite, the other three can be pretty expensive and aren't ideal if you are on a budget. This is where synthetic versions of diamonds, sapphires and rubies come in.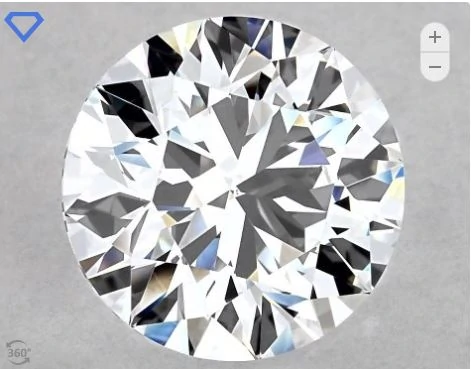 Synthetic gemstones are not fake. Rather, they are the lab-created, scientific counterpart to the natural mined gemstone. These stones are identical in almost every way to the mined version with the main difference being that they were created in labs.
In fact, some people actually prefer synthetic versions to mined gemstones for a number of reasons.
They are ethical and sustainable, causing no negative impacts on the environment.
They are conflict free and clean gemstones, with no ties to wars or dubious labor practices.
They are a wonder of human achievement and science.
And last but certainly not least, synthetic gemstones often cost a fraction of the price of mined gemstones while retaining all the properties of their mined counterparts.
5. Pick a Gemstone Engagement Ring
Colored gemstones are all the rage now as more people opt for non-traditional engagement rings. Although gemstones need extra maintenance and protection if they are on the softer side, they can last a lifetime if taken reasonable care of.
There are a variety of choices on offer, including birthstones and crystals. Some choose gemstones based on the meaning that the stone has for them, while others pick stones for their purported benefits. And still others go with what looks nice on them.
Prior to purchase, read about the gemstone carefully and make sure you understand what is required to maintain the stone. While we don't recommend most gemstones for engagement rings, if you know how to take care of it appropriately, you will be able to extend its life.
6. Pick a Meaningful (Cheaper) Ring
Why not opt for something different that has no ties to the mainstream? You can pick a symbolic, meaningful engagement ring that speaks to you, without all the bells and whistles of a traditional ring.
For example, a Claddagh engagement ring is packed with meaning ideal for an engagement. And yet, the ring itself would be affordable as it is (often) only metal.
This traditional Irish ring representing love, loyalty and friendship has been in use since the 17th century, adding history and lore to the symbolism. Who says you need to have a gemstone at the center?
7. Opt for Prior-Loved Engagement Rings
If it doesn't bother you that your engagement ring is prior-owned, why not look for a second hand ring online?
There are many sites that list prior-loved engagement rings at reasonable prices. You'll be sure to find a stunning ring under $1000.
Just ensure that you do your due diligence as most of the sellers are private and you would need to verify the authenticity of the ring (metals, gemstones) you're purchasing.
8. Purchase with a Look to Upgrading
Young couples often have a lot of commitments and shelling out thousands of dollars on a ring at the start of a relationship may not be the best financial decision to make.
This is why many couples purchase a cheap cubic zirconia ring (or equivalent) to start, with the aim of upgrading this to a diamond engagement ring down the track when their finances have been sorted.
This is a great idea because it is symbolic of your growth together to achieve your dreams. It also makes good financial sense and shows the ability to prioritize, be patient and work towards a common goal.
Amazon has a range of affordable cubic zirconia rings that look very similar to diamond rings. These are often durable enough and will last you a long time until you're ready to upgrade.
A Word of Warning … Don't Compromise on Quality
An engagement ring is a piece of jewelry that you will wear every day for the rest of your life. As such, it needs to be durable enough to go through life's ups and downs with you. This is why it's important not to compromise on quality.
When looking for quality, consider durability.
Is the ring setting made of a premium metal like gold or platinum?
How well has the ring been crafted?
Is the center stone durable enough?
Asking questions like these will help you to zero in on the quality of the ring.
Another important point is to ensure that you receive a certificate of authenticity from your retailer, verifying the diamond or gemstone (if applicable). Always shop at a reputable retailer.
For diamonds and engagement rings, we recommend Blue Nile and James Allen. They have a range of rings to suit varying budgets and with some research, you may be able to find a stunning ring at the price you are after.
For a range of vintage, lab-created, and artisan engagement rings, check out Etsy's massive collection.
For the best in moissanite engagement rings, check out Charles and Colvards whose collection feature pieces under $1000.
And one final point.
Before you go off and purchase an affordable ring, think about what your significant other wants. If she has always wanted a big diamond ring, no cheaper alternative is going to make her happy.
The last thing you want is a disappointed reaction to your ring, so factor this in and maybe even talk it over to ensure that you both are on the same page.
Wrapping Up
An engagement ring is a special piece of jewelry, but there's no point going silly over it. Why get into debt over a piece of jewelry? The most important thing should be to pick a ring that holds meaning for you both while also being within your budget and practical. We hope you find your dream ring with the tips above!