Push presents serve as beautiful reminders of childbirth and how much a woman is loved and appreciated by her partner, family, and friends. One of the most popular choices for push presents is jewelry, since it's timeless and carries sentimental value.
There's a wide range of jewelry options available on the market, but if you're having trouble finding the perfect push present, we've got you covered. Here's everything you need to know about how to choose the ideal push present for a special lady and her new baby.
What is a Push Present?
A push present is a gift given to a mother to celebrate the birth of her child. In the past, they were typically given by the woman's partner to appreciate and congratulate her for going through the difficulties of pregnancy and for 'pushing' the new baby out. However, they're also given to women who give birth by C-section.
Most people think that push presents are only for new moms. However, they're for all women who deliver a baby, regardless of how many children they've had. After all, delivering a baby is no easy task, whether it's the first time or the fourth and every mom deserves to be appreciated for it.
When to Give a Push Present
Traditionally, push presents are given just before or after the delivery, but some people prefer to give it to the mother in the delivery room itself. The choice is entirely up to you. You can always give her the gift right before the baby is born so that she'll be able to wear it in the very first family photos with her newborn child.
Push Present Jewelry Gift Ideas
There are many different types of push present jewelry gifts, including necklaces, bracelets and earrings. Here are some popular choices:
1. Birthstone Jewelry
Birthstone jewelry is an ideal push present since it celebrates the birth month of the new baby. Each time the mom sees the jewelry, she'll remember one of the most special moments in her life: the day she became a mom. If she has several children, choose a piece of jewelry that features the birthstones for each child like a necklace or bracelet with birthstone charms.
2. Keepsake Locket
Lockets are available in various sizes, shapes and styles. Some have a classic look while others have modern and edgy appearance. What's special about lockets is that they have a sentimental touch to them and she'll always be able to keep her baby close to her heart. You can put in a photo or a lock of the baby's hair to make it more special, or you can have it engraved with a loving message or the baby's name and date of birth.
3. A Diamond Bracelet
Push presents don't always have to be related to the birth of the new baby. Give the new mom a diamond infinity bangle or bracelet which will make her feel elegant every time she wears it. Infinity jewelry represents everlasting love and affection, making it a fitting choice for a push present.
4. A Diamond Stacking Ring
One of the most value and popular push presents you could give a new mom is a diamond ring. There are hundreds of different designs to choose from in various metals so you can completely personalize its look. For a minimalist mom, consider a simple bezel-set stacking ring that would be dainty enough for daily wear and she won't have to worry about getting it caught on anything.
5. Baby-Themed Charm Bracelet
Charm bracelets are typically given as gifts to mark special milestones in a person's life. They usually have decorative trinkets or pendants called 'charms' which carry sentimental attachment by their owner.
If the mom-to-be hasn't already got a charm bracelet, now would be an excellent time to give her one. Add one or two charms to the bracelet (like a baby bottle or a carriage, for example) and leave the rest empty so that she'd be able to add her own special charms later on.
6. Diamond Circle Necklace
Diamond circle necklaces make sweet push presents since the interlocked circles represent the bond between the mother and her newborn child while the diamonds represent infinity. Since circle necklaces aren't labeled a 'mom's' necklace, she'll be able to wear it for any special event.
7. Engraved Ring
If you know her ring size, give her a ring engraved with the baby's name or date of birth on it to celebrate the arrival of her little bundle of joy. Engraving jewelry adds a special touch to the piece, but in this case, it's important to choose the right size.
If the ring turns out to be too small or big, you will need to have it resized which would ruin the engraving. If she has several children including the newborn, choose stacking rings with each child's details engraved on them.
8. A Smart Watch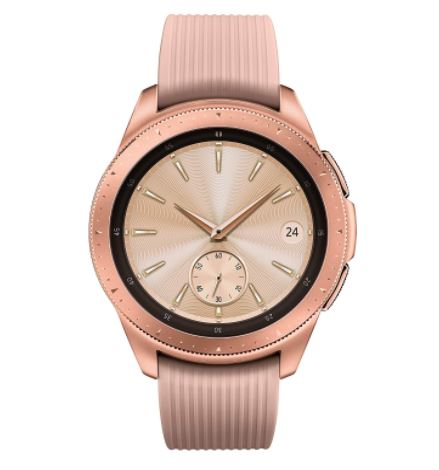 A new mom is always a busy mom, so a smart watch is a thoughtful push present that's sure to come in handy all the time. She'll be able to get everything done, whether it's checking texts, calls, her calendar, the weather or tracking health data with just a flick of the wrist. Gifting a watch is a special way of showing her how special she is to you and that she deserves to be appreciated.
9. Hoop Earrings
Consider giving the mom-to-be a pair of classy hoop earrings to elevate her jewelry collection. If she loves elaborate pieces of jewelry, choose a pair featuring her favorite gemstones. If not, opt for a plain pair without any embellishments. Yellow gold hoops are perfect for a vintage feel while white gold or silver would add a sophisticated and modern touch to her look.
10. Personalized Bar Necklace
What makes bar necklaces special is that you can have various engraving options like the newborn's name, birthdate, or a special message to the mom. They also have enough room to keep adding engravings as each new family member is born. Bar necklaces are simple, but they're also stylish and each one is unique.
How to Choose a Jewelry Push Present
Choosing a piece of jewelry that suits the expectant mother's style, has sentimental value or represents her children is key to getting the perfect push present. Personal gifts are more special and she'll be able to treasure them for years. In future, it could even become a family heirloom she would pass down to her daughter as a push present.
When choosing the ideal push present jewelry for the mom-to-be in your life, consider the following factors:
Her favorite jewelry: Not all women wear bracelets and some may dislike rings or necklaces. If she prefers a certain type of jewelry, show her that you honor her preference when choosing her push present. Jewelry is a lovely gesture, but if she never wears the piece, it wouldn't have the sentimental punch to it.
Her favorite metals: Does she love wearing yellow gold jewelry or is she into silver or white gold instead? Take this into consideration when choosing her gift and if you're not sure what she likes, take a look at her jewelry box to help you decide.
Her style: Some women love to wear large, bold statement jewelry pieces whereas others prefer simple pieces instead. Note the type of jewelry she always wears, or whether she wears jewelry at all.
Her favorite gemstones: She may love wearing a piece of jewelry featuring her favorite gemstone or her birthstone, or she may prefer a design that's completely stone-free. Consider her general style of jewelry to get an indication of the types of gemstones she likes.
FAQs About Push Presents
1. How much should I spend on a push present?
Push presents can range in cost from $100 to over $2000. Friends and family tend to spend less, while husbands and partners often spend more. Overall, there's no rule about the best price of a push present.
2. Who can give a push present?
The push present is usually given by the significant other, but friends and family can also give push presents to celebrate the baby's birth and congratulate the new mom.
3. Are push presents a new trend?
Push presents are a new trend, but it's been growing and gaining popularity.
4. Can you ask your husband for a push present?
Yes, you definitely can! If you want a particular present, ask your husband for it without feeling embarrassed or guilty. After all, you did carry a baby for 9 months.
5. When to give a push present?
Push presents can be given either directly before the delivery, or within the first week when mom and baby come back home. If a significant other is giving the present, it should ideally be done in private, where you can tell her just how much she means to you.
6. What's the most popular type of push present jewelry?
Around a quarter of moms receive or hope to receive a push present. From all gift ideas, diamond infinity jewelry appears to be the most popular, based on a poll conducted by Baby Center.
7. Do I have to give a push present?
Push presents are optional, as is every other type of jewelry, and it all comes down to you. Some moms prefer to save that money or start a college fund for the baby, for example. Others prefer diamond jewelry which can be passed down as an heirloom in the future. Every situation is different, so do what's best for you.
Wrapping Up
Choosing a push gift that will be appreciated and cherished can seem daunting, but it's a thoughtful and sweet way to celebrate the expectant mother and the birth of her new baby.
Choose a piece of jewelry that feels special and would suit her personality and style and avoid settling for something that you're not truly satisfied with. Always plan ahead so there's time if you want to personalize the jewelry and go for something sentimental that she'll appreciate and wear for decades.