As Jewelry Shopping Guide editors, we write about things that we love and we think you'll like too. We often have affiliate partnerships, and may generate some revenue from these links at no cost to you.
One of the most popular types of jewelry, necklaces come in a wide range of styles and designs. However, each of these styles have some common elements, which are the typical parts of a necklace.
Here are the parts of a necklace, what role each part carries out, and how to evaluate them when purchasing.
What Are the Parts of a Necklace?
To put it simply, a necklace only has three main elements. However, these vary, depending on the style of the necklace.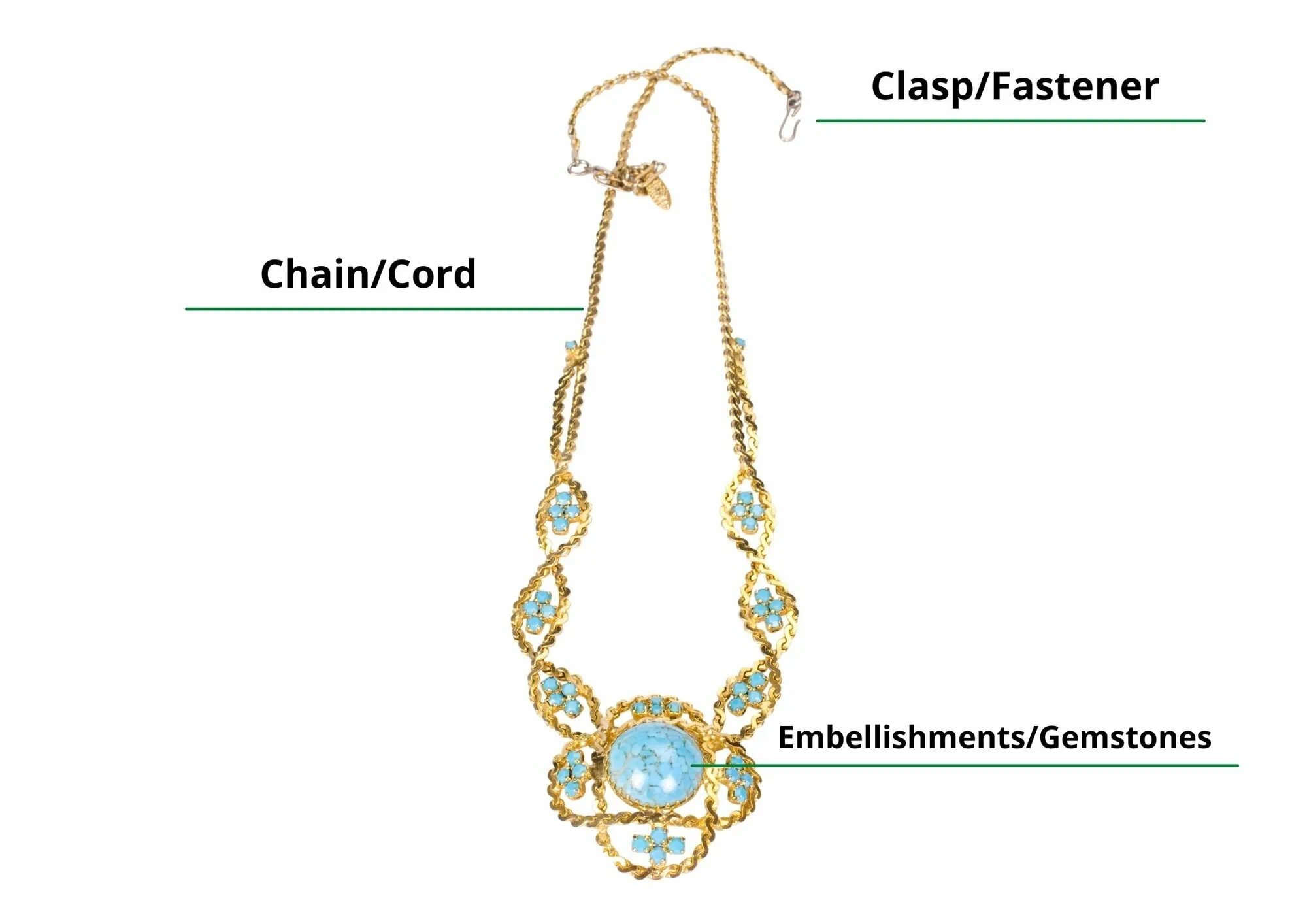 #1 – Metal Chain or Cord
Necklaces feature either metal chains or gemstone strands. Almost all necklaces can be categorized into these two types.
Metal Chains: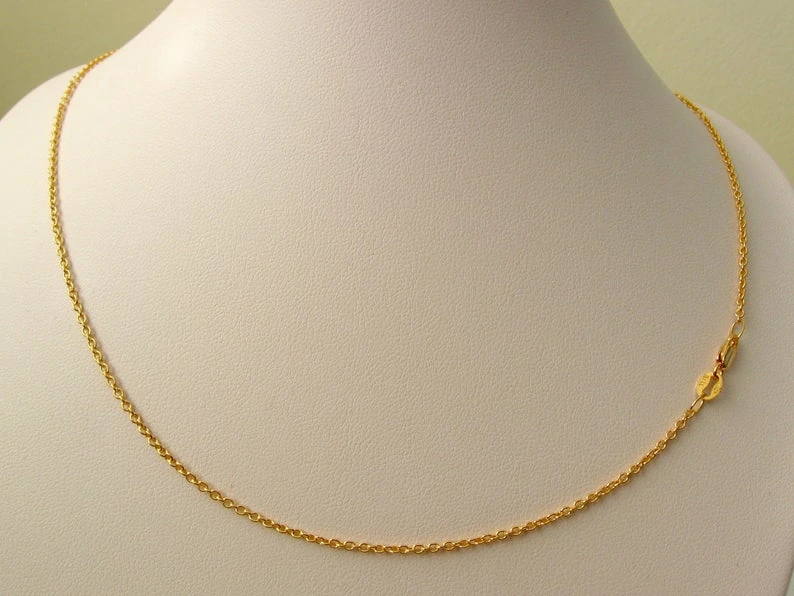 Metal chains come in a range of styles. These chains typically have a clasp at the end, which can be taken apart and fastened once the chain is around the neck.
When purchasing a necklace chain, the points to consider include the type of metal, the width and length of the chain and the style of the chain.
The most common type of metal for chains includes gold and silver. However, there are also several new industrial metals used to make necklace chains, such as titanium or stainless steel.
Precious metals like gold and silver are softer, but they are more valuable and even prestigious. They're also generally hypoallergenic, and ideal for those who want a bio-compatible option.
On the flip side, the cheaper metals are more durable and affordable. However, some metals, like Titanium, are hypoallergenic also, which is good if you have metal sensitivities.
The length of the chain depends on your purpose of wearing the necklace. The most common lengths for a necklace chain are around 16 to 18 inches, which are the choker and princess lengths respectively.
However, there are other lengths such as the matinee length (20-22 inches), opera length (24-28 inches) and rope length (over 30 inches). Each of these lengths suit different styles of fashion and occasions.
In terms of widths, necklace chains can range from a few millimeters to 15mm and more. Thicker chains are statement making and are often worn without a pendant, while thinner chains work well for daily use.
Finally, when considering types of chains, think about the strength of the chain. Chains with individually soldered links, like cable chains, box chains or curb chains, much more durable than chains with more intricate woven patterns like herringbone chains or snake chains.
There are many types of chains to choose from, and again, the style you choose depends on your fashion choices and how you plan to wear the necklace.
Strands:
Necklaces featuring a strand of beads, pearls or gemstones are typically made by stringing these items with a cord or special string. Some typically used cords include:
Silk – The traditional choice
Polyester – More modern and stronger
Leather – Sturdy and stylish, with a masculine appeal
Plastic-Coated Wires – Like Tiger Tail or hemp, these are very strong and hold heavier beads and gemstones.
Cords vary in thickness and strength depending on the type of bead or gemstone they're meant to hold. The cord should also fit the drilled holes on the beads which should be able to slide easily onto the cords.
Jewelry with beads and cord tend to fall into the boho or casual styles. However, even fine, classic jewelry can be made with these items.
#2 – Clasps or Fasteners
Almost all necklaces have some form of clasp or fastener to make them more convenient to wear. However, very long chains often don't have a clasp as they can simply be worn over the head, without needing to take the chain apart.
Most people don't think about the fastener when purchasing, but this is an important part of the necklace. The fastener should be strong and durable enough to carry the weight of the chain.
The most popular and the strongest types of necklace clasps include:
Lobster Clasp – True to its name, this type of clasp features a lobster-claw like section with a lever which you pull down to open the 'claw'. They hold onto a small ring, attached to the other end of the necklace.
Spring Ring Clasp – This type of clasp features a ring that can be opened and closed with a small lever, which operates with a spring mechanism. Once closed, the spring ring doesn't easily open, unless you push down hard on it.
Hook and Eye Clasp – This simple clasp features a hook that can be opened to hold onto the ring of the other end. This is a sturdy type of clasp and one of the oldest used in jewelry.
Toggle Clasp – An easy clasp, the toggle works by pushing a long, thin bar vertically through a ring and then allowing it to fix horizontally against the ring. Once in place, the toggle clasp doesn't come apart and is secure.
#3 – Embellishments
And finally, what makes a necklace unique and stand out from others is the embellishments that are added to it. These are typically pendants, but they can also be attached to the chain or cord, like this stationed necklace. 
Pendants:
Pendants are often mistaken to be the same as necklaces, but these are two different things. A pendant is the ornament that's attached to and hangs from the necklace chain or cord. It's not the necklace itself.
Pendants vary in design, size and style. Pendants feature gemstones, symbols, filigree metalwork and more. They're typically made of metal, but there are pendants made of feathers and paper too. It all depends on the designer's style. Pendants are an excellent way to showcase your personality and style, because there are endless types of pendants.
Smaller types of pendants are called charms and are typically worn on bracelets. If you're into minimalist designs, a charm pendant might work better for you on a small, chain necklace, rather than a large pendant.
When buying your pendant, consider the size of the bail and whether it fits the chain you've chosen.
Lockets: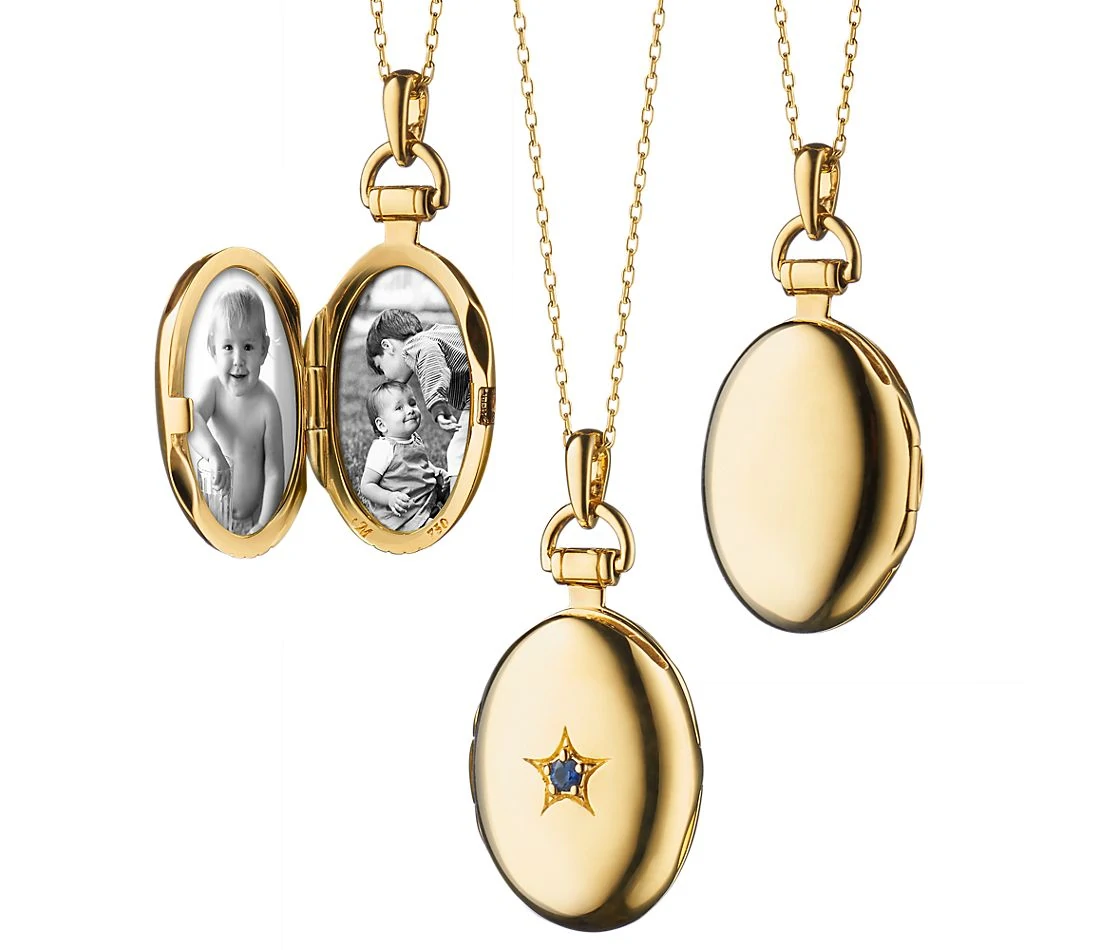 Lockets are a type of pendant, but the main difference is that they feature a hinged door that can be opened and closed. Inside is a little compartment that can hold photos, sentimental tokens, or engravings.
Metalwork:
Some necklaces, like the Indian necklace featured above, are heavily embellished with intricate metalwork, filigree and gemstones. On closer inspection, this necklace is a rolo style chain, with attached gemstone and metal pendants at regular intervals.
Festoons: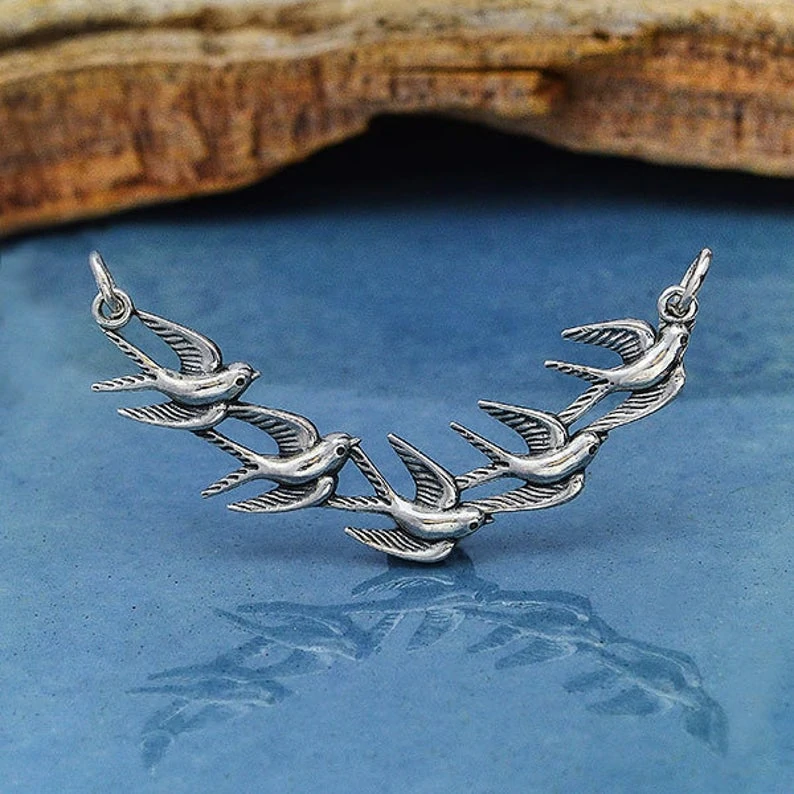 Another type of pendant, festoons are larger and wider designs that can be attached to a chain. They're more decorative and are often worn for more formal occasions or when you want to make a statement with your style.
Wrapping Up
While necklaces vary in design, the above discussion demonstrates that almost all necklaces have these three parts – chain/cord, fastener and embellishment. Evaluating each of these three aspects will help you choose a quality necklace that suits your lifestyle.