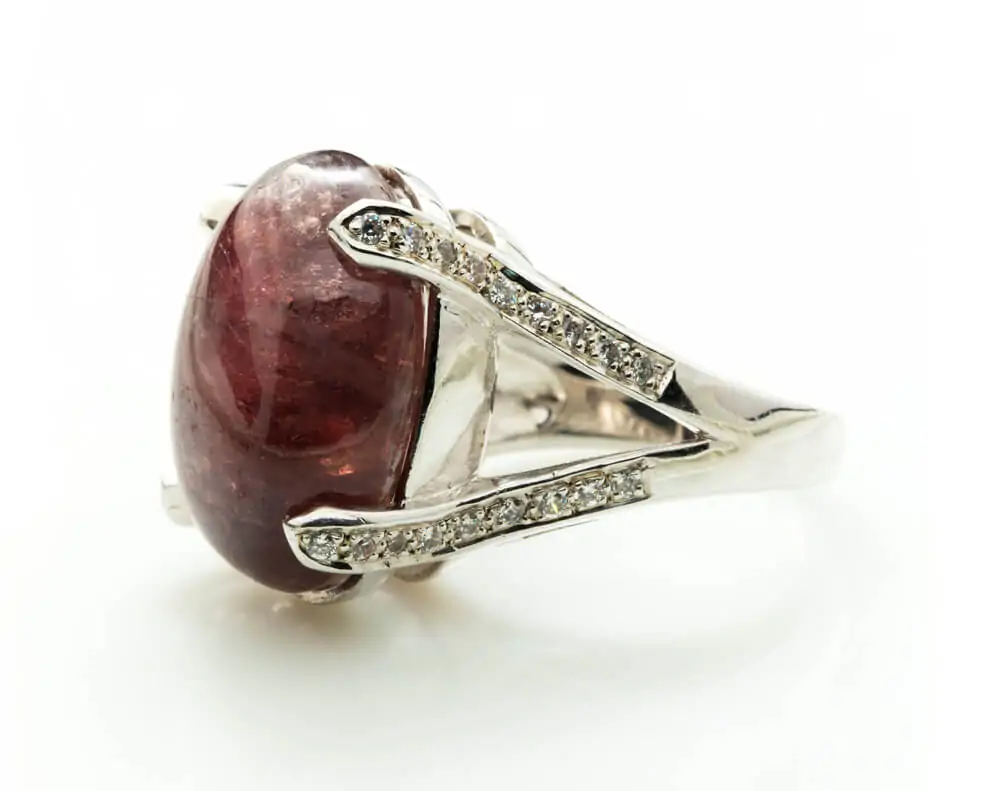 As Jewelry Shopping Guide editors, we write about things that we love and we think you'll like too. We often have affiliate partnerships, and may generate some revenue from these links at no cost to you.
Red is one of the most popular gemstone colors and has been throughout history. Stones such as rubies, garnets, and red diamonds have been valued for centuries. What is it about red gemstones that have such an allure? It is an eye-catching color that looks beautiful on almost all skin tones. What's more, red symbolizes our strongest emotions such as love, lust, and passion. As such, a red gemstone is a perfect gift for a loved one, to represent love or affection.
Regardless of symbolism, it is undeniable that red gemstones are enchanting and used in any type of jewelry. There are many types of red gemstones that come in a range of shades and prices.
Here we have picked our top 15 red gemstones used in jewelry.
Red Diamond
Features:
Highly exclusive
Extremely rare
Incredibly expensive
Synthetic varieties available
Red diamonds are the rarest and most valuable of all colored diamonds. High-quality vivid red diamonds are notoriously difficult to come across and only a handful of them are known to exist. Most colored diamonds get their color due to the presence of some foreign element during their formation.
Red diamonds are a little bit different. They are made entirely of carbon with their color caused due to deformities in the crystal lattice. When light passes through, it is bent and appears red.
Most red diamonds have secondary tints and these can affect the price of the stone but the best is, of course, vivid red diamonds. Natural red diamonds cost several hundred thousand dollars per carat! A more affordable alternative is to purchase a synthetic red diamond, which is man-made variety.
Ruby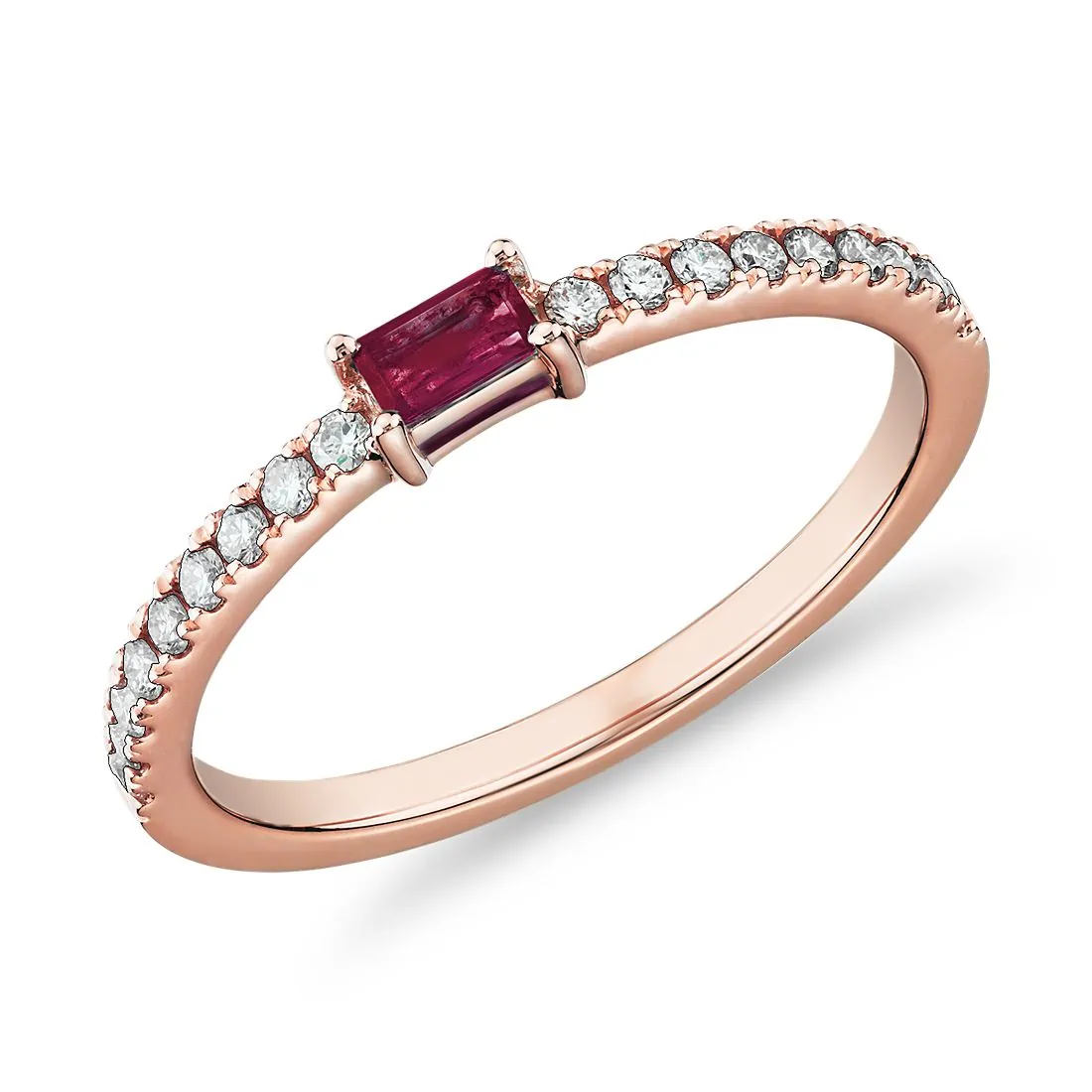 Features:
Prestigious
Expensive
Often treated or enhanced
Synthetic varieties available
Very durable
Rubies are among the most valuable and sought-after colored gemstones. Natural untreated rubies are very rare and very expensive, so most of the rubies you'll come across on the market are either synthetic or treated in some way. Most rubies are heat treated to enhance their color and make them more desirable.
Don't worry as this is an industry standard and will be mentioned on the certificate of authenticity that comes with the stone. If you want the very best variety of ruby, choose the pigeon blood red color. These are the most vivid and beautiful yet also the most expensive.
Made of corundum, rubies are simply the red versions of sapphires. They have excellent hardness (Mohs 9) second only to diamonds and because they have no cleavage, rubies aren't prone to breaking or chipping, making them excellent for daily wear. You can find synthetic and treated versions of rubies also, so knowing the origin of your stone is important to avoid being ripped off. Check our article on how to tell if a ruby is real for more information.
Garnet
Features:
Relatively affordable
Medium hardness
Good substitute for ruby
Garnets are often confused for rubies because of their vivid red hue. However, generally, garnets tend to be darker in color and tone than rubies. Garnets are not very expensive and it's easy to find beautiful, pieces of garnet jewelry at good prices.
Garnets are often eye-clean gemstones, meaning that they don't contain visible impurities. They often have excellent transparency. However, garnets are not very hard (Mohs 6.5 to 7) and can easily be scratched or damaged. If worn in rings, garnets should be mounted in a protective setting such as a bezel or halo to minimize damage to the piece. They are not suited for daily wear but with reasonable maintenance, can last decades.
Tourmaline – a.k.a. Rubellite
Features:
Popular
Fairly expensive
Often eye-clean
Medium hardness
Used in all types of jewelry
Tourmaline, the rainbow gemstone, comes in all colors of the rainbow, including red. The pinkish-red variety of tourmaline is known as rubellite and is a very popular color. Red tourmaline is often free of inclusions and has very high levels of clarity. They have a vitreous luster and interact beautifully with light. When used in jewelry, red tourmalines are often faceted to maximize the reflection of light.
They can be cut into the most popular gemstone shapes, such as emerald cut, marquise, pear, brilliant, and baguettes, but are often found in long shapes. Because they are tough stones, red tourmalines stand up to wear and tear fairly well. They are durable (7 to 7.5 Mohs) and can be used in all types of jewelry.
Red Zircon
Features:
Somewhat rare
Good brilliance
Fairly expensive
Medium hardness
Very brittle
Red zircon is a beautiful natural gemstone but because of the similarity of its name to cubic zirconia, it is often thought of as a cheap, man-made stone. Nothing could be farther from the truth. Red zircons are quite rare but are a common zircon color. They are often in vivid reds with purple or orange secondary tints. While zircon is a beautiful gemstone for jewelry, they are not very hard (6 to 7.5 on the Mohs scale) and because of its brittleness, it can easily get damaged or chipped. Most zircons on the market are heat treated.
Red Agate
Features:
Often banded
Typically dyed
Medium hardness
Affordable
Red agate with a single color is quite rare and it is often found banded with layers of white or gray. Red agates that display only red color are often dyed varieties. Agate has a beautiful smooth sheen and a waxy luster, making it perfect for when cut into cabochons. It is generally translucent to opaque and of very good durability (Mohs 7). Agates can be worn in all types of gemstones with reasonable care.
Although red agate is an affordable stone, the workmanship, and settings used to make the jewelry often raises the price of the final item.
Red Spinel
Features:
Highly popular
Good substitute for ruby
Fairly affordable
Untreated
Very good durability
Red spinel is one of the most popular red gemstones. In the past, red spinel was mistaken for ruby and was only identified as a stone in its own right with the rise of modern-day gemological tools. Red spinel has been the great imposter in the world of gemstones. Even the famous crown of England contained a large red spinel which at the time was thought to be a ruby.
When this was found out, this crown jewel was later nicknamed The Black Prince's Ruby! This mistake was partly due to the fact that most red spinels are found in the same mines as rubies.
As a gemstone for jewelry, red spinel is often free of inclusions and displays high levels of clarity. They are transparent and due to the high refractive index and dispersion, are very brilliant. What's more, red spinel is very durable (Mohs 8) and ideal for use in all types of jewelry. Red spinel is quite affordable and is not known to be treated.
Red Topaz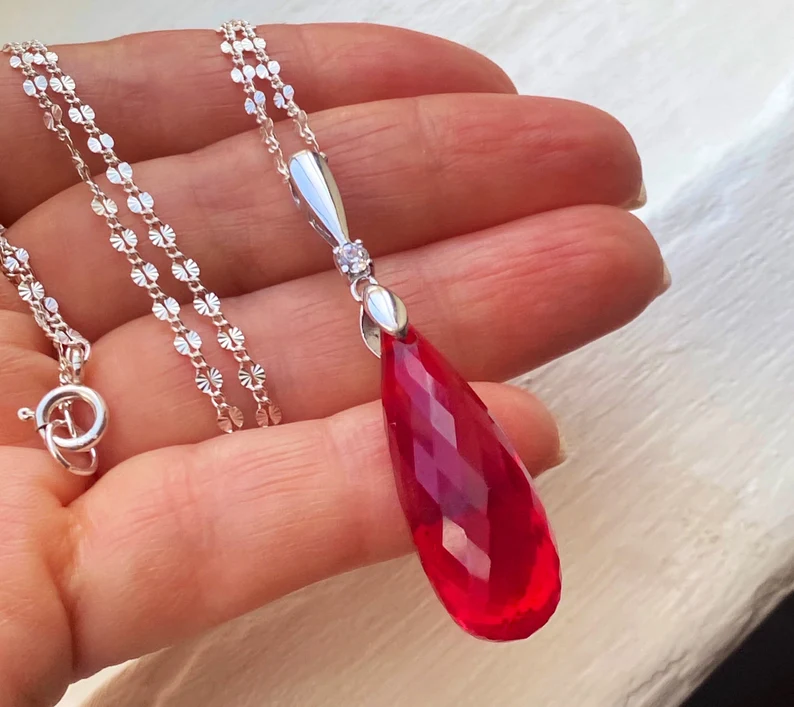 Features:
Valuable topaz color
Fairly affordable
Not rare
Very good durability
Red topaz is among the most valuable topaz colors. As with most gemstones, the deeper and more vivid the color, the more valuable the gemstone. Red topaz is an ideal gemstone for jewelry because it is durable (8 Mohs), affordable, and relatively plentiful in nature. Red topaz has a vitreous luster and is brilliant when faceted. It is often transparent and rarely contains visible inclusions.
Most red topaz is heat treated to enhance color. Red topaz can be used in all types of jewelry, from bracelets and rings to earrings and pendants.
Red Beryl – a.k.a. Bixbite
Features:
Extremely rare
Expensive
Found in small sizes
Very good durability (8 Mohs)
Not many people have heard of bixbite, but everyone knows emeralds, morganites, and aquamarines. What do these four have in common? They're all from the same mineral family – beryl. Bixbite is the red version of beryl and is the rarest beryl gemstone. In fact, it is often considered the rarest gemstone on earth!
It is a relatively new gemstone and was only used in jewelry in the mid-20th century. It has pinkish-reddish shades and is found in small sizes, often under 1 carat. Bixbite, or red beryl, often has inclusions, much like the green gemstone emerald. Bixbite is also known by the name Red Emerald. Bixbite is mainly a collector's item and is quite valuable.
Red Jasper
Features:
Commonly found
Affordable
Opaque
Affordable
Medium hardness
Jasper is a variety of quartz and can be found in many colors, with red being one of the most common. It's an opaque gemstone that is known for the many spots and patterns that can be found on the surface. Jewelry made out of jasper is often unique and has a bohemian vibe to it.
Red Jasper is always opaque and has a vitreous luster. Most red jasper is not treated in any way, meaning that the color you see is its actual color. Jasper is used in all types of jewelry but is a relatively soft stone (6.5 to 7 Mohs) and although tough, can chip and break if dealt a tough blow. One good thing about red jasper is its affordability. Most jasper is cut into cabochons or smooth shapes, as well as carved. Because it is quite a common gemstone you can find red jasper to suit almost any budget.
Carnelian – a.k.a. Cornelian
Features:
Never opaque
Durable stone
Vintage vibe
Medium hardness
Carnelian has been used in gemstones since ancient times and was highly valued in the past. While it's not as valuable today, carnelian is still used to create beautiful pieces of jewelry. Carnelian jewelry often has a vintage charm, especially when set in beautifully tarnished sterling silver.
Carnelian is the red variety of chalcedony and is found in transparent to nearly opaque varieties. Even though it may look solid, the light will always be able to enter the stone to some degree. Carnelian has a glassy luster and can also look waxy. It is mainly cut into cabochons but may sometimes be faceted for more light reflection. It is a tough stone due to its crystalline structure and is quite durable (7 Mohs) for everyday wear.
Red Coral
Features:
Organic
Very soft
Affordable
Not naturally lustrous
Red coral is a variety of organic gemstones. It is found in the ocean and made from tiny marine creatures known as coral polyps. As the polyps grow, build their homes, and die, the coral reefs grow into large structures, often of many beautiful colors. Red coral is made of calcium carbonate and, like all organic gemstones, is quite a soft stone (3 to 4 Mohs).
Red coral is often translucent to opaque and is one of the most popular coral colors. The red shades are vibrant and eye-catching, making for stunning jewelry. Red coral is often shaped into cabochons, beads, or cameos. For a natural and tropical look, jewelers often try to retain the original shape of the coral when making their designs.
While red coral is naturally not lustrous when it is polished and waxed it exhibits a smooth, glossy surface. Red coral makes for great statement necklaces and rings but can also be fashioned into delicate pieces.
Red Rhodolite Garnet
Features:
Little-known
Relatively pricey
Generally eye-clean
Medium hardness
Often confused with rhodochrosite and rhodonite, rhodolite is a rare variety of the garnet family. It is a little-known gemstone. Rhodolite is found in vibrant shades of red, often dark, and contains little to no visible impurities. Rhodolite has high brilliance and is often faceted to enhance the luster of the stone. Rhodolite is always untreated, meaning that it contains its natural color.
Although rhodolite is not very hard (6.5 to 7.5 Mohs) it is used to make all types of jewelry, even rings. They are quite tough stones and require minimal care and cleaning. This beautiful gemstone pairs well with any metal color.
Red Andesine – a.k.a. Andesine-Labradorite
Features:
A new gemstone
Mysterious origins
Medium hardness
Typically synthetically colored
Good ruby substitute
This gemstone is a new kid on the block, only entering the market in the early 2000s as a gemstone for jewelry. There is some mystery surrounding this gemstone as no one really knows where it is mined or what it is really called. What we do know is that andesine is a plagioclase feldspar, and is found in a variety of red shades, as well as other colors. It looks very similar to sunstone.
Andesine has a hardness of 6 to 6.5 on the Mohs scale and has a glassy luster. It can be made into most types of jewelry, although it isn't recommended for rings. Andesine is not very costly and is sometimes used in place of more expensive gemstones such as ruby. It is often faceted to bring out its brilliance. Most of the andesine on the market is synthetically colored, although not all vendors disclose this.
This can make shopping for andesine difficult as you never really know if you're getting the real deal.
Red Tiger's Eye
Features:
Not rare
Transparent to opaque
Affordable
Medium hardness
Earthy colors
Tiger's Eye is a type of quartz that is very affordable and easy to find. The red tiger's eye is reddish to brownish red and is wooden and earthy in color. Tiger's eye is often banded or has beautiful dark patterns that add character to the stone. Tiger's eye jewelry is unique and has a bohemian touch to it.
Most red tiger's eye is translucent to opaque and can sometimes exhibit chatoyancy which is the cat's eye effect. Tiger's eye may sometimes display iridescence and has a smooth, silky luster. It is good for regular use and is durable enough to be used in most types of jewelry (Mohs 6.5 to 7).
Some Notable Mentions:
There are many red gemstones in use in the jewelry world. Here are a few that didn't make our top 15 list for one reason or another.
1. Red Fluorite
This is a brilliant gemstone with a beautiful red hue. However, it is quite rare and soft, making it unsuitable for most jewelry making.
2. Red Pezzottaite
This gemstone is one of the rarest gemstones. Like bixbite, they are a beryl variety and are a relatively new gemstone.
3. Red Oligoclase
These stones come from India and Sri Lanka and although commonly white, red varieties have been found too.
4. Cuprite
This gemstone has a very unique color and is highly brilliant with a vivid red hue. However, due to its softness, it is not recommended for use in jewelry.
Red Gemstones and Metals
Although red may seem like a feminine color, it is gender-neutral and many amazing jewelry designs for men include red gemstones. Red gemstones pair well with all metal colors. When set in silver-hued metals, such as platinum, white gold, or silver, it has a contemporary look. If the silver is purposely tarnished to bring out an elaborate and detailed design, it takes on a more vintage appearance.
Yellow gold also gives red gemstones a traditional look. This is because yellow gold is a classic jewelry color and has a vintage look. Rose gold and red gemstones make for an interesting pairing. Not everyone will appreciate this combination but it does tend to make for some beautiful and arresting jewelry.
Red Gemstones and Skin Tone
Most people overlook how skin tone can affect their jewelry choices, but this is a factor to consider. Certain colors compliment certain skin tones better than others. If you aren't sure what your skin tone is, read our article on skin tones. Red is ideal with cool skin tones and stands out vibrantly against the skin. It can make warm skin tones look dull. But this of course is not a hard and fast rule. If the gemstone looks good against your skin then that's all that matters.
Where to Shop
Red is a highly popular color for gemstones and there will be lots of options available to you whether you shop online or at a brick-and-mortar store. However, taking your search online will give you more options to find even the most uncommon varieties of red gemstones.
Amazon has a very good range of red gemstone jewelry including loose gemstones.
James Allen sometimes has red diamonds for sale although at the time of writing, they did not have any listed. They do have a good range of rubies on offer.
Also, check Leibish.com for natural and untreated red diamonds and gemstones.
Remember to always shop at a reputable and licensed jeweler and check the origin of the stone before you purchase. Ask about what treatments, if any, have been conducted on the stone, and where applicable, request a certificate of authenticity. Always take some time to check the genuineness and value of the item, especially if investing in an expensive red gemstone.