If you're after moissanite, you will surely have heard of Charles & Colvard. The creators of lab-created moissanite, Charles & Colvard have been the undisputed leaders of moissanite gemstone and jewelry for over two decades. Continuously innovating, they have improved the quality of moissanite over the years and brought it into the limelight as a gemstone to be reckoned with.
Let's take a closer look what Charles & Colvard offer, and what makes them stand out from other moissanite retailers on the market.
Charles & Colvard Pros and Cons
Pros:
The undisputed leaders in high quality moissanite jewelry
Excellent prices
Large inventory of unique jewelry designs
Limited lifetime warranty on all their jewelry
60 day free returns
Commitment to socially responsible jewelry
Free shipping
Certificate of authenticity with all jewelry
Well-organized website
Extensive moissanite education section
Cons:
Limited choice of metals
Search filters are limited in options
International shipping is not free
Charles and Colvard – Who Are They?
Charles and Colvard was founded back in 1995 by Charles Hunter, as a jewelry manufacturer and distributor. They quickly gained recognition for their high quality and unique jewelry designs.
What really sets Charles and Colvard apart is that they were the first to manufacture and retail synthetic moissanite. Because Charles and Colvard had patented the process, only they had the rights to produce moissanite. Since the patent ran out, many new moissanite manufacturers have flooded the market. Even so, Charles and Colvard still hold the place as the most trusted and recognized moissanite brand.
Charles and Colvard made moissanite accessible to the general public and offered an excellent alternative to those for whom diamonds were not a likely option. Under the Charles and Colvard umbrella come several moissanite brands such as Classic Moissanite, Forever Brilliant Moissanite and Hearts & Arrows. Today Charles and Colvard are the undisputed leaders in loose moissanite and moissanite jewelry.
While Charles and Colvard don't have physical stores, you can find their products in many leading jewelry stores nationally and internationally. You can also find Charles and Colvards trademarked moissanites in many countries, including in Australia, Canada, China, the UK, Isreal, New Zealand and Mexico.
The Charles and Colvard Range of Products
Charles and Colvard is moissanite heaven. They have a number of different brands and collections of moissanite jewelry and loose stones on offer, varying in price and quality. Here are their popular collections:
1. Forever One Moissanite
Forever One Moissanite is Charles and Colvards highest quality moissanite. The Forever One is the result of years of research and honing of the craft of moissanite creation, and the result is a beautiful, new gemstone of unsurpassed quality.
The Forever One is colorless with a D-E-F color grading on the GIA scale. It is flawless to the naked eye and is extremely durable. Understandably, the Forever One is pricier than the average moissanite out there.
However, there is also a near colorless grade of Forever One, with G-H-I color grades. These stones have a slight tinge of an icy hue. This is similar to the company's previous moissanite brand Forever Brilliant, which emitted a warm hue and was also in the G-H-I color grades. Forever Brilliant was discontinued but Forever One's second grade takes its place.
Compare these two moissanite stones. You'll notice that the Forever One D-E-F is $200 more than the Forever One G-H-I.
In terms of appearance, these two stones are very similar to each other. If you are on a strict budget, you could purchase the slightly less expensive near-colorless stone and still have a gorgeous moissanite.
2. Fancy Shapes
At Charles and Colvard, you can find moissanite in a range of popular gemstone shapes. Round moissanite shapes are the most popular (as it is with diamonds) however other cuts such as princess, emerald, pear, marquise, oval, cushion and trillion are also on offer.
They also have a collection of vintage rose cut moissanite, including the Duet Rose, which is a double sided rose cut. When set in a jewelry, this cut exhibits both sides of the stone, creating sparkle as well as a larger looking moissanite.
3. Engagement Rings
Charles and Colvard have an extensive collection of engagement rings. There is something for everyone here, ranging in price from a few hundred dollars to several thousand dollars. Whether you're after a minimalist design or something more elaborate, you can find it in their collection.
Charles and Colvard offer all the popular ring styles and designs, including solitaire, halo, three-stone, side-stone and vintage rings. Each piece is created using high quality materials and craftsmanship, and the end result is a gorgeous engagement ring. You can chose from 14k white, yellow and rose gold metals as suits your taste.
4. Wedding Rings
When it comes to choosing your wedding ring, Charles and Colvard have a range of these on offer too, including classic, eternity and anniversary bands. You can also go a step further and pick out a bridal set, making it much easier for you down the track when it comes to choosing your wedding ring. The bridal sets come from minimalist designs to more elaborate, maximalist styles.
5. Moissanite Jewelry
At Charles and Colvard, you can find fine jewelry for every occasion. This includes rings, earrings, bracelets and necklaces.
From dainty beaded rings, to more elaborate cocktail rings, Charles and Colvard have a range of rings for all styles. We especially love their stackable ring collection, as these are perfect for any occasion. Because these items are made of gold and high quality stones, they look classy and glamorous.
Charles & Colvard Necklaces
You can find several types of necklaces under the categories fashion, halo and solitaire necklaces. These beautiful pieces of jewelry add the perfect amount of bling to complement any outfit. These necklaces can be layered for a stunning casual or formal look and complements any outfit.
Charles & Colvard Earrings
The earrings at Charles and Colvard are categorised under stud, hoop, and drop earrings. Stud and smaller hoop earrings are perfect for every day wear and look very classy. Moissanite stud earrings are very similar in appearance to diamond stud earrings but come at a fraction of the price.
Drop earrings are perfect for a dressier occasion. There are some unique, stunning earring designs at Charles and Colvard. This is one of our favorites:
Charles & Colvard Personalized Jewelry
If you want to personalize your jewelry, check out the customizable jewelry section on the website. Here, you'll be shown all the pieces of jewelry that can be engraved with a message, quote or name that is meaningful to you.
Just note that any engraved or customized items cannot be returned, so make sure that you truly love the piece you choose before you have it engraved.
6. Hearts and Arrows Moissanite
If you are only after a moissanite stone, you can find over 12 categories of moissanite stones at Charles and Colvard. The loose moissanites come in every popular gemstone shape.
There is even a category called Hearts and Arrows, which refers to the finest cut moissanite. These stones have ideal proportions which results in 8 symmetrical hearts and arrows that is visible when viewed through a gemstone viewer.
7. Lab-created Diamonds
Charles & Colvard have added synthetic diamonds to their list of offerings. Marketed under the name Caydia, these diamonds are carefully hand selected by their in-house gemological experts. Charles & Colvard call them the world's most superior lab-grown diamonds.
The Charles and Colvard Shopping Experience
When shopping for jewelry online, one of the most important criteria we require of the vendor is high quality images and videos of the actual product, and not just a stock photo.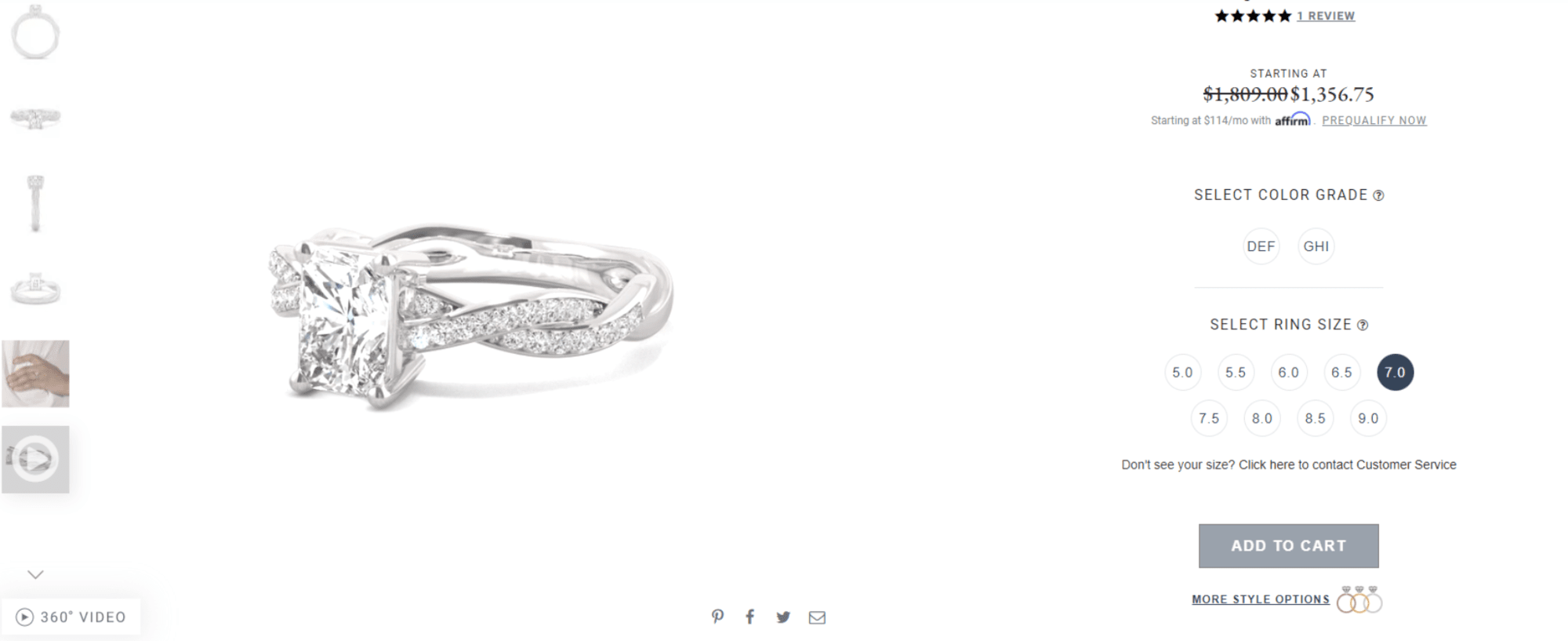 Charles and Colvard make it easy to purchase loose moissanite and jewelry on their site because the company has provided all the necessary information, images and videos you require to make a decision.
Each loose moissanite and piece of jewelry comes with a number of HD images from various angles. Most of the jewelry come with a picture of a model, to give you an accurate idea as to the size of the piece.
Gemstone and Diamond Images
There is also a high quality 360 degree video for almost all their inventory, giving you a clear idea how the piece sparkles and looks from all angles. All their Hearts and Arrows stones come with a light performance image that shows how the stone looks when seen through a gemstone viewer. This allows you to assess the cut proportions of the stone.
Customizing Options
The website allows you to customize your selection by selecting the filters that you require. There is Live Chat available during certain hours but you can leave a message and the company will get back to you the next day. The sales reps are knowledgeable and take the time to answer your question. We deliberately spent a very long time asking testing questions from the sales rep and were satisfied with the service we received.
User Friendly Navigation
The website is easy to use and logically set up. There is also an extensive section that answers any questions you might have on moissanite. This is especially helpful to the average consumer, as not every person is well versed in the pros and cons of moissanite.
However, we find that the search filters are not extensive and does not allow you to pinpoint exactly what you want. Rather, there are ranges given for stone type, price and weight. However, as their inventory is not as enormous as certain diamond retailers such as James Allen, this is not a very big limitation.
The Fine Print – Returns, Warranty and Financing Options
Charles and Colvard have a 30 day returns policy. This is quite generous in the industry as most retailers offer a standard one month only. However, not all items can be returned, so check whether the piece you have purchased falls into this category.
With each piece of jewelry or gemstone that you purchase, Charles and Colvard offer a limited warranty and a certificate of authenticity. This means that if you have any issues with the item you have purchased, you may be able to have the piece repaired or replaced by the company. You can read the conditions of this limited warranty on their site to see if it suits you.
If you can't pay the entire sum at once, they have several financing options available. These include paying over a period of several months with low to zero interest. However, understandably, international customers are not able to access finance options.
The Final Verdict
Charles and Colvard have reasonable prices and good quality jewelry on offer. As a company that specializes in moissanite, you should definitely check them out if you have decided to purchase moissanite rather than a diamond.