As Jewelry Shopping Guide editors, we write about things that we love and we think you'll like too. We often have affiliate partnerships, and may generate some revenue from these links at no cost to you.
If you're wondering what's new in the world of ear accessories, check out the mismatched earring trend. Asymmetrical earrings have been growing in popularity and lots of celebrities have been sporting the look. This intriguing look has also seen some love on the fashion runways this year.
There's something confident and trendy about wearing mismatched earrings, perhaps because it is such a move away from the traditional view of earrings needing to match. It's an easy way to update your collection of earrings and get creative.
Why mismatched earrings?
The jewelry world is seeing an increase in non-traditional trends: non-diamond engagement rings, east-to-west rings, mixing metals, and now mismatched earrings.
Mismatched earrings are bold and confident and require a shift from your comfort zone to pull off the look. True, they can be odd and even weird, but they make you take notice and lean in for a closer look.
But does wearing mismatched earrings mean throwing on two earrings from different pairs? The experts say no. Your earrings shouldn't look haphazard; there should be some correlation between the two sides.
How to pick a mismatched earring set
To avoid looking like you mistakenly put on two wrong earrings, it's important to find some connection between the two pieces. To pick the perfect mismatched earring set, focus on at least one of the following correlating factors: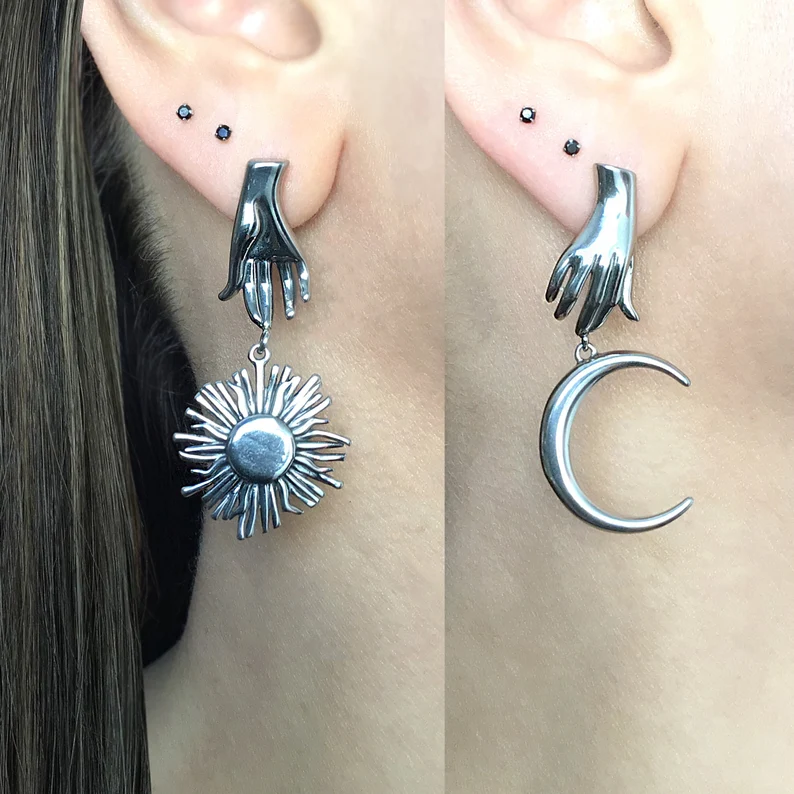 Pick a pair of earrings that share a similar theme. They can be radically different from each other, but sharing a common theme ensures that the two sides complement each other. The theme you decide to pick depends on you. Some popular options are sun, moon and stars, sailing, flowers and leaves, and geometric shapes.
Color is another correlating factor. Your earrings may be different in other aspects, but the similarity in color will connect the two pieces. On the flip side, you can use complementary colors to create a harmonious contrast, such as black and white or blue and yellow.
Also, look out for similarities in the material. Different materials are perfectly fine as long as there is coordination in the pair. The pair of earrings featured above are very different in design, but they both have the same materials and color, which naturally makes them look similar.
Another way to get creative is to wear a single side of a pair of earrings you already have. If it's a dramatic statement earring, it will combine beautifully with a stud on the other ear for a modern, trendy look. Or simply wear it as a single earring which is just as interesting and eye-catching.
Complement your outfit
To keep the focus on your jewelry, minimize other embellishments when putting your outfit together. If your mismatched earrings are very large and eye-catching, try sticking to neutral colors for your outfit.
Also, consider choosing a matching hairstyle that complements your earrings. If your hair is up, your earrings will have center stage. Side-swept hair is another good way to emphasize the difference in your earrings.
If you aren't quite convinced yet but want to give it a shot, start small and then work your way up. You can begin with mismatching studs that are not very different.  This is a good way to test the waters without committing fully! And then, if you are ready to jump right in, get as creative as you can!
Check out Etsy's amazing range of mismatched earrings, from cute and funny to stylish and chic available at a range of price points to suit all budgets.