Most people tend to sell their diamond jewelry at a time of transition or upheaval – after a divorce, a breakup, a death, when we're strapped for cash, when we just want a change, or to simply upgrade an engagement ring. Regardless of the reason, the last thing you need is for your valuable jewelry to be undervalued.
Traditionally, pawn shops were the place to go to, but they tend to undervalue jewelry and will often give you a bad deal. Which brings us to online businesses that buy jewelry. Today there are several excellent online stores which provide this much-needed service, offering to purchase your diamond jewelry. But this still raises the question of whether or not you'll get the optimal price.
In this article, we'll take a look at seven of the best places to sell your diamond jewelry online, taking into account their purchase process, the value they offer, ease of use, and customer service.
1. Worthy
If you've already started doing some research on online jewelry buyers, you've probably heard of Worthy. What sets Worthy apart from many of the other stores on this list is that Worthy is an online jewelry auction and not a direct buyer. This is important as it leads to a few differences:
You can reach multiple buyers simultaneously, which can drive up the price of your piece of jewelry.
As an online auction and not a direct buyer, Worthy takes a commission for each sale.
They appraise each diamond ring they receive, obtaining a GIA or IGI certificate free of charge to you if you don't already have one.
Selling your jewelry piece can take some time.
In some cases, you can sell your piece either for well above or below its expected market value depending on how the auction goes. Fortunately, Worthy sets minimal thresholds for most sales depending on the piece's value.
This may sound overly complicated but online auctions, and Worthy in particular, offer several benefits. For one, the company has the necessary expertise to find the best buyer. Also, since the auction is selling to buyers directly and not to jewelry vendors, you may get a higher price which offsets Worthy's commission.
Worthy also mails you a free shipping label and provides free shipping insurance for up to $100,000. Your jewelry is also certified by reputable third-party gemologists. Worthy than arranges the sale in the best possible way using this third-party report, professional photos, a detailed and captivating description, as well as utilizing its many connections with potential buyers.
All in all, Worthy offers a different way of selling your diamond jewelry online.
2. Abe Mor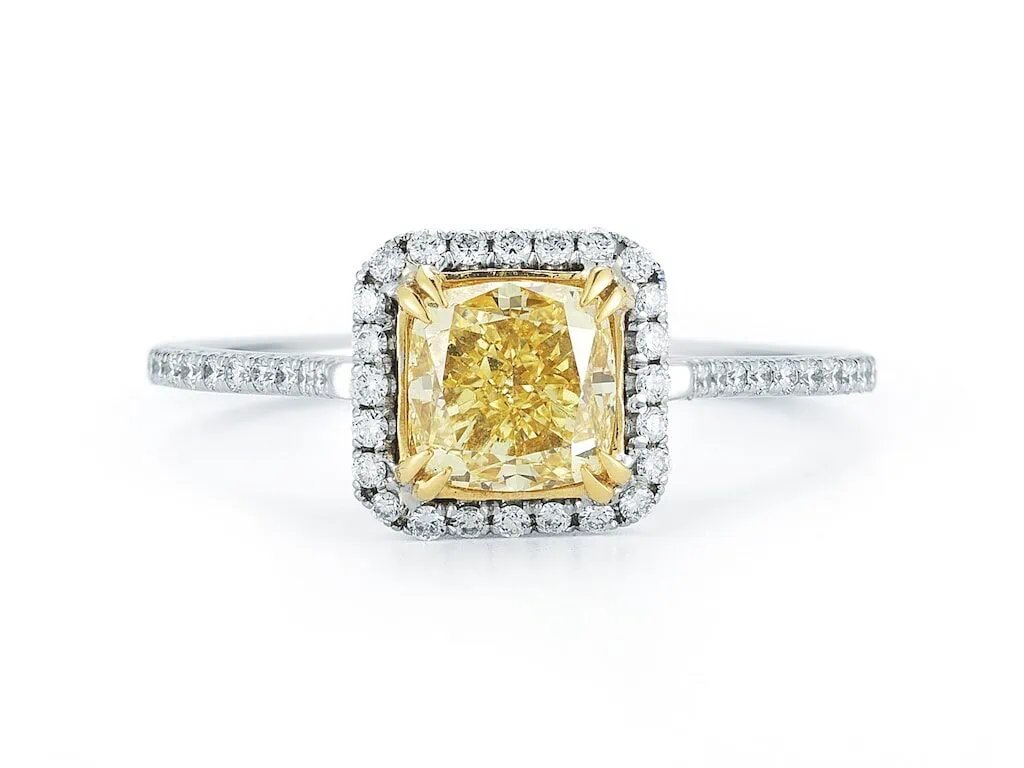 Abe Mor is an excellent company, and one of the best options to sell your diamond jewelry. The company is named after its founder, an Israeli American with decades of experience in the diamond industry.
The company offers some of the best prices for used jewelry out there. They don't auction or list your jewelry for sale but instead prefer to buy it directly, making the whole process convenient and quick. This business model works because they are also a jewelry wholesaler, selling used jewelry and offering tempting trade-ins.
As a wholesaler, Abe Mor may not offer many perks for the jewelry they sell (i.e., warranty, free maintenance, and so on) but the quality and value-for-money are still very much there. As a buyer, however, they are even more of a joy to work with – they happily pay for both the shipping and shipping insurance of your jewelry pieces, their value assessments are fair and competitive, and their professionalism and experiences also guarantee satisfaction.
It's still worth it to get a third-party assessment beforehand, of course – it always is – but, from everything we've seen, Abe Mor consistently offers more for a direct purchase than most of their competition.
3. Louped
The business model of Louped is a bit different from what we've talked about above. They are neither an online auction nor a direct buyer – they are both.
What this means is that you have two options with this company – either create a listing for your jewelry piece to be auctioned to the public or sell it to Louped directly. As with other auction vs. direct sale comparisons, choosing to auction your piece will likely net you a higher price but takes longer.
Louped will take a commission off the price of your piece as payment for facilitating the sale – the commission is steeper than some other online jewelry auction platforms, but on the flip side, Louped accepts lower-priced items, starting from as low as $500. In comparison, most online diamond jewelry purchasing sites have a higher price point for the jewelry they accept.
One hiccup some customers have is that Louped offers authentication only once the sale has been completed. However, at that stage, if the buyer has any issues, the sale can be renegotiated or cancelled.
If you insist on having your item pre-authenticated, the commission of Louped jumps up to 25% whereas if you don't it remains in the 10% to 20% range, based on the price of the jewelry pieces.
4. The RealReal
This is another interesting option if you want to auction your diamond jewelry rather than sell it directly. The RealReal works as an online auction for used jewelry with the key difference being that they accept jewelry pieces of any monetary value – even under $100!
This is great if you want to sell off low-cost jewelry quickly and easily. The process is the same as with other online auctions – you fill out a form, The RealReal sends you a free shipping label (or you can also opt to hand the piece personally if you live in Chicago, Dallas, Miami, San Francisco, NYC, LA, or Washington DC). They will then assess the exact value of the jewelry piece.
After this step, the company will inform you of their suggested listing price and if you agree with it, they'll put the piece up for sale. Once it's purchased, The RealReal will pay you via Direct Deposit or by check.
The only catch in the whole process is that The RealReal's commissions are considerable, especially for low end items. While most auction sites don't go over 25%, The RealReal can take up to 60% of your jewelry piece's value. The reasoning behind this is that they accept jewelry pieces of any price range, including ones as low as two digits. So, for the whole process to be worth it for The RealReal, they have to charge more.
If your jewelry is worth more than $1,000, however, The RealReal's commission drops to 30% – which is still considerable.
5. Circa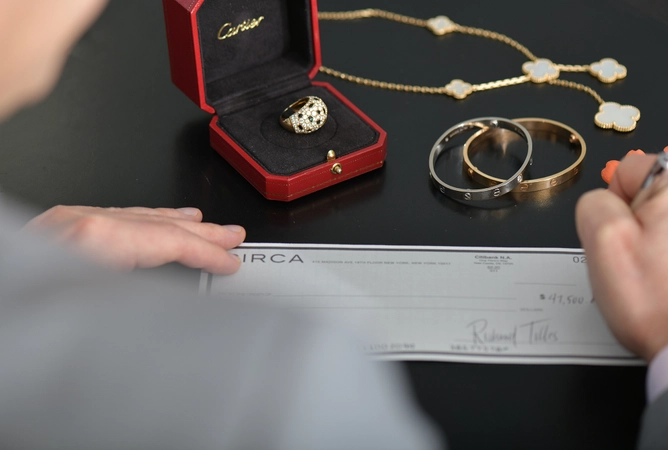 Circa – previously known as Mondiamo – is a direct online buyer of loose diamonds. They make it easy to conveniently and easily sell your diamond jewelry while still getting a fair price for it.
Their process works like this:
First, you send them information about your diamond or diamond jewelry piece and Circa commits to a price range based on your description. If you find the price agreeable, you send your piece to Circa for free via their shipping process. They authenticate the piece and give you an exact quote – you can either accept it and get paid or refuse and get your jewelry back free of charge.
The payment is completed either by a bank transfer or via check. There are also wire transfers for international customers. You can also get paid with a gift card for Circa as well as for Blue Nile, one of the largest online jewelry vendors we often talk about here. Choosing this payment model is completely optional but usually bumps up the price you're getting up to 110% or 120%.
It's also worth noting that Circa's prices can either include the value of your jewelry's metal or just the diamond – as you prefer. If you want, you can just sell the diamond and then Circa will return the metal of the jewelry piece.
6. Cash For Gold USA & Cash for Diamonds USA
Cash For Gold USA is one of the biggest and most well-known buyers of used gold jewelry in the US. The company has built a solid reputation over its years of operation and is one of largest online gold buyers. They purchase gold in pretty much any form:
Old or broken jewelry of all types, such as rings, necklaces, bracelets, earrings, and so on.
Gold nuggets
Scrap gold
Golden dental crowns
The company purchases almost all types of gold between 8K to 24K. All you need to do is fill out a form on the company's website and request a shipment via USPS or FedEx. Then, Cash for Gold will give you an approximate price and send you a shipping package for your jewelry piece.
They will then assess the piece's value, give you a quote, and you can decide wether to go ahead with the sale or to back out. The company will return the jewelry piece if you decide not to go ahead and will even return your jewelry free of charge.
For the diamond jewelry, we'd recommend looking into their sister site Cash for Diamonds USA – they follow the same process as Cash for Gold USA. Cash for Diamonds accepts stones of various cuts and quality categories and offers good prices. Customers tend to praise both companies transparent purchasing and price breakdown – and many have stated that the valuation they received was higher than expected.
You might want to receive a third-party assessment ahead of time for comparison purposes. Even so, we recommend both Cash for Gold and Cash for Diamonds as they are highly trusted and reputable vendors.
7. The Diamond Valet
The Diamond Valet buys and sells diamonds, operating on the principle that customer satisfaction is key. Their service is free, and gives you the option of proceeding or backing out after receiving an appraisal.
Similar to Cash for Gold/Diamonds, the Diamond Valet works by first asking you to fill out a form describing your jewelry. They will then send you an approximate quote and, if you find the price range acceptable, they'll send you a free shipping label.
Once you've sent your piece to them free of charge via Ups, the USPS, or FedEx, Diamond Valet's jewelry experts will examine the jewelry piece and will you a quote, that you can either accept or reject. If you decide to proceed, Diamond Valet will send you a cashier's check or a company check. If not, they'll return the piece free of charge. There's really not much to lose in the process.
Diamond Valet work with used diamond stud earrings, diamond engagement and wedding rings, tennis bracelets, as well as watches. However, the company only accepts diamonds that are larger than .75 carats, so look elsewhere if you have smaller diamonds.
Selling Your Jewelry Online – Safe and Worth It?
The idea of selling jewelry online tend to make people feel uneasy. However, it can be an excellent option to get a good deal conveniently and easily on your diamond jewelry.
To put it simply – selling jewelry online can be both worth it and perfectly safe if you've found the right platform or buyer. If not, then, yes – you may get scammed. The above vendors are known for their solid track records and great customer service. However, we recommend doing your own research to find which of these vendors is the best option for you.