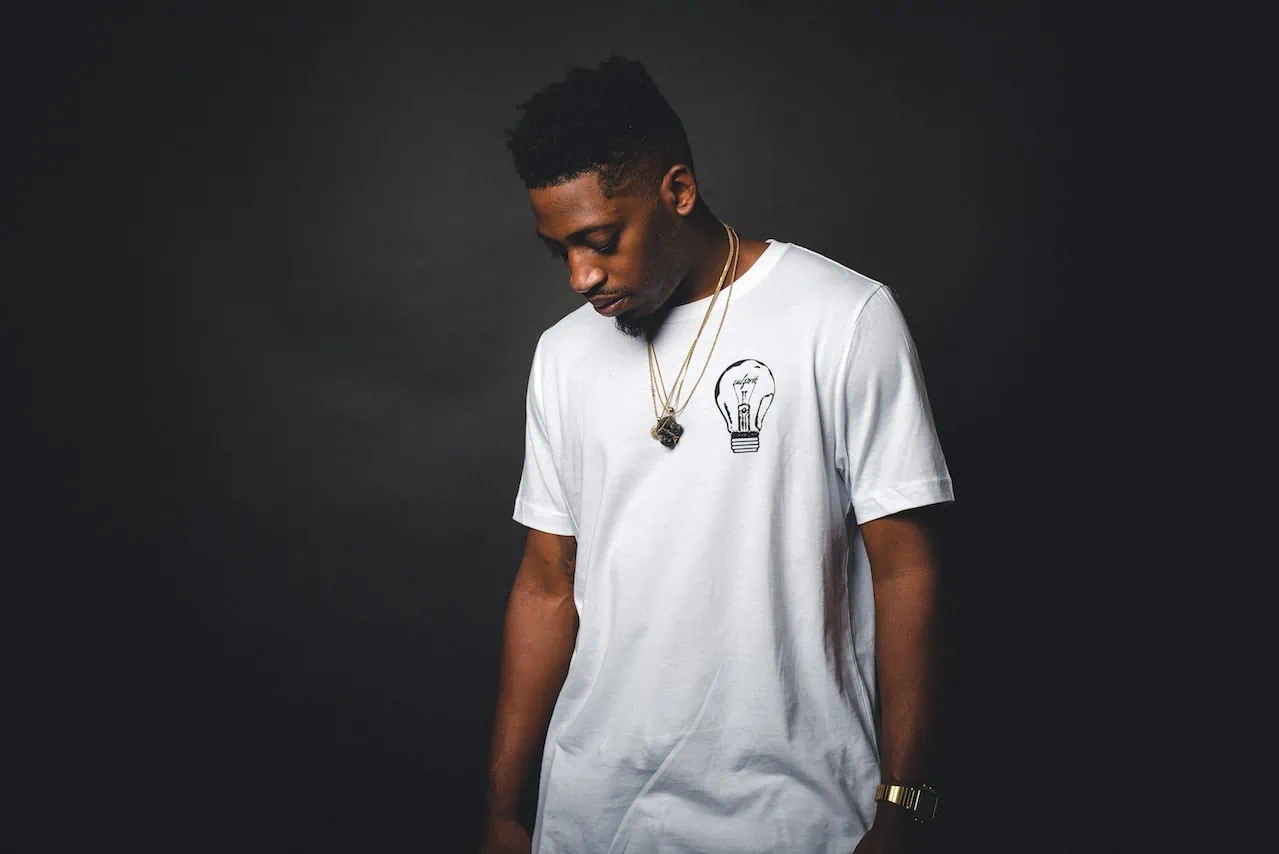 A Figaro chain is a popular interlocking chain type. With a bold and intricate appearance, it can look good on both men and women. Knowing your options and how to wear it will help you make a striking impression. 
Figaro chains are beautiful metal chains, usually made in silver or gold. The pattern of the chain is highly recognizable – it has two (or three) circular links interspersed with an oval one. The pattern continues throughout the chain. Let's take a look at the Figaro chain, how it's different from other chain types, and what are its pros and cons.
How is a Figaro Chain Different?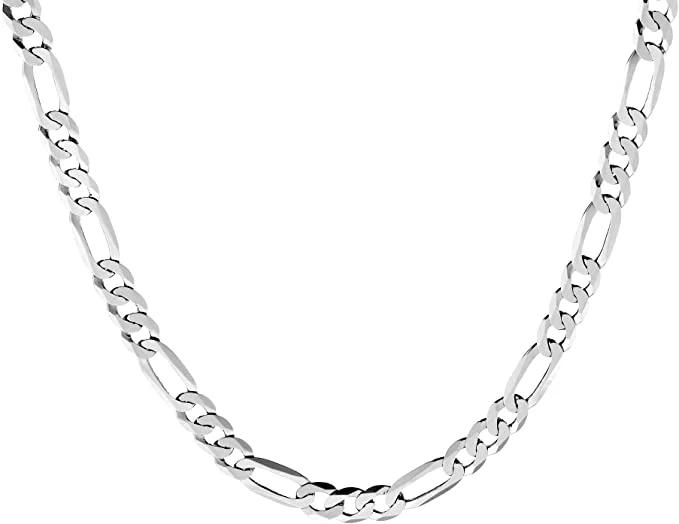 A Figaro chain is one of the most popular types of chains for both men and women. In smaller sizes, it has a delicate, feminine feel to it, while larger, statement Figaro chains are ideal for wearing on their own.
While they may look similar to other chain types, Figaro chains are quite distinct. You can tell them apart by their consistent pattern – two or three circles, followed by an elongated circle. Each is beautifully linked to the other, creating a stylish and durable chain.
Why Is It Called a Figaro Chain?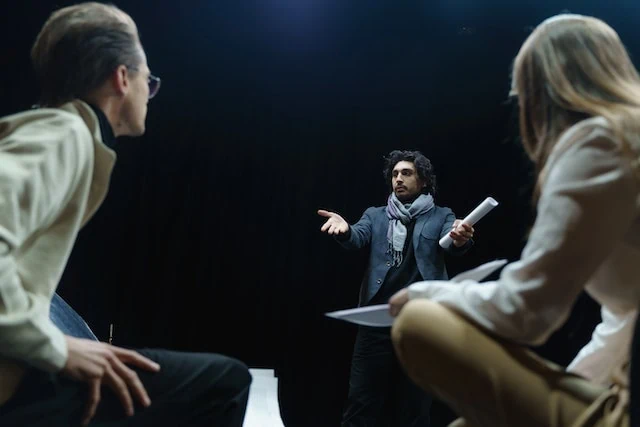 Figaro Chains have an Italian 'baroque' look. They're quite ornate but also look very solid. They get their name from their Italian origins and from the Mozart Opera, The Marriage of Figaro.
Locating the 'connection' between the chain and a 17th Century opera is tricky. Don't expect much help from the internet. But let's delve closer for some clues.
The spacing of the opera's most famous lyric is "Fi-ga-ro". The timing is 0-X-X. One long phrase, and two shorter ones. Like the chain's pattern.
Another possible meaning comes from the story of Figaro. Figaro is the story of a complex and interlocked love relationship. The Figaro chain connects interlocking pieces. But it includes the oval element, an outlier, to create a more interesting design.
While this is all just speculation, it makes sense that a chain named Figaro should have its origins in an opera that is beautifully spaced and complex.
Pros and Cons of a Figaro Chain
The Figaro chain is one of the most popular chains out there, and with good reason. It offers several benefits, but as with all things, there are also a couple of downsides to consider.
Pros:
1. It's versatile.
A Figaro chain is attractive, versatile, and striking. It has unconventional patterning. So, you don't need to embellish it with a pendant. And you don't need to spend a lot on expensive metals to emphasize an already attractive, unique look. It looks great as it is.
2. You can add a pendant.
While Figaro chains look great without a pendant, their strength makes them ideal for supporting one. Use your judgment to get the balance right between the length and thickness of the chain and the pendant. Combining the two can create a powerful jewelry item.
3. It's good in different lengths.
A Figaro chain looks good in different lengths too. Men often go for a shorter chain length, while women opt for mid to longer styles. It's also fine to wear more than one chain at a time.
Shorter lengths start at around 16" (approx. 40cm). Traditionally a more masculine length, it's simple and compact and won't get in the way if you're on the move or involved in practical tasks.
Longer chains that can extend all the way up to 28" (approx.71cm) are showier, but also less practical.
4. It's good in different thicknesses.
Figaro chains can also vary in thickness too. Notice a real difference between a 1.6mm thickness and a chunkier 2.0mm version. Generally, the thicker the chain, the more powerful the look. Longer chains look better when they're not too thick, while a thicker chain can be stronger.
5. It's highly durable.
One of the best things about the Figaro is just how durable it is. Because each link is carefully interlocked with the next, it makes for a strong chain. The Figaro can hold most pendants (depending on the chain's thickness of course). In general, if you're looking for durability, the Figaro is one of your best options.
6. It looks good against plain backgrounds.
It looks great against a plain white or black t-shirt or blouse. This is its best look. The patterning of a Figaro chain is quite complex. So, keeping the background simple will make the chain stand out
Cons:
1. Don't overcomplicate the look.
Looks can get over complicated when laid over a patterned texture. Increasing an already complex design with underlying checks or florals is not great. This tends to confuse the eye and cancel both patterns.
2. Too thick can be too strong.
As with most interlocking chains, too thick can mean too strong. If you want to emphasize a hip-hop look or really show how much gold you're carrying, then go for it. Otherwise, for subtlety and style, don't wear anything too thick. Especially with a Figaro Chain that already has a strong appearance.
3. Breakages
Figaro chains, like all link chains, can break. While Figaro chains are one of the strongest necklace chains, lots of small links can lead to breakages from time to time. The good news, these links are easy to repair and replace. But be aware that chain jewelry does tend to go missing sometimes because of its 'weak link' tendency.
What is the Best Metal for Figaro Chains?
Figaro chains come in a variety of metal types, from inexpensive options like steel to precious metals such as gold and platinum. What you choose depends on your budget, your purpose for the chain, and how often you plan to wear it.
If you're planning to wear the chain on a regular basis, opt for higher-quality metal. This will ensure longevity while minimizing the risk of skin issues from low-quality metals. However, if you're going for the costume jewelry option, and plan to wear the necklace only a few times, then cheaper metals will be fine, as longevity and discoloration are not major issues.
For statement-making chunky Figaro's, it's a good idea to buy stainless steel, like this one if you're looking to keep prices low.
If you have the budget, however, you could go for gold, like this stunning large Figaro regardless of the price.
Who Can Wear a Figaro Chain?

Both men and women can wear Figaro chains and look very stylish. For men, the chains are bold and strong looking when worn without a pendant. They have a distinct pattern, so work well against simple backgrounds like white or black.
For those who want a feminine aesthetic, thinner Figaro chains look great. They're also perfect for layering.
Wrapping Up
The Figaro chain is simple enough – two circular links and an oval one. But this creates a very striking finish. Make sure to get the length and thickness right to maximize the appeal and power of this unique link chain. And think about the metal too. Silver and gold create very distinct looks, depending on your skin type and what clothes you're wearing.