As Jewelry Shopping Guide editors, we write about things that we love and we think you'll like too. We often have affiliate partnerships, and may generate some revenue from these links at no cost to you.
If you thought engagement ring boxes had to be formal and boring, think again. Why would you want to keep your special ring in a mediocre default jewelry store box when you have a wide range of unique and creative ring box options to choose from?
A unique engagement ring box will not only keep your ring safe during and after the proposal but is also an excellent way to showcase your personality and style.
Here are 11 unique engagement ring boxes that we've carefully selected to suit every taste and style, be it romantic, goofy, goth or vintage. We're sure these are going to wow you.
Resin Ocean Ring Box
This minimalist natural box combines the unique texture and colors of resin with the grainy nature of wood, to create a harmonious blend of two distinctly different materials. The result is a gorgeous ring box that's slim and stylish, with a modern aesthetic. It's perfect for someone who loves the outdoors, as the blue hues evoke images of the sky and the sea.
Perfect for a discreet proposal, this notebook ring box looks exactly like a book – from the outside. Inside, it's hollowed out with a spot for your ring to securely fit into. There's ample space to personalize the 'box' by writing a special message on the side.
This box is perfect for lovers of books, knowledge, students, geeks and nerds… or just anyone who appreciates a creative idea.
The Splitting Heart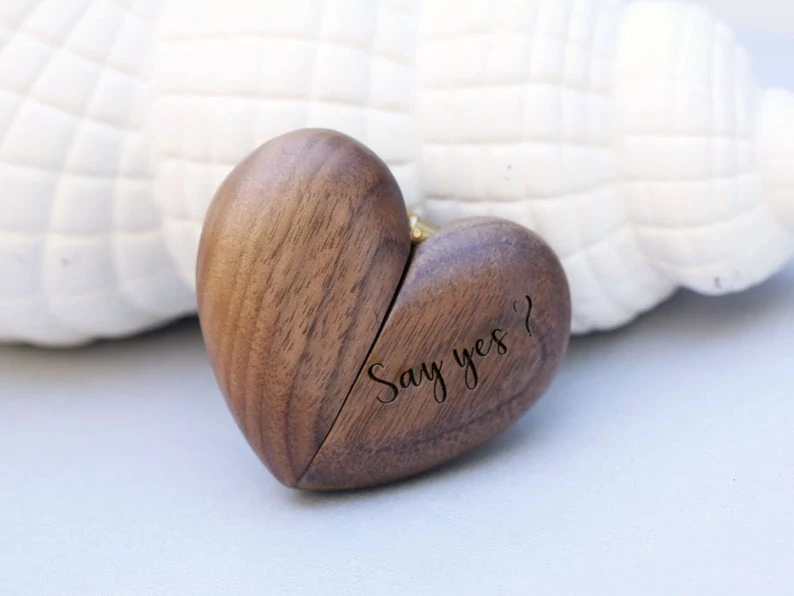 You've seen heart-shaped boxes, but have you ever seen one that splits down the middle? While most heart-shaped boxes split across, this one separates down the front, creating a beautiful wing-like look. It's thin and small enough to easily fit into your pocket and can also be personalized. This box is perfect for romantics and makes for a gorgeous keepsake.
The Rotating Ring Box
Check the Woodsbury Ring Case range here.
We love these rotating wooden ring boxes because they're stylish, sleek, and very classic. The boxes are marketed as being the 'thinnest' ring boxes in the world, making them very easy to hide away in your pocket.
When you open the box, the ring rotates to full view with either side of the box flanking it beautifully, much like a flower set among leaves. The boxes also come with a lifetime guarantee and personalization services, making them the perfect souvenir of your proposal.
Ring Box with Light
Light up your engagement ring with this ring box featuring an LED light that puts the spotlight on the ring. The box gives an air of luxury and elegance with blue velvet finishes and a slim design. Unlike conventional ring boxes, this one is bound to take your loved one's breath away when they open up the box. And the best part? You will not believe just how affordable the box is. Just remember that this won't look as impressive during a day time proposal so time it right to have the maximum effect of the box.
Geode Ring Box
For the lover of crystals and the natural world, a geode ring box might be just the thing to take your proposal to the next level. There's something about a geode that's just awe-inspiring with its color and beautiful texture and placing a ring in the middle of one gives it a fairy tale romantic touch. One of the best things about this kind of ring box is that no two are exactly alike, making yours truly unique.
Puzzle Ring Box
The implication here is that you've found your missing piece, and you're now complete. How perfect is that for a romantic and meaningful proposal! Although it looks like a puzzle, the box isn't in any way challenging to open. All you have to do is simply slide the lid off and reveal the ring.
The Cryptex Secret Box
Made popular in the Da Vinci code, this beautiful box features a secret code that keeps the box locked. Once you figure out the password (4-6 characters) you can open the box and see what secrets it holds.
This is an excellent idea if your loved one is into puzzles and mental challenges. Have them guess the password with some clever clues. What's more, your password could be a meaningful word like 'Say Yes' (6 letters) or a collection of characters like your initials or the date of the proposal. There's no end to the fun you can have with this proposal ring box idea.
Light Up My Life Proposal Box
This one isn't your conventional ring box idea. Rather large and bulky, the purpose of this box is to display your message in a darkened room. It's perfect for a romantic dinner where you suddenly turn off the lights and your message is displayed on the wall.
You could still opt to have a smaller ring box for the ring or have the ring placed within the box for your significant other to find. Personalize the message to suit your style, be it funny and goofy or romantic and dramatic.
Elaborate Egg Ring Box
This is one of the more unique ring holder ideas listed here because while at first glance it appears like it's made of ceramic, this is in fact a real goose egg. The egg has been painted over with white pearl liquid and trimmed with gold cording and elaborate embellishments.
Inside, the egg is beautifully lined with fabric with ample space to hold the ring. You'll have to be extra careful handling this product but it's well worth the effort because it's one of a kind and truly unique.
Gothic Viking Ring Box
This slightly dark but extremely cute book-style box made from polymer clay is actually very heart-warming although it might not seem so from the outside. Open it up to reveal, not just the special ring sitting there, but also a personalized message. Perfect for someone who's into goth fashion or just likes the dark style of this beautiful design.
So, there you have it, our top 11 unique and creative engagement ring boxes. There's one for every style so we're sure you'll find one that suits your fancy.